Bršanj ferry port
Bršanj is not a town, it's only a ferry terminal of the town Mali Iž located on the southeastern side of the island of Iž. The ferry terminal is located at around 1 km from the town centre. The ferry terminal in Bršanj is connected by regular ferry lines with the ferry terminal of Gaženica in Zadar and the island of Rava. In addition to the car ferry there is a catamaran connection from Zadar which operates parts of the year
Getting to and from the ferry terminal in Bršanj:
The car ferry between Zadar Gaženica and Bršanj has a travel time of about 1 hours and 30 minutes, if you arrive at Zadar airport you can get to the ferry port with taxi in about 20 minutes. As mentioned the ferry port Bršanj is not directly by the city, so you should contact your landlord to ask if he could arrange transportation from the ferry port upon your arrival. If you are flexible with time, you could also take the catamaran from Zadar, which stops both in Mali and Veli Iž.
What you can find on Bršanj ferry terminal:
Brašanj is located at 1 km from the centre of the town Mali Iž where all the facilities are. The only thing on the ferry terminal is the ticket office, so if you might need to buy something, you'll have to go to Mali Iž.
Address of ferry terminal Bršanj:
Longitude: 15.146519
Latitude: 44.024261
23284 Bršanj (Iž)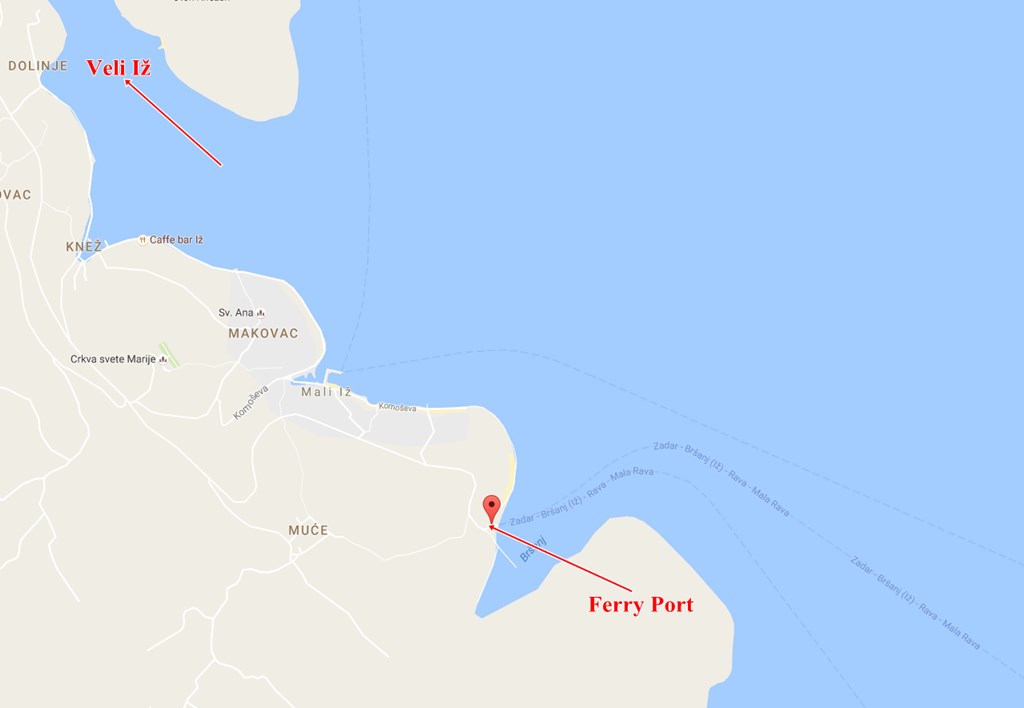 List of ferry routes to and from Bršanj:
Car ferry line: Zadar (Gaženica) – Bršanj (Iž) – Rava – Mala Rava
Catamaran Zadar – Sali – Zaglav – Brsanj