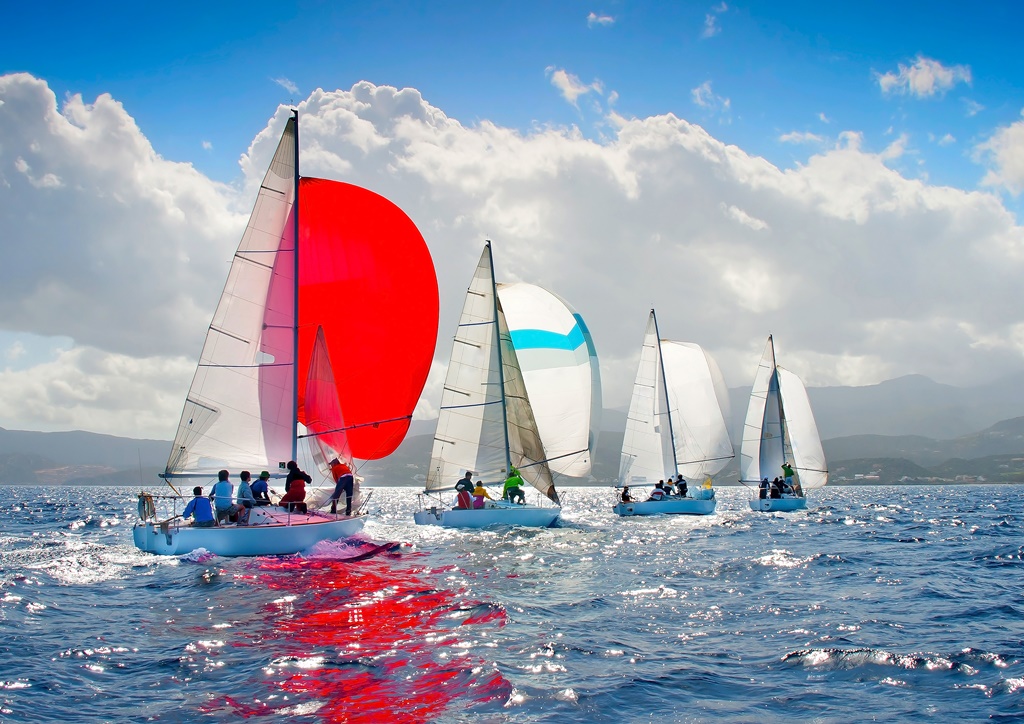 Island Solta
Island Šolta is the closest Croatian island to Split port. It is not so popular or touristy as Hvar, Brac or Korcula islands and therefore it is a relatively quiet island suitable for family vacations, especially if you have smaller kids. Since it is often overlooked, Šolta preserved its natural beauty and has a lot of beautiful little bays and coves that will sweep you off your feet!
It is not a party destination and you will find little or no nightlife on the island, but you will be able to distance yourself from the city bustle and just relax, enjoy the nature and crystal clear sea, yet not far from the mainland.
Solta Weather
Šolta is known for its mild Mediterranean climate with dry and warm summers and mild and rainy winters. The average air temperature during the summer months (from June to September) ranges between 26 and 34 degrees Celsius during the day and 24 to 28 during the night. The sea temperature is usually between 23 and 27 degrees Celsius during summer.
If you plan to visit Šolta, this guide will give you all the necessary information regarding the island, its beaches and campsites, party places, travel information and of course the detailed list of things to do during your stay.
Ferry to Solta
Island Šolta is connected to Split on the mainland with car ferry and catamaran, the port on the island is located in Rogač, prior years there was also a catamaran that stopped in Stomorska.
Rogač: located on the eastern side of the island towards Split, all year round there is a catamaran operated by LNP and a car ferry operated by Jadrolinija sailing to the island. The trip between the mainland and the island takes around 1 hour. You can see the timetable from Split to Rogac here, and the schedule in the opposite direction here.
There is also a catamaran line connecting Split with Rogač and Milna (on Brač island) operated by Krilo Shipping so you can even visit Brac island directly from Solta. The trick is, the catamaran from Rogač departs in the afternoon and from Milna it departs in the evening so you won't be able to make a day trip but it is still a good option if you wish to spend a couple of days on either of the islands.
Getting to Šolta from Split airport
From airport Split you should take the airport bus, the bus takes you to the bus station in Split (travel time 30 minutes) which is just next to the ferry port in Split, from Split port you then have either catamaran or car ferry to Rogač. If none of the departures should match your itinerary you could, as an alternative, consider booking a speedboat from Split airport, this is quite expensive, but if you are traveling in a larger group of people it might be an option to consider.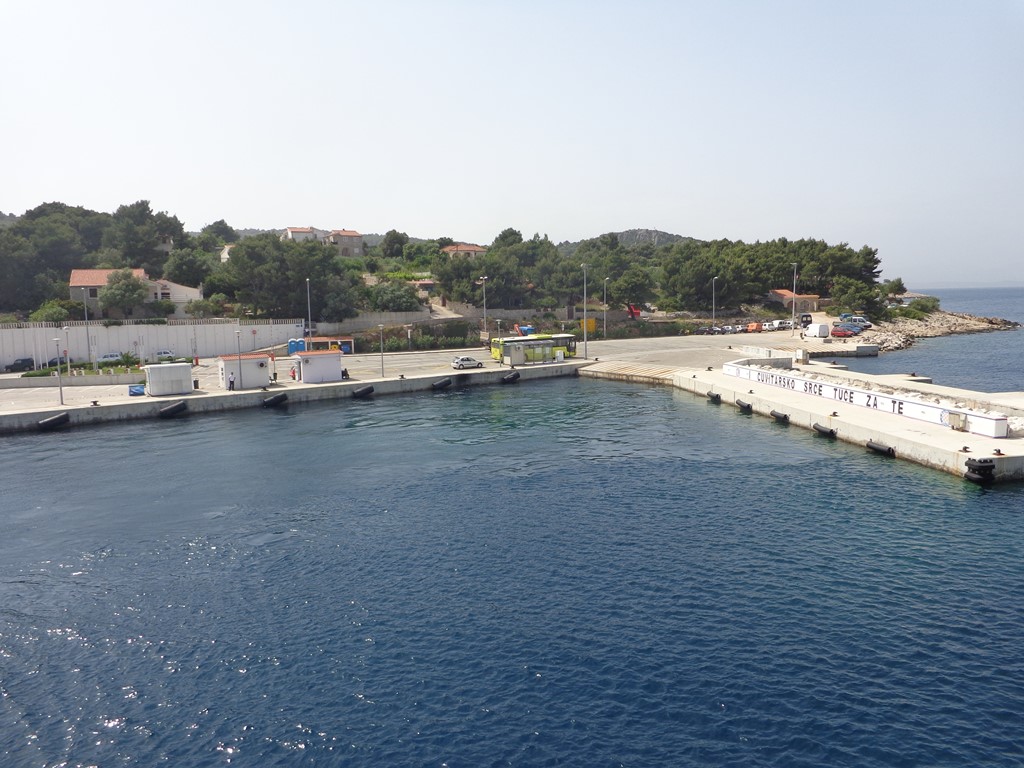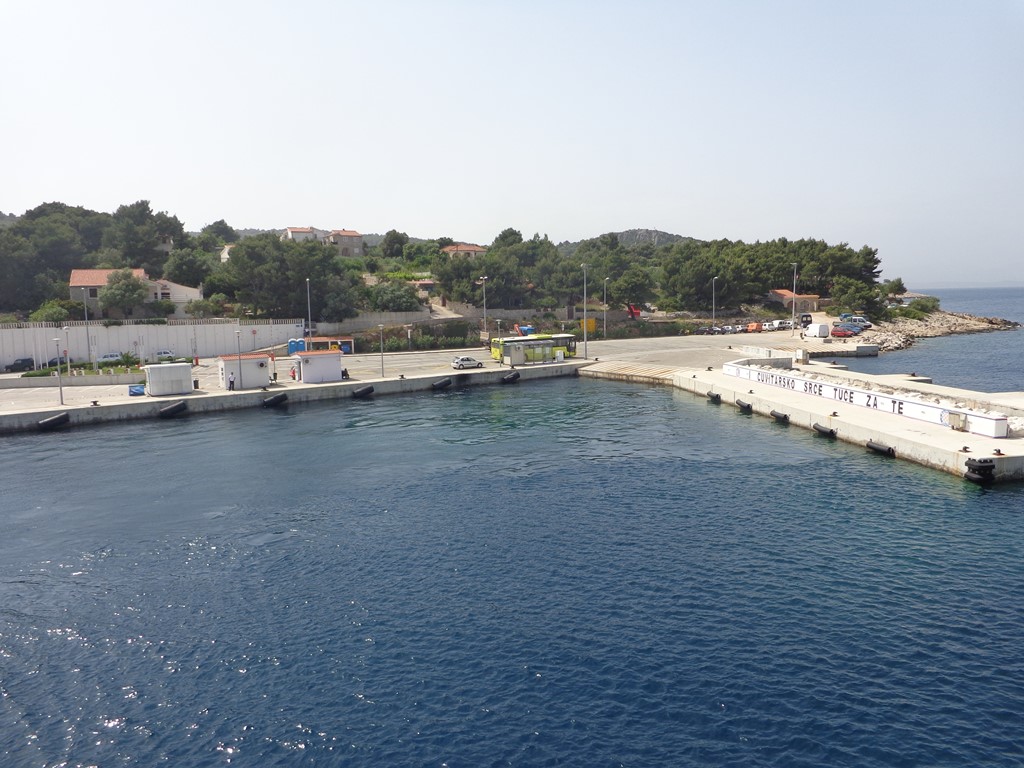 Getting around the island
From Rogač there is an island bus to the most popular holiday cities on Šolta: Stomorska, Nečujam and Maslinica. The buses operate all year round, with the timetable adjusted to the arrival and departure of the ferries and catamarans. You can see more information about where to catch the bus on island Šolta here.
Apart from using the island buses, you can always rent a car or scooter to drive around the island and explore all the towns and villages, hidden bays and coves that are the true gems of every island.
For those that are interested in hiking and cycling, it is possible to rent a bike and explore the island in a more adventurous way.
Of course, since it's an island, you can rent a small boat and drive around exploring the hidden coves that are only accessible by boats.
In case you are thinking about these options, don't forget to bring your driving/boating licenses with you.
Top beaches on Solta island
Šolta has a lot of beautiful, intact hidden coves and bays on both the northern and southern sides of the island. It would be a wonderful experience to rent a small boat and explore all of them, but if you don't have that much time, you can just pick some of them from the following list:
Šešula bay, on the southern side of the island, is located in the immediate vicinity of Maslinica. It is protected from both jugo and bura winds, so it is perfect for boaters. You can also reach it by car, by bike or on foot.
Zaglav bay, also called Vela Luka, has a small pebble beach with few stone houses around it that give a special character to it. You can also reach it on foot, by a village path from Grohote.
Tatinja bay has several small pebble beaches and is a good location for cliff diving. You can reach it by bike and on foot from Grohote village.
Livka bay is located closest to the island of Brac and can be reached by a macadam path from Gornje Selo.
Another bay that can be reached on foot or by bike from Gornje Selo is Stračinska bay, a beautiful turquoise bay with three small pebble beaches.
In Rogač, the main ferry port, you will find two beautiful beaches just 10-15 minutes walking distance from the port. If you are visiting Šolta for one day, this could be perfect for you, because you wouldn't have to worry about catching the next ferryboat.
Stomorska village is a great place for vacation since it offers a few beaches on both sides of the village, equipped with showers and great for sunbathing. There is even a beach bar on the Veli Dolac beach.
Nečujam village is a real holiday resort with several pebble beaches. There are even a few small coves around, and one of them, Piškera cove, offers medicinal mud baths.
On the main beach in Maslinica village there is a beach bar and other amenities. You can also rent a kayak and explore the nearby coves. The only sandy beach on the island is located in the vicinity so you can check it out. It is located in Šipkova cove and can also be reached on foot or by car.

Camping on Solta
Many people enjoy spending their vacation in nature, lying in the shade of pine trees listening to the sound of waves and crickets. It really is a peaceful and unique experience, especially if you are spending your summer vacation on a Mediterranean island surrounded by beaches of crystal clear sea and you can get the best of it if you decide to spend your vacation camping instead of booking a hotel room.
Since there is no possibility of wild camping on island Šolta, because it is illegal, there is a campsite called Mido Kamp near Stomorska bay that is well equipped and offers facilities like showers and bathrooms, water and electricity, kitchen, parking lot etc. so you won't have to worry about a thing during your stay. It is so far the only campsite on the island and they also allow pets. You can contact them directly to check the prices and availability.
Solta hiking trails
There are a number of trails you can take to explore the intact beauty of island Šolta. You can start you hike in the coastal villages of Maslinica, Stomorska, Nečujam or Rogač or you can hike towards the seaside, in any direction, starting from the villages up the hill, in the countryside, e.g. Grohote, Gornje Selo or Srednje Selo, and pass through the island's southern part, through bays and olive groves towards the crystal clear sea.
To know exactly which trails to explore, take a map of the island (with marked pathways) at any local tourist info centre.
Solta cycling trails
It is possible to cycle through the entire island, using unpaved macadam paths or the asphalt road passing through the main towns and villages, starting in Stomorska and leading to Maslinica coastal village (or vice versa). The trails will lead you towards the seaside, through olive groves and pine woods. You can take the island map at a TIC to find all the cycling trails to explore.
It is recommended that you start your cycling tour early in the morning, when the air is still cool, to avoid the summer heat.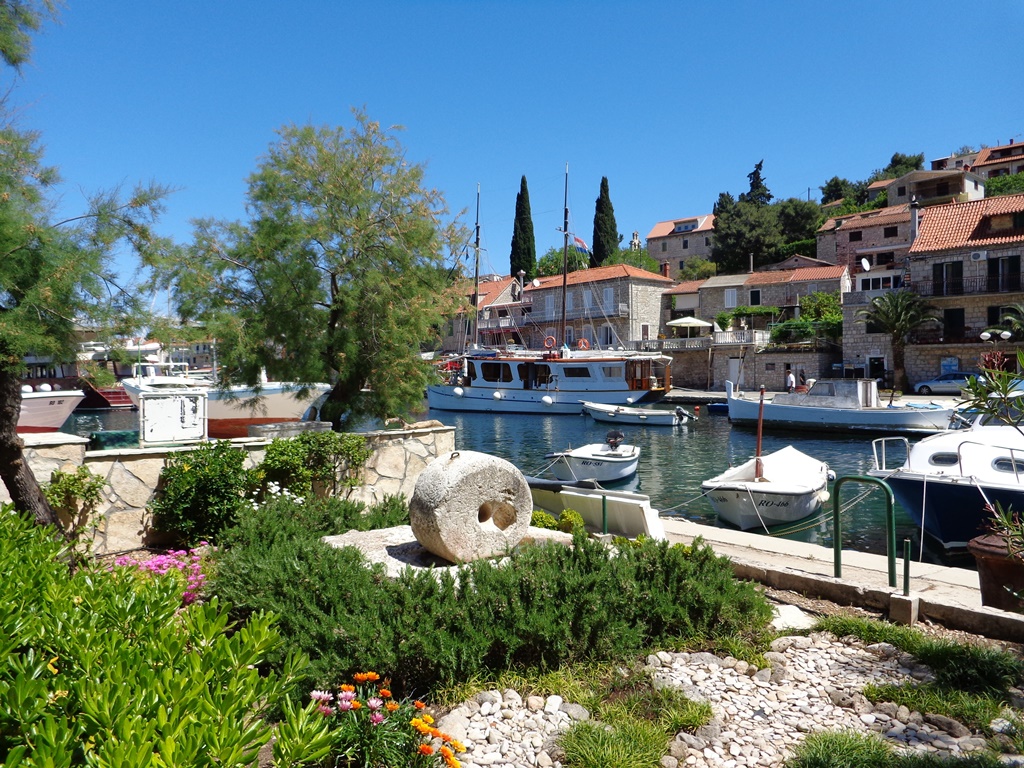 Snorkeling & diving on Solta
Scuba diving on Šolta island is a very special experience since there are some ancient Roman remains that are hidden underwater and can only be seen through dives. There are a few scuba diving centers on the island, so whether you are a beginner or an advanced diver, you can book your dive with them and be in safe hands during this remarkable experience. Some of them even offer night dives.
The southern side of Šolta has a rich underwater life, with corals scattered around numerous caves. In the vicinity of the island, there are a few diving locations, some of them offering sunken ships and other remains.
Snorkeling, on the other hand, doesn't require that much preparation and physical shape nor the theoretical and practical knowledge important for scuba diving. Snorkeling equipment can be rented at the beach or from many different rental agencies in towns/camps, or you can even buy it from the stores/stands in the main towns.
Water sports and equipment
Besides diving and snorkeling, you can try stand-up paddle surfing, kayaking or canoeing. Kayaking is a very popular activity on Šolta island and an ideal way to explore the hidden coves in the area.
All the necessary equipment can be rented at the beach. However, have in mind that it is not offered on every beach, but on the bigger ones in Maslinica and Nečujam.
You can even rent a small boat and drive around the island, visit all the hidden coves and explore their beautiful beaches, but make sure you have your valid boating license with you.
Festivals on Solta island
Šolta is a small and quiet island offering a peaceful retreat but there are still some events taking place during the summer season: in July and August you will be able to listen to the traditional Olinta brass orchestra in Grohote, Stomorska and Maslinica villages and at the end of July you will have the opportunity to partake in a very special event called Potezanje Mrduje (The Pulling of Mrduja) where the locals gather on their boats and compete with the nearby Brac island inhabitants in who will win the small island of Mrduja located just between Šolta and Brač, by pulling it towards them. Of course, there is a feast afterward.
Also, at the end of July there is the Ribarska noć (Fishermen night) in Stomorska bay, with local music and wine, grilled fish and good atmosphere.
Food & supplies
Šolta is a relatively inhabited island so you will find some supermarkets, bakeries, pharmacies, souvenir shops, newspaper stands, butchers and fish markets and you will be able to buy whatever you want and need right there on the spot so you don't have to bring anything with you. Of course, the biggest offer is in the main towns – Grohote, Stomorska and Nečujam. If you will be staying in some of the smaller bays or villages on the island, it would be best to stop in Grohote to do some shopping before you reach your destination.
There are also some restaurants around the island and you can always eat outside. As for the local food, you should definitely try some of the fish specialties, like grilled fish or scampi, "black" risotto with squids, octopus with potatoes baked under the lid on an open fire… Dalmatian cuisine is a Mediterranean style cuisine which is similar to the Italian one, so you will find a lot of olive oil and herbs like rosemary and sage, garlic and tomatoes in almost every sauce, a lot of vegetables and fruit, etc.
Šolta is known for its history of winemaking and olive oil production so keep that in mind and try to taste some of the local products during your stay.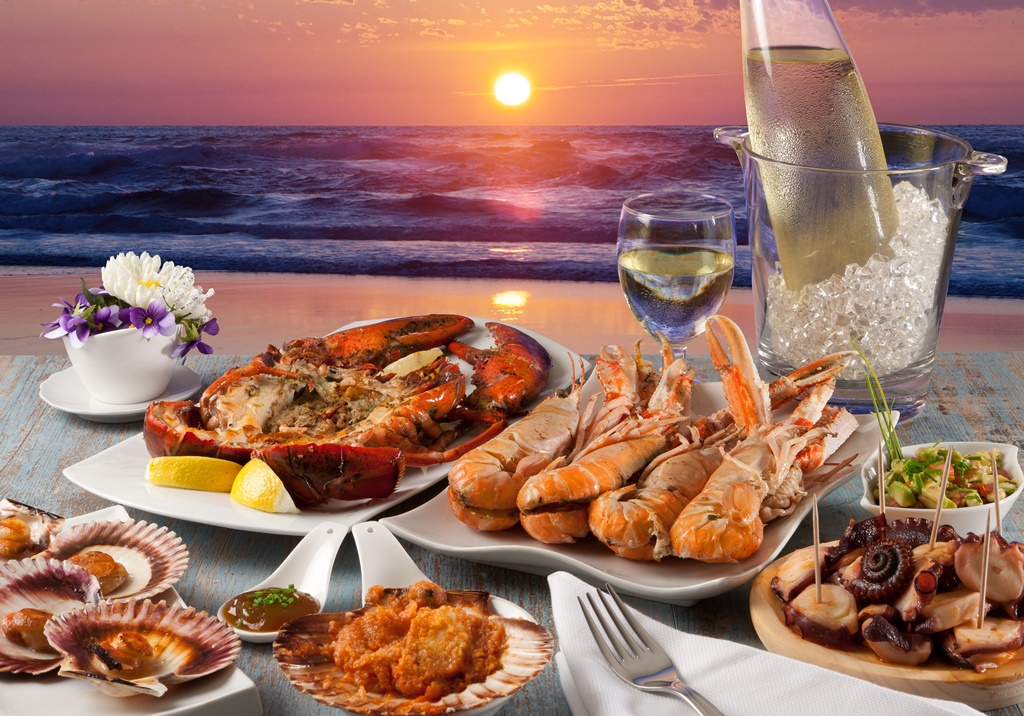 ATMs & exchange offices
The official currency in Croatia is Kuna and it is generally required to have local currency on you when travelling around the country but in all the larger tourist places on the coast and on the islands it is sometimes acceptable to pay with euros or credit cards. However, to be on the safe side, we recommend having Kuna in cash on you, because not all the restaurants and bars accept credit cards. While in larger supermarkets and pharmacies you can use credit cards, it is generally impossible to use them in bakeries or family-owned mini markets, at newspaper stands etc.
In case you need a bank or an exchange office, or you wish to withdraw some money from an ATM, you can find them in the main town on the island – Grohote. Also, there is an ATM in Rogač, near the ferry port. Have in mind that the banks and post offices usually work only in the morning and that during the weekends and national holidays they might be closed.
Emergency contact info
If you by any chance should need medical assistance during your vacation, you don't have to worry, there is a general practitioner available on the island. All the emergency services are located in Grohote so you will be able to find a dentist and a GP, as well as a police station and fire department there. The pharmacy is also located in Grohote but bear in mind that it is only open in the morning.
In case of an emergency, or if you require the immediate assistance of any kind – medical or police assistance, fire department, mountain rescue services, you can call the toll-free number 112 from any location in Croatia (the calls can be made via landlines, cell phones or phone booths) at any time of day or night.
If the situation requires further urgent assistance or hospitalization that cannot be provided on the island, a speedboat or helicopter will be sent for the patient and take to the nearest hospitals in Split.   
Foreign citizens/tourists coming from countries that are signatories of the Health Care Convention don't have to pay for medical assistance in Croatia, while patients coming from countries that are not signatories of this convention, must pay for medical assistance provided, according to the valid tariffs.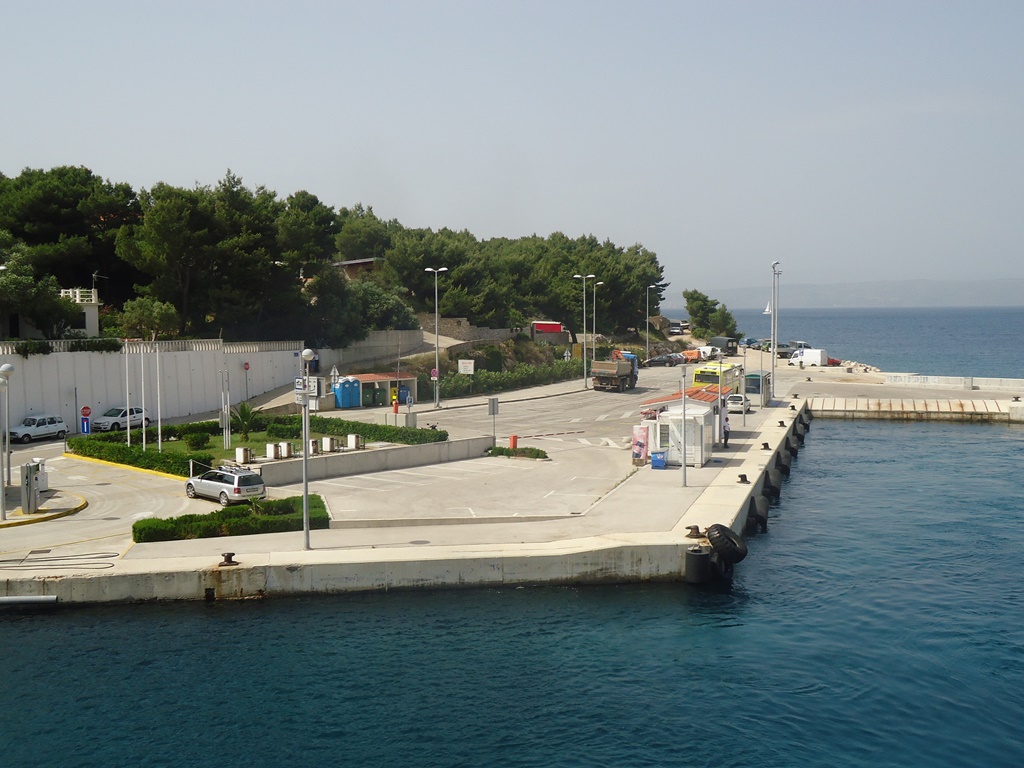 FAQ – Island Solta
Can I bring my bicycle on the catamaran or ferry?
On the car ferry to Rogac, the answer is yes, but you will have to buy a separate ticket for the bike. Bringing a bicycle on the catamarans is in most cases not possible, as there is simply no space available.
Can I buy/reserve a ticket for a specific departure?
In the case of the catamaran, you can buy a ticket for a specific departure, but for the car ferry you can buy a ticket for a specific travel date, but not for a specific departure.
Can I make a day trip to Šolta?
Yes, it is possible to make a day trip by ferry from Split during most of the year. It takes just about 40 minutes to reach Rogač ferry port from Split and the connections are quite regular.
Can I bring my dog on the ferry/catamaran?
On catamarans, you can NOT bring your dog, but on the car ferries you can, but you are not allowed to take them into the closed areas where passengers are sitting.
How much luggage can I bring?
On ferries up to 100 kg, on catamarans up to 20 kg but as the luggage it not weighed, it is normally not an issue if you bring a bit more.
Which airport should I fly to if I want to go to Šolta?
You should fly to Split airport because you can then easily take the ferry to Šolta that departs from Split ferry port, which is just 40 minutes drive from the airport.
How do I travel from Split to Šolta with a car?
There is a car ferry from Split to Rogač on island Šolta, departing every two hours on average. You will need to buy a special ticket for the car in order to board the ferry with your car; during the summer season it can get very crowded with lots of people traveling with cars, so you might want to reach the port at least one hour before the departure time, and you will have to queue in front of the dock. Don't worry, you will get assistance from the port authority staff. Also, it is good to know that there is a petrol station in Rogač, right next to the ferry port.