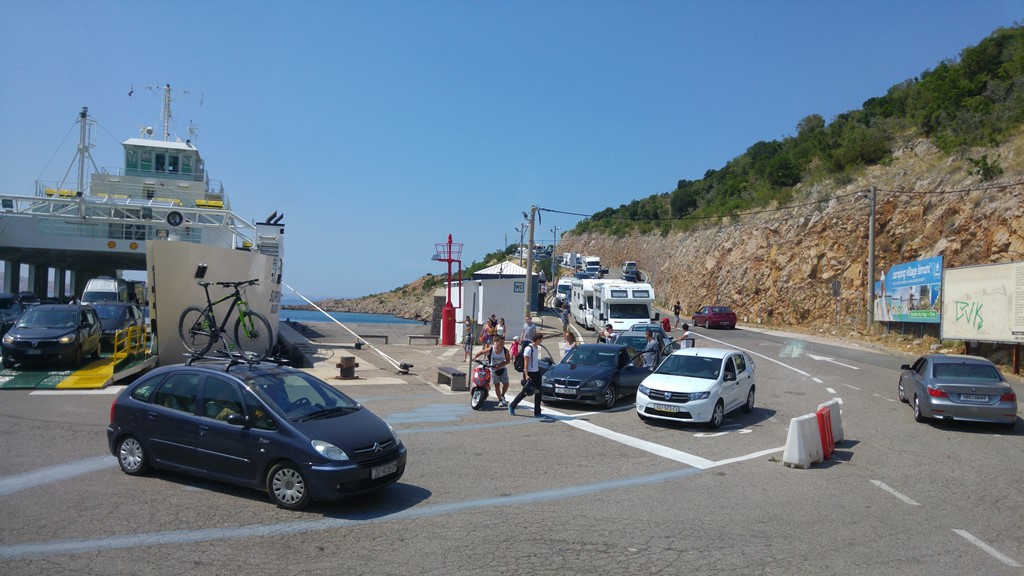 Prizna ferry port
Prizna is a port village directly connected to the island of Pag. The village is located between Karlobag and Senj on the coastal road that connects the towns and villages on the Adriatic coast. The town centre is at around 350 m from the ferry terminal and the bus station is located on the main road around 2.5 km from the ferry terminal. If you find yourselves there, you most probably want to take a ferry to the island of Pag and you don't want to stay there. 
Getting to and from Prizna port
The ferry terminal in Prizna is located at the foot of a steep hill, which means getting there on foot, is really a hassle, except if you are staying in the Prizna "holiday resort" located in the vicinity. From any other place, you will need a vehicle to get to the port.
Getting from Zadar/Rijeka airport to Prizna port
Prizna is around halfway between the airports of Zadar (the airport is around 90 km from Prizna and 10 km from Zadar) and Rijeka (around 105 km from Prizna and 26 km from Rijeka). Once you land on the airport of Zadar or Rijeka, you can take a pre-booked transfer (which will or take a taxi even directly to Prizna ferry terminal).
There are also shuttle buses running from both airport Zadar and Airport Rijeka, which drives to the main bus station, from where you have buses to whole Croatia.  The ticket from Zadar airport to Zadar is around 25 kn = 3 euros and the ticket from Rijeka airport to Rijeka is around 50 kn = 7 euros.
Getting to Prizna port from other destinations
There are some bus lines to Prizna from some major Croatian destination. As already mentioned above, the main bus station in Prizna is located on the main road around 2.5 km from the ferry terminal. It's around 20 minutes walking downhill  to the ferry terminal. For the exact location, please click here.
If you travel by car taking the highway or the coastal road, from the south or the north, once you enter the town of Prizna from the main coastal road, follow the directions for the ferry terminal (there is a possibility of a traffic jam, especially during summer, because most of the cars that are going down want to board a ferry, so it's better to come a little bit earlier). It's quite well marked, located at around 350 m from the town centre.
Prizna port facilities
As I already mentioned above, Prizna is a small village and the "de facto" centre of it is at around 350 m from the ferry terminal. At the ferry terminal itself there are not many facilities, but for the shops, a restaurant or a bar, you can go to the centre of the village.
Prizna port location
D406

53287 Prizna

GPS co-ordinates: 44.60192, 14.97015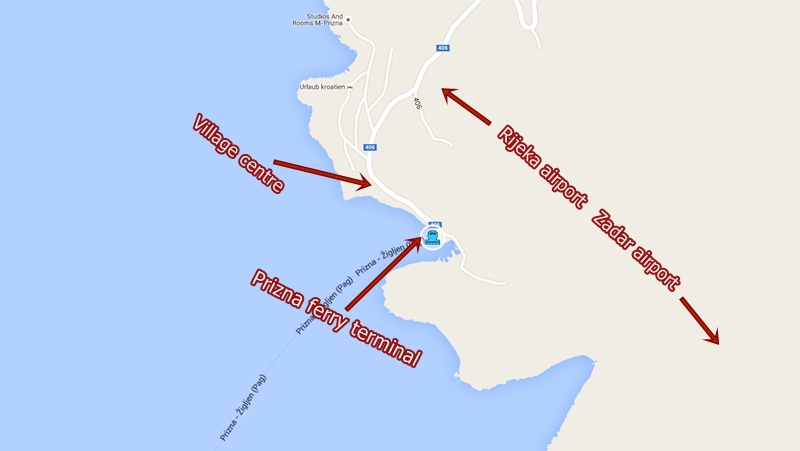 List of the routes
→ Car ferry: Prizna – Žigljen (Pag)