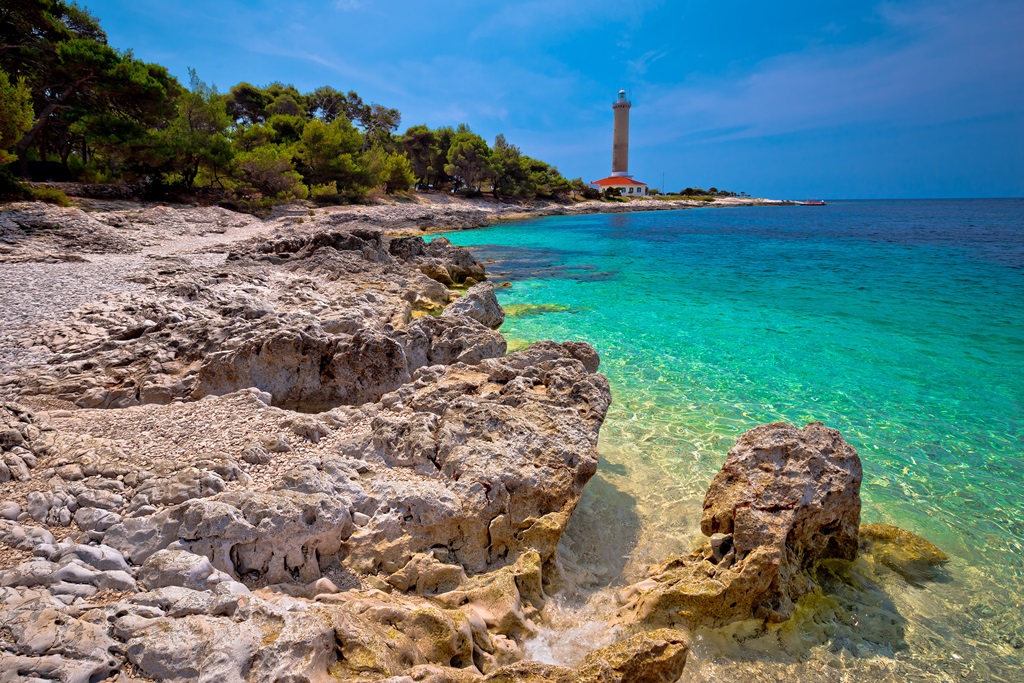 Island Dugi Otok
Dugi Otok, the largest island in North Dalmatia and the seventh largest island in the Adriatic sea is located west of Zadar.  Since the island is 45 km long and only a few kilometers wide, its name derives precisely from that distinctive shape. In English, its name would be translated as "Long Island".
The island is well-known for its amazing landscapes, fascinating azure blue sea and a series of stunning cliffs and coves. The western coast is tall and rugged so most towns are located on the eastern side including the largest one – Sali and others like Božava, Brbinj, Dragove, Soline, Zaglav and Žman. The main symbol of the island occupying the southern part of the island is Telašćica Nature Park. The island has been inhabited since prehistoric times, with existing evidence dating back to the Paleolithic era. Today there are little over 1600 inhabitants.
Dugi Otok Weather
Dugi Otok is known for its mild Mediterranean climate with dry and warm summers and mild and rainy winters. The average temperature during the summer months is around 26°C and around 13°C in the winter period. The average sea temperature reaches 24°C in the warmest period (July and August). As in the rest of the Adriatic, there are several winds blowing throughout the year. Bura usually blows in winter and jugo is common in spring and autumn. During the summer, the most frequent wind is maestral, a gentle breeze from the west.
If you plan to visit Dugi Otok to catch that lost-in-time feeling, this guide will give you all the necessary information regarding the island, its beaches and campsites, nightlife, travel information and, of course, the detailed list of things to do during your stay.
Ferry to Dugi Otok Island
The island has 4 ports: Brbinj, Božava, Zaglav and Sali. Ferry tickets can bu purchased at ferry terminals, but you can also check the prices and buy the tickets at ferrycroatia, which is recommended to avoid the queues.
Brbinj is a small place situated between the two picturesque bays on the north-east side of the island. It is connected by ferry to Zadar on the mainland. Journey time from the mainland to Brbinj is around 1 hour and 45 minutes. Departures to Brbinj are more frequent during the high season, as opposed to other times of the year.
In the table below, you can see the ferry schedule between Zadar and Brbinj, and also buy the ferry tickets directly:
Božava is a small place located on the north-west side of the island. The estimated travel time between Božava and Zadar is around 1 hour and 20 minutes. Departures to Božava are more frequent during the high season, as opposed to other times of the year.
In the table below, you can see the catamaran schedule and available tickets between Zadar and Božava:
Zaglav is a small village located 1.5 km north of Sali on the east coast of Dugi Otok. Obviously the most important "water connection" to Zaglav is the one from Zadar.
Sali is the largest town on the island located on the south-eastern coast with  well established tourism.
In the table below, you can see the catamaran schedule and purchase catamaran tickets between Zadar and Sali.
Getting to Dugi Otok by car:
If you are travelling by car, you will have to take a car ferry from Zadar in order to reach the island and the town of Brbinj.
Getting to Dugi Otok by bus:
If you are taking a bus, you will first have to reach the city of Zadar. Zadar is very well connected by bus with other Croatian and European cities. When you arrive in Zadar, catch a ferry or a catamaran to Dugi Otok.
Getting to Dugi Otok by plane:
The closest airport to Dugi Otok is Zadar Airport located about 12 kilometers from the city. Airport shuttle bus will take you to the main bus station, one way ticket costs around 25 kuna.
Getting around Dugi Otok
Dugi Otok is not the easiest island to get around because public transport on the island is minimal. The only bus service runs between Božava and Brbinj and its departure times are connected to the ferry schedule.
There is also a catamaran connection between Božava and Brbinj. You can check the schedule and buy the tickets below.
In order to explore the island, it is essential to rent a vehicle. Keep in mind that renting a car is possible only in Zadar and renting a scooter or boat is possible from one of the travel agencies on the island.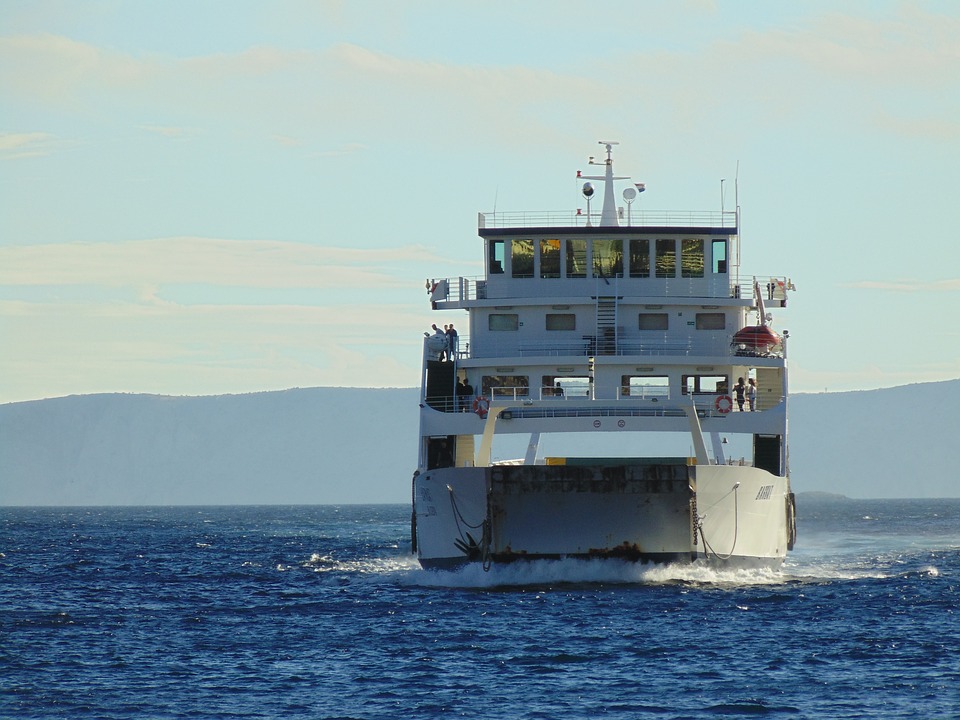 Dugi Otok natural sights
Telašćica –  Nature Park Telašćica is located in the island's southeastern part, occupying  70,5 square kilometers of 13 islands, islets and rocks. It was declared a nature park in 1988 thanks to its extreme beauty and high importance. It is characterized by three phenomena.  The first would be Telašćica Bay, one of the safest and most beautiful natural ports in the Adriatic. Next attraction is Stene – the cliffs of the island rising up to 200 meters above sea level and finally, salt lake Mir with its medicinal properties. The whole area is covered in cultivated meadows and in Mediterranean flora with over 500 plant species, while the underwater counts more than 300 plant species. You can enter the park either from the mainland through the entrance Dolac, or you can sail into the Park through two passages: Vela and Mala Proversa. If you are approaching the park from the sea, you can also go right next to the lighthouse Vela Sestrica. Inside the Park, there are organized tours combined with cruising, diving, water sports, cycling, photo safaris and many more.
Olive grove Saljsko Polje – This significant landscape presents a unique geological area of botanical and aesthetic experience. The field called "an olive forest" by locals was probably planted in the 12th century, studies have confirmed that some of the trees are seven hundred years old. It is a remarkable example of typical cultivated landscape in Dalmatia that has been protected as a special feature of the landscape.
Historical sights
Dugi Otok is an island with a rich history. The first references of the island were made back in the 10th century when the island was mentioned by the Byzantine emperor Constantine VII under the name Pizuh. The island got its present name in the 15th century.
The island was inhabited very early as evidenced by archaeological findings; the remains scattered around the island originate from the earliest history – the old and the Middle Stone Age. There are findings from the Paleolithic era (gravestone remains), the Illyrian age (stone mounds) and the Roman era (Villa Rustica in Small Proversa).
Remains of a human skeleton dating back to the early Mesolithic were found during the excavations in cave Vlakno. The skeleton was popularly named as "The oldest Dalmatian man Šime". He was 40 years old when he died, tall between 168 and 172 centimetres and did not die a violent death. Findings like this are extremely rare in Dalmatia.
Early Christian and pre-Romanesque period brought up numerous churches, many of which are well preserved, like the church of Sv. Peregrine at Savar. Church of St. Peregrine, a World Heritage Site built before the 9th century, representing original architecture of that period is one of the most famous churches of Dugi Otok.
The Church of the Blessed Virgin Mary was once pulled down and later a larger one was raised by a local artist Juraj Lukačević. The monumental wooden altar inside dating back to the 17th century contains pictures of Mother of God and Dead Christ.
The Church of St. John in Sali appeared in documents very early, the oldest mention was in the 11th century, but there are evidences that the church dates back to the 5th or 6th century.
There are also a few examples of the profane residential architecture from the period of the 16th to the 18th century: Guerrini houses and the house Petricioli in Sali, both representing a valuable contribution to Mannerist and Baroque periods of the islands and Zadar.
Fortification Grpaščak is a fort built during the Austro-Hungarian Monarchy served exclusively as the military lookout point of the navy. Today it serves as a great viewpoint of the whole bay.
Beaches on Dugi Otok
A relatively unknown island of Dugi Otok, will definitely amaze you with clear, blue sea, blissful beaches and hidden, charming coves. Here are our recommendations for a must-visit beaches on the island:
Sakarun beach – One of the most beautiful beaches in Croatia could easily be mistaken for some Hawaiian beach; this Paradise on Earth offers white sand at your fingertips, crystal clear waters and thick pine trees to escape the sun. There are two catering facilities for some refreshments, as well as beach chairs and parasols. The beach is also an ideal place for sailors to find shelter from the powerful forces of sea and wind.
Veli Rat – Located in Čuna Bay, Veli Rat is famous for the imposing lighthouse. Small, beautiful bays and pebble beaches are its highlights and they are suitable for children. Nearby you can find campsites with a beach bar and other facilities.
Veli Žal – This uninhabited combination of both white sand and small pebbles measures over a kilometer in length. There are no facilities besides a rustic beach bar offering cold drinks, ice-creams and some sweets. It is not unusual to see dolphins swimming in the distance.
Brbinjšćica – A bay surrounded by mighty cliffs and numerous caves known by only a few people is a truly secluded oasis to enjoy all the benefits of swimming and sunbathing.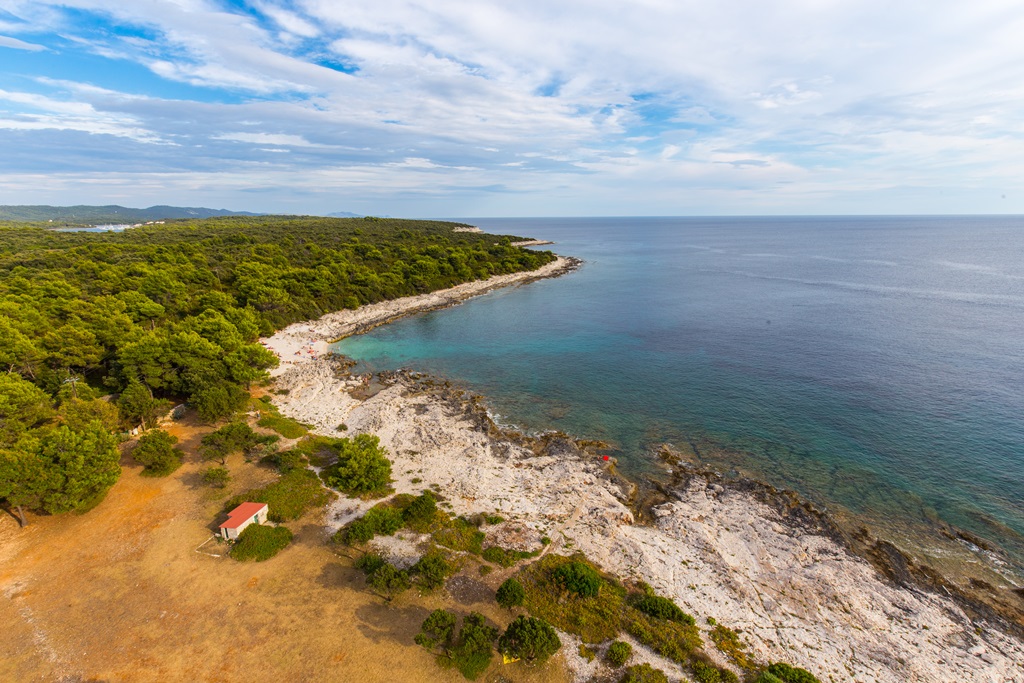 Camping on Dugi Otok
Many people enjoy spending their vacation in nature, listening to the sound of waves and crickets. On the island, there are two campsites you can choose from.
Camp Kargita – This camp situated near the lighthouse at Punta Bianca was opened in 2013 and ever since is the perfect place for all those who seek some adventure and Robinson experience. Enjoy nature while overlooking the open sea and escape from everyday life a bit.
Camp Mandarino – Located in the heart of nature, in the northern part of the island, this camp is fashionably furnished and well-equipped. There is a mini market offering fresh fruit and vegetables produced by local farmers, also meat and baked goods. There is also a restaurant with a bar and rental service for bicycles, boats and other sports vehicles.
Camp Dugi Otok – This small, private camp located in a picturesque village Luka surrounded by olive trees is reserved just for tents, but there is a parkingline 2 minutes away by foot. Also, there is a restaurant with local specialties and a shop a few minutes away.
Cycling & trekking on Dugi Otok
The best way to experience amazing landscapes on the island is by walking and cycling since there are not a lot of cars on the island and the roads are not very busy. The island is not that steep, the highest point is only 338 meters above the sea level so it is ideal for cyclists, trekkers and walkers.
Dugi Otok is a dream-place for all cyclists with paved trails but also off-road tracks. There are several cycling trails we recommend:
Lighthouse trail – Paved trail taking you on a quiet tour among rural roads of Dugi Otok, suitable for families.
Sakarun beach trail – A popular path along the sea and through nature, both paved and off-road. It is a dynamic course for beginner to intermediate-level cyclists.
Verunić trail – Short off-road ride with scenic views.
Verunić – Soline trail – Paved trail passing by a spectacular wreck, a great spot to snorkel.
Verunić – Sali trail – Recommended to intermediate level to experienced cyclists because it is a long trail with many elevations.
Dugi Otok Trail, a race taking place in March, with start and finish point in Sali. The whole experience consists of 3 trails crossing Telašćica Nature Park in all its diversity; from steep and stunning rocks to the quiet lagoons. The trail has lighter, but also more demanding sections. Cliff Blue trail of 24 km leads you through centuries-old olive gardens, next to scattered monuments and churches and numerous bays with incredibly clear sea. Bay Green trail of total 11 km passes the same route as Blue trail, going up to Mir bay. Red trail is the longest one, with total length of 40km.
Snorkeling, diving & sailing on Dugi Otok
Like all islands in the Adriatic Sea, Dugi Otok has a rich underwater world. The optimal time of year for scuba diving and snorkeling on Dugi Otok is between May and October when the sea is calm and the weather conditions are perfect.
When it comes to snorkeling, there are several top locations; the first one would definitely be the Lagnići Cliffs near Veli Rat lighthouse with a shipwreck dating back to 1983. Underwater Brbiščica cave is another great place, the lights create stunning colors and contrasts in the water. Finally, Telašćica Bay, enclosed by high cliffs, is the perfect choice to explore many coves and islets.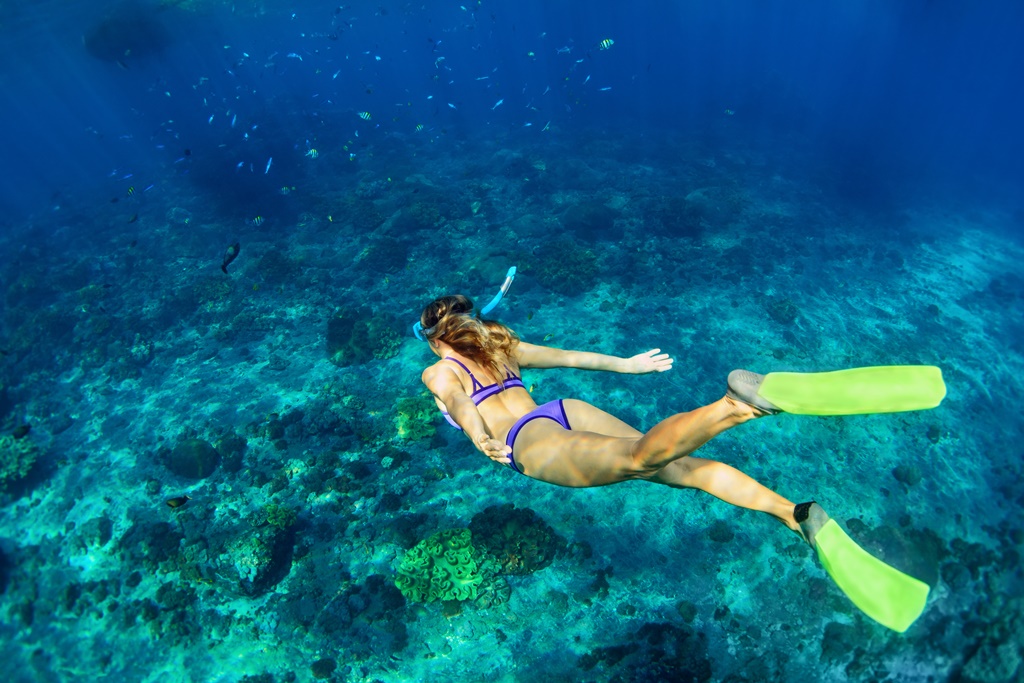 If you want to challenge yourself, you should try scuba diving with the help of one of the four diving schools on the island and take a dip in the mysterious depths.
Diving school Božava, Kornati Diver Diving Center, Diving in Kornati and Kornati Diving Center are the places where you can get all the necessary information ahead of your new adventure.
Nautical tourism is very popular on Dugi Otok. In case you are visiting the island by boat, you should consider mooring options on the island. Mooring is available in Solišćica, Sakarun, Čuna, Telašćica, Veli Rat, Božava, Brbinj and Sali. Solišćica is one of the safest anchorages and Sali, Brbinj and Božava have receptions for ships with the possibility of obtaining water and electricity.
Festivals on Dugi Otok
In Dalmatia, it is common that every place has its festivity and so do villages on Dugi Otok. The festivities usually held in honor of a patron saint of the village are a combination of live music, good food and great fun. Locals love to celebrate their special way of living, most often until the early morning hours.
The most famous festivity is the one in Sali, called Saljske užance, which lasts for 3 days. Saljske užance, a cultural and entertaining event, has been held on the first weekend of August for over 50 years. On Friday, it is usually Fisherman's night with music performances, cooking and choosing the best fish stew and roasting fish and other seafood. During Saturday, sports events and competitions are organized, followed by Sali Night, entertainment with pop music and food. Sundays start with patriotic music and in the afternoon a special event occurs: the traditional donkey race Trke tovarov. Donkey represents an island way of living; in the past, every household had one used as a means of transport or for hard labor.
Galebfest is a special program representing songs of local authors happening during the summer months or even before Christmas. All of the songs are being performed for the first time. It is important for promotion of cultural identity and the way of life on the island.
Fishing competition is usually organized every year by the Sport Fishing Club Kornat during spring months in the area of Dugi Otok Archipelago and everyone with a sport fishing license can participate. After the official part of the competition, there is a celebration with delicious fish meals and local wines.
For more information about events on Dugi Otok, check the calendar.
Dugi Otok Nightlife
Dugi Otok is primarily a place of relaxation and one of those few places where you can enjoy peace and tranquility even in high-season.
Beach bars are popular places to enjoy the evening. Amarcord Beach Bar on Sakarun beach is a lovely place located in a former fisherman's garage offering light food, mainly seafood, caught and prepared by the owner. The refined music selection and amazing vibe attracts a lot of people.
Beach Bar Maritimo, located in Sali, has plenty of character and vibrant atmosphere. The long wooden bar and a terrace are best to enjoy cocktails or draught beer.
Beach Bar Sol in Soline is well-known for "chill" atmosphere, great selection of drinks and amazing sunset views.
Food & supplies
On the island, there are a number of smaller local shops, but also several larger "Tommy" markets. The largest number of stores are located in Sali, including the only supermarket on the island. Ice-cream shops are placed in Sali and Božava.
One cannot leave the island without trying local cuisine in some restaurants around the island. Mediterranean cuisine is similar to the Italian one so you will find a lot of fresh ingredients prepared with olive oil and herbs like rosemary and sage, garlic and tomatoes in almost every sauce. There are numerous specialties to try; regarding fish specialties, you should definitely try grilled fish or scampi, 'black' risotto with squids, octopus with potatoes baked under the lid on an open fire (also known as peka). If you prefer meat, don't miss pašticada with gnocchi, roasted lamb on the spit and many more!
Konoba Lanterna in Veli Rat is a great place for every foodie, especially for grilled calamari and octopus. The restaurant also serves fantastic steaks, but also vegetarian dishes. Restaurant Bočac in Sali offers a wide range of European dishes besides the Mediterranean cuisine. Konoba Trapula in Sali, family-run restaurant familiar with the authentic vibe and laid-back atmosphere is a great choice for a romantic meal.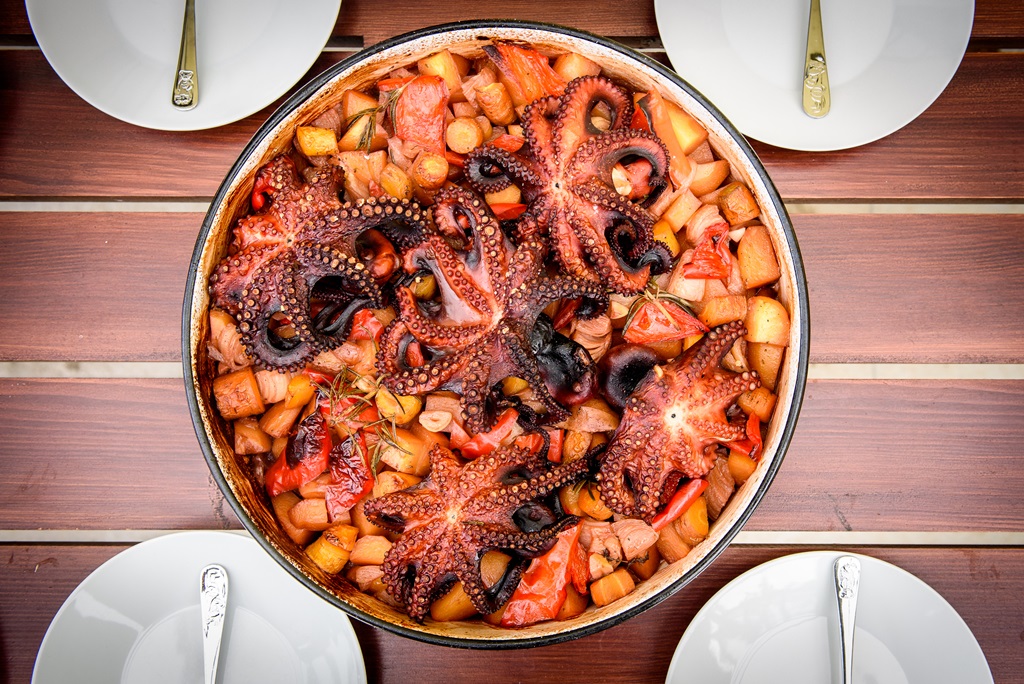 ATMs & Exchange offices
Remember that the official currency in Croatia is Kuna and most places accept Kuna only. Also, credit card payment is mostly possible, but make sure you always have some cash because not every mini market or green market accepts them.
ATM's can be found in Sali and Božava, as well as exchange offices which are placed in Hotel Božava and Hotel Sali. You can also withdraw money via credit and debit cards in post offices that can be found in Sali, Žman, Brbinj, Božava and Veli Rat.
Emergency contact info
In case of an emergency, or immediate assistance of any kind – medical or police assistance, fire department, mountain rescue services, you can call the toll-free number 112 from any location in Croatia (the calls can be made via landlines, cell phones or phone booths) at any time of day or night.
The area code is +385, so keep in mind to dial it before any other service number.
→ Police:192
→ Ambulance: 193
→ Emergency telephone number 112
→ Road assistance: 987
→ Tourist Board of Dugi Otok, Obala Petra Lorinja bb, Sali, +385 23 377 094, tz-sali@zd.t-com.hr
Dugi Otok Island FAQ
When is the best time to visit Dugi Otok?
The best time is summer, because you can spend your days on the beach, relaxing, swimming and sunbathing since Dugi Otok is not that popular with tourists like some other Croatian islands (Hvar). In case you don't like the heat that much and would like to go to the beach without getting sunburnt, then you should consider the postseason or preseason.
How long should I stay on Dugi Otok?
You can explore all the mentioned sights in 2-3 days, but if you want to properly relax, take a few more days.
Can I bring my bicycle on the catamaran or ferry?
You can bring your bicycle on the car ferry to Brbinj without any problems, but you will have to buy a separate ticket for the bike. Bringing a bicycle on the catamarans is in most cases not possible, as there is simply no space available.
Can I buy / reserve ticket for a specific departure?
In case of catamaran departures, you can buy tickets for a specific departure, and in the case of the car ferry you can buy a ticket for a specific travel date, but not for a specific departure.
Is there a gas station on the island?
The only gas station on the island is located in Zaglav, 3 km from Sali.