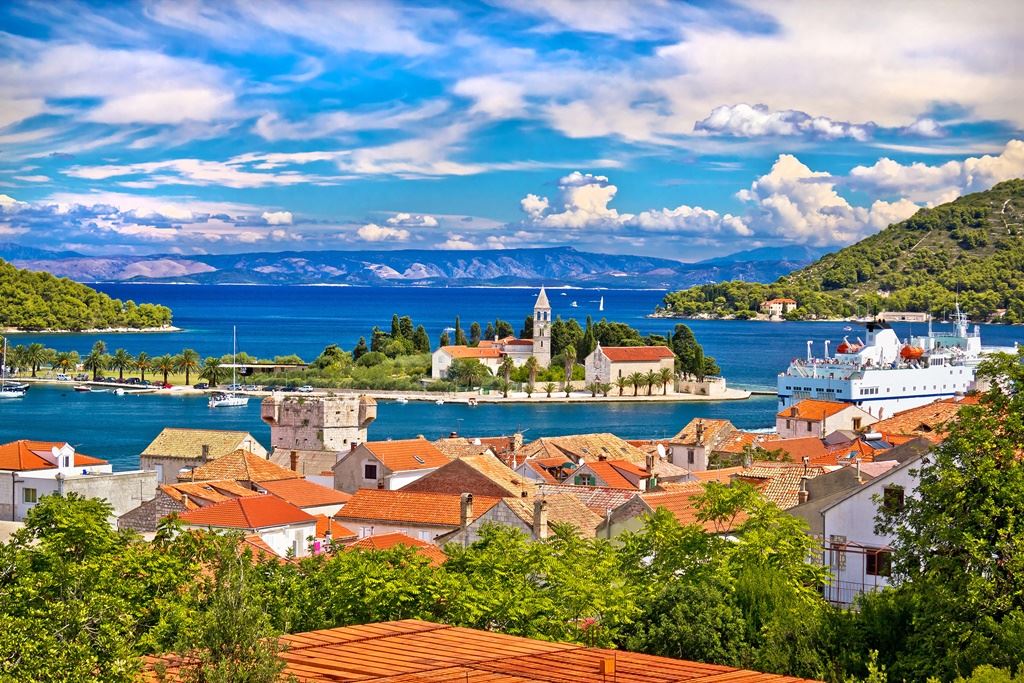 Island Vis
Vis is the furthest island in the Adriatic from the Croatian coast (45 kilometers), hidden behind the islands of Brac, Hvar and Solta. Vis started to be open for the foreigners just recently, after the fall of Yugoslavia. That is why tourism is still developing, much slower than in popular resorts such as Brac or Hvar.
Vis is the furthest island in the Adriatic from the Croatian coast (45 kilometers), hidden behind the islands of Brac, Hvar and Solta. Vis started to be open for the foreigners just recently, after the fall of Yugoslavia. That is why tourism is still developing, much slower than in popular resorts such as Brac or Hvar.
Vis Weather
Vis island is known for its mild Mediterranean climate with hot summers. Still, since it is further away from the mainland, it is isolated and more exposed to the winds than its neighbour islands. The most often winds are bura (strong, cold and dry wind from the north-east) and jugo (warm and humid wind from the south-east), but also maestral (mild, humid summer wind). In average, there are 2600 sunny hours throughout the whole year, and the temperatures go above 24° C in the summer and 6° C in the winter.
If you plan to visit Vis, this guide will give you all the necessary information regarding the island, its beaches, party places, travel information and of course the detailed list of things to do during your stay.
Ferry to Vis
Vis town is located in a big bay on the north-east side of the island of Vis. Also, Vis is the only port on the island, so all the connections with the mainland are there. The ferry terminal is located in the town centre, near the main promenade by the sea.
Once you get to the town of Vis, you can choose to stay there and enjoy a really peaceful and relaxing holiday, or you can jump on the bus (usually, it is right in front of the ferry waiting for the passengers) and you can visit the town on Komiža (13 km)on the other side of the island (from there it is easy to visit the Blue and the Green cave) or you can rent a car or scooter and visit numerous nice bays and beaches around the island.
Vis is a really small island town, so no matter where your accommodation is, the ferry terminal is easily reachable on foot. The other alternative is taking a taxi, especially if you're with luggage. It shouldn't cost you a lot, since it's quite a small distance. Obviously, you can find many facilities there: post office, shops, bars, ATM-s, restaurants, etc.
There is also a ticket office where you can buy the tickets for the ferry or the catamaran.
List of the ferry and catamaran routes from Vis
Getting to Vis from Split Airport
From Split Airport you should take the airport shuttle bus which takes you to the bus station in Split (travel time ~ 30 minutes), which is just next to the ferry port in Split, so very easy, even if you're carrying a heavy luggage. From Split port you can choose between the ferry and a catamaran to Vis port. If none of this matches your itinerary, you have an option of taking a speedboat from Split airport directly to Vis, but have in mind that it is very expensive. Since you are paying for the whole boat, it might be a good solution if there are more people going.
Getting around the island
Vis town is small so it is very easy to walk it over. Vis port is connected to Komiža by regular bus service which is scheduled according to the departures and arrivals of the ferries from the mainland, therefore a bus departs from Komiža 1 hour before the ferry departure, and from Vis port to Komiža it departs a few minutes after the ferry arrival. The ticket for this route costs 25 kuna.
Regarding buses, check the details here.
For those interested in cycling and hiking, the island has good roads and the main road is 30 km long, but there are also other roads in the middle of the island. You can find scooter and bike rental companies, as well as car rental companies.
In case you want to order a taxi to transport you from one place to another, you can find them in Vis and Komiža parking lots, but hame in mind that it is expensive (10 km ride – 300 kn).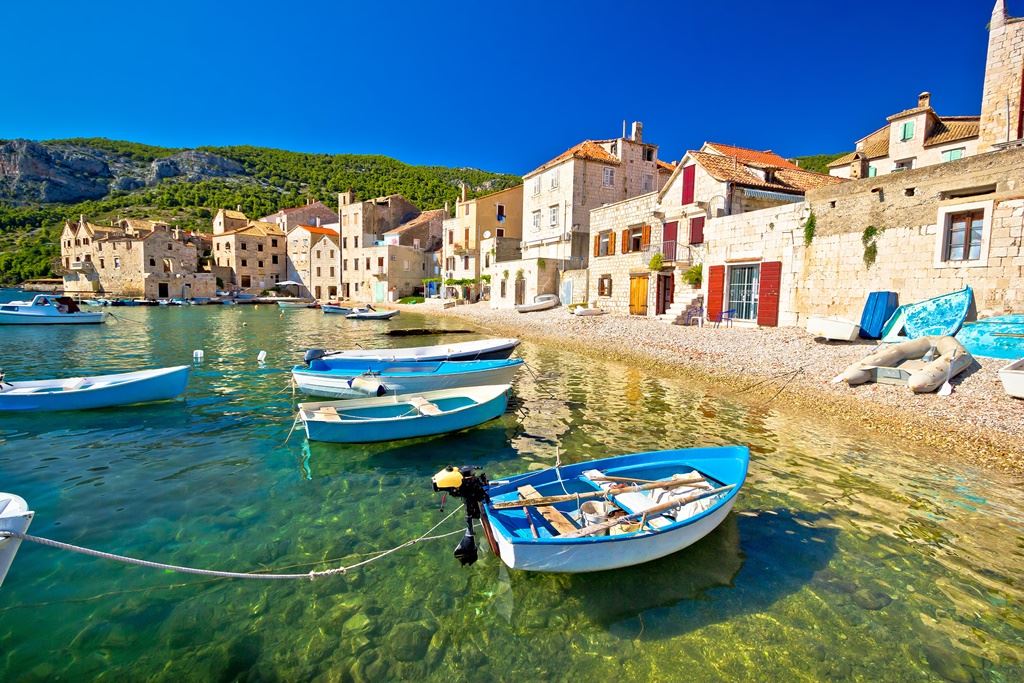 Historical sights
Vis Town – In Vis town you can see what is left of the ancient monuments that tell the story of the island. Due to the Greek and Roman influences, Issa was fortified, but only the lower layers of the construction remained along with the supporting masonry of the terraces on which the town was built. Also, visit the remains of public thermal baths whose high walls were completely destroyed in WWII. All in all, although the history of Vis town is fascinating, not many sights remained till today.
Archaeological Museum – If you want to get to know the history of Vis, this is a much better place to do that. It was built in the fortress, in the period of Austrian rule and it displays the largest collection of items dating from the period when Vis was a Greek colony. There you will find things such as Greek pottery, sculptures and jewelry but also bronze head of the goddess Artemis from the 4th century BC and various relics retrieved from the shipwrecks.
Fort George – 20 minutes walking from Vis town takes you to the fort built by the English in 1813, after they had defeated France, but soon they left it and it was abandoned for the next two centuries. Today, the fortress is being looked after and is a big tourist attraction. More and more, it is becoming a popular wedding location but also functions as a cafe/bar with various events, especially during the summer. The reason for this is mostly its perfect location with the stunning views.
Hum – The hill Hum is ideal for those who love hiking and active holidays in general. It is the highest point on the island, 587 m, and you can choose whether you want to go with a car, a motorbike, by bike or on foot. The views you get to see from there are simply breathtaking, and while you are there, you can explore the Chapel of Holy Spirit (Sveti duh).
Tito's Cave – Vis played an important role in recent history and it was a naval base during the period of former Yugoslavia. The leader Josip Broz Tito used the cave in the mountain Hum as his secret headquarters where meetings were held. You can either join an organized tour that will take you there, or you can find it yourself, but make sure you know where it is before you go. Besides the cave, Vis is full of other military buildings from that period, but we suggest you explore that as a part of organized tour.
Stiniva – According to many, this is the most beautiful beach on Vis which is no wonder since it is a unique natural phenomenon. This perfect cove is surrounded by high cliffs almost completely, leaving only 10 m for the boats to pass, which is the only way (at least the only safe way!) to access the beach. That can be done by many excursion boats on offer, either from Vis or Komiža.
Blue Cave – On the island Biševo, near the southwestern coast of Vis, is one of the most famous natural sights, the Blue Cave. It is one of many caves you can find in that area, but this one is special for its magical interior bathing in blue light. The scene is at its best a little before noon with the waters turning silver and pink to 16 m deep. Since it is a huge tourist attraction, it is mostly pretty crowded, and the best way to get there is to choose one of numerous organized tours from Komiža.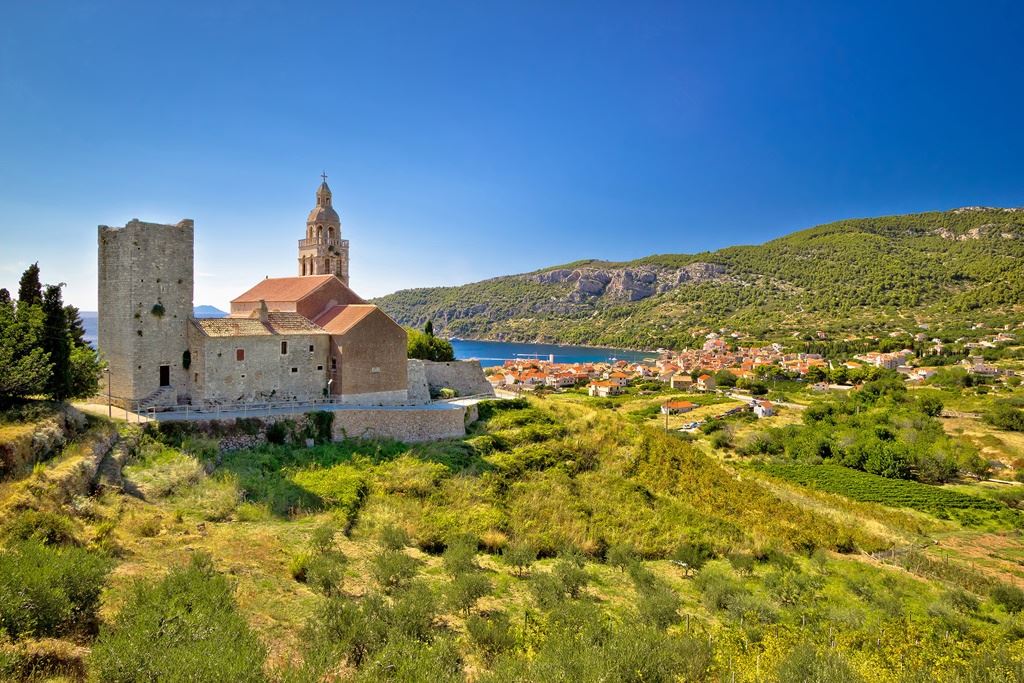 Top beaches on Vis island
Vis is known for the crystal blue sea and beautiful beaches. The coast of the island is not steep and difficult to reach like on the other islands, but you will find a lot of protected and gorgeous bays with many beaches that are authentic and resist all the new trends. Most of the beaches are pebble ones, but you can also find rocky and sandy ones.
Prilovo is the most popular beach in town of Vis is. It is located on a small peninsula called Prilovo, by the promenade. It is a pebble beach around 100 m long with some shade. Near the beach you can find volleyball and soccer courts together with several bars and restaurants. On the beach is possible to rent a lounge chair and take a shower.
Kamenice is one of the most popular beachs located in Komiza. The beach  is within the walking distance of Komiza town. Besides the shade, you will find a natural spring water, showers, toilets and there is a possibility to rent kayaks and chairs. After the most beautiful sunset, the beach turns into a good place for a night out with its disco club Aquarius.
Novo posta, Storo pošta, Templuz and Balunčić are nudist beaches which you can find in Komiza, along with many others.
But the best beaches, according to many visitors, are not located in any of these two places which is why they may be less accessible, but definitely worth getting there.
Stončica is the first beach you get to see after Vis town. It is a stunning sandy beach located on the north. It has a lot of shade and things you can find there are volleyball court and restaurants.
Stiniva is one of the best beaches and the winner of the 'best beach in Europe' title. It is located west of Mala Travna bay, closed in by two rocky cliffs which is why it is highly recommended to reach it by taxi boat. It is a small, adorable pebble beach with a few cafes on the side. Since it is surrounded by high cliffs, you can find a natural shade on at least half of the beach.
Srebrna or 'silver beach' is another extremely popular beach located on the southeastern part of the island, in town Rukavac. The beach is exposed to the open sea which is why it is that special and beautiful. One side called Templuš is perfectly suitable for families with children, and on the opposite side, Bili bok is reserved for nudists. Also, there are no activities or bars and restaurants on Srebrna beach.
Zaglav is one of the most beautiful sandy beaches in Dalmatian coast and it is located near Milna town. It looks like a perfect sandy paradise but can be really crowded in peak season. It doesn't have any sorts of activities or facilities, just a restaurant.
Vis hiking trails
On Vis island there are plenty of marked paths for hiking and you can reach any point of the island within 3 hours. There are no venomous snakes on the island but still make sure you do not disturb any and bring the proper hiking equipment so that you can enjoy the nature to the fullest. Summer is not the ideal period for hiking due to high temperatures but long days still allow you to take a walk in the evening.
From Vis town you have several different paths:
Vis – Stončica bay is an easy route that starts at the ferry and leads to Stončica bay, passing the vineyards, in 2 and a half hours.
There are 4 paths that lead to Hum, the highest point of Vis island (587 m), depending if you want to take a longer or shorter route. The shortest route requires that you take a bus from Vis town to village Korito and then continue walking, and it lasts 3:15 h in total. Longer routes last from 3:40 to 4 hours but they are not starting from the same point in Vis. One starts at the ferry port, the other one near the Medical Center.
Vis – Milna starts at the ferry port and lasts for 2 and a half to 3 hours without the big ascent (180 m).
Vis – Zaglav bay starts at the ferry port, lasts for 3 hour and has a moderate descend (180 m).
Vis – Rt Polivalo starts at the ferry port and lasts for 3 hours, the ascent is 232 m but the view by the end of the route is beautiful.
Vis – Ruda bay starts at the ferry port, you will get to see the beautiful vineyards along, to the Chapel of st. Vid on top (232 m), route lasts for 3 and a half hours.
Vis – Stiniva bay starts at the ferry port and leads to the stunning Stiniva beach, the route lasts for 3 and a half hour with an ascent of 232 m.
Vis – Oključna is a direct route starting from the Medical Center and lasts for 2 hours with an ascent of 150 m.
Vis – Vis is a circular route that starts at the Medical Center across the hill Humac, along the vineyards in Poljica back to Vis. The route is very easy (50 m ascent) and lasts for 1 hour.
Vis – Parja bay is another easy route with a low ascent that lasts for 1 hour.
If you are staying in Komiža and that is your starting point, there are also several routes from there:
Komiža – Komiža: there are two circular routes. First one follows the road to Vis, across the Chapel of St. Mihovil and Mali Hum, ending in Komiža. It lasts around 3 h with an ascent of 470 m. The other one passes the Chapel of St. Blaž and has a bit lower ascend. The route lasts for 3 and a half hours.
Komiža – Oključna starts at the waterfront to the path towards Vis, across the Chapel of St. Blaž to Oključna bay. It lasts for 2 h with an ascent of 390 m.
Komiža – Rt Barjaci: there are two routes that connect these to places. First one starts at the waterfront but goes across the Chapel of st. Blaž, lasts for 2 and a half hours with an ascend of 283 m. The other route is lower, starts near hotel Biševo, across the hill Bonovo, it lasts for 2 and a half hours.
Komiža – Rt Stupišće starts at the cemetery of St. Nikola, across Tito's cave. The ascent is only 100 m and the route lasts for an hour and a half.
Komiža – Hum: there are two routes, the direct one and the one that goes across the Tito's cave. the direct route lasts for 3 h and the other one 3 and a half hour. Parts on these routes might be covered in machia and hardly visible so have that in mind and be careful.
Besides these routes, there are two more routes on Biševo island, near Vis, just in case if you decide to go there. The first one starts in the bay Mezoporat which is near the famous Blue Cave across the Church of St. Silvestar then sandy bay Porat to bay Trešjavac. The other one starts near the school in village Polje, across the bay Salbunara and bay Porat. Both routes last for 80 minutes with a moderate ascent.
Snorkelling & diving on Vis
Vis island has a very interesting underwater life rich with flora and fauna. Besides that, there are plenty of caves and grottos that are otherwise not easily reachable. Also, Vis is known for being an important military base of Yugoslav National Army and no tourists were allowed on the island till recently. That means that its underwater nature is well-preserved and unspoilt with crystal clear waters. There are a lot of old military sea tunnels from that period that served as a war ship shelters which is a very attractive thing to explore.
The most popular snorkelling spot on Vis is Stiniva, and although very crowded in the last several years, the nature is still preserved, but in the peak season the crowds can be annoying. Remember that Stiniva is hard to reach from the land, the best option is to get there with a boat.
Maybe the most spectacular and the most attractive place for snorkelling is the area around the Blue Cave, on Biševo island. The morning lights penetrate deep into the water changing the colors of the rocks and the sea bottom, a truly magical scenery.
However, every beach on Vis island is good for snorkelling, but definitely consider Srebrna beach and Green Cave besides these described.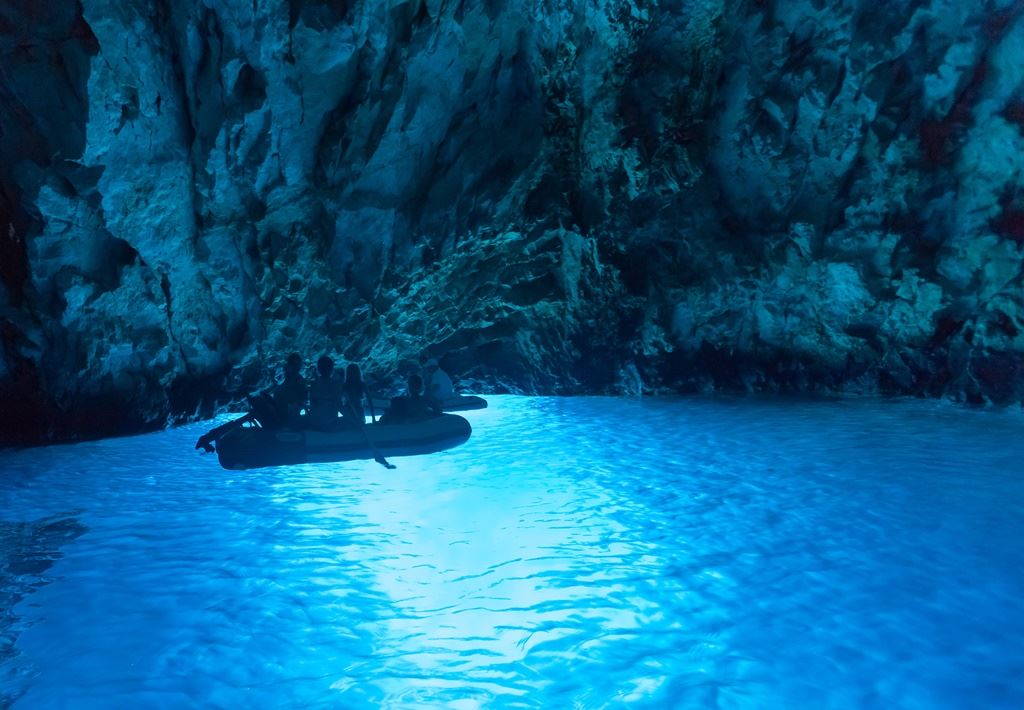 Festivals on Vis island
As mentioned above, Vis is not a popular party destination like Hvar, but it is getting more and more attractive, especially during the summer when a lot of events and festivals take place attracting big numbers of people.
Ultra Music Festival  is probably the most famous festival in Croatia and it is taking place in Split. Well, organizers had instantly recognized the potential of Hvar and moved one night there, but the same happened to Vis. Since 2017, the closing night of Ultra Festival is happening in Fort George, rounding up the party week in a bit more intimate atmosphere.
Goulash Disko Festival is another popular festival that seem to be getting more and more visitors each year. It is a music event organized by a couple from Dublin. This unique five-day festival is completely independent and sponsor free, funded by the crowd. The music genre could be described as electronic, but it experiments with a lot of different styles. The program also includes some workshops and performances of various kinds. The ticket for the entire festival costs around 135 € and there is a temporary campsite which is additional 27 €.
Vis is known for preserving the tradition and authenticity, and that is also being done through a huge number of festivals and manifestations during the summer period. In Vis town is popular Vis Summer Festival, numerous cultural events that take place almost every evening in July and August. From Festival of Vine and Island Products (Festival vina i otočnih proizvoda) to a series of plays, live concerts etc. The same is with Komiža and its own program starting with Komiška regata and Festival of the Sea (Festival mora) to numerous plays and open-air concerts with musicians from the region.
Vis nightlife
Vis is not a popular party destination such as Hvar but mostly an island of peace and tranquility, amazing food and breathtaking nature. Still, that doesn't mean you cannot have a good night out on Vis island.
There are few cafes and bars that turn into great party spots during the night. Just across the ferry is one of the popular bars Bejbi, a place where you can have a drink/cocktail and meet both locals and tourists. For the best sunset and a summer night on a terrace go to Fort George bar, built by the British in 1813, also located in Vis town.
In Komiža, Corto Maltese is a popular cocktail place among the youngs and Fabrika is a hypster place with good cocktails. Most of the bars in Komiža are located by the promenade or around the square Škor.
Besides that, summer is a period of open-air concerts on Vis island, so it is good to check the schedule of the events before the arrival. If you'd get the chance to arrive during the Vis Summer Festival, that would be an amazing experience.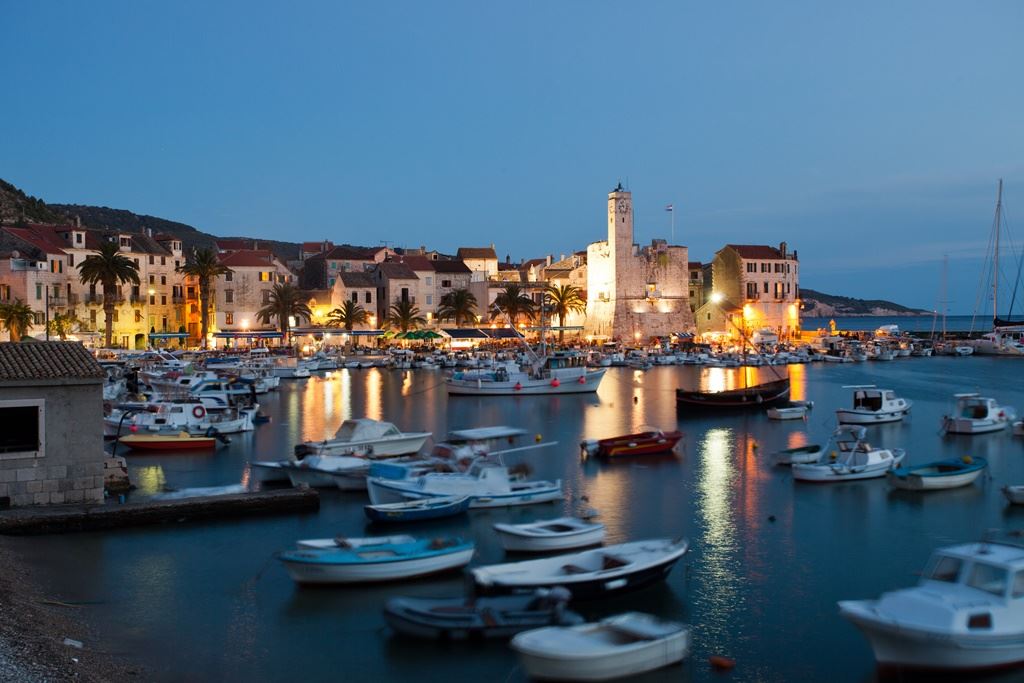 Food & supplies
On Vis island you can easily find grocery stores, bakeries, butcher shops, pastry shops, pharmacies and other kind of small shops, so you can buy anything you want right there on spot without bringing anything from the mainland. The biggest offer is in Vis town and Komiža and bigger places on the island in general. If you are staying in a smaller place with less offer, the best would be to get to Vis or Komiža at some point and buy all the necessities. Besides a number of small stores, you can look for Tommy, Konzum or Studenac markets which are the most common among the locals.
Still, trying some of the local specialties is a 'must', and on Vis island you can find plenty of restaurants with high quality local cuisine. You should definitely try some of the fish specialties, like grilled fish or scampi, "black" risotto with squids, octopus with potatoes baked under the lid on an open fire… Dalmatian cuisine is a Mediterranean style cuisine which is similar to the Italian one, so you will find a lot of olive oil and herbs like rosemary and sage, garlic and tomatoes in almost every sauce, a lot of vegetables and fruit, etc.
If you are not that keen on fish, you can always try some delicious meat dishes, like roasted lamb with potatoes and rosemary, homemade prosciutto served with cheese and olives, grilled steak with fresh vegetables, or some typical pasta dishes.
Of course, great food has to go hand in hand with some fine wines such as the famous white wine 'Vugavac' and red wine 'Plavac'.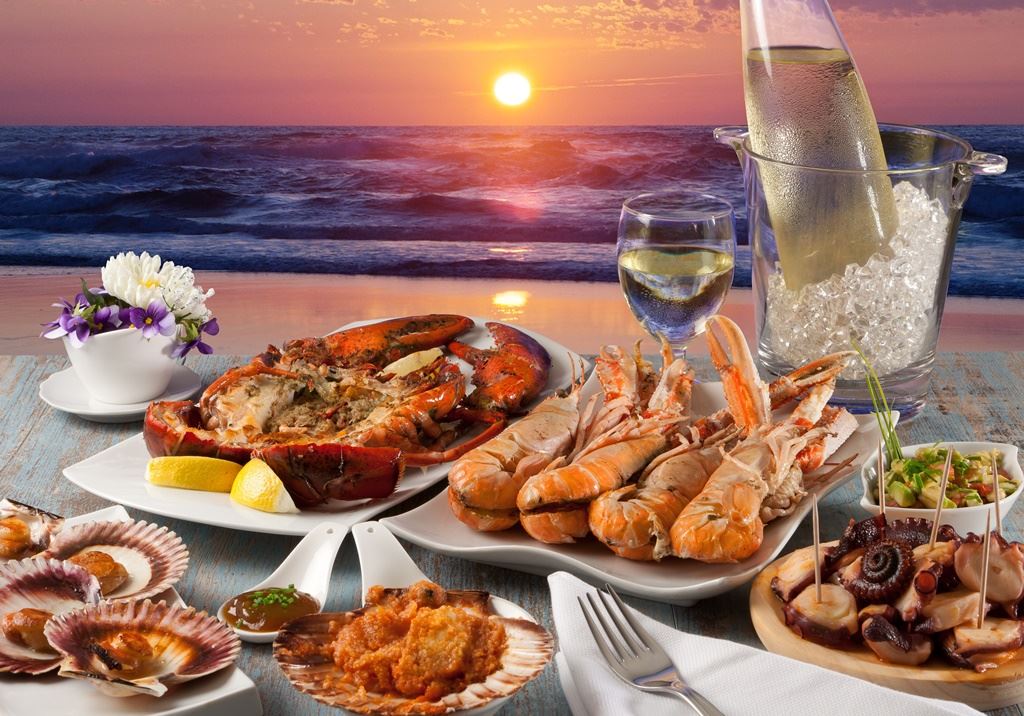 ATMs & exchange offices
Remember that the official currency in Croatia is Kuna and most of the places accept Kuna only. In large tourist places, especially on the coast, it is acceptable to pay in euros or credit cards. However, make sure you always have a local currency with you and some cash because not every restaurant, bar or market accept credit cards. Still, larger supermarkets and pharmacies usually accept them but in case you need something from the bakery, mini markets or newspaper stand, always bring cash.
When you find yourself on the open-air market, if you try to bargain, you might save a few kuna, but that is not common in that area and the prices are fixed.
If you need an ATM, an exchange office or a bank, you can easily find them. There are several ATMs both in Vis and Komiža, but also a few local banks. Look for ''Mjenjačnica'' but it will mostly be translated to 'Exchange' if you need to exchange money.
The banks' working hours depend on the season, but you should go there in the morning, just to be on the safe side, and have in mind that during the weekends and national holidays they might be closed. ATMs are available and usually located in the port, on the main promenade.
Emergency contact info
In case of an emergency, or if you require immediate assistance of any kind – medical or police assistance, fire department, mountain rescue services, you can call the toll-free number 112 from any location in Croatia (the calls can be made via landlines, cell phones or phone booths) at any time of day or night.
If, by any chance, you need to seek a medical assistance while you're on Vis island, there are ambulances in Vis town and Komiža:
Clinic, Komiža: +385 (0)21 713 122
Clinic, Vis: +385 (0)21 711-117; +385 (0)21 711-026
The number of the doctor on duty is: +385 (0)91 40 10 147
If you need to contact police, the numbers you can call are: +385 (0)21 711-006; +385 (0)21 309-010; +385 (0)21 309-039. The police station is located in Vis town and the address is Vladimira Nazora 32.
Should you need a pharmacy, there is one in Vis and Komiža:
Vis town: Poljana Sv. Duha 14, +385 (0)21 711-434
Komiža: Ulica San Pedra, +385 (0)21 713445
For all tourist information, you can consult tourist boards on Vis island:
If the situation requires further urgent assistance or hospitalization that cannot be provided on the island, a speedboat or helicopter will be sent for the patient and take them to the nearest hospitals in Split.
Foreign citizens/tourists coming from countries that are signatories of the Health Care Convention don't have to pay for medical assistance in Croatia, while patients coming from countries that are not signatories of this convention, must pay for medical assistance provided, according to the valid tariffs.
Vis Map
Vis Island FAQs
Can I bring my bicycle on the catamaran or ferry?
It is possible to bring a bicycle on a car ferry, but you need to buy a separate ticket for it. On the other hand, bringing a bicycle on a catamaran is in most cases forbidden as there is simply no space. In case you are travelling off season, the boat crew might let you bring it if there are no many passengers.
Can I buy / reserve ticket for a specific departure?
In case of the catamaran you can buy a ticket for a specific departure, but for the car ferry you can buy a ticket for a specific travel date, but not for a specific departure.
Can I make a day trip to Vis from Split?
Yes, it is possible, especially during the summer season when the ferry and catamaran lines are more frequent. If you choose to go with a ferry, it will take you a bit more than 2 hours to get to Vis, and if you decide to go with a catamaran you can get there in less than 2 hours.
Can I bring my dog on the ferry / catamaran?
On catamarans you can NOT bring your dog, but on the car ferries you can, but you are not allowed to take them into the closed areas where passengers are sitting.
How much luggage can I bring?
On ferries up to 100 kg, on catamarans up to 20 kg but as the luggage it not weighed, it is normally not an issue if you bring a bit more.
Which airport should I fly to if I want to go to Vis?
You should fly to Split airport because you can then easily take the ferry or catamaran to Vis that departs from Split ferry port, which is just 40 minutes drive from the airport.
How long should I stay on Vis island?
A trip of 2-3 days would be enough to explore the main areas on Vis island, but if you want to soak up all the authenticity and lifestyle of the island, take a few days more to properly relax and forget about your everyday life.
When is the best time to visit Vis?
The best time is the summer, because you can spend your days on the beach, relaxing, swimming and sunbathing. The days are long and it is really warm, plus all the events and festivals are at their peak. The downside is that the island is packed during the summertime since everyone is visiting then. September is one of the best months; the air temperature is milder and the sea is still quite warm. October is good for hiking and cycling enthusiasts since it is not that hot anymore. May and early June are good months regarding the air temperature but the sea might still not be that warm for some, with the temperature of about 18-20 degrees.