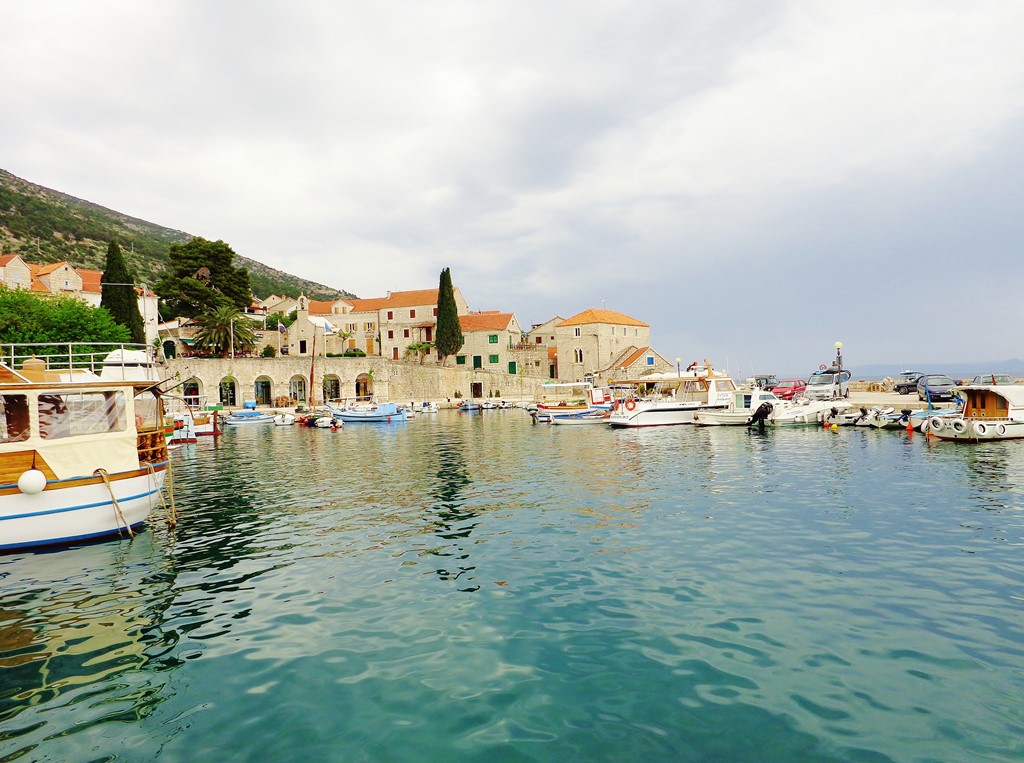 Bol catamaran port
Bol is a town on the south side of the island of Brač, famous for one of the most popular beaches in Croatia – Zlatni rat. Bol is connected to the mainland (Split) and the island of Hvar (Jelsa) by regular catamaran lines.
The pier where catamarans depart from is located next to the main promenade by the sea, in the town center.
Getting to and from Bol port

The pier is located right in the centre of Bol, near the main promenade by the sea. No matter where your accommodation is, it is easily reachable on foot. The alternative, especially if you're with luggage, is taking a taxi which won't cost you a lot, since it's quite a short distance.
The bus station is also near the port and it's easy to find. Read our guide to bus stations in Bol to see the exact location. There are bus lines between Bol and other major destinations on Hvar.
How to get from Bol to Split Airport
There is a direct passenger-only ferry from Bol to Split a couple of times a day. If none of the departures suits you, you can get a ferry from Supetar to Split (they're more frequent), but keep in mind that the bus ride from Bol to Supetar can take up to an hour. Once you get to the ferry port of Split, you simply cross the street to get to the main bus station where you take a shuttle bus to the airport.
The airport is located around 25 km from Split and it takes around 30-40 minutes by a shuttle bus to get there.
Getting to Bol by bus
If you're travelling by bus and need to reach Bol, you first have to get to Split which is connected by regular and seasonal bus lines to many Croatian and even European destinations. The main bus station is located literally across the street from the ferry terminal where you take a direct catamaran to Bol. For the exact location click here.
If you're traveling in a car, the alternative is taking a ferry to Supetar and then driving to Bol.
Bol port facilities

As mentioned above, the catamaran port in Bol is located right in the town center next to the main promenade by the sea, so obviously you can find many facilities there: shops, bars, restaurants, ATM-s, etc.
Bol port location

Račićeva

21420 Bol (Brač)

GPS co-ordinates: 43.26092, 16.65739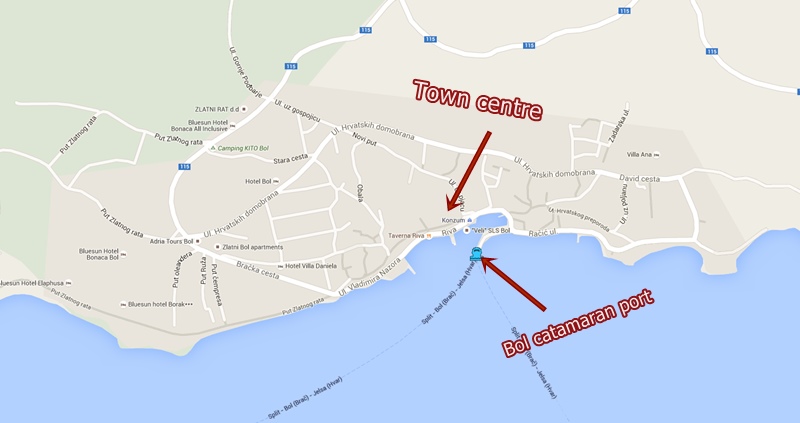 List of the ferry routes to/from Bol
Catamaran line from Split via Bol to Jelsa on Hvar
Catamaran line from Split via Bol to Makarska, Sobra (Mljet), Korcula to Dubrovnik
Catamaran line from Split via Bol to Hvar town, Korcula and Dubrovnik