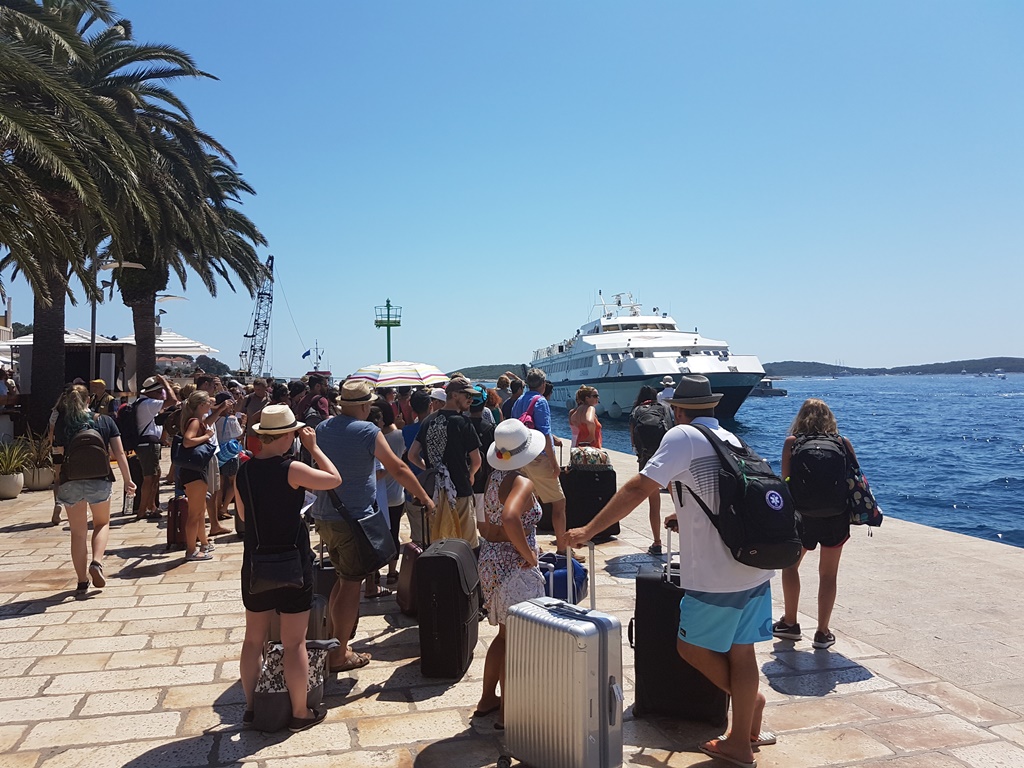 Island Hvar
Island Hvar is a Croatian island in the Adriatic sea, located in the archipelago in front of Split port, between the islands Brac, Vis and Korcula. Hvar island has about 11,000 permanent inhabitants and around 700,000 overnight stays with an increase of 20% in the last year. More and more tourists visit Hvar each year and it is clear why. Its beautiful and serene landscape, with numerous beaches and lavender fields on one side and top party places in the Hvar town, offer the best summer experience for both families with children and young couples as well as those searching for exciting nightlife.
Hvar Weather
Hvar is one of the most popular holiday resorts, with the highest number of sunny hours in the country (2726 on average each year). The island is known for its mild Mediterranean climate with warm summers and mild winters. The average air temperature during the summer months (from June to September) ranges between 26 and 34 degrees Celsius during the day and 24 to 28 during the night. The sea temperature is usually between 23 and 27 degrees Celsius during summer.
If you plan to visit Hvar, this guide will give you all the necessary information regarding the island, its beaches and campsites, party places, travel information and of course the detailed list of things to do during your stay.
Ferry to Hvar
Getting to and from Hvar Island obviously requires a trip with a ferry or a catamaran, depending on how you travel (by foot or car) and which place on Hvar you are traveling from/to, there might be several ferry/catamaran options to consider.
Please note, several of the connections listed below only operate in the summer season, click on the links below to check each timetable.
There are 4 ferry/catamaran ports on the island Hvar:
Sućuraj at the southeast end of the island provides a car ferry connection from Drvenik on the mainland. Drvenik is located 115 km south of Split and 125 km north of Dubrovnik. You can check the timetable and buy tickets for the car ferry from Drvenik to Sucuraj here and in the opposite direction here.
Jelsa, which is located on the north side of Hvar island, offers a catamaran route sailing from Split to Bol on island Brac and then to Jelsa; the travel time from Split to Jelsa is about 1 hour and 40 minutes, you can buy tickets and see the timetable here. The trip from Bol to Jelsa is a short one and takes about 20 minutes. You can buy catamaran tickets here.
Stari Grad at the north side of the island is the main port for car traffic to the island. All year round there is a car ferry from Split to Stari Grad, sailing time for the ferry is about 2 hours, you can find the tickets here, while during the summer season there is a ferry from Ancona which stops in Stari Grad on the way to Split. The timetable and ferry tickets from Ancona to Stari Grad you can see here.
Hvar town is the main hub for passenger traffic to the island; during the summer season there are catamaran connections to/from many destinations in Dalmatia, during winter season there is a daily catamaran connection between Split and Hvar town.
Here you can see the timetable for different catamarans to Hvar, and also buy the tickets directly (both to/from the mainland and some other islands in the area, as well as the one to Italy):
Getting to Hvar Island from Split Airport
From Split airport you should take the airport bus, the bus takes you to the bus station in Split (travel time 30 minutes) which is just next to the ferry port in Split, so very easy, even if you have luggage to carry. During main season July and August, when it gets really crowded in Split, you may consider taking a speedboat from Split airport directly to Hvar, this only takes you about 1 hour. Speedboats are quite pricey (you pay for the whole boat) but if you can collect 10 people, it is an affordable option.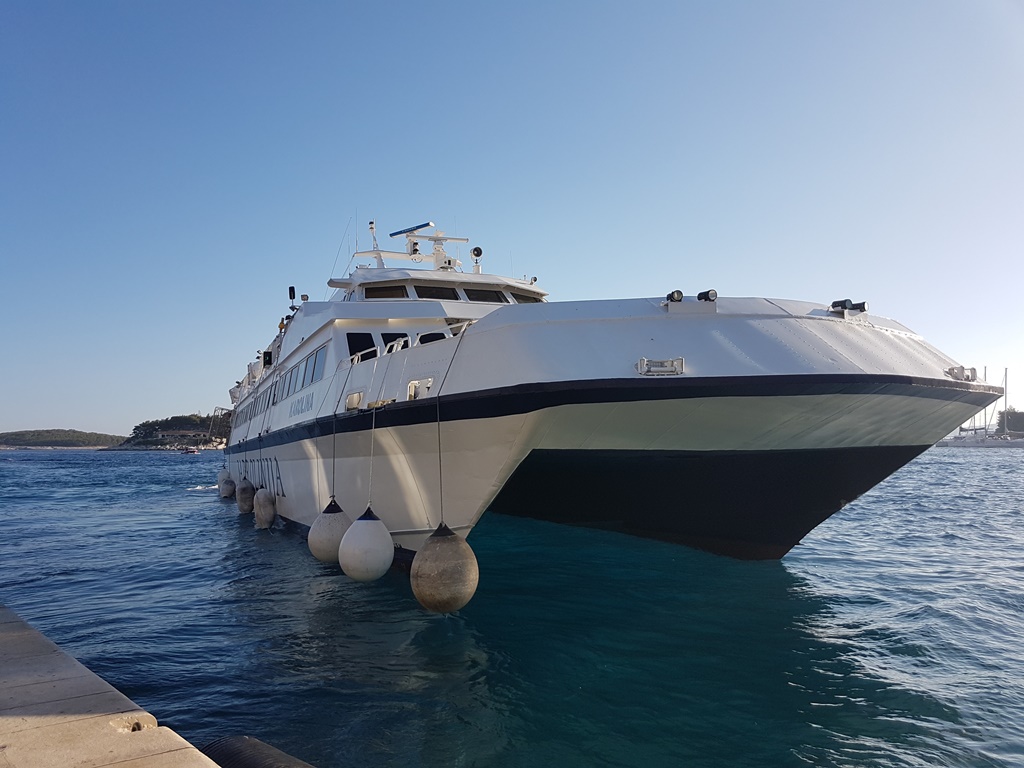 Getting around the island
Between the 4 above mentioned ferry ports there are buses operating (in most cases) according to arrival and departure of the ferries and catamarans. The bus stops are in most cases near to where the ferry / catamaran arrives, you can see more details about buses on Hvar here.
Besides the buses, there are also other ways of exploring the island: you can rent a car or a scooter, if you have your driving license with you; otherwise you can book a private transfer or take a taxi, but that will be a bit pricey because Hvar is not the cheapest island to visit. If you are more into adventure and exploring the landscape, you can rent a bike, if you haven't brought your own, and take the cycling trail around the island, you can read more about this in the section Hvar cycling trails. In addition, you can also rent a boat and explore all the hidden bays and coves around the island.
Historical sights
Since most of the villages on the island were settled in the ancient Greek and Roman times, there are numerous historical sights you should visit during your stay. Island Hvar is one the first locations on the Croatian coast that was inhabited by the Greeks, and Stari Grad was founded in 385 b.C. as a Greek colony named Pharos. Apart from the old town of Stari Grad there is also the Stari Grad Plain that was listed among the UNESCO Cultural Heritage Sites.
If you wish to explore the Stari Grad Plain, you can check some of the hiking trails that will lead you there. For art lovers, there is the famous painting, "Lamentation of Christ", made by Tintoretto, a famous Italian renaissance painter, that is kept in the old Dominican monastery built in the 15th century.  Another Stari Grad highlight is Tvrdalj, a fortified castle where a Croatian poet, Petar Hektorović, lived, with a beautiful garden and a fish pond.
Hvar town has of course a number of important historical sights to visit and among them are the old Franciscan monastery, a renaissance monastery built in the 15th century, St. Stephen's Cathedral located on St. Stephen's Square, the main square in the old town of Hvar and actually one of the largest old squares in Dalmatia county. The cathedral was built in the 16th-17th century. Next to the cathedral there is an Episcopal Museum that houses silver vessels, liturgical robes, various statues of the Madonna, a sarcophagus and an interesting stamp collection. Another interesting site is an old edifice which once upon a time hosted war galleons, known as the Arsenal, is located on the main square in Hvar old town and later served as a theatre. Last but not least, one of the most important features of Hvar is the old medieval castle and fortress, Fortica, located on the hill just above Hvar town offering magnificent views over the bay and Pakleni islands.
In Jelsa town you will find a baroque church of St. John dating from the 15th century, located on the town square in a beautiful renaissance and baroque setting. Jelsa boasts one of the prettiest and largest parks in Dalmatia, dedicated to the famous captain Niko Duboković, with his statue within the park. Definitely a place to visit, especially on a warm summer evening. Between Stari Grad Plain and Jelsa, there are two more archaeological sites which are worth visiting, Tor and Galešnik. Both of them are included in the hiking trails around Stari Grad Plain. Galešnik is an old medieval settlement, while in Tor you will have a chance to see an old tower, located just 210 m above sea level, overlooking Jelsa harbour.
To conclude your quest for the most important historical sights on the island, you can go to Vrboska village, a picturesque village located on the northern coast of Hvar, which offers an interesting Fisherman's museum that stores old fishing nets, tools and equipment to demonstrate the old way of life and the fishing tradition of the island. Apart from that, there is the St. Mary's church, an old fortified church built to protect the village from the Ottoman invasion.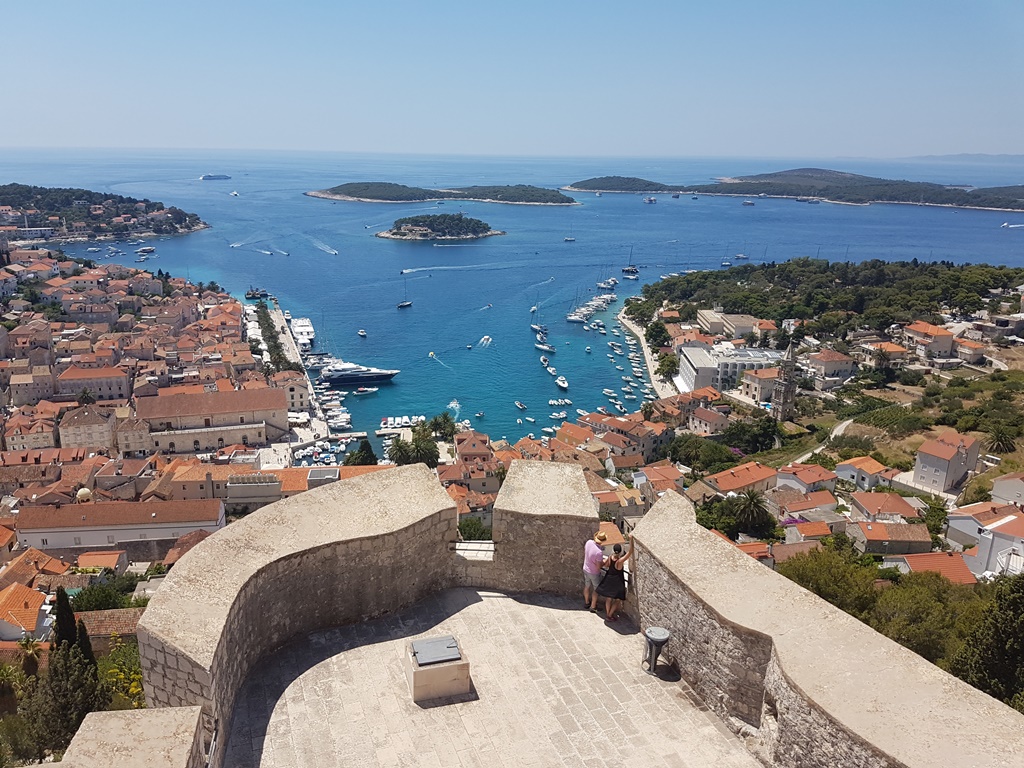 Top beaches on Hvar Island
Hvar is known for its crystal clear blue sea, and there are numerous beaches to choose from. Some of them are located in the above mentioned towns and some of them are a bit further away, in bays or smaller islands scattered along the northern and southern coast of Hvar island.
On the southwest side of the island, facing the open sea, you will find fine gravel beaches, near the towns Zavala, Milna and Ivan Dolac, while on the northern side of the island there are some natural sandy beaches.
For those travelling with children, shallow sandy beaches are located in various bays around the island – in Jelsa town (Mina beach), near Sućuraj town and in Stari Grad town (Maslinica beach). One of the best family beaches on the island is located at Soline, a short walk from Vrboska village near Jelsa. Not far from it there is a nudist beach, so keep that in mind.
For those who can explore the island by boat, western part of the Island offers some secluded cove beaches in the vicinity of Brusje village (Lučišća, Grabovac and Stiniva coves are the most popular for boat owners).
If you are staying in the town of Hvar, there are two main town beaches, Amfora beach in front of hotel Amfora and Sirena beach, in front of hotel Sirena. These two beaches can be a bit crowded since many hotel guests will be using them, so keep that in mind as well.
Many families with children will also like to know that there are 4 pebble beaches in Milna village, not far from Hvar town (only 4 km away), on the southern side of the island, offering a quiet place to rest from the summer crowds.
Not far from Milna, there is a small village Zaraće, with rocky cliffs and two coves with pebble beaches, one on each side of the cliff, Velo Zaraće on the east side and Malo Zaraće on the west side.
One of the most popular beaches on Hvar island is Dubovica beach, located 8 km from the town of Hvar, a large pebble beach with beautiful underwater scenery. You can even reach Dubovica by local bus from Hvar town, it takes only 15 minutes to get there and the bus ticket price is just about 1.5 euro.
And finally, the most beautiful beaches on Hvar are scattered around Pakleni islands, located in front of Hvar town, where you will see about 20 small islands forming an elongated and beautiful  archipelago with numerous secluded beaches, reachable only by boat. There are of course taxi boats that depart very often in the high season, from the main port in Hvar town. The closest of the islands is St. Jerolim island, followed by Marinkovac with Stipanska bay and St. Klement with Palmižana bay. Of course there are many more bays and islets to discover here but these are the largest bays where you can even find some restaurants. Many of these beaches are nudist beaches, so keep that in mind. If you are looking for a good nudist beach, you might want to check the one at Jerolim island which was enlisted among CNN's 21 sexy skinny dips – top picks for nudist beaches in the world.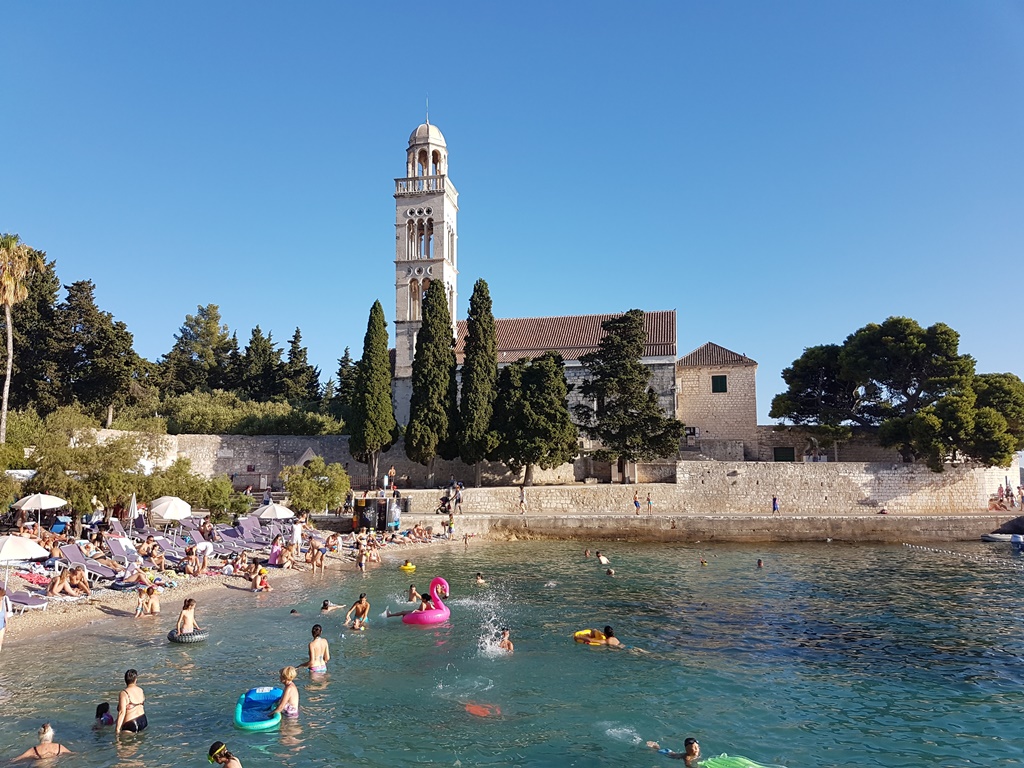 Camping on Hvar
Many people enjoy spending their vacation in nature, lying in the shade of pine trees listening to the sound of waves and crickets. It really is a peaceful and unique experience, especially if you are spending your summer vacation on a Mediterranean island surrounded by beaches of crystal clear sea and you can get the best of it if you decide to spend your vacation camping instead of booking a hotel room.
Since there is no possibility of wild camping on island Hvar, because it is illegal, there are some smaller and larger campsites along the coast and near the bays with pebble beaches and are well equipped offering facilities like showers and bathrooms, restaurants, water and electricity, kitchen etc. so you won't have to worry about a thing during your stay.
You can choose between campsites near popular tourist destinations such as Hvar town, Jelsa or Stari Grad or those located in more secluded coves, if you prefer to have a relaxing holiday, and there is even a nudist camp for those of you seeking a naturist experience.
There are more than 10 campsites on Hvar, the largest is Campsite Vira that offers some of the best facilities of all the campsites on the island. This campsite has received several camping rewards. It is situated in a small bay Mala Vira, 4 km away from Hvar town, with which it has a regular bus connection. It is a protected bay suitable for families with children as well as for disabled persons and has its own pebble beach. Pets are allowed in the camp, and the capacity is for up to 650 people. It offers electricity, fresh water and sewage connection, a restaurant and a mini supermarket, numerous sport facilities like beach volleyball, diving lessons, sailing lessons, table tennis, billiards, etc. It also has free Wi-Fi connection and offers the possibility to rent bicycles, tents and caravans. More info regarding check-in and check-out times as well as the availability and special offers, you can find on their official website.
Another large campsite is the Camp Holiday Jelsa which offers electricity, 24 hour parking with surveillance, playground, beach bar, separate shower for pets (dogs) which are of course allowed in the camp, there is a Wi-Fi connection and outdoor workout area. More information regarding prices and offers is available on their official website.
In the vicinity of Jelsa, there are two other campsites, Camp Grebišće in Grebišće bay and Camp Mina in Mina bay.
If you want to explore other parts of the island, you can check out the campsites around Stari Grad – Jurjevac Camp, or around Sućuraj – Camp Mlaska in Mlaska bay. This auto camp is a very popular place and offers caravan site and bungalows with five beds. It also has a restaurant and a small shop. More information regarding the accommodation and bookings, you can check on their official website.
Other popular campsites are: Camp Mala Milna in Milna bay near Hvar town, Camp Lilly in Jagodna bay near Sveta Nedjelja, Camp Paklina at Ivan Dolac and Camp Petarčica in Zavala bay.
The naturist camp you should check out is the Camp Nudist near the most popular nudist beach on the island – in Vrboska near Jelsa town.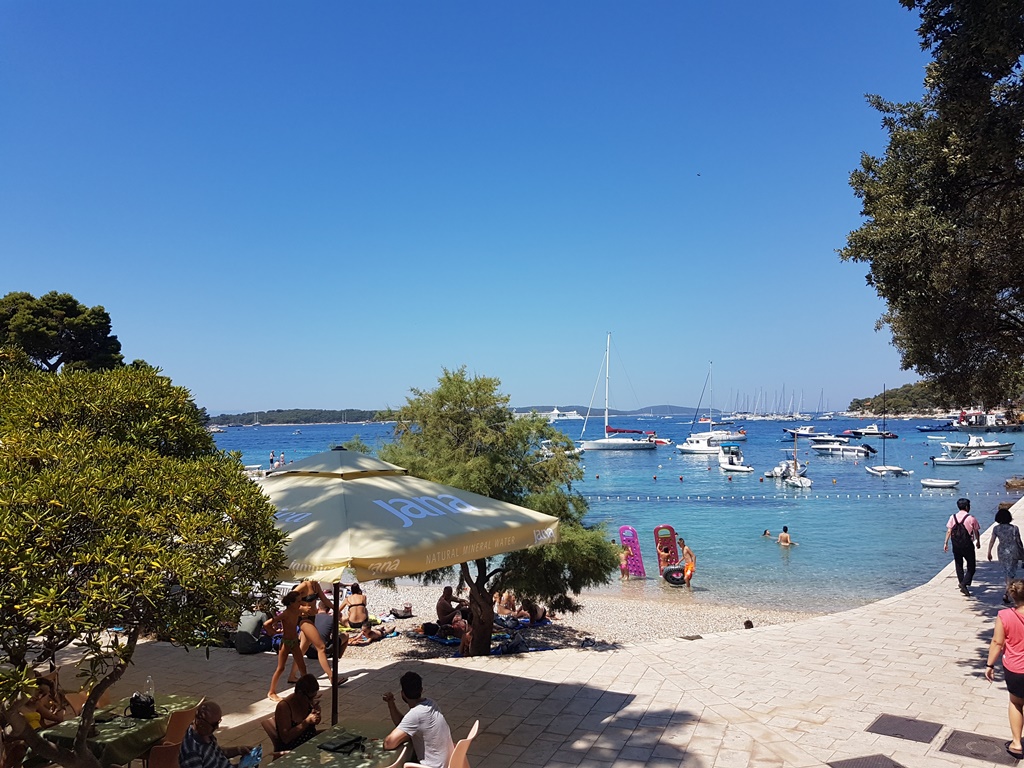 Hvar hiking trails
Island Hvar offers numerous possibilities for hiking, since it is not that hilly like some other Croatian islands and has a relatively elongated shape. It is possible to walk along the coastline from one town to the other, passing through some secluded bays and beaches but you can also explore its inner landscape, choosing the trails that pass through the hills and countryside.
The most interesting part is actually around Stari Grad, where you have the UNESCO protected Stari Grad Plain dating from ancient Greek and Roman times.
The first trail in Stari Grad area is the one leading to the top of St. Nicholas, the highest peak of Hvar island (628 m). You can start your climb from different directions – villages Svirće and Dol from the southern part of the island or from Vidikovac on the western part of Stari Grad, although for amateur climbers and hikers, the best would be to start from Vidikovac. First you will pass through a few kilometers of asphalted road that has no particularly challenging ascents/descents before you reach the rocky part below the highest peak. Once you get to the top, especially if the weather is bright and sunny, you can see the nearby island Vis.
Other trails that will take you up the hill and through the fields in the countryside include some all-day walks but also those that can be done on a summer evening, where you will walk past vineyards and olive-yards. Examples of those trails are: Dol trail, Likorova kuća trail and Vrbanj and Sveti Vid trail.
Dol trail will lead you from Stari Grad town to the village of Dol located on a small hill behind the town. This hike will take you about 1 hour and 20 minutes in total, to go and come back to Stari Grad. From Dol village you will have a nice view of Stari Grad town and the bay and you can enjoy the peace and quiet. Start your hike in the center of Stari Grad town, from the right side of the park that leads towards the bus station there is a road that will take you up the hill, but go straight forward, not towards the bus station. When you reach the unpaved country road, continue for about 10 more minutes and at a small crossroads you will see Dol right in front of you, so take the right turn and continue straight ahead all the way to Dol.
Likorova kuća trail, on the other hand, is quite unusual because it follows the main road but the trail itself goes through a thick vegetation so you will be hiking through the trees, which is actually a good option for evening summer hikes, when it is quite warm outside and you can cool off in the thich shades. This hike lasts for 1 hour and 40 minutes in total for the return, and starts on the road out of town, when you pass the bus station in Stari Grad, behind the Tourist office. After ca. 10 minutes walking you will reach the main road connecting Stari Grad and Jelsa and there you turn left. When you continue walking along the road, after some time, you will see a sign on the right handside pointing to Likorova kuća and Purkin Kuk path which goes through the fields and into the trees.
The third walking trail starts in Vrbanj instead of Stari Grad and you can reach it by bus that connects Stari Grad with Jelsa. The bus stop in Vrbanj is located next to a church and from there you can start your hike towards Stari Grad. After about 5 minutes walking, you will reach a sharp bend just before leaving the village. There you should take the road on the left and after some 20 meters turn right. After about half an hour of walking from the starting point, you will see a small path going up the hill to your right. This path will lead you to Sveti Vid where you will see the remains of a tiny old church built in the 10th century. To continue your walk towards Stari Grad you need to come back down to the main road where you will turn right and continue until you reach the church of St Mary (Sveta Marija in the local language). When you pass the church continue down the path and you will come to the old road that connects Jelsa and Stari Grad. Across the road you will see a path going through the fields. When you come to the end of the path you will find yourself on the main Jelsa-Stari Grad road and after about 10 minutes you will reach the unpaved road between Vrboska and Stari Grad. Here you need to turn left and in about 15 minutes you will reach the bus station in Stari Grad.
There are some shorter but also longer hiking trails that will take you into the Stari Grad Plain, something that any hiking enthusiast should see if they have the opportunity. There are 4 main trails: Maslinovik and Kupovnik which both take 1 hour walking time for the return hike, and Mudri Dolac and Vrboska trail that take 2 hours and 30 minutes for the return hike respectively.
Maslinovik, Kupovnik and Mudri Dolac trails are both on the path from Stari Grad to Vrboska, so you can just follow that road untill you see the signs pointing to respective areas. First you will see the sign for Kupovnik and this is the one you should follow if you wish to hike to Kupovnik or Maslinovik which is a little further down the field and behind an abandoned farm-house. This complete area has the remains of ancient Greek and Roman settlements.
Mudri Dolac trail, on the other hand, leads to the seaside. To get there, you need to continue walking along the road to Vrboska until you reach the airfield. Just a little bit further you will get to the point where the hills are separating the fields from the seaside. You can then climb up the hill until you reach the sign leading to Mudri Dolac.
The last trail is the one leading all the way to Vrboska from Stari Grad. Again, you will take the same road and after you pass the airfield, you will continue walking straight until you reach a junction with the main road where you will turn left and after about 1 km you will turn left again and go down the narrow path to Vrboska.
If you wish to explore more, there is another hiking trail, called Eco walking path, that leads you from Stari Grad to Glavica peak that can be seen from the center of Stari Grad town, marked with a white cross. This hike is 7 km long.
As you can see, there are a lot of options and paths to explore so if you are into hiking, your vacation will definitely be an active one.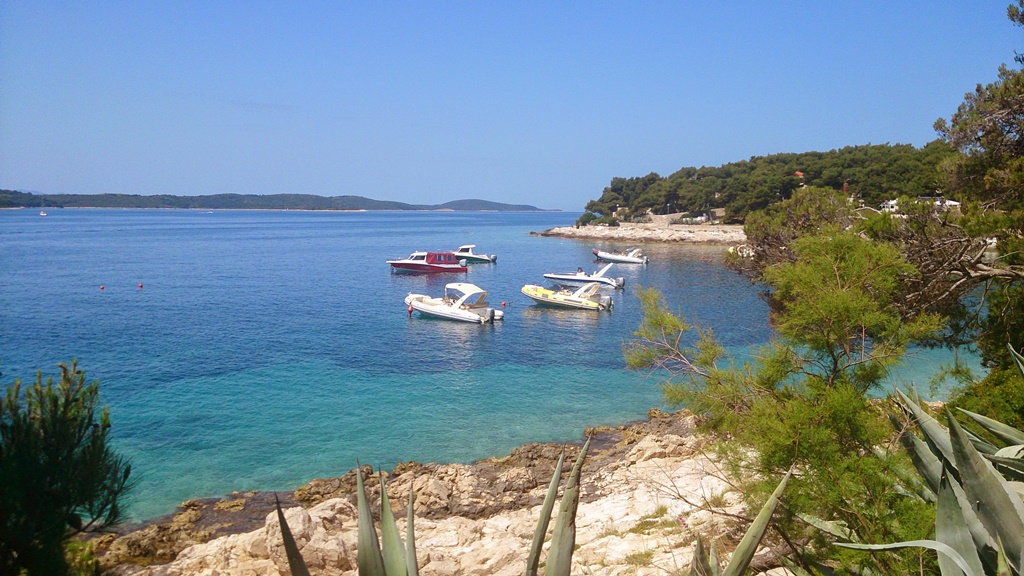 Hvar cycling trails
For those of you who are into cycling, Hvar has a number of trails to offer and those are pretty much the same routes that are suggested for hikers. From Stari Grad you can explore the historical UNESCO sites around the Stari Grad Plain, go to the top of St. Nicholas or Glavica peak or ride all the way to the seaside in Vrboska. Also, there is a protected ecological zone that stretches across the entire peninsula of Kabal, which is a famous cycling trail and is definitely the one to cover during your stay on Hvar island.
The Stari Grad Plain cycling trail is even suitable for those with no previous experience in cycling. It is just about 12 km long and has the altitude span of about 60 m. You will pass through the ancient Greek and Roman settlements and enjoy a beautiful landscape.
If you wish to try something more demanding, you can take the Purka trail that will lead you to the top of the island, namely its highest peak – the peak of St. Nicholas (628 m). This trail requires a great physical shape and previous cycling experience, since it has an altitude span of about 520 m and is about 23 km long.
Finally, the Kabal route, 22-23 km long and with an altitude span of 125 m is not that demanding as the Purka trail, but still it requires some effort. On this trail you will pass through the protected ecological zone, where you will see different plants, trees and bushes of edible tasty fruits as well as numerous paths leading to the shore and hidden coves where you can stop and relax by taking a swim in the crystal clear sea.
If you don't have your own bike, but wish to explore these and other cycling trails, you can rent a bike in all the main towns on the island, or you can ask your accommodation provider for more info, sometimes they can get it for you or tell you where to get one. If you are staying in one of the campsites, there is a chance you will be able to rent one there.
Snorkeling & diving on Hvar
Island Hvar has a rich underwater life, with numeros sea creatures like octopuses, lobsters, mussels, small sharks and many other fish species you will find among colorful algae, gorgonias and others. Most dive sites even include some underwater entrances to caves and grottos that are otherwise not easily reachable. The optimal time of year for scuba diving on Hvar island is between May and October, when the sea is calm and weather conditions perfect.
Some of the most interesting dive sites include the Kabal cape, Tatinja bay, Zala Luka, Paklinski islands that offer numerous dive sites that are very popular among divers, like Poseidon Pillar and Anchor Wall (among others). Not far from Hvar, on the northern side of the island, you will find an interesting diving site that features a long field of old amphorae. Some other nearby sites which are worth visiting are located in between Hvar and Vis island where you will find the wrecks Teti, Fortunal, Brioni, B-17, Vassilios etc. If you are interested in scuba diving and wish to find more info about how to book your dive and wish to check different offers and dive centers, or book your dive in advance, you can do that here.
Snorkeling, on the other hand, doesn't require that much preparation and physical shape nor the theoretical and practical knowledge important for scuba diving. Snorkeling equipment can be rented at the beach or from many different rental agencies in towns/camps, or you can even buy it from the stores/stands in the main towns.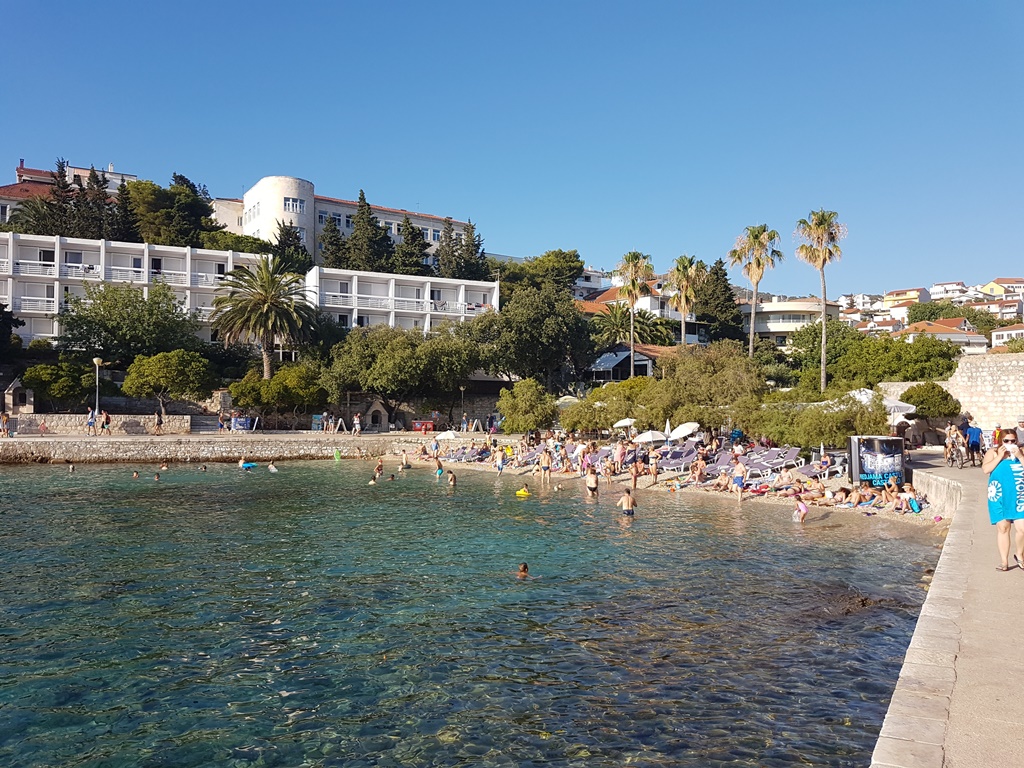 Water sports & equipment
Besides diving and snorkeling, there are other interesting water sports and activities you can partake in during your stay on Hvar island. If you want to do something more exciting you can try parasailing, water-skiing or kitesurfing, while for those who prefer the standard activities there are numerous options to choose from: windsurfing, stand up paddle surfing, kayaking or canoeing, jet skiing, etc.
All the necessary equipment can be rented at the beach. However, have in mind that it is not offered on every beach, but on the bigger ones in Hvar town, Stari Grad, Jelsa, Sućuraj, etc. If you are staying in a camp, you can probably rent some of the equipment there, if the camp is located near the beach, or you will get more information from the front desk staff.
You can even rent a small boat and drive around the island, visit all the hidden coves and go to the nearby Paklinski islands to explore their beautiful beaches, but make sure you have your valid boating license with you.
Festivals on Hvar Island
Island Hvar is known foremost as a party destination and therefore most of the festivals and summer events are related to all-night partying and electronic music. Almost all these events take place in Hvar town and on the nearby Marinkovac island in Stipanska bay. There you can party all day long at Carpe Diem beach bar which turns into a beach night club during the night.You can reach the bay by small boats that depart regularly and even all night long from the docks at Hvar port. Veneranda is also a place to check during the summer because almost all the concerts and music events are held there.
Of course, the most popular event is the Ultra Europe Beach music festival held every year in the beginning of July, in Hvar town, in the pools of hotel Amfora, as an afterparty of the main Ultra Europe event held in Split.
But Hvar is not just about the wild parties, it also hosts a festival of classical music, which takes place from May to October in the Franciscan monastery in Hvar town, known as the Hvar Summer Festival.
In the first weeks of August, you will have the chance to attend another music festival, called Tam-Tam Festival, held in Sućuraj on the eastern part of the island.
For those of you who are interested in a more relaxing festival atmosphere, there is a zen festival held each summer in Basina bay between Stari Grad and Jelsa, called the Escape festival and forms part of the Escape Community. This festival was actually named Europe's best boutique festival, according to Vogue UK.
August has another interesting festival to offer, in Jelsa there is the annual Jelsa Wine Festival on the last weekend in August. It is not just about the wine, it includes various activities such as rope climbing and donkey races for different prizes such as the Dalmatian prosciutto. A weekend full of fun activities for the whole family.
There are also some agricultural festivals like Days of Hvar olive oil, St Prosper Feast (the annual tourist season opening, known for the Hvar cuisine festival) and annual Lavender Festival held in preseason, so you might need to check this in advance if you are interested in attending some of them.
Hvar nightlife
Island Hvar is a popular island when it comes to party places, and Hvar town is a top destination for all the young people searching for the best summer parties and exciting nightlife. You will find numerous bars and nightclubs along the main promenade and on the nearby Marinkovac island with the famous Carpe Diem Beach nightclub in Stipanska bay. During the summer (July and August especially), there is the well-known Yacht Week party at Carpe Diem, taking place every Wednesday.
In July, when ULTRA Europe festival is held in Split, there are the famous island afterparties that last for 3 more days, and one of them is the ULTRA Beach Hvar at Hotel Amfora Grand Beach Resort in Hvar town, being known as "the greatest pool party on earth", according to The Sun (tabloid newspaper).
If you want to explore the nightclubs in Hvar town you can choose between Carpe Diem nightclub located on the main promenade (owned by the same team as Carpe Diem Beach club) with the best cocktails in town and a large terrace with a great view over the bay, especially for enjoying the sunset; Veneranda nightclub, on the other hand, offers the best sunrise view and a large dancefloor with a swimming pool. It is located in a former monastery and there you can listen to electronic music. It is also the venue of some concerts during the summer, you will see the posters around the town, announcing the line-up for the season.
Kiva bar is another iconic place, located on the main promenade, and serving "tequila dum-dum" as their specialty drink. Other popular places are Nautica bar, Seven and Aloha. They are all located next to each other, on the main promenade and alongside the main "street" in the old town center, called Fabrika.
All the party people usually gather around 11 pm to start their night, either at the bars or at the Carpe Diem club, and when they close, around 2 am, there are two options to choose from: either you take a small boat across the bay to reach Carpe Diem Beach nightclub on the Marinkovac island, an outdoor beach club surrounded by Mediterranean pine trees – the boats are free of charge and run the whole night, departing every 20 minutes from the docks; or you stay in Hvar town and head to a nightclub called Pink Champagne (an indoor nightclub) that opens at 1 or 2 am when all the other bars start to close. Carpe Diem Beach club and Pink Champagne are open through the night but for both of them there is an entrance fee to get in.
There is also a nightclub called Passarola which is a fancy restaurant during the day and turns into a nightclub during the night.
If you prefer some chill-out music, you should check out the Hula Hula beach bar with amazing sunset view, located on the seaside path near hotel Amfora, 15 minutes walk from the center of Hvar town. It is a good location for early-evening sunset parties.
To warm up for the wild night parties, you can start your evening by taking some drinks at local bars on the main square, like e.g. Archie's bar or Loco bar.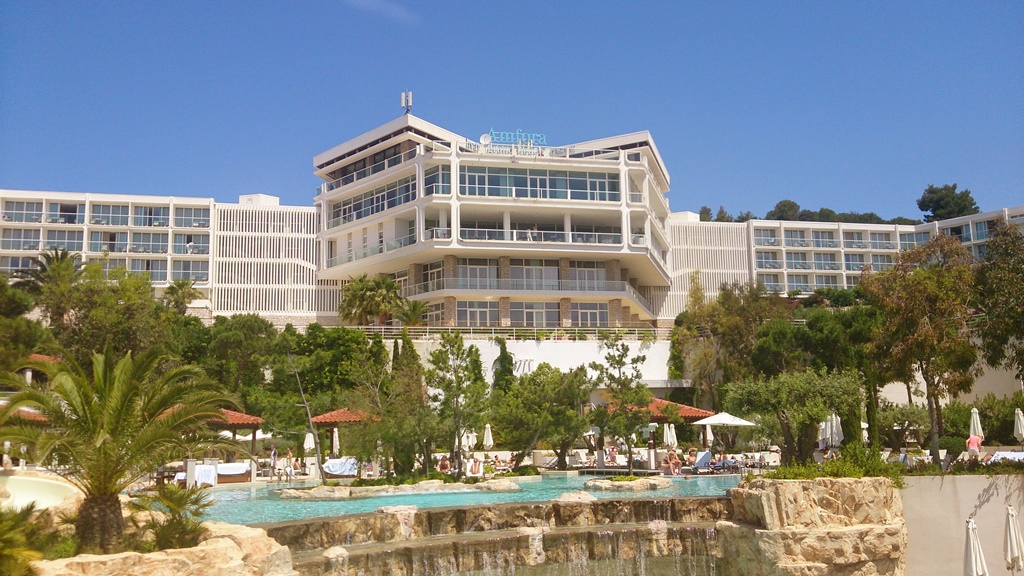 Food and supplies
Hvar is a relatively big island, and also one of the most inhabited islands in Croatia. There are supermarkets, bakeries, pharmacies, souvenir shops, newspaper stands, butchers and fish markets, you can buy whatever you want and need right there on the spot so you don't have to bring anything with you. Of course, the biggest offer is in the main towns – Hvar, Stari Grad and Jelsa. If you will be staying in some of the smaller bays or villages on the island, it would be best to stop in Stari Grad or Hvar town to do some shopping before you reach your destination.
There are also numerous restaurants around the island and you can always eat outside. As for the local food, you should definitely try some of the fish specialties, like grilled fish or scampi, "black" risotto with squids, octopus with potatoes baked under the lid on an open fire… Dalmatian cuisine is a Mediterranean style cuisine which is similar to the Italian one, so you will find a lot of olive oil and herbs like rosemary and sage, garlic and tomatoes in almost every sauce, a lot of vegetables and fruit, etc.
If you are not that keen on fish, you can always try some delicious meat dishes, like roasted lamb with potatoes and rosemary, homemade prosciutto served with cheese and olives, grilled steak with fresh vegetables, or some typical pasta dishes.
You should definitely try some local wine; Hvar island is renown for its history of wine-making, so whichever you choose – red, white or rosé, it will definitely meet your expectations.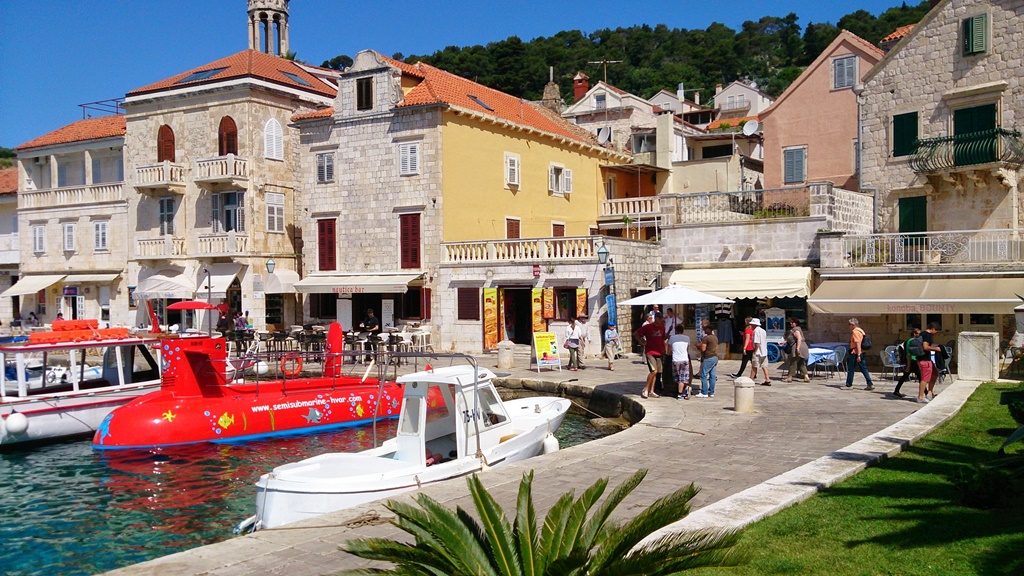 ATMs and exchange offices
The official currency in Croatia is Kuna and it is generally required to have local currency on you when travelling around the country but in all the larger tourist places on the coast and on the islands it is sometimes acceptable to pay with euros or credit cards. However, to be on the safe side, we recommend having Kuna in cash on you, because not all the restaurants and bars accept credit cards. While in larger supermarkets and pharmacies you can use credit cards, it is generally impossible to use them in bakeries or family-owned mini markets, at newspaper stands etc.
In case you need a bank or an exchange office, or you wish to withdraw some money from an ATM, you can find them in the main towns on the island: in Hvar town, Jelsa and Stari Grad. There are some post offices where you can exchange money, also located in the three main towns – Hvar, Stari Grad and Jelsa. In case you are not able to reach one of those banks, you could try to exchange some money at the hotel you are staying in.
The banks' working hours depend on the season, but you should go there in the morning, just to be on the safe side, and have in mind that during the weekends and national holidays they might be closed. ATMs are available and usually located in the port, on the main promenade.
Emergency contact info
If you by any chance should need medical assistance during your vacation, you don't have to worry, there are several services available on the island. All the clinics are located in bigger towns – Hvar, Stari Grad, Jelsa and Sućuraj. In all of them there are general practitioners' offices, while the ER is located only in Hvar town and in Jelsa. Should you need a dentist, there are only three on the island – in Hvar town, in Stari Grad and in Jelsa.
In Hvar town there is a health center next to hotel Amfora, consisting of an emergency room, radiology, general practitioner's office, gynecologist, pediatrician and laboratory services. Another GP's office and a dentist are located in a health center on the main square.
In Stari Grad you will find a dentist and a GP in a health center located in the harbor, on the right side, just follow the waterfront road after you pass the supermarket.
In Jelsa there is a GP, dentist and an emergency room situated just outside the town near the sports center on a newly built road.
Sućuraj has only one general practitioner available.
As for the pharmacies, there are three on the island – in Hvar town, Jelsa and Stari Grad.
In Hvar you will find it on the main square, next to the health center. In Jelsa, the pharmacy is located next to the post office, across the street from the entrance to the main parking lot, while in Stari Grad you will find it next to the health center.
In case of an emergency, or if you require immediate assistance of any kind – medical or police assistance, fire department, mountain rescue services, you can call the toll-free number 112 from any location in Croatia (the calls can be made via landlines, cell phones or phone booths) at any time of day or night.
If the situation requires further urgent assistance or hospitalization that cannot be provided on the island, a speedboat or helicopter will be sent for the patient and take them to the nearest hospitals in Split.
Foreign citizens/tourists coming from countries that are signatories of the Health Care Convention don't have to pay for medical assistance in Croatia, while patients coming from countries that are not signatories of this convention, must pay for medical assistance provided, according to the valid tariffs.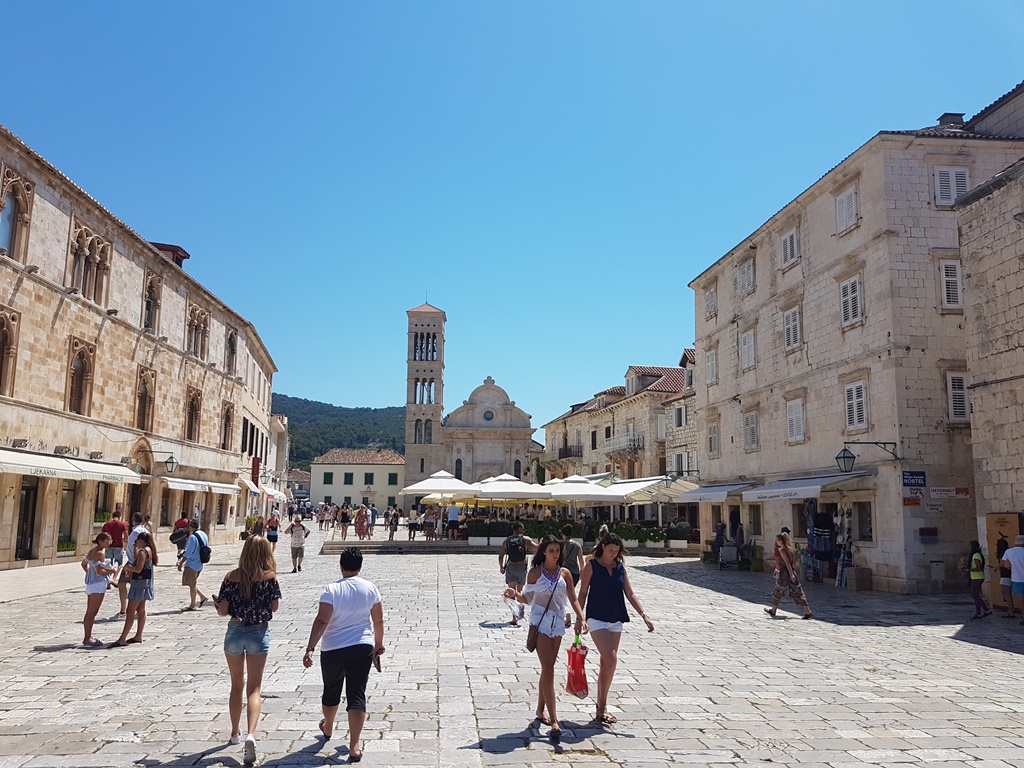 Island Hvar FAQs
Can I bring my bicycle on the catamaran or ferry?
It is possible to bring your bicycle on car ferries to either Stari grad or Sucuraj, but you will have to buy a ticket for the bike. Bringing a bicycle on the catamaran is, in most cases, not possible as there is simply no space available.
Can I buy / reserve ticket for a specific departure?
In case of catamaran you can buy ticket for a specific departure, in case of the car ferry you can buy a ticket for a specific travel date, but not for a specific departure.
Can I make a day trip to town Hvar from Split?
Yes, especially in the summer season, where there are very early catamaran departures from Split to Hvar and fairly late catamarans back to Split.
Can I bring my dog on the ferry / catamaran?
On catamarans you can NOT bring your dog, but on the car ferries you can, but you are not allowed to take them into the closed areas where passengers are sitting.
How much luggage can I bring?
On car ferries up to 100 kg, on catamarans up to 20 kg but since they don't weigh the luggage, there is normally no issue if you bring a bit more.
Which airport should I fly to if I want to go to Hvar?
You should fly to Split airport because you can then easily take the ferry or catamaran to Hvar that departs from Split ferry port, which is just 40 minutes drive from the airport.
How far is Hvar from Split/Split airport/Zadar/Dubrovnik?
From Split airport there are shuttle buses to Split ferry port, and from there you can take the ferry to Stari Grad which will take about 2 hours or the catamaran to Hvar town which takes about an hour. Zadar is located a bit further away, it takes about 3 hours by bus to reach Split ferry port from Zadar bus terminal and there are no direct connections between Zadar and Hvar. If you wish to travel to Hvar from Dubrovnik, you have a direct catamaran line on your disposal during the summer season (May-October). Otherwise, it takes about 4 hours by bus to reach Split from Dubrovnik bus station and then you can take the ferry/catamaran from Split port to reach Hvar.
How expensive is Hvar?
Hvar is quite expensive, it is more expensive than the other islands in Croatia and more expensive than most of the towns on the coast. Only Dubrovnik is more expensive than Hvar. And on the island itself, Hvar town is more expensive than other towns and villages. Mostly the accommodation and restaurants and bars, especially nightclubs and beach/cocktail bars are the places where you will spend most of your vacation money. The prices are high but the service is great and the experience the best. However, if you want to save some money you can stay in a hostel or in a camp and prepare your own food from groceries you can get from supermarkets which are not that expensive as dining out.
How safe is Hvar?
Hvar is very safe, as is the rest of the coast and the whole country actually. Croatia is a small and safe country, so you don't have to worry about that, just relax and enjoy your vacation.
How long should I stay on Hvar island?
That depends on what you want to do there. If you are up for partying you could stay for 2-3 days in Hvar town; if you wish to explore the island, then you could stay for a week. If you don't have that much time, you can always take a day trip to Hvar town with an early morning catamaran and go back with an evening departure.
When is the best time to visit Hvar?
The best time is the summer, because you can spend your days on the beach, relaxing, swimming and sunbathing. The days are long and it is really warm, plus the parties are at their peak. The downside is that the island is packed during the summertime since everyone is visiting then. If you wish to avoid the crowds, then you should consider the postseason. September is one of the best months; the air temperature is milder and the sea is still quite warm. October is good for hiking and cycling enthusiasts since it is not that hot anymore so you can spend most of the day exploring the island. Plus the prices are not that high anymore.