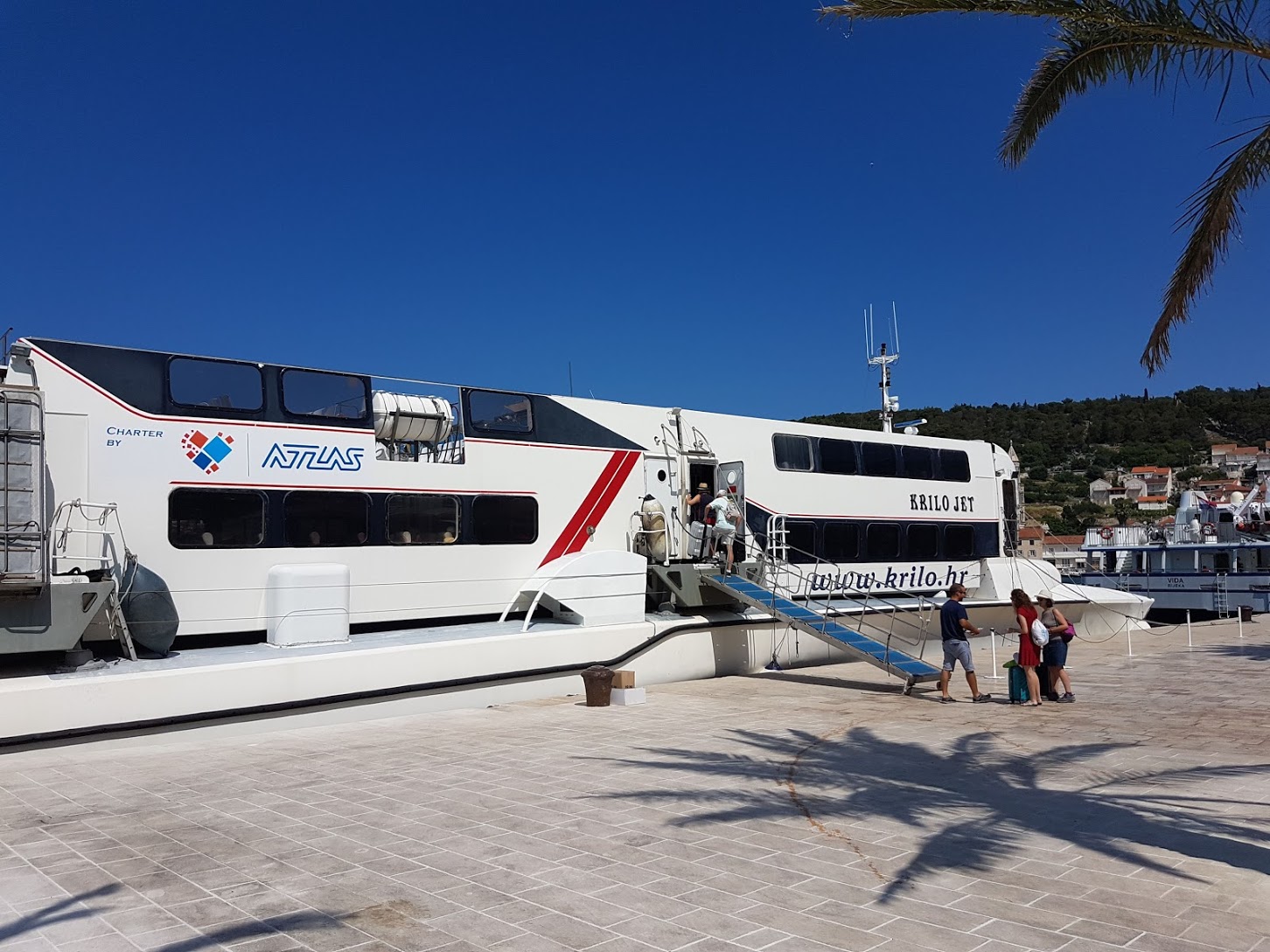 Krilo
Krilo ferry company, also called Kapetan Luka, is one of the largest fast ferry / catamaran operators in Croatia. The company's main port is Split port, from where it has catamaran lines to the hot spots on Croatian islands. The most popular routes from Krilo are Split to Hvar and Dubrovnik to Hvar. In addition to scheduled fast ferries, Krilo also offers the possibility of chartering one of the fast ferries for special events.
The Krilo catamarans do not have a unified design, some are white while some are in darker color, but all of them have either KRILO JET or www.krilo.hr clearly painted on the sites of the vessel. Therefore, you shouldn't have a problem identifying the catamarans.
Krilo – Kapetan Luka FAQs
Q: Where can I buy tickets for Krilo catamarans?
A: Krilo has physical sales points in each port, some are there own, others are travel agencies located at or near the port. Alternatively you can easily buy the ticket online.
Q: Do the tickets need to be printed?
A: We do recommend to print the tickets and have them with you when boarding. However, if you have tickets on your phone, showing the QR code / PDF of the tickets when boarding should be fine as well.
Q: How much luggage can I bring on board?
A: Krilo fast ferries have plenty of space to store the luggage, and the company is usually pretty flexible with it. You're allowed to bring one bag up to 20kg in weight, but passengers usually didn't have problems if they brought heavier bags on board.
Q:  Can i bring a bicycle on the Krilo catamaran?
A: Yes you can, but you will have to buy a ticket for yourselves and bicycle online upfront as there are only a few places for bicycles on each departure.
Q: Can I bring my dog on the catamaran?
A: Yes you can if you follow Krilo's rules which are the following
Muzzle is needed for all animals.
PETS can only be transported if they do not present danger or disturbance to passengers or boat.
Owners take the risk of travel and are responsible for any damages.
Dogs need to have a muzzle (except for a blind person's guide dog) and lead on the apron, cats in boxes and birds in the cage.
Dogs and cats must have proper vaccination documents.
On the high speed lines, small pets are allowed in the catamaran salon. Small pets are transported exclusively in the bag for carriage and transport of pets (transporter soft bag) – maximum dimensions 45 x 35 x 25 cm. The bottom of the bag must be watertight. The total weight of the bag with a pet should not exceed 8 kg. The bag must be kept under the seat or in the wrist during the entire journey. One passenger must have only one bag with a pet.
Large pets are only allowed if the technical conditions are met on board (special boxes).
If you are in doubt regarding bringing a pet, you should contact Krilo by mail.
Q: Isn't Krilo a name of the city?
A: Yes Krilo is the name of a city, and the Krilo ferry company is from that city.
Q: Does the Krilo catamaran operate the whole year?
A: No, except for the line Split – Hvar – Korcula all lines operate only in the summer season, usually from Beginning of April till end of October.
Top routes operated by Krilo