Island Lastovo
Lastovo is a Croatian island located on the very south of the Adriatic coast, in the municipality of the same name which is actually consisting of 46 islands of which the biggest one is called Lastovo. Its population is under 1000 people, so it is an island of unspoiled nature and incredible beauty, definitely preserving its authenticity while slowly opening to the tourists. Moreover, Lastovo is a Nature park, therefore, an ideal resort for those searching for a peaceful and relaxing vacation in nature.
Lastovo is a Croatian island located on the very south of the Adriatic coast, in the municipality of the same name which is actually consisting of 46 islands of which the biggest one is called Lastovo. Its population is under 1000 people, so it is an island of unspoiled nature and incredible beauty, definitely preserving its authenticity while slowly opening to the tourists. Moreover, Lastovo is a Nature park, therefore, an ideal resort for those searching for a peaceful and relaxing vacation in nature.
Similar to island Vis, Lastovo island was part of a military region during WWII and closed to foreigners till 1988.
Lastovo Weather
Lastovo island has all the characteristics of the Mediterranean climate, winters are mild and moist while summers are long and dry. It is one of the sunniest islands in the Adriatic with around 2700 hours of sun per year. During the summer, temperatures go above 25°C, sometimes above 30°C, and the sea goes up to 27°C. During the coldest winter days, temperatures are around 7-8°C.
If you plan to visit Lastovo, this guide will give you all the necessary information regarding the island, its beaches, party places, travel information and of course the detailed list of things to do during your stay.
Ferry to Lastovo
Lastovo island is connected with Split and Dubrovnik (during the summer) on the mainland, but also with other islands such as Korcula and Mljet. Ubli is a small settlement on the south-west part of the island and at the same time, it is the only ferry terminal on the island and the only connection to the mainland and other islands. The ferry terminal itself is located in a narrow bay which makes it perfectly protected from the wind and waves, and there's a nice promenade by the sea nearby.
Getting to and from the ferry terminal in Ubli
As mentioned, Ubli is a very small town, so no matter where your accommodation is, the ferry terminal is located within walking distance. If you are, like most people, staying in Lastovo town or Pasadur, you have a bus which departs just after the ferry's arrival, and when going back, of course, the opposite applies.
What you can find on Ubli ferry terminal
The Ubli ferry terminal is located right in the centre so obviously, all the town's facilities are nearby: bars, restaurants, shops, etc.
Boat routes to Ubli (Lastovo)
→ Car ferry: Split – Vela Luka (Korčula) – Ubli (Lastovo)
→ Catamaran: Dubrovnik-Luka Šipanska-Sobra (Mljet)-Polače (Mljet)-Korčula-Ubli (Lastovo)
→ Catamaran: Split – Hvar – Vela Luka (Korčula) – Ubli (Lastovo)
Getting to Lastovo from Split and Dubrovnik Airport
→If you land in Dubrovnik airport you need about 20 minutes from exiting the terminal to get to where the catamaran departs from, to get a ticket you should be in the port 30 minutes before departure.
→In case you land in Split airport, you can take a shuttle bus that takes you directly to the Split ferry port, it will take you around 30 minutes (maybe a bit more during the summer period because of the traffic).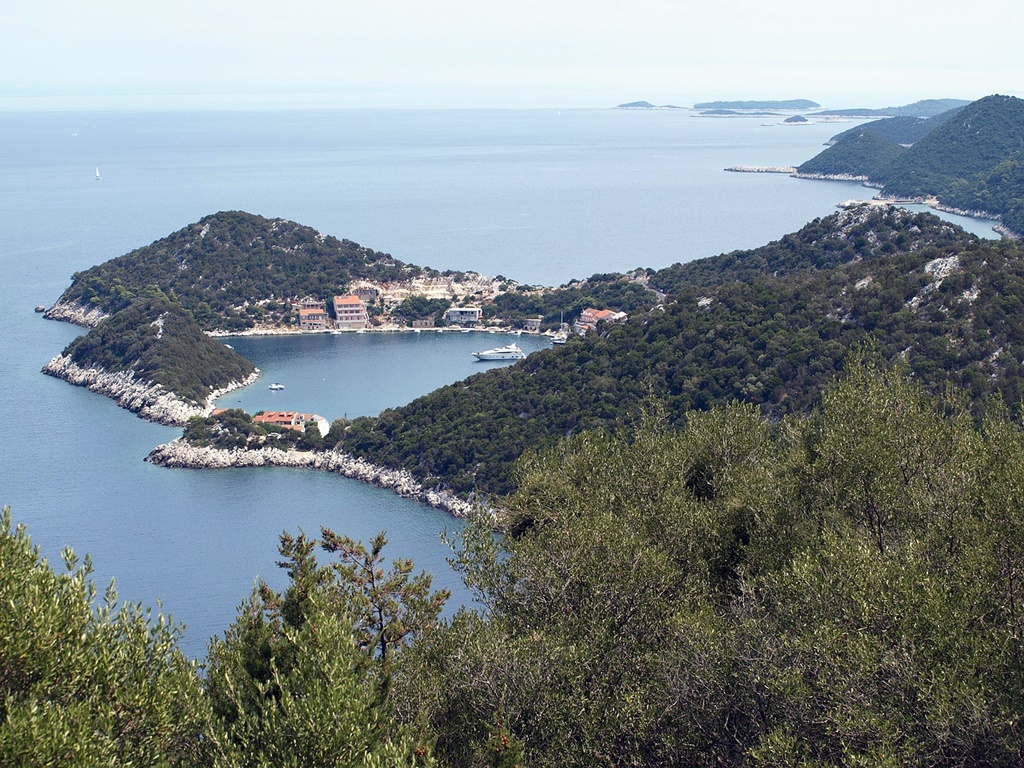 Getting around Lastovo
There is a regular bus service from Ubli that goes to Lastovo town and Pasadur and it is operated by Komunalac d.o.o. During the week, there are several departures on a relation Ubli – Lastovo town starting early in the morning and finishing in late afternoon hours. Some departures lead all the way to Pasadur. On weekends, the schedule is slightly different. You can check the detailed schedule here.
Historical sights
Lastovo is also special for its Mediterranean architecture which can be found all over the island in the form of nearly 40 churches and chapels and many other symbols of Lastovo. Here are some interesting sights you can discover on the island:
Struga Lighthouse – One of the trademarks of Lastovo is the lighthouse that can be found at the entrance of Skrivena Bay, where Struga Cape lies. This old lighthouse was built in 1839, it is 70 meters tall and stands on a very steep hill. It is open all year round for visits, but you can also stay overnight, the capacity is 14 people in total.
Lastovo Castle – The most important fortification of Lastovo island is the so-called Kastel located on Glavica. It was destroyed in the beginning of the 17th century but it was rebuilt at the beginning of the 19th century. Today, the fortress has a meteorological station and is a popular location from where the most amazing view stretches.
The Old Christian Basilica of St. Peter – The remainings of this 17 meters long and nearly 7 meters wide basilica date back to the 6th century. It was conservated between 1978 and 1981, and sarcophagi and graves cut into the rock were found inside.
Church of St. Luke – Constructed in the 11th century, this church is situated by the old trail that connects the two biggest places on the island – Lastovo and Ubli. It is the oldest church on Lastovo in general but also the oldest church where ceremonies are still performed.
Lucica – This is one of the last few examples of Baroque fishing villages that can be found in the Dalmatian region. It is a symbol of a long tradition and one of the most important occupations since fishing was the main source of food throughout the centuries. You will find stone fishermen's houses that were built as protection from the bad weather.
Chimneys of Lastovo – The island has a specific trademark that makes it recognizable. You will find that all stone houses have a chimney of various styles and sizes and it is nearly impossible to find two exactly the same ones. Ask a local to tell you more about this interesting tradition that goes back centuries in time.
Locals of Lastovo are full of stories to tell, especially elderly ones. So, if you get the chance, catch a local who is willing to tell you more about this wonderful island.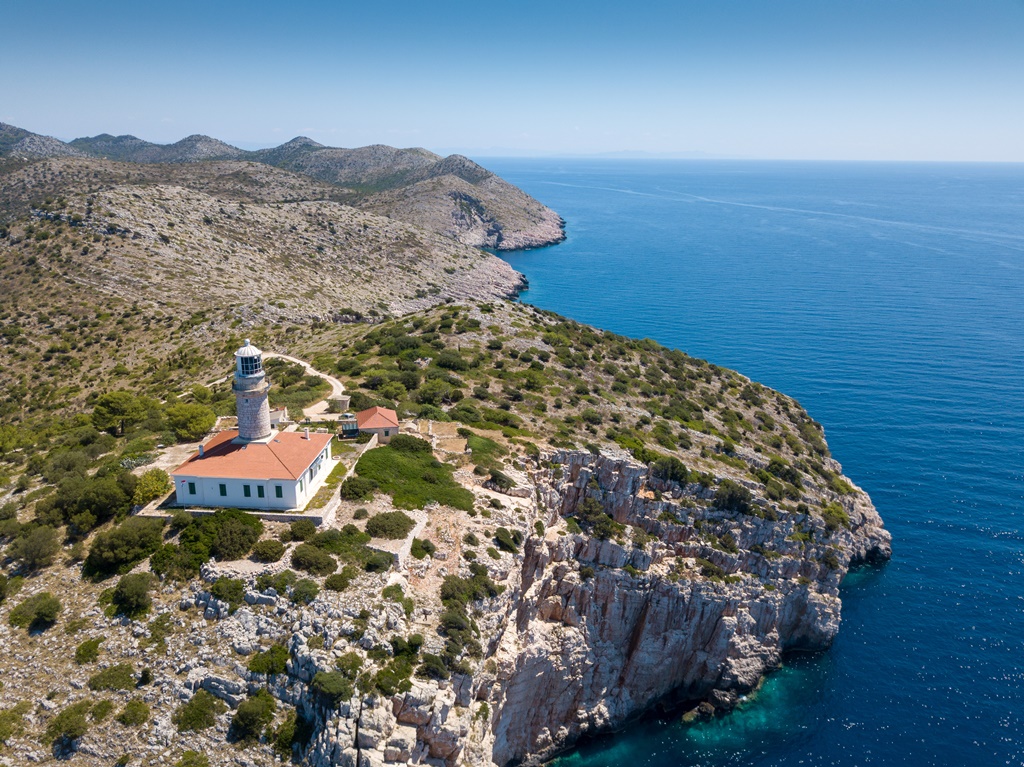 Top beaches on Lastovo island
Lastovo island is full of beautiful bays and beaches which vary from sandy to rocky ones. Basically, wherever you go you are able to find a swimming spot, some of them being tourist recognized, and some very peaceful ones. Here are a few of them:
Saplun – This is probably one of the most attractive sandy beaches, located on Saplun island. The island is in a deep forest providing a lot of shade. As well as the beach, it is accessible by boat only, but it is worth every visit! This beach is a paradise for everyone who wants to simply enjoy the peace since there are no facilities around, therefore prepare yourself by packing your own food and necessities. There are organized boat transfers to Saplun from Lastovo.
Two other islands situated close to Saplun offer the same type of beach, so visit Little and Big Arzenjak with its pebble shores if you prefer remote places with only a few people, if any.
Krucica bay – In this bay, you will find two pebble beaches with shallow waters, a great option for families with small children. There is shade on the beach, but the shore can be uncomfortable, so wearing the appropriate water shoes would be the best. The beach doesn't have any facilities around, and you can easily reach it on foot or by boat.
Zaglav bay – Very close to Ubli town you will find a pebble beach with thick shade. Besides the pebbled shore, there are rocky spots so wearing the appropriate water shoes would be good. You can reach the beach easily on foot or by bike from Ubli.
Mihajla – This is the closest beach to Lastovo town and it is probably the favorite one among the locals which is why it might get crowded in the season. It is very easy to reach it since it is only 1 kilometer away from the center of town. The beach has a natural shade and some facilities around such as a shower, cafe and a volleyball court nearby.
Skrivena Luka – Translated as Hidden Port, this is an ideal beach for families with children and it is located on the north side of the island. The beach is also known as Portorosso after the restaurant of the same name. Here you will find several small beaches, some with facilities, some without, and one of the beaches is also suitable for nudists (Kujenceva ropa).
Uska bay – Right next to Skrivena Luka lies one of the most attractive bays on the island, and as the name reveals it (Narrow Bay in English) it is a small beach with a lot of shade. There are no facilities on the beach so bringing your own food would be great. Also, have in mind that the pebbles on the shore can be sharp and uncomfortable, so bringing appropriate water shoes would be a plus.
The list stops here, but there are many more great places such as those in Zaklopatica bay, Pasadur, Barje with a little islet on the eastern side etc.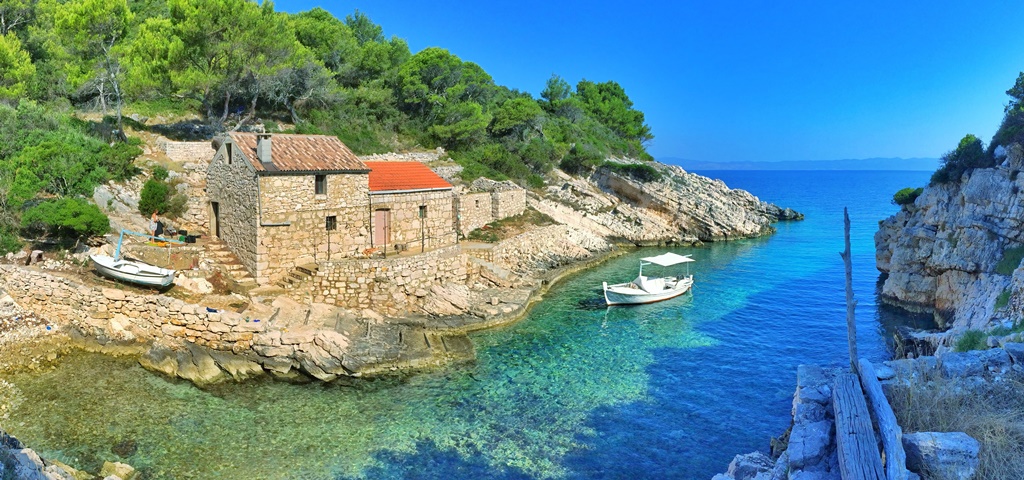 Camping on Lastovo
Spending a vacation in nature is a unique experience, especially if you decide to go on a vacation somewhere on the Mediterranean during the summer months. In case you want to stay overnight in nature, here are the options.
There are two campsites on Lastovo, Skriveni is located in Skrivena Luka, on the South of Lastovo, 6 kilometers of the town Lastovo, in one of the most beautiful bays on the island. It is sheltered by the natural shade of olive trees offering fresh food products from the local family Barbic, a parking area, and a shower with warm water. For any additional information contact the campsite directly.
The other campsite, Zaglav, is located in Ubli, also protected from the sun by the pine trees with many facilities. In the central part you can use a well-equipped guest kitchen and an area with a washing machine, as well as wifi and electricity (all included in the price). There is a parking lot reserved for guests and you can rent bicycles, kayaks and tents, and there is even a possibility to rent a safe. For more information contact them directly.
Lastovo hiking trails
Lastovo is full of marked roads and paths which connect different villages and towns on the island, actually, there are over 200 kilometers of trails all around. There are no venomous snakes on the island but still, make sure you do not disturb any and bring the proper hiking equipment so that you can enjoy nature to the fullest. Summer is not the ideal period for hiking due to high temperatures but long days still allow you to take a walk in the evening.
Here are some of the trails listed to help you decide upon your route:
Route Skrivena luka – church of St. Cyprian, around 1.2 km
Route Dovin do – Rača cave, around 1.5 km
Ubli – Lastovo (via old forest path) around 7 km
Ubli – Lastovo (via paved road), around 10 km
Sozanj – Vrh Soznja, around 0.3 km
Zaklopatica – Lastovo, around 2.5 km
Educational trail "Via the present to the past", around 6.4 km
Route church: Lastovo – St. Saviour – St. Cosmas – St. Barbara – St. Elijah – St. Mary – St. Martin – St. Michael – Lastovo, around 5 km
Lastovo – St. Nikola – Zace, around. 3 km
Lastovo – Bucen dolac – Kruseva njiva – Veja lokva – Studenac – Pojice – Skrivena Luka, around 7 km
The highest point of Lastovo is Hum (231 meters) from where you can see the entire island as well as the surrounding Lastovo islands, the island of Mljet and the peninsula Peljesac. You can get to Hum on the paved road Lastovo – Ubli.
Lastovo cycling trails
Discovering Lastovo by bike is one of the best ways to do it and have an active holiday. There are many roads on the island that connect villages while offering unspoiled nature along the way with light traffic. The best time to go cycling is early spring or autumn. Summers are too hot, so make sure you always bring at least water with you.
Although most of the roads listed above can also be used for cycling, here are some popular cycling routes:
From Lastovo town you can get to Zaklopatica, Skrivena Luka, Lucica and Barje via local road (trails ranging from 1-5 km) and to Ubli via state road (9.5 km).
Other popular routes are:
Ubli – Pasadur (2.8 km),
Prehodiste – Pasadur (2.3 km),
Pasadur – Jurjeva Luka (1.2 km),
Ubli – Hum (4.5 km)
Prgovo – Duboke (1.2 km).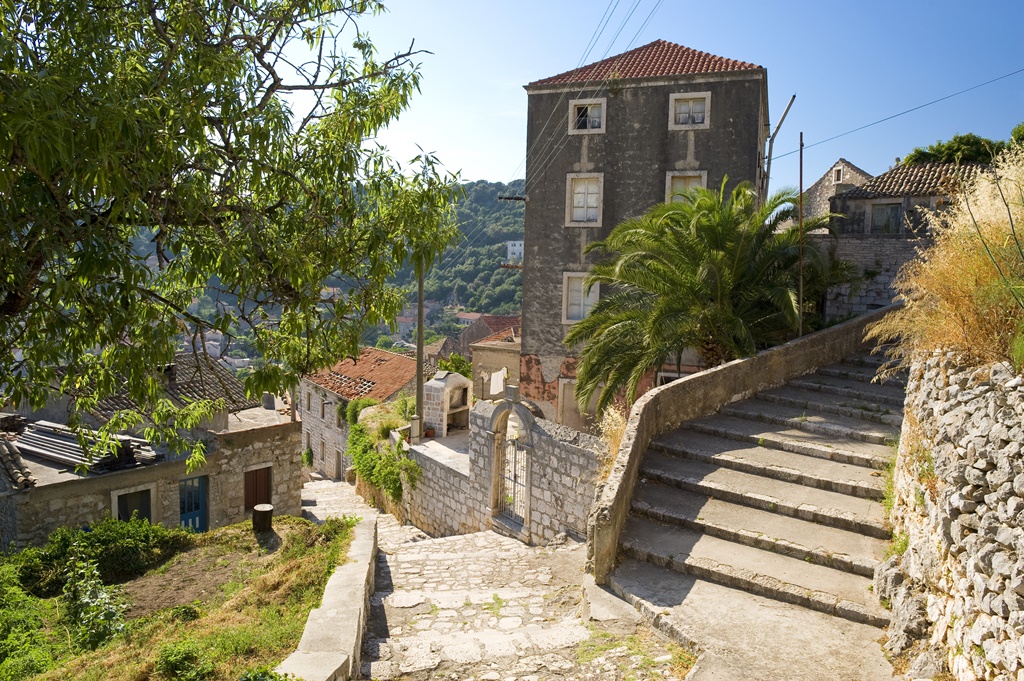 Snorkeling and diving on Lastovo
The island of Lastovo has a very rich and interesting underwater life with flora and fauna. There are plenty of coves and bays as well as Lastovnjaci, a true paradise for divers. Lastovo with its archipelago is proclaimed Nature Park, meaning underwater nature is well-preserved and untouched with crystal clear waters.
Ideal spots for diving can be found in Zaklopatica, Pasadur and Skrivena Luka (especially popular is Struga). Besides that, various cliffs and islets can be found around the island, one of the most attractive spots is Seka Drasan.
Snorkeling doesn't require that much preparation and physical shape nor the theoretical and practical knowledge important for scuba diving. Snorkeling equipment can be rented at the beach or from different rental agencies in towns, or you can even buy it from the stores or stands in the main towns. There are 2 scuba diving centers on the island where both professionals and novices can explore underwater life, one located in Pasadur, the other one in Zaklopatica.
Festivals on Lastovo island
On Lastovo Island, summer months are never dull! There are various open-air music concerts and festivals, especially during the peak season, from June till September, when the weather is simply perfect for such things.
Lastovo – Music Island is one of the best-known festivals happening every summer, usually at the beginning of August. The festival hosts numerous renowned bands and artists from the region, being more alternative than mainstream, but everyone can find something for themselves since a variety of genres is included, from jazz and swing to blues, rock and pop.
Lastovo in the Stars (Lastovo u Zvijezdama) is a new festival that immediately got everyone's attention. The festival has a daily and nightly program, during the day Zaglav campsite hosts many educational and fun workshops of various types, during the night live concerts and DJs take over. The night ends with the observation of the stars through a telescope.
Besides the music festivals, summers are reserved for Culture Summer (Kulturno ljeto) on Lastovo when the tourist boards and other groups and individuals organize a number of manifestations, events and performances together.
If you're there by the end of the summer, on September 26th, then you can be a part of the celebration of the Day of Municipality of Lastovo. On that day, Lastovo celebrates its patrons St. Kozma and Damian, and according to the legend, all grapes should be harvested and put into barrels by that day.
One of the best known and most widespread traditions in Croatia is probably a carnival (Poklade), and every part of the country has its own specifics, including Lastovo. If you get the chance to find yourself on Lastovo in February, don't miss the great masked celebration.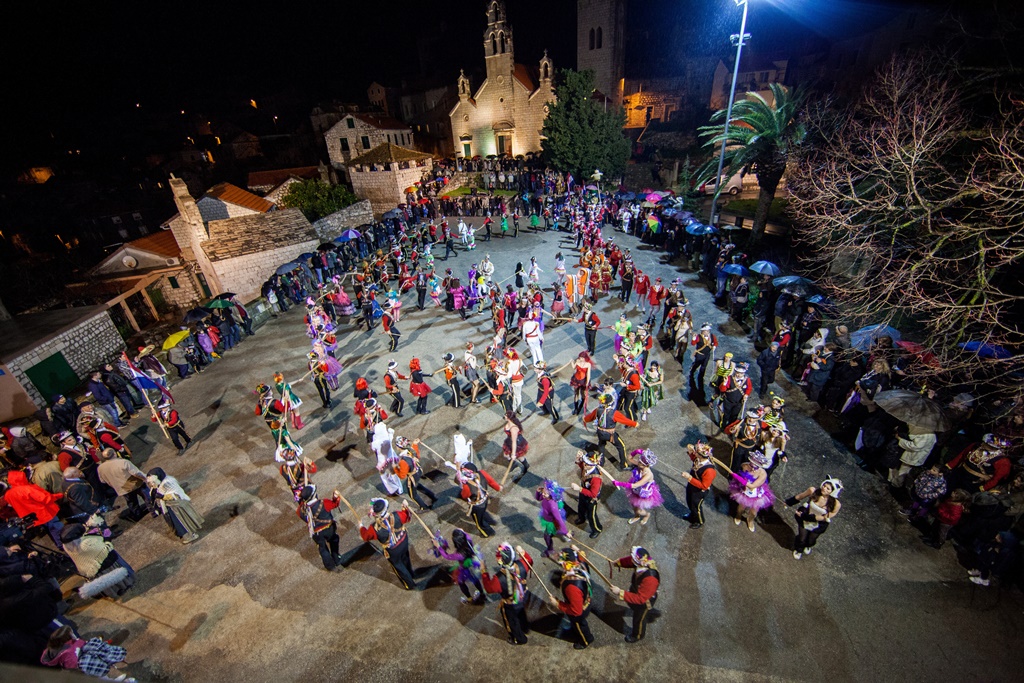 Lastovo nightlife
Lastovo is definitely not the popular party destination such as Hvar, and considering the fact that it has been open for tourists since recently in history, its popularity is still not that high, which is why Lastovo is more often picked by families with children who want to enjoy the pure nature and sea. Of course, that doesn't mean that you can't have memorable nights while staying on the island.
There are a few bars where you can go out with your friends and sip drinks such as a relaxing bar called Mamilo, located in town Lastovo, and a dive bar Poseidon, located on the other side of the island, in port Ubli.
Still, summer definitely offers more than any other period of the year, so there are various concerts, events, as well as festivals, check them in the section 'Festivals on Lastovo island'.
Food & supplies
Lastovo is not a big island but you can easily find stores with most of the food and supplies so you don't have to bring anything from the mainland. The biggest offer is in bigger settlements, of course, so if you need to stock up on food supplies head to Studenac Market which can be found in Lastovo town and Ubli. The one in Lastovo can be found on Pjevor street and the working hours are every day from 07:00 – 21:00, and the other one in Ubli has working hours from 07:00 – 20:00. During the summer season, there is an additional Studenac in Ubli usually with basic nautical equipment.
You will probably stumble upon other mini-stores but the prices can be slightly higher than in the main ones previously mentioned, also, the offer is limited. Besides that, there are bakeries and pastry shops in bigger places as well as other kinds of small shops.
Lastovo has plenty of restaurants, too, so you can always eat outside, which we definitely recommend since there are numerous specialties you should try. Regarding fish specialties, definitely try grilled fish or scampi, 'black' risotto with squids, octopus with potatoes baked under the lid on an open fire (also known as peka)… If you prefer meat, than don't miss to try pasticada with gnocchi, roasted lamb on the spit, meat with potatoes baked under the lid (meat version of peka)…and many more!
In general, Mediterranean cuisine is similar to Italian one, so you will find a lot of olive oil and herbs like rosemary and sage, garlic and tomatoes in almost every sauce, a lot of vegetables and fruits, etc.
If you want to try something exclusively from Lastovo, consider these specialties: fish in white sauce (fresh fish in a sauce of onions, garlic, parsley with potatoes), lobster pasta, roasted sardines on the spit and grouper stew.
Of course, great food goes hand in hand with great wine, and you're probably already familiar with the fact that Croatia has some excellent wines! While on Lastovo, try white wine Rukatac, pink Opolo or red wines Mali plavac and Merlot.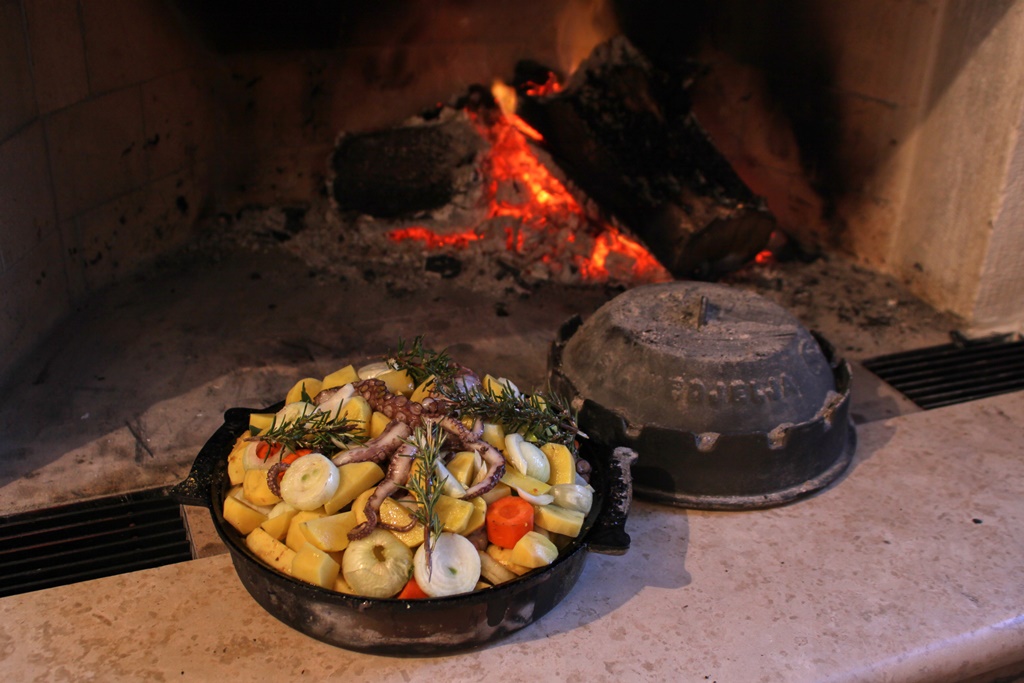 ATMs & exchange offices
Remember that the official currency in Croatia is Croatian Kuna (HRK), so most of the places accept Kuna only. It is acceptable to pay with a credit card at some larger tourist places but don't rely on that, we suggest you always bring some cash in local currency with you because not every restaurant or market accepts credit cards. Euro might be acceptable at some large tourist places but, once again, we suggest you stick to the local currency.
When you find yourself in the open-air market, if you try to bargain, you might save a few kuna, but bargaining is not common in this area and the prices are fixed.
On Lastovo island you will find two ATMs, one is near OTP bank in Lastovo town, the other one is in the port, in Ubli, near the office of Jadrolinija. Therefore, there are two banks, OTP and HPB (Hrvatska poštanska banka), if you need their service we suggest you go there in the morning during the weekdays. In Lastovo town, you will also find a post office. Money exchange service can also be found in Mezzomondo agency, located in Ubli, available 24/7.
Emergency contact info
In case of an emergency, or if you require immediate assistance of any kind – medical or police assistance, fire department, mountain rescue services, you can call the toll-free number 112 from any location in Croatia (the calls can be made via landlines, cell phones or phone booths) at any time of day or night.
If you need to seek medical assistance while staying on Lastovo, there is a 24/7 doctor on duty in Health Center in Lastovo town whom you can reach on a number: +385 (0) 91 425 3728. The ambulance works in shifts (one day in the morning, the other in the afternoon), you can contact them on the following number: +385 (0) 20 801 034.
Pharmacy is located in Lastovo town on the address Pjevor 8 and in the case of an emergency, contact them on a number: + 385 (0) 99 80 45 971.
If you need to contact the police, the number is: +385 (0) 20 801 021.
Should you need information for visitors and information about the island, you can consult tourist boards on Lastovo Island: +385 (0) 20 801 018 or send them an email to info@tz-lastovo.hr
If the situation requires further urgent assistance or hospitalization that cannot be provided on the island, a speedboat or helicopter will be sent for the patient and take them to the nearest hospital in Split.
Foreign citizens/tourists coming from countries that are signatories of the Health Care Convention don't have to pay for medical assistance in Croatia, while patients coming from countries that are not signatories of this convention, must pay for medical assistance provided, according to the valid tariffs.
FAQ – Island Lastovo
Can I bring my bicycle on the catamaran or ferry?
It is possible to bring a bicycle on a car ferry, but you need to buy a separate ticket for it. On the other hand, bringing a bicycle on a catamaran is in most cases forbidden as there is simply no space. In case you are traveling off-season, the boat crew might let you bring it if there are no many passengers.
Can I buy / reserve a ticket for a specific departure?
In the case of the catamaran, you can buy a ticket for a specific departure, but for the car ferry, you can buy a ticket online and pick the specific travel date and departure, but that ticket doesn't guarantee you boarding at chosen departure time so make sure you arrive at the ferry port on time.
Can I make a day trip to Lastovo from Split or Dubrovnik?
Making a day trip to Lastovo is definitely not a good idea since it is one of the furthest islands from the mainland, so it is not even technically possible to do it from Split or Dubrovnik. If planning to visit this island, you should stay at least 2 days to be able to discover the main sites.
Can I bring my dog on the ferry/catamaran?
On catamarans, you can NOT bring your dog, but on the car ferries you can, but you are not allowed to take them into the closed areas where passengers are sitting.
How much luggage can I bring?
On ferries up to 100 kg, on catamarans up to 20 kg but as the luggage it not weighed, it is normally not an issue if you bring a bit more.
How long should I stay on Lastovo island?
You can explore all the mentioned sights in 2-3 days, but if you want to properly relax and discover all the authentic places on the island, take a few more days.
When is the best time to visit Lastovo?
The best time is summer because you can spend your days on the beach, relaxing, swimming and sunbathing. The downside is that the island is packed during the summertime since everyone is visiting then. Although, Lastovo is not the most popular destination like some other Croatian islands (Hvar). If you wish to avoid the crowds or you don't like the heat that much and would like to go to the beach without getting sunburnt, then you should consider the postseason or preseason.
Is there a gas station at Lastovo?
Yes, in case you're arriving on Lastovo in a car, you will find a gas station in Ubli, near the ferry terminal.
Map of Lastovo