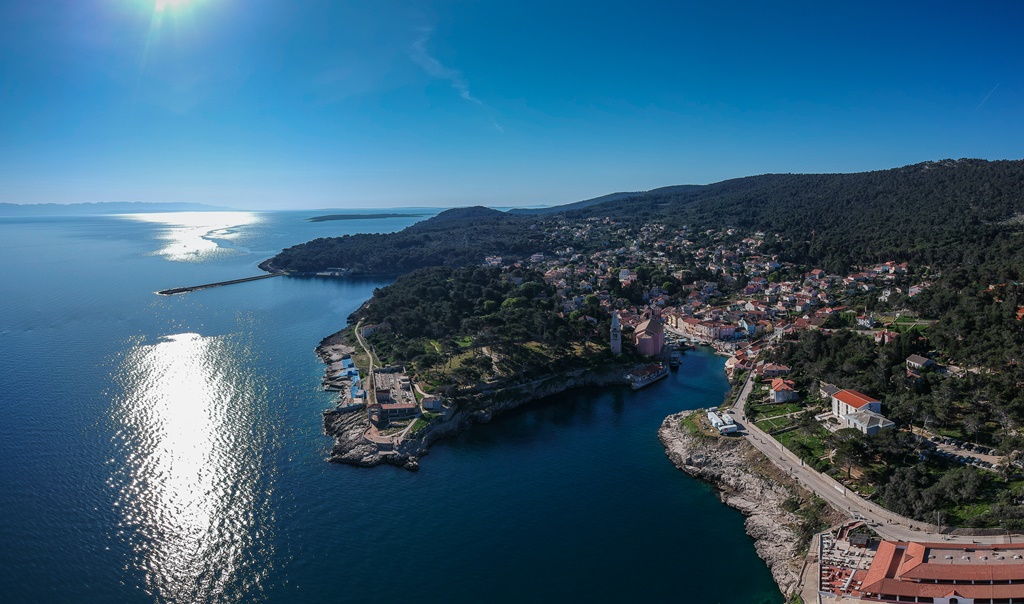 Island Losinj
Often unfairly overlooked, the Croatian island of Losinj is located in the northern Adriatic, more precisely in the Kvarner Gulf. It is a very popular summer destination that makes part of the Cres-Losinj archipelago (Losinj is the second biggest island in that area and it is connected to Cres by a small bridge in the town of Osor, Cres).
Often unfairly overlooked, the Croatian island of Losinj is located in the northern Adriatic, more precisely in the Kvarner Gulf. It is a very popular summer destination that makes part of the Cres-Losinj archipelago (Losinj is the second biggest island in that area and it is connected to Cres by a small bridge in the town of Osor, Cres).
Losinj has a bit under 10 000 inhabitants and many more visitors per year. The island of Lošinj is divided into two parts, Mali Losinj and Veli Losinj, in the area Privlaka where a canal was dug.
Losinj Weather
With more than 2500 hours of sunshine per year, Losinj island has a mild climate and evergreen vegetation. The average temperature during the summer is 24°C and 7°C in the wintertime. From early June to early October, the sea temperatures are above 20°C.
If you plan to visit Losinj, this guide will give you all the necessary information regarding the island, its beaches and campsites, party places, travel information and of course a detailed list of things to do during your visit.
Getting to Losinj
There are several ways of reaching the island of Losinj. The fastest way to reach Losinj island is by car. The main route Autobahn A 10 from Austria leads you through Slovenia and finally, Croatia. You can also come from Italy following one of the two routes:
Trieste – Border Pasjak/Rupa – Opatija – Brestova/Porozine ferry – 80 km to Mali or Veli Losinj
Trieste – Border Pasjak/Rupa – Rijeka – island Krk – Valbiska/Merag ferry – 60 km to Mali or Veli Losinj
To reach the island by car from Croatia, first you need to go to the island of Cres given that these two are connected.
There are two drawbridges that open twice per day for the vessels to pass:
the drawbridge Osor: 09.00 and 17.00 hours
the drawbridge Privlaka: 09.00 and 18.00 hours.
Keep in mind that a waiting time can be quite long during the high season as there can be a lot of ships to pass through the canal.
There are also several bus lines connecting Zagreb and Rijeka with the island of Lošinj. The average ticket price is around 20€
Ferry to Losinj
The ferry transport to the island is operated by the Croatian company Jadrolinija d.d., but during the high summer season, it is possible to get to the island from Italy as well.
The islands of Cres and Lošinj are connected to the mainland by ferry lines Merag – Valbiska and Porozina – Brestova, and Lošinj is also by ferry and catamaran line connected to Zadar (Premuda-Silbom-Olibom-Ist) and Pula, but also with the several smaller islands: Susak, Ilovik and Unije. One way ticket from Zadar to the island of Lošinj is about 35 HRK per passenger.
Catamaran to Losinj
Mali Lošinj is accessible by catamaran as well. The catamaran departs daily from Pula and Zadar:
→ Pula 07:00, Unije (Unije) 08:35/08:40, Susak (Susak) 09:15/09:20, Mali Lošinj (Lošinj) 10:05/10:10, Ilovik (Ilovik) 11:05/ 11:10, Silba (Silba) 11:50/11:55, Zadar – Gradska luka 13:15
→ Zadar – Gradska luka 14:30, Silba (Silba) 15:50/15:55, Ilovik (Ilovik) 16:35/16:40, Mali Lošinj (Lošinj) 17:35/17:40, Susak (Susak) 18:25/18:30, Unije (Unije) 19:05/19:10, Pula 20:45
One-way ticket on the route Pula – Mali Lošinj – Zadar is around 100 HRK per passenger.
Getting to Losinj from Rijeka Airport
If you fly first to somewhere else in Croatia, then the nearest large airport is Rijeka Airport on Krk. From there, you can take a direct bus from Omišalj to Lošinj.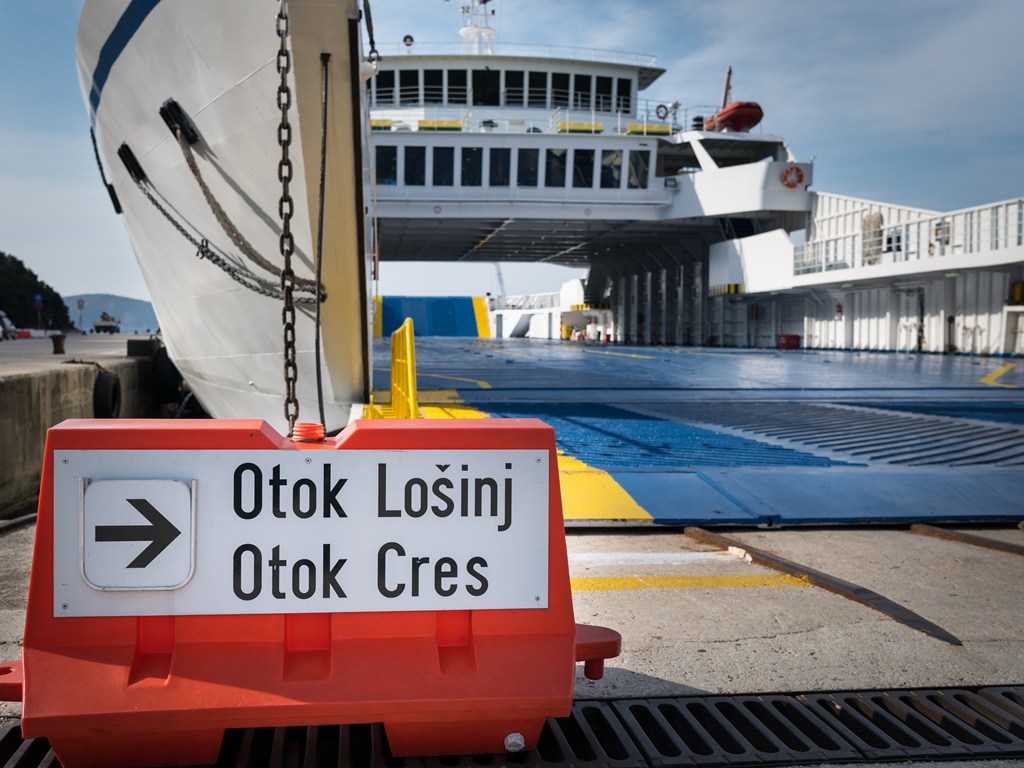 Getting around the island
There is only one ferry port at the island, located in Mali Lošinj. The island has few settlements: Nerežine, Sveti Jakov, Ćunski, Artatore, Mali Lošinj, Artatore, Poljana and Veli Lošinj.
In Veli Lošinj the bus station is approximately 500 m from the marina. In Mali Lošinj the bus station is 850 m from the city centre, close to the port. In Poljana there are no marked bus stops at the road, so you should inform the driver where he needs to stop the bus. In Artatore you will see a marked bus stop from both sides of the road and in Ćunski approximately 300m from the centre. In Sveti Jakov you can find a bus stop just a short distance from the small chapel, while in Nerežine the buses depart from a parking lot next to the small harbor.
Also, on the island there are a few daily buses running from Veli Lošinj to Punta Križa on the island of Cres, these buses stop in or near most of the small villages on Lošinj.
Historical sights
The most known symbol of the island is Apoksiomen, the statue of an athlete dating back to ancient Greece, when, according to scientists, the island was in a period of prosperity. The status can be seen in the museum in Mali Lošinj.
Another interesting site is the Fritz Gallery situated in the town of Mali Lošinj, which displays works by famous Croatian and European painters donated to the Art Gallery by prominent art collectors.
While in Mali Lošinj, don't forget to have a look at some of the finest buildings in the area, one of them being the church of St. Martin from the 15th century, still towering above the city and the church of St. Nicholas, a vivid example of the work of the 19th-century architects' thoughts.
In Veli Lošinj you can visit the Museum of Kula, offering interesting insights into fishing thanks to the heritage left by families of sailors and fishermen born on the island. Apart from different sea-related collections, the museum also hosts interesting art exhibitions and special events.
The ancient town of Osorio can be considered an open-air museum on its own for its amazing architectural complex. While wandering along the winding streets, you can see the ruins of ancient buildings and the old fort, remains of the oldest Christian church on the island and few religious buildings dating from different periods. Keep in mind that this charming town is a regular venue for the popular colorful festival Musicales Osorio as well.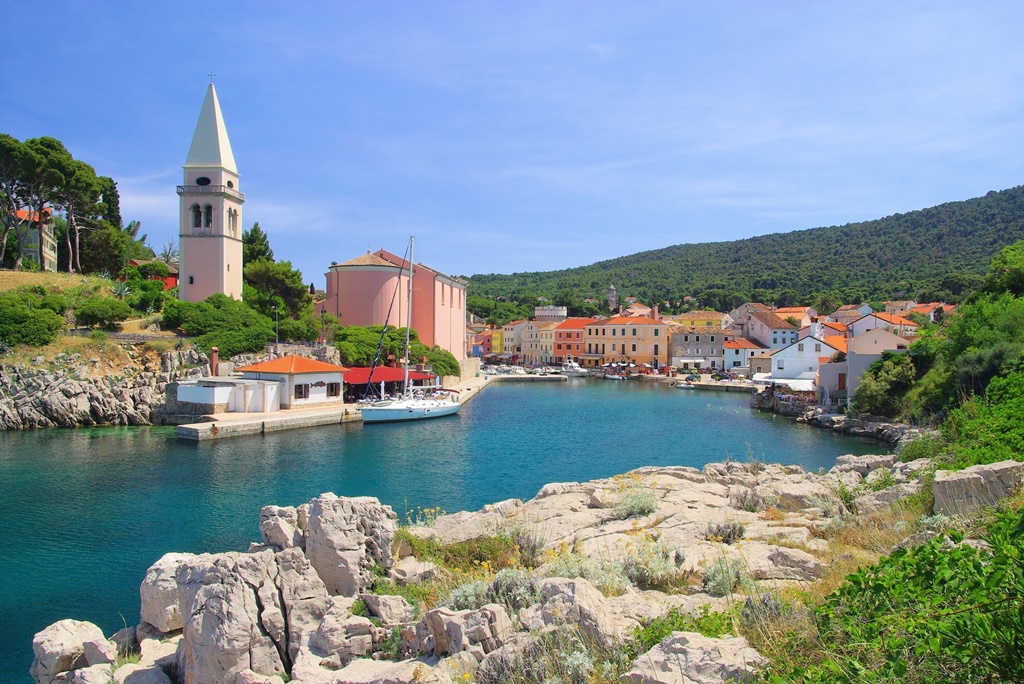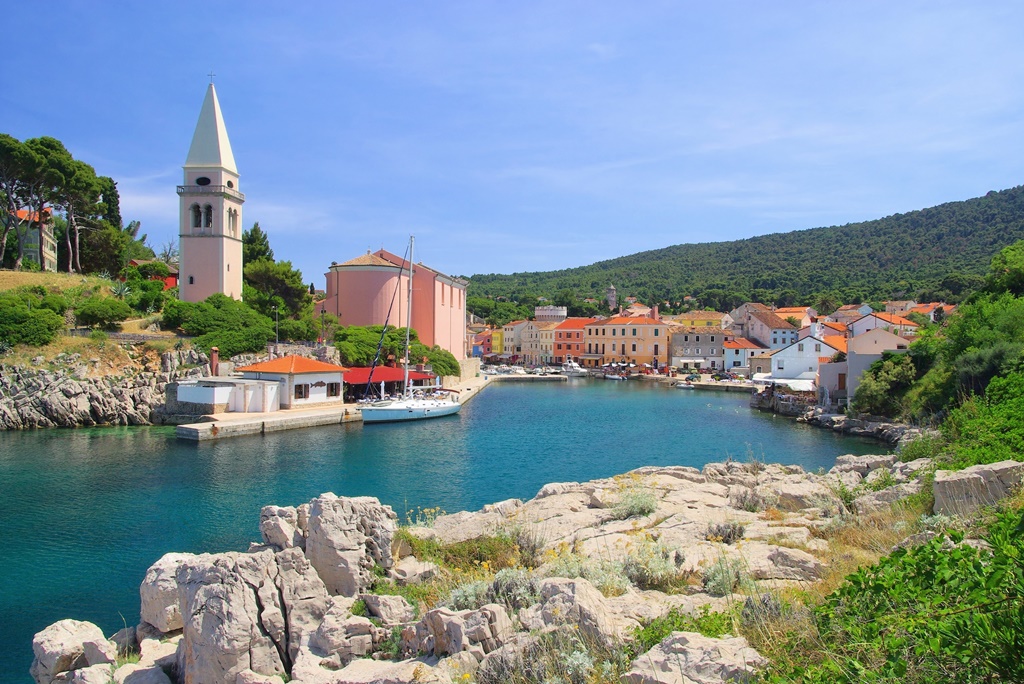 Top beaches on Losinj island
The island of Lošinj has a long coastline with many beautiful beaches.
One of the island's best and most popular beaches is Veli Žal, located in Sunčana uvala (Sunny Bay), a 20-minute walk from the town center. The beach has the Blue Flag title, which is an international award for the clean sea and high-quality service. Veli Žal beach is pebbly with a nice entrance into the sea, which makes it perfect for families with children. It is also accessible for people with reduced mobility. The beach has showers, umbrellas, changing rooms, toilets and also offers rent boat service.
Another fantastic beach is situated in the southern part of the island, in Plieski Bay. The pebble beach, also ideal for families with small children. The Plieski beach is easily accessible by boat (you can rent one in case you don't have your own), or by land through Put Dupina, or by descent from Lošinjske transverzale.
Krivica beach is situated next to Plieski bay, not far from Veli and Mali Lošinj. Being protected from wind of any kind, it is a real paradise for boaters. It is also accessible by boat, but by foot following Put Dupina as well, or by descending from the top of Mountain Sv. Ivan, easily reachable by road. Keep in mind that the beach is a short walk from Restaurant Balvanida, but no other facility whatsoever exists in the area.
Zabordarski beach can be visited in Artatore settlement and it is considered to be one of the most beautiful wild beaches on the entire island. It is located near the Lošinj airport and set with stone and pebbles, which is why even children love to go there. You can reach it by car and it is advised to park the car at the airport and continue to walk by foot or by bicycle towards the beach.
Čikat is one of the most beautiful parts of the island and on all of the Croatian islands in general. Čikat Bay consists of three smaller bays, one of which is sandy and favourite among children. The bay is a popular swimming zone with many various activities, from bars and restaurants to sports activities such as table tennis, soccer, etc, and even windsurfing or scuba diving.
Camping on Losinj
Many people love spending their days off in nature, lying in the shade of pine trees listening to the sound of waves and enjoying the relaxing atmosphere. It really is a peaceful and unique experience, especially if you are an adventurer spending your summer vacation on a Mediterranean island surrounded by beaches of crystal clear sea and you can get the most of it if you don't decide to spend your vacation in a hotel room.
The Čikat Camp is situated in the Čikat Bay surrounded by pine trees, near Mali Lošinj. While in this camp, you can discover the secrets of the island by riding a bicycle or simply walking along the pleasant promenades. The camp is open all your round.
The Friends of the Child Camp offers fun and excitement for your children in the Pepé Family Fun Park, while for older generations there are sports and other facilities in the camp itself and nearby.
Losinj hiking trails
Over 250 km of footpaths across the island of Lošinj are perfect for nature enthusiasts looking for adventure, but for those seeking relaxation as well.
Apart from being the island of vitality and wellness, Lošinj is well known as the island of scents as well. More than 1200 plants offer an even better atmosphere to enjoy.
You can walk carelessly without being afraid of a poisonous snake on the archipelago, as there aren't any on the Cres-Lošinj archipelago.
Trails along the sea are called 'lungomare' and vary when it comes to the difficulty level. The most popular trails are the winding paths that follow the coast to the bay.
The Čikat area is historically interesting as you can find architectonic gems in the shape of Austrian noblemen villas along the path. It is best to start with the lungomare that connects Mali to Veli Lošinj, no matter the departure point.
Paths in Rovenska fishing bay will also win your heart over in a second, but keep in mind that paths away from the sea can be more demanding and require a certain physical shape. Trust us – it is worth it, you will be awarded with breathtaking views and unspoiled nature.
One of the most demanding trails is the mountain transversal Osoršćica, a 10 km long trail spreaded from Nerezine to Osor. Along the path you can see the St. Gaudens cave and the chapel of St. Michael.
There are three main hiking routes on the island:
Nerezine – Pocivalice – Sv. Mikul – Televrina – Sv.Gaudent – Gredice – Mazova Gora – Osor (4,30h)
Cunski – Pocivalice – Sv. Mikul – Televrina – Sv. Gaudent – Gredice – Mazova Gora – Osor (8h): the most demanding mountain path of the island of Lošinj
Veli Losinj (Podjavori region) – Kalvarija – Sv. Ivan (45 min)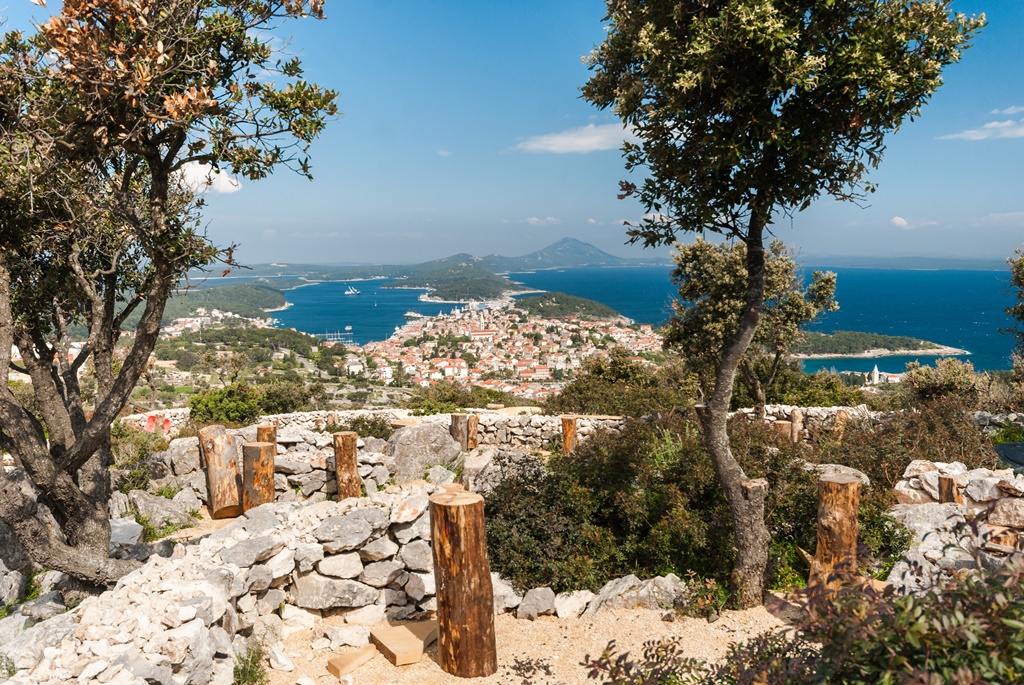 Losinj cycling trails
Lošinj, as the island of vitality, is making a great base for a cycling vacation. The island has a varied landscape with rocky and steep terrain on the northeast with flat bays, beaches and coves on the southeast. By choosing to cycle through on Lošinj, you will go through pine forests along beaches, all past cultural and historical sites of extreme importance for the Croatian heritage.
The Lošinj trail is primarily intended for "mountain bikers", but beginners and a bit experienced bikers can use it as well in some parts. It starts from Malološinjska riva towards Premuda, goes to the gas station (0.5 km) and continues straight ahead. At 1,270 km, turn right onto the macadam road and pass through the former military complex, then continue on by rocky road to Zlatna and Srebrna bay, over Čikat and Sunny bay to the Borik restaurant (11,2 km). After, turn left towards the hotel "Vespera" and at 11.8 km turn right. At 13.0 km less experienced cyclists can turn towards the center of Mali Lošinj. Others, turn right, at 13.6 km to the right and at 13.8 km again to the right. Go through the Kalvarija service area where the macadam road begins. At 15,2 km turn right and at 15,9 km continue straight on the slightly difficult macadam road towards Bonić House (21,7 km). You can continue cycling up to 22.3 km. There is a wonderful view of the island of Ilovik. Then, turn and return the same road to the asphalt road (30.2 km). At the intersection (31.0 km) turn left and then 31.8 km turn right to Versikovo Street. After 200 m go right and descend several stairs to the waterfront (32.3 km).
The trail is total 32.3 km long and is considered to be of medium difficulty, so make sure to prepare yourself in advance for this tour.
Snorkeling & diving on Losinj
Another reason why the island of Lošinj should be on your to-visit list are the numerous underwater caves, raptures, reefs, and rich marine flora and fauna waiting for you.
There are 3 diving centers on Lošinj which offer fantastic underwater activities for all generations:
DIVER LOŠINJ: The center is situated at the seaside, in the Čikat bay, surrounded by the centuries-old pine forest.
SUB SEA SON
BENTHOS
Water sports & equipment

Other than diving and snorkeling, there are other interesting water sports and activities you can take up during your stay on Lošinj. If you want to do something more exciting you can try parasailing, water-skiing or kitesurfing, while for those who prefer the standard activities there are numerous options to choose from: windsurfing, stand up paddle surfing, kayaking or canoeing, jet skiing, etc.
All the necessary equipment can be rented at the beaches. However, keep in mind that it is not offered on every beach, but mostly on the bigger ones. If you are staying in a camp, you can probably rent some of the equipment there, if the camp is located near the beach, or you will get more information from the front desk staff.
You can even rent a small boat and drive around the island, and you'll see the island from a totally different perspective.
Events on the island of Losinj
Lošinj does not lack entertainment activities as well.
The annual celebrations start in February, with the traditional Carnival parade and burning of the Prince of Carnival, all followed by a huge street party including lots of singing, dancing, eating and drinking.
Another popular event is Balinjerada – a vehicle race under the masks taking place in March down Ulica braće Vidulić, the main street in Mali Lošinj.
The island hosts two festivals in April: the festival of cuisine including a fantastic gastronomic offer and the flowers when the main square becomes one big square filled with gardens. A bit later, at the end of July, Lošinj is home to the widely-known water polo tournament.
In August, Veli Losij hosts the Day of Dolphins, while in Mali Lošinj, every first Saturday of the month the embankment is filled with the stands selling the souvenirs, liqueurs, and other local products and crafts during the Fragrances festival. The important Catholic holidays are also celebrated here greatly, as the vast majority of the island's inhabitants are Catholics. The most popular celebrations are held in honor of Christmas, Easter, and Epiphany Day.
Losinj nightlife
As it is not a really big island and it is more family-oriented which is why there are not many clubs on the island or vibrant nightlife whatsoever. However, there are few popular spots there where you can go if you are up for a relaxing evening with a few drinks and some dancing.
Take a walk to the centre of the town and you will find something for yourself. Visit the taverns with live music, nightclubs and coffee bars. In the summer season there are many events organized out in the open, so you will definitely not miss the evening entertainment.
Saturn is the best bar in Veli Lošinj. This little place is faced towards the harbour and gets crowded every weekend with people looking for some fun and enjoy listening to Western and Croatian music.
You can also visit few popular spots in Mali Lošinj, most of which can be found on the main square Trg Žrtava Fašizma. Augusta wine and champagne bar offers more than 50 types of high-quality wines both from the island and other parts of the world. Bulldog is a caffe and night bar where locals enjoy to gather, but Pacifico nightclub is definitely the choice number one for foreigners during the summer.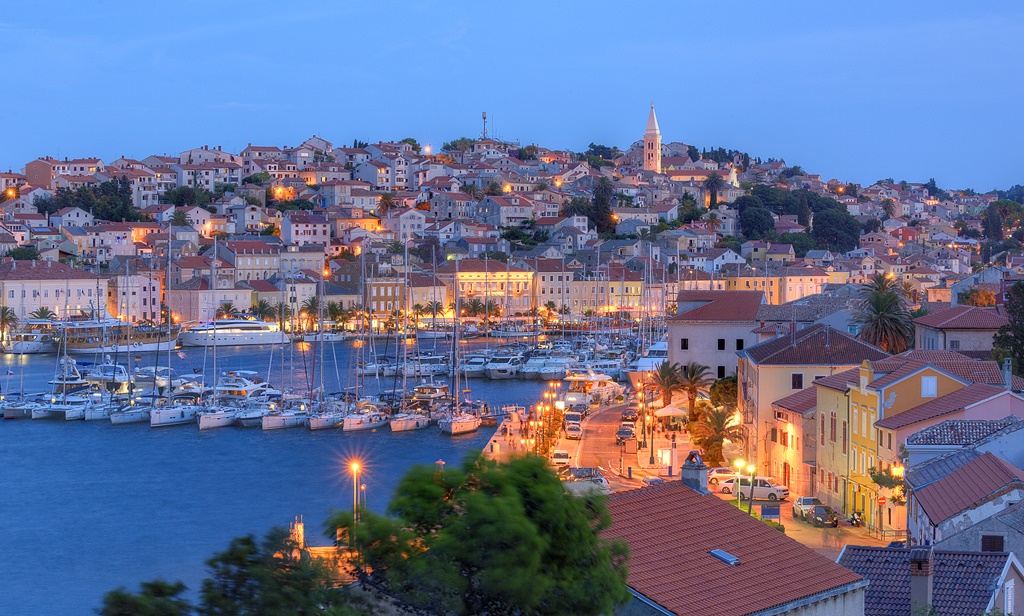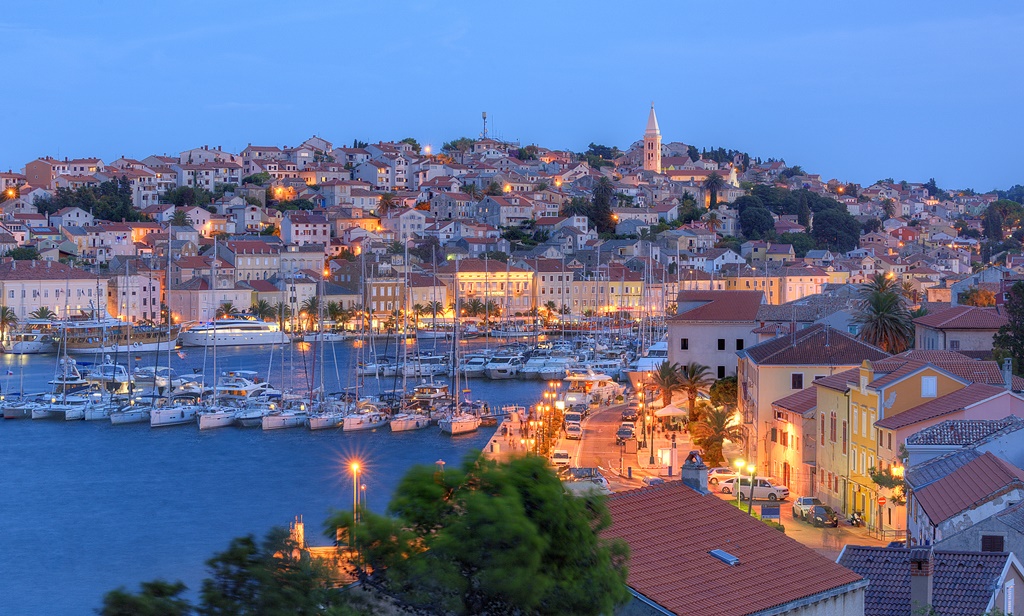 Food & supplies
As a popular summer destination, Lošinj is quite equipped with supermarkets, butcher shops and bakeries, pharmacies, souvenir shops, newspaper stands, and fish markets, so you can buy whatever you want and need right there on the spot.
There are also many restaurants across the island and you can always eat outside. As for the local food, you should definitely try some of the fish specialties which are always option number one on Croatian coast and islands, like grilled fish or scampi, "black" risotto with squids, octopus with potatoes baked under the lid on an open fire and many, many other delicacies.
If you are not that keen on fish, you can always try some delicious meat dishes, like roasted lamb with potatoes and rosemary, homemade prosciutto served with cheese and olives or one of the most popular dishes – grilled steak with fresh vegetables.
You should definitely try some local wine; Losinj island is renown for its history of wine-making, so whichever you choose – red, white or rosé, it will definitely meet your expectations.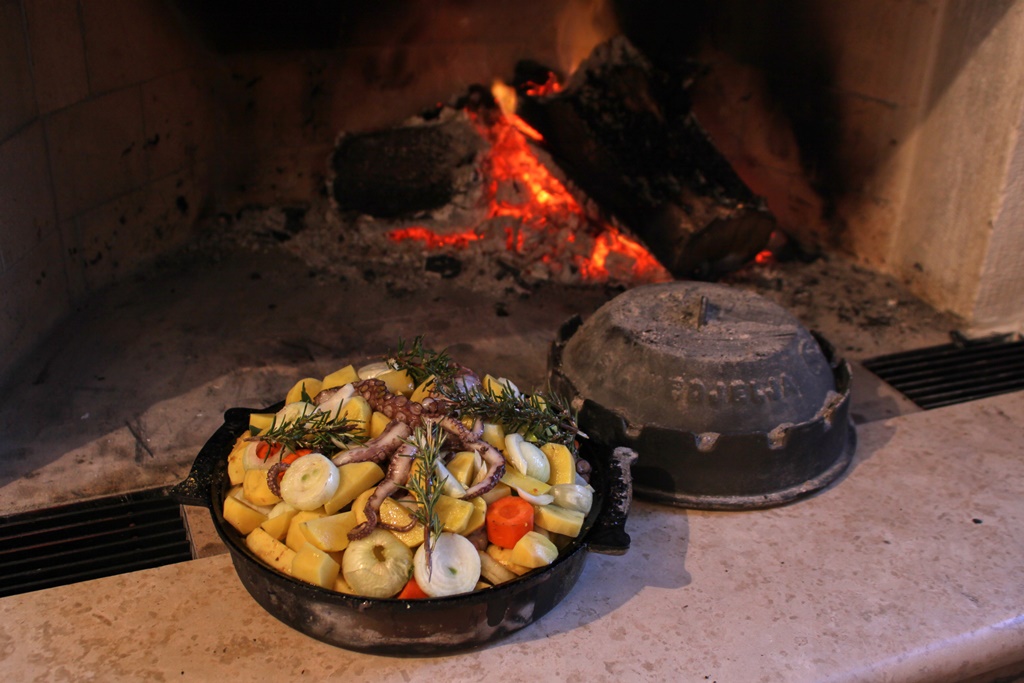 ATMs & exchange
The official currency in Croatia is Kuna and it is necessary to have local currency on you when travelling around the country as it is impossible to pay in euros (credit cards are an exception). However, to be on the safe side, we recommend having Kuna in cash on you, because not all the restaurants and bars accept credit cards. While in larger supermarkets and pharmacies you can use credit cards, it is almost impossible to use them in bakeries or private, family-owned mini markets, and similar places.
In case you need a bank or an exchange office, or you wish to withdraw some money from an ATM, you can find them in the main places on the island: Mali Lošinj and Veli Lošinj.
The banks' working hours depend on the season, but you should go there in the morning, and keep in mind that during the weekends and national holidays they might be closed. ATMs are available and usually located in the port, on the main promenade.
Emergency contact info
If you by any chance should need medical assistance during your vacation, you don't have to worry, there are several services available on the island.
Area code is +385, so keep in mind to dial it before any other service number.
Emergency call: 112
Road assistance: 987
General information: 981
Weather forecast and road conditions: 060 520 520
Pharmacy Mali Lošinj: +385 (0)51 231 661
Hospital Mali Lošinj: +385 (0)51 231
Croatian Autoclub: +385 1 4554 433
Port authority: +385 (0)51 231 483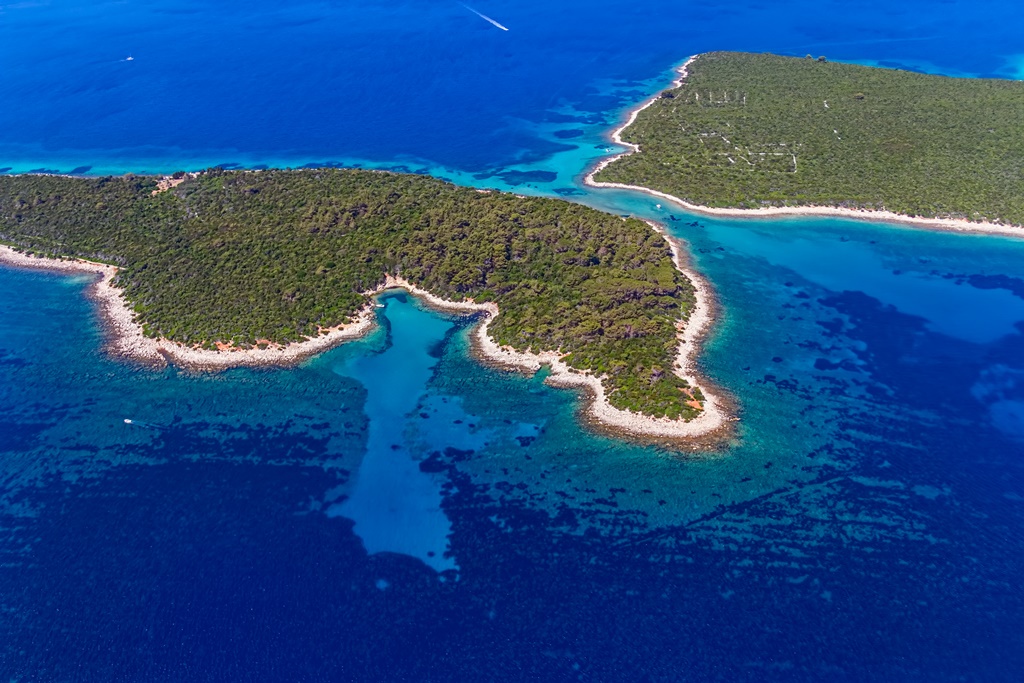 FAQ – Island Losinj
Can I bring my bicycle on the catamaran or ferry?
It is possible to bring your bicycle on car ferries to Mali Lošinj, but you will have to buy a ticket for the bike. Bringing a bicycle on the catamaran is, in most cases, not possible as there is simply no space available.
Can I buy / reserve ticket for a specific departure?
In case of catamaran you can buy ticket for a specific departure, in case of the car ferry you can buy a ticket for a specific travel date, but not for a specific departure.
Can I bring my dog on the ferry / catamaran?
On catamarans you can NOT bring your dog, but on the car ferries you can, but you are not allowed to take them into the closed areas where passengers are sitting.
How much luggage can I bring?
On car ferries up to 100 kg, on catamarans up to 20 kg but since they don't weigh the luggage, there is normally no issue if you bring a bit more.
Which airport should I fly to if I want to go to Losinj?
You should fly to Zadar airport because you can then easily take the ferry or catamaran to Lošinj that departs from Zadar ferry port, which is just a short drive from the airport.
How safe is Lošinj?
Lošinj is very safe, as is the rest of the coast and the whole country actually. Croatia is a small and safe country, so you don't have to worry about that, just relax and enjoy your vacation.
How long should I stay on Lošinj island?
That depends on what you want to do there. If you wish to explore the island and spend some time in different bays, take some hiking or cycling tours of the island, relax and enjoy the nature and landscape, then you could stay for a week. If you don't have that much time, you can always take a day trip to Mali or Veli Lošinj with an early morning catamaran and check out the old town, grab some quick lunch and spend your day on one of the beaches before rounding up your day with a cocktail in the sunset and go back with an evening departure. If you wish to experience the Lošinj nightlife as well, you can extend your visit with an overnight stay and leave the island the following day.
When is the best time to visit Lošinj?
The best time is the summer, because you can spend your days on the beach, relaxing, swimming and sunbathing. The days are long and it is really warm, plus the parties are at their peak. The downside is that the island is packed during the summertime since everyone is visiting then. If you wish to avoid the crowds or you are not that much into partying, or you don't like the heat that much and would like to go to the beach without getting sunburnt, then you should consider the postseason. September is one of the best months; the air temperature is milder and the sea is still quite warm. October is good for hiking and cycling enthusiasts since it is not that hot anymore so you can spend most of the day exploring the island. If you are more keen to travel in preseason, then May and early June are good months regarding the air temperature but the sea might still not be that warm, with the temperature of about 18-20 degrees.