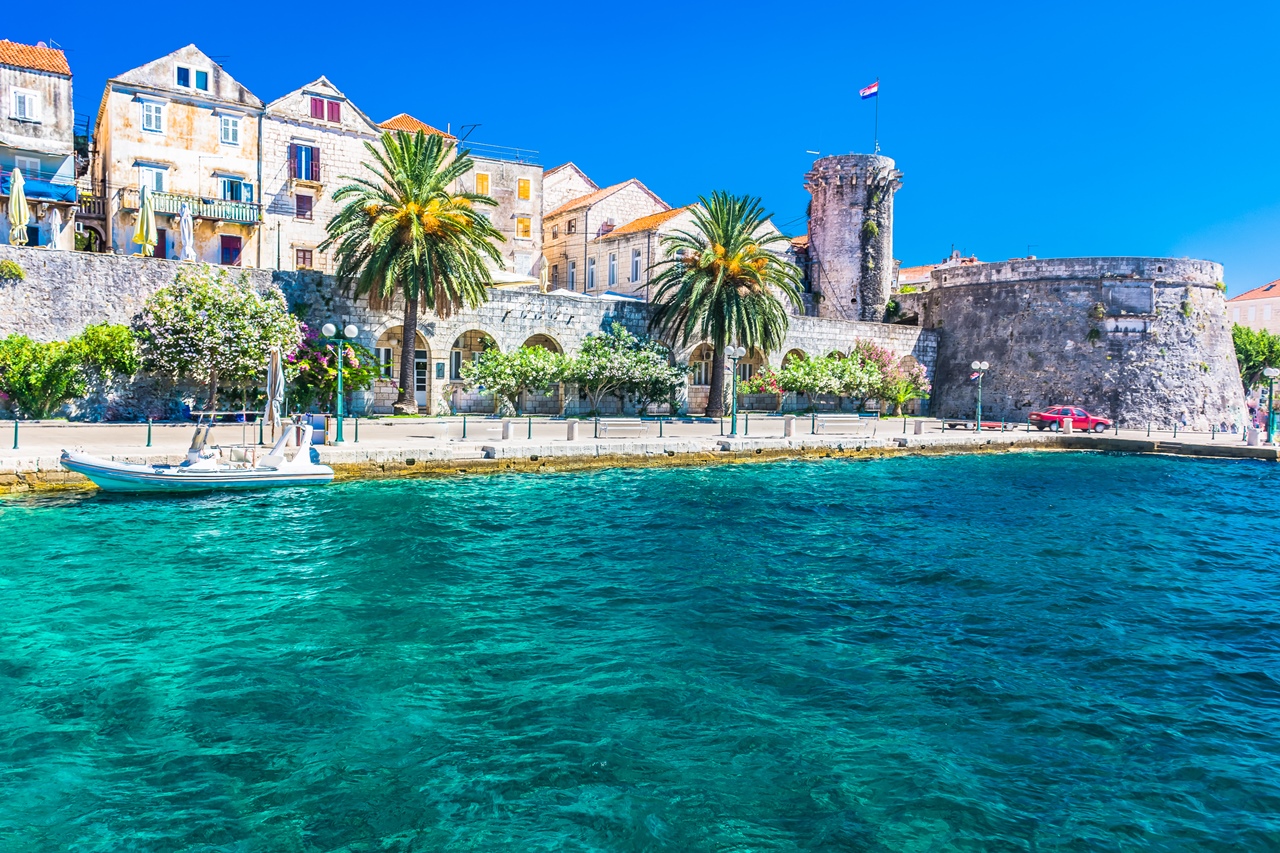 Island Korcula
Korcula Island is a Croatian Island in the Adriatic Sea and it lies off Dalmatian coast. According to the demographics from 2011, Korcula is the second most populated island in Croatia counting more than 15 500 inhabitants (with Krk being the most populated one). The main settlements on the island are towns of Korcula, Vela Luka and Blato. The climate of the island is mild Mediterranean climate which makes Korcula suitable for visit during whole year.
Korcula Island is a Croatian Island in the Adriatic Sea and it lies off Dalmatian coast. According to the demographics from 2011, Korcula is the second most populated island in Croatia counting more than 15 500 inhabitants (with Krk being the most populated one). The main settlements on the island are towns of Korcula, Vela Luka and Blato. The climate of the island is mild Mediterranean climate which makes Korcula suitable for visit during whole year.
If you plan to visit Korcula, this detailed guide will give you insight in all the necessary information about the island. Check out the most beautiful beaches on Korcula, which historical sights to visit, where to go out in the evening and much more.
Ferry to Korcula Island
Please note, some of the connections listed below only operate in the summer season, click on the links to check the sailing schedule for a specific travel date.
Korcula Island is one of the most well-connected islands in Croatia especially during the summer season, where there is car ferry and catamaran connection not only to / from the mainland, but also to / from many other islands like, Lastovo, Hvar, Mljet and Brac. The the two most vital ferry connection to the island is the whole year ferry connection from Orebic to Domince and the car ferry from Split to Vela Luka. During summer season fast ferry connection to and from Korcula town are very popular.
The ferry route Split to Korcula town, is operated the whole year, in the winter there is 1 daily departure and in the main summer season up to 5 daily departures between Split and Korcula town , as alternative it is possible to travel from Split to Vela Luka at the west end of the Island.
The ferry route Dubrovnik and Korcula town is available from around 1 of May till mid-October, during main summer season there is several daily catamaran departures between Dubrovnik to Korcula town. Other times of the year you will need to have a car or to take the bus to travel between the cities.
The ferry route Hvar to Korcula is operated the whole year, in the winter there is 1 daily departure and in the main summer season up to 3 or 4 daily departures.
Korcula Ports
Vela Luka Port: is located on the north-western peak of island Korcula, the town has daily car ferry and catamaran connections to Split and daily connections to Ubli on Island Lastovo, you can see more info about departures and buy ferry tickets from Split to Vela Luka here, and ferry departures and tickets in the other direction you can find here.
Korcula town port: is located on the north-eastern part of the island overlooking peninsula Pelješac, the catamarans and passenger boats to Korcula may stop at either side of the old town.
Domince port: Is the most busy car ferry port on Island Korcula, the port is located about 3.5 km by car south of Korcula town, the foot walking distance is a bit less than 3 km. The only connection to the port is a car ferry from Orebic on Pelješac, here you can see departures and purchase tickets from Orebic to Domince and you can see schedule and tickets in the opposite direction here.
Getting to Korcula from Dubrovnik or Split airport
From Dubrovnik Airport you should take the airport bus or a taxi to the bus station or the ferry port (located about 500 metres apart). From the bus station you have a few daily buses which drive all the way to Korcula, (the bus trip include the ferry from Orebic to Domince), you can see timetable and buy ferry tickets from Dubrovnik to Korcula here. From the catamaran port in Dubrovnik there is catamaran to Korcula operating parts of the year.
From Split Airport you should take the airport bus, the bus takes you to the bus station in Split (travel time 30 minutes) which is just next to the ferry port in Split, from Split port you then have either catamaran to Korcula town, or catamaran / car ferry to Vela Luka. If none of the fairly few departures should match your itinerary the alternative is to drive to Orebic and take car ferry from there on.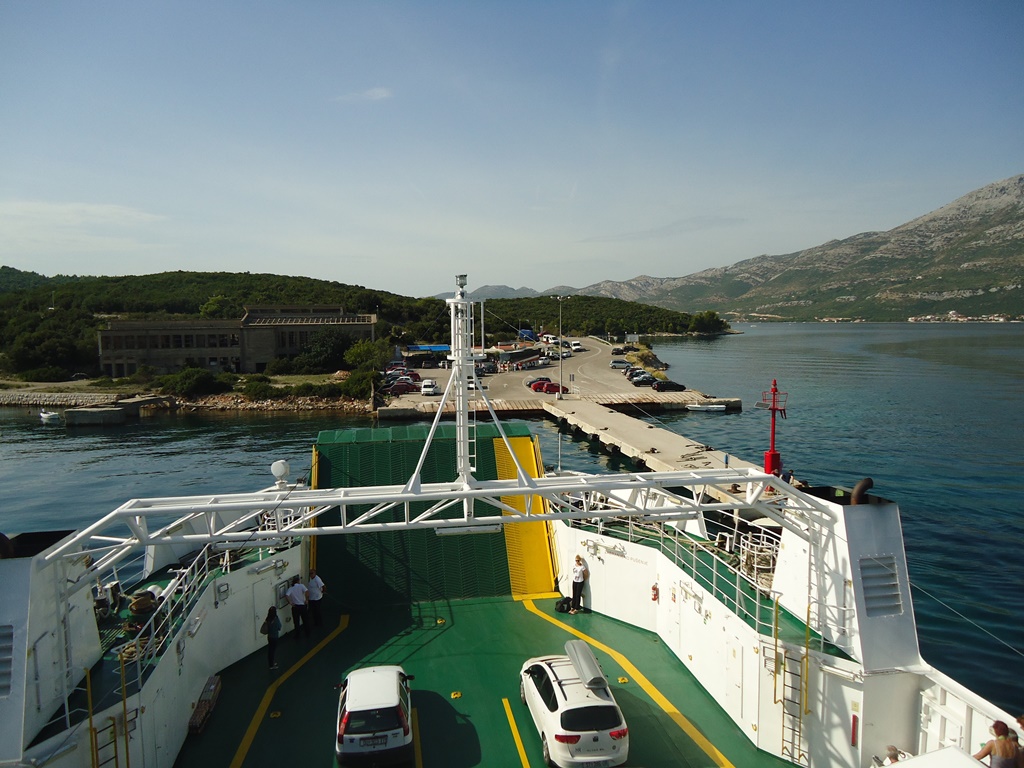 Getting around on Korcula
Island
All major cities on Korcula Island, Vela Luka, Blato, Korcula town as well as several of the village are connected with daily buses, the number of daily "Island buses" depend on the time of the year, during summer season there is the most departures. Buses to and from the ferry port Domince and Korcula town operate according to the ferry departures and arrivals. More information about buses on Korcula you can find here.
Historical sights
Vela Spila –  The cave is located on the southern slope of hill Pinski rat, 130 m above the Kale bay in Velika Luka, and it is one of the most important archaeological prehistoric sites in Europe. According to previous analyses, researchers have come to a conclusion that the cave was already inhabited in the early Stone Age, in other words – almost 20 000 years before Christ! In the Museum of the Center for Culture (the very center of Vela Luka) you will find  a valuable archeological collection of objects found on this site, and visitors can access the cave by following 2.5km long road from the Kale bay in Vela Luka or by a walking trail over the hill Pinski rat.
St Mark's Cathedral – It is also called Korcula Cathedral and it is one of the most iconic monuments on the island. The cathedral was built by local master in the 16th century, but the altarpiece was painted by famous Italian painter Tintoretto.
Marco Polo Museum – Although exact date and place of birth of famous Italian merchant are unknown, some historians claim that he was actually born on Korcula Island. Today you will find 5 Marco Polo shops and a museum in Korcula Town containing over 400 product under the brand Marco Polo.
Korcula Town Walls – As the majority of old town walls (such as those in Dubrovnik), Korcula Town Walls were built for defensive purpose. In the past Korcula Town was exposed to attacks and local people needed to defend themselves somehow and keep the town secured so it was only natural to build a huge wall around the town. The walls represent a great example of Medieval architecture on Dalmatian islands, thus making Korcula Town one of Croatia's best preserved fortified towns. Beside the walls, the entire fortification also includes monuments such as Zakerjan Tower (where Massimo Cocktail Bar is located), Kanavelic Tower, Sea Gate Tower, Small and Large Governor's Tower, Revelin Tower and All Saints Tower.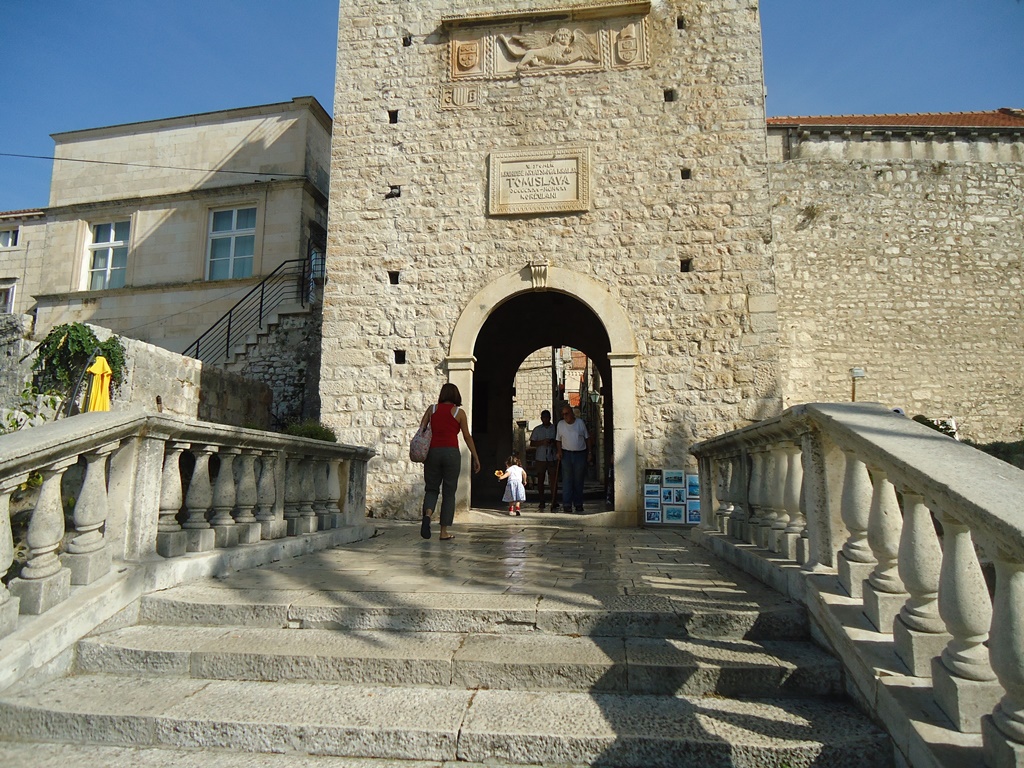 Top beaches on Korcula Island
Vela Przina – One of the best known beaches on Korcula Island is Vela Przina and it is located in Lumbarda. It's a perfect beach for families with children because it is a sand beach and it has a nearby restaurant where you can have a lunch and take a break from hot sun. You also have the possibility of renting sunbeds and parasols and play beach volleyball on the court above the beach.
Pupnatska Luka – Only 15 kilometres from the town of Korcula is located one of the most beautiful beaches on the island. The beach is picturesque and it gives you spectacular views of nearby Lastovo Island. There is a toilet available at the beach and you can also rent sunbeds. At the bottom of this beautiful bay there is a restaurant where you can take a break from hot sun and enjoy the excellent offer of various Dalmatian dishes.
Bilin Zal – Bilin Zal Beach is relatively small beach but nevertheless it is quite popular among tourists and locals. This sandy beach is located on the eastern shore of Lumbarda and it can be reached by bus from Korcula Old Town. Since there is no natural shade on this beach, visitors are advised to bring parasols. The beach also has wheelchair access.
Proizd – Proizd Beach is not actually on the Korcula Island, but on the homonymous tiny island near Korcula. During summer there are regular boat connections from Vela Luka to Proizd so you can do a perfect day trip. There is a small restaurant along the Proizd pier where you can have a lunch so you don't need to worry you will stay hungry. Don't miss to check out Bili boci Beach located on the northern side of the island. You can reach it by following a marked forest footpath from the pier.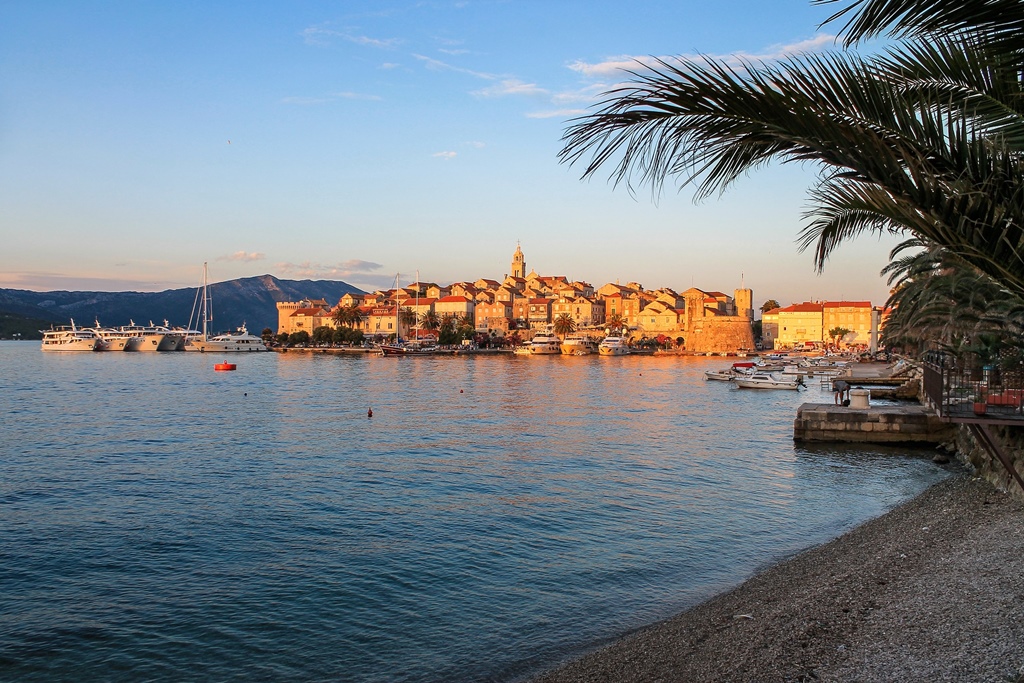 Camping on Korcula
There is no better way to spend your vacation on an island than in nature, surrounded by pine trees and listening to peaceful sound of sea waves. That's why the best thing to do is to go camping on Korcula, however wild camping is not allowed so you should check out some of the popular campsites on the island:
Campsite Kalac (Korcula Town) – it is located 3 kilometres from Korcula Town and it has a capacity of 600 people. The camp is positioned near the beach and it is suitable for families with small children. Guests have the possibility of using a tennis court and playground for kids. There's a large supermarket and restaurant-pizzeria at guests' disposal. Campsite is equipped with two separate sets of toilets and showers with hot water. At the beach the guests are offered to rent sunbeds, beach umbrellas and kayaks.
Campsite Vrbovica – a campsite on Korcula, located in the Bay of Vrbovica near Zrnovska Banja. Zrnovska Banja is a small tourist resort situated in in the northeastern part of the island of Korcula, about 4 km from the town of Korcula. It is especially popular among windsurfers and is one of the most desirable places for lovers of this sport on the entire Dalmatian coast. It is an ideal destination for guests wanting a quiet holiday but still be close enough to tourist center. You can read more about campsite Vrbovica on the official webpage
Campsite Oskorusica – this campsite is a bit smaller than the first two since it has a capacity of only 70 people. The camp is located right in front of the sea, while all camping spots are located in the shade of Mediterranean trees. The camp provides electricity connections, grill, Wi-Fi, refrigerators and washing machine.Each day a truck delivers bread, rolls, croissants and other pastries while twice a week they deliver fruit, vegetables and fresh fish. The camp is family-friendly and guests can enjoy the peace and quiet and take a break from the busy everyday life.
Campsite Mindel – campsite Mindel is located 5km from Vela Luka, on the western side of Korcula Island. It has 120 camping spots. The camp provides power hooks for caravans and campers, sanitary blocks with showers, spots where you can wash dishes and refrigerators. Those who are into sports and recreation can find tennis court and ground for playing bocce (free for use). More about prices and campsite rules read here.
Korcula hiking trails
Forteca trail – the most popular and one of the easiest hiking routes is the one from Korcula Town to Forteca tower. The tower was built during British occupation of Korcula at the beginning of the 19th century and it is located on the hill above Korcula Town. It takes about 20 minutes to reach the tower from Plokata, the main square in the Old Town.

St Anthony's Hill trail – Located only 2km southeast of Korcula Town, this hiking route could also be categorised as an easy one. St Anthony's hill overlooks the road leading to Lumbarda and it will take you 102 steps to climb the hill. No worries, it's not that hard as it sounds!
Festivals on Korcula island
Korčula is well known for preserving Croatian tradition and is there a best way to celebrate the tradition than by organising festivals? Probably the most famous one is the Sword Dance Festival which takes place in Korcula Town at the beginning of June. Why sword dance? Well, if we go back in the 17th century, we would find two groups of dances performing Moreška (the name of the dance) who would engage in a "battle" over a veiled young woman. The similar dance can be found in Catalonia where they perform La Morisca de Gerri de la Sal.
St John's Feast Day – Every year on the 24 of June the town of Vela Luka on Korcula organises the annual regatta to honor St John's, the local patron saint. The regatta starts in Vela Luka and the route finishes in Gradina Bay. The prize for the winning team is a roasted lamb on the spit and 10 litres of Korcula wine!
Donkey Race –  If you find yourself in Lumbarda during July, then you shouldn't miss one of the most interesting and exciting manifestations on the island – the famous donkey race! If you haven't tried it yet, then definitely sign up and if you are lucky enough not to fall of the donkey and also be the quickest, you might win a prize!
Korcula nightlife
Have you ever had a cocktail inside of a fortress? No? Well, in Korcula you can do exactly that! Massimo Cocktail Bar is located in Korcula Old Town on top of the Zakerjan Tower which was built in the 15th century. One of the other popular nightlife spots on Korcula is Boogie Jungle Lounge Bar. Though it says "bar" in its name, it's more like an open-air club with terraces, three bars and it has a capacity of 1500 people. During summer season, the bar hosts international DJs and parties are usually themed so there's everything for everyone. Those who prefer more laidback evening in a relaxed atmosphere should check out Vinum Bonum, a wine bar near the harbour. Get yourself a plate of prosciutto and cheese with a bottle of good wine and enjoy the evening in a good company. For alternative scene, there's Dno Dna Bar which has a marine-themed decoration and there usually play rock music or live concerts. If you are more into hip hop, r'n'b, MTV hits and foam parties then don't miss the chance to drop by Gaudi Nightclub, located in the Arsenal building in the Old Town.
Food and supplies
Getting food on Korcula should be no problem because there's at least one supermarket in each town/village. The biggest supermarkets can be found in Korcula Town, Blato and Vela Luka. Look for Tommy Supermarket, Konzum or Studenac, the three most common grocery supermarkets where you can stock up on food supplies.
If you are more into trying Croatian specialties, then check out some of the local restaurant. Basically, any restaurant containing "konoba" in its name is a good call. We recommend fish dishes – anything on grill will taste perfect – sea bass, monkfish, squid, shrimps, you name it!
Some of the dishes which are a must-try:
→ FISH AND SEAFOOD: octopus salad, octopus with baked potatoes (peka), shrimps in buzara stew, black risotto, mussels, brodet (fish stew with vegetables)
→ MEAT: pašticada (marinated beef in wine gravy with gnocchi), roasted lamb on the spit, meat version of peka, makaruni from Zrnovo with beef sauce (type of homemade pasta typical for Korcula)
Korcula is also known for producing some of the finest wines in Croatia so you should definitely combine them with above mentioned dishes. There's just one rule – white wine with fish, red wine with meat!
Here are the most common wines you'll find on Korcula:
WHITE: Posip, Grk, Prosek (dessert wine)
RED: Plavac, Postup, Dingac
ATMs and exchange offices
It's important to remember that  the official currency in Croatia is Croatian Kuna (HRK) and it is the only acceptable currency in the majority of shops and restaurants. However, some restaurants have tendency to accept euros as well, but the exchange rate is incredibly low (e.g. 1€ = 6kn) so try to avoid that. If you don't like carrying a lot of cash with you, that's no problem because larger supermarkets and pharmacies accept credit card payment. On the other hand, you should always have some kuna on you in case you need to buy something in bakeries, small local mini markets, newsstands, etc.
Should you need a bank or an exchange office or an ATM, you can find them all in the all major towns on the island: Korcula Town and Blato (banks), Vela Luka and Lumbarda (only ATMs and exchange offices). Pay attention to working hours of the banks as they change depending on the season so it is advisable to go there in the morning. Also, bear in mind that they can be closed on weekends and national holidays.
NOTE: Always pick ATMs of local banks as they give the best exchange rates.  Foreign ATMs and those which offer withdrawal of other currencies will charge a higher commission than the local ATMs.
Emergency contact info
If you need to seek medical assistance during your stay on Korcula Island, you can go to ambulances in Korcula, Blato and Vela Luka:
→ Blato Health Center: 33. ulica, br. 4; +385 (0)20851205
→ Vela Luka Health Center: Ulica 1, br. 1;  +385 (0)20 601 740
→ Korcula Town Health Center: Ulica 57, br.5;  +385 (0)20 711 137
If you need to contact police you can do it on number +385 (0)20 444 333, while the police station is located right next to Korcula Town Health Center.
Should you need information for visitors and information about the island, you can consult tourist boards on Korcula Island:
→ Tourist board of Vela Luka: Obala 3 br.19; tzo-vela-luka@du.t-com.hr
→ Tourist board of Korcula Town: Obala dr. Franje Tuđmana 4; info@visitkorcula.eu
If the situation requires further urgent assistance or hospitalization that cannot be provided on the island, a speedboat or helicopter will be sent for the patient and take them to the nearest hospitals in Split.
Foreign citizens/tourists coming from countries that are signatories of the Health Care Convention don't have to pay for medical assistance in Croatia, while patients coming from countries that are not signatories of this convention, must pay for medical assistance provided, according to the valid tariffs.
FAQ – Island Korcula
Can I bring my bicycle on the catamaran or ferry?
Passengers are allowed to bring their bicycles only on ferry lines (from Split and Orebic) but they will have to pay around 50kn (~7€) of additional fee. Bicycles on catamaran lines are generally not accepted as there is not enough space. If you are traveling off season when there is not many passengers on catamaran lines, the boat crew might allow you to bring your bicycle.
Can I buy / reserve ticket for a specific departure?
In case of catamaran you can buy ticket for a specific departure. If you are taking a car ferry you can buy a ticket for a specific travel date, but not for a specific departure time.
Can I make a day trip to Korcula from Split?
Of course, there are ferry and catamaran lines to Vela Luka and one catamaran line to the town of Korcula which frequently depart during summer season.
Can I bring my dog on the ferry / catamaran?
Passengers are not allowed to bring their pets on catamarans. On the car ferries the passengers can bring their pets as long as they don't  take them into the closed areas where passengers are sitting.
How much luggage can I bring?
You can bring up to 100 kg on car ferries and up to 20 kg on catamarans but no one really checks that since they don't weigh the luggage on board so it's no problem if you bring a bit more.
Which airport should I fly to if I want to go to Korcula?
You can either fly to Split Airport or Dubrovnik Airport because both cities have ferry/catamaran connections to Korcula.
How far is Korcula from Split/Split airport/Dubrovnik?
From Split Airport there are shuttle buses which will take you directly to the ferry port in Split (~30 minutes) and trip from Split to Korcula Island usually takes around 2.5 hours. If you take a ferry/catamaran to Vela Luka but you wish to visit Korcula Town it will take you around 40 minutes by local island bus. One way ticket costs around 40kn.
If you are coming from the direction of Dubrovnik, it takes around 20 minutes to reach ferry port from Dubrovnik Airport and additional two hours by catamaran to Korcula.
How long should I stay on Korcula island?
Around 4-5 days should be enough to explore the main spots on Korcula Island, but if you wish to explore only Korcula Town and take a swim in the sea, a day trip is more than fine.
When is the best time to visit Korcula?
The best time to visit Korcula is undoubtedly the summer because there are so many activities to choose from – swimming, hiking, cycling, exploring the island, etc. There are events and concerts almost every day and the club scene is pretty alive. If you do not prefer crowds, then we advise to visit the island either in the pre-season or post-season, in other words, either during April and May or September and October. The temperatures are still very high (around 25 degrees during the day) plus the prices are much lower.