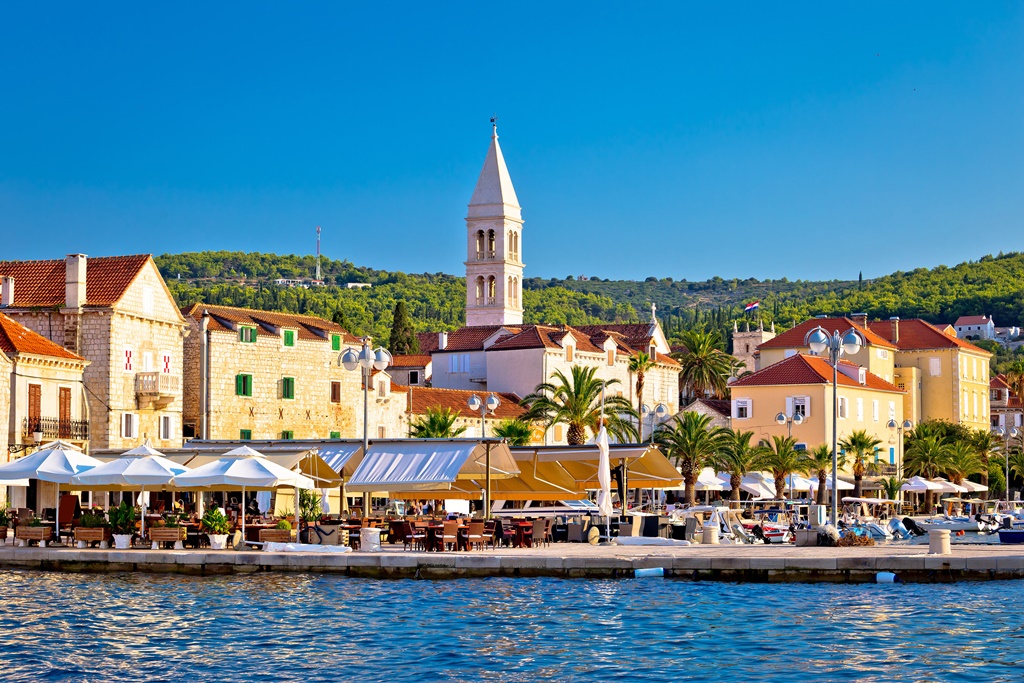 Island Brac
Brac Island is one of the closest islands to Split port. It is the largest island in Dalmatia and the third largest in the Adriatic. Because of its proximity to the mainland, it is a very popular holiday resort, offering a lot of facilities mainly for families with children. Brac is also popular among those who wish to spend a day sunbathing on an island and come back to the mainland in the evening.
Good ferry and catamaran connections from Split give you the possibility to visit Supetar – the main town or to go directly to the most famous beach on the island – Zlatni Rat in Bol town, which are the two most visited towns on the island of Brac.
Brac Weather
Brac is known for its mild Mediterranean climate with dry and warm summers and mild and rainy winters. Average air temperature during summer months (from June to September) ranges between 26 and 34 degrees Celsius during the day and 24 to 28 during the night. The sea temperature is usually between 23 and 27 degrees Celsius during summer.
Brac is not so popular or touristy as Hvar or Korcula islands but it still has a lot to offer.
If you plan to visit Brac, this guide will give you all the necessary information regarding the island, its beaches and campsites, party places, travel information and of course the detailed list of things to do during your stay.
Ferry to Brac
Island Brac has the most daily ferry and catamaran departures to and from the mainland, majority of ferries sail from Split to Brac. Depending on how you travel (by foot or with a car), and to which place on Brac island you are travelling from/to; there might be several ferry/catamaran options to consider.
Note: several of the connections listed below only operate in the summer season, so click on the links provided to check the timetable for a specific travel date.
Bol – the main direct connection to Bol on the south side of Island Brac is a catamaran operated by Jadrolinija from Split to Jelsa on Hvar which goes via Bol. Unfortunately this catamaran connection is not suitable for a day trip to Bol as the catamaran sails from the island in the morning and returns in the late afternoon, but there is another catamaran from the company Krilo during the summer and this one departs from Split early in the morning and returns from the island in the afternoon. Here you can see the timetable and buy tickets from Split – Bol and here you can do the same from Bol to Split.
Milna – this town, which is located on the northwestern end of the Island, is connected with catamaran to Split and Hvar during the summer season; here you can search for the timetable and buy tickets for a specific travel date from Split to Milna and here is the timetable and tickets from Hvar to Milna. One of the catamarans sailing via Milna also continues to Korcula, Mljet and Dubrovnik.
Sumartin – located at the southeastern peak of the island, this town has a year round operating car ferry connection to Makarska on the mainland; during the summer season there are up to 5 daily departures between the towns and here you can see the timetable and buy tickets from Sumartin to Makarska and here is the list of departures in the opposite direction. (Remember to pick a travel date).
Supetar: located on the northeastern part of the island, Supetar is the main connection between Split and Island Brac, each day year round there are several car ferry departures between the towns, during the summer season there are up to 10 daily departures in each direction. Here you can search for departures and buy ferry tickets between Split and Supetar and here are the available tickets and departures in the opposite direction.
Another option to reach the island is by plane. Island Brac has its own airport, located close to Bol town. Airport offers some seasonal and charter flights, so keep that in mind, in case there is a connection from your city. Mostly these connections are to Graz, Vienna, Innsbruck, Linz, Bari, Naples, Deauville (charter flights) and Zagreb, Brussels, Ljubljana, Bern, Rotterdam and Luxembourg (seasonal flights). So if you plan to spend your summer vacation on Brac island, and you can fly from some of the above mentioned cities, you can compare the prices and maybe use that option as well.
Getting to Brac from Split Airport
Take the airport bus from Split airport, which gets you to the Split bus station. Bus station in Split is located right next to the ferry port, so it's very easy to get there, even if you carry the luggage. If you are going to Bol or Milna during the peak season (July and August), you may consider taking a speedboat from Split airport. Ride takes about 45 minutes, but beware that speedboats are quite pricey (you have to pay for the whole boat). Therefore, there should be more people riding to make this an affordable option.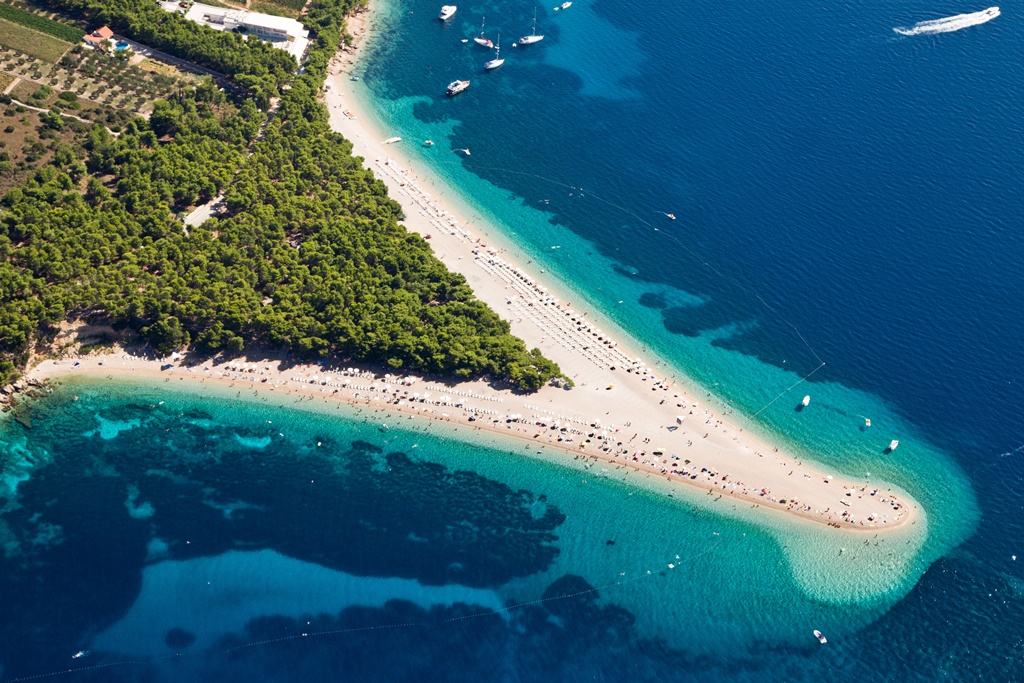 Getting to Brac from other locations
From Zadar to Brac – Zadar is located a bit further away, it takes about 3 hours by bus to reach Split ferry port from Zadar bus terminal and there are no direct ferry connections between Zadar and Brac. From Dubrovnik to Brac – If you wish to travel to Brac from Dubrovnik, you have a direct catamaran line (to Bol town) on your disposal during the summer season (May-October). Otherwise, it takes about 4 hours by bus to reach Split from Dubrovnik bus station and then you can take the ferry/catamaran from Split port to reach Brac. From Makarska to Brac – Since it is very close, you can reach the port of Split from Makarska quite easily, but there is also a direct ferry connection from Makarska to Sumartin town on the island Brac. During the summer season, there are up to 5 daily departures between the two towns.
Getting around Brac
From the 4 above mentioned cities with ferry connections, there are buses operating (in most cases) according to arrivals and departures of ferries and catamarans. The buses do not run between all the cities so you might have to change the bus on the island. The bus stops are in all cases located near to where the ferry / catamaran arrives, and you can find more details about buses on Brac island here.
Apart from using the island buses, you can always rent a car or scooter to drive around the island and explore towns and villages, hidden bays and coves that are the true gems of every island.
For those interested in hiking and cycling, it is possible to rent a bike and explore the island in a more adventurous way.
Of course, since it's an island, you can rent a small boat and drive around exploring the hidden coves only accessible by boats. In case you are thinking about these options, don't forget to bring your driving / boating licenses with you.
Historical sights
Even though Brac island doesn't have as much historical value and ancient remains from Greek and Roman times as Hvar, there is still a lot you can see when visiting the island.
Pustinja Blaca (Monastery Desert Blaca) – a very special sight located on the southern side, between Bol and Milna towns. Once a famous desert of monks, nowadays is a museum and archive where you can see the entire inventory of the old monastery library. That includes cca. 11000 books, most of them written before 1800, and the second biggest telescope in Europe, unfortunately currently not in use. In the monastery you will also find the remains of an old school that once was the main school for the area.
Skrip – is the oldest settlement on the island Brac, and it's name derives from latin (scrupus – sharp large stone). As the name suggests, Skrip settlement is located just above the quarries from where the stones were collected for Salona and Diocletian Palace built in the ancient Roman times. The stone was cut from the quarries and shipped over to the mainland, and even abroad. Some stories say that even the White House in Washington was built from the stone that was cut in Skrip quarry and shipped over to the U.S. However, there is no evidence to back up this story.
Old Church of Saint Vido – is a sight you should definitely visit when on Brac. The church was built close to the top of Vidova Mountain, the highest peak of the Adriatic archipelago (780 m), where you will get the most stunning view of the area and nearby islands. If the weather is clear enough you might even see the Monte Gargano in Italy. To reach the Vidova Mountain peak, you should follow the hiking trails from Bol or Supetar.
Top beaches on Brac Island
Island Brac has a lot of beaches to offer. They are mostly rocky-pebble beaches, but there are also some natural sandy beaches suitable for families with children. Beaches on Brac are located in different bays around the island, among the pine trees, so you will be able to find shades to avoid getting sunburnt.
Zlatni Rat Beach – is of course, the most popular beach on the island, located in Bol town. Translated to Golden Horn beach, it's a long pebble beach which naturally changes the direction of its top, depending on the strong sea currents moving the pebbles from one side to the other. The beach has been awarded the Blue flag which guarantees its sea quality. Thanks to the wind which constantly blows on one side of the beach this is a surfers' paradise and the most popular beach for windsurfing. If you prefer to have a more relaxing day at the beach, you can have a massage or sip some cocktails at one of the cocktail beach bars.
Martinica beach is another beach in Bol town, located next to a monastery. It is often referred to as the "home beach" as it's used by the locals. This beach is also suitable for families with children since, during the summer, swimming lessons for children of all ages take place here. There is almost no shade on the beach itself, but the monastery's courtyard houses a restaurant and a beach bar where you can get away from the hot sun.
Lovrecina beach is a popular sandy beach located near Postira town, approximately 4 km away, in a deep cove, on the northern side of the island. You can reach it by car, boat or on foot. Since it's a sandy beach, it is suitable for families with kids. It is surrounded by pine trees so you don't have to worry about the heat. Also, there is a beach bar where you can sit down and relax with a cold drink.
Two beautiful secluded sandy beaches are located near Bol, some 5 km away, in Murvica village, just under a cliff where the village is located. You can reach the beaches by boat, from the seaside, or if you park your car in the village, you then have to descend on foot, through a steep walkway.
Several bays and coves stretch along the coast, n Postira town, 4 km away from Lovrecina beach. They are perfect for swimming and sunbathing.
Beaches like Tatinja, Ticja Luka, Smokvica and Travna are located on the north-eastern part of the island where the small town of Povlja is. The area is surrounded by pine trees, bays and coves. This is a good place for families with children, but also for those seeking an active holiday with diving and sailing options.
Osibova, Maslinova, Pasika and Lucice beach are pebble beaches located in the vicinity of Milna town, on the western part of the island. The beaches are surrounded by pine trees that provide a natural shade in the summer heat. This part of the island is protected from the northern winds so the sea is almost always calm which also makes it ideal for fishing, sailing or scuba diving.
The area around Blaca desert offers some beautiful coves and actually the same cove where you will find the old monastery is the one that offers one of the most beautiful beaches on the southern side of the island, located deep in the cove, surrounded by a dense pine forest.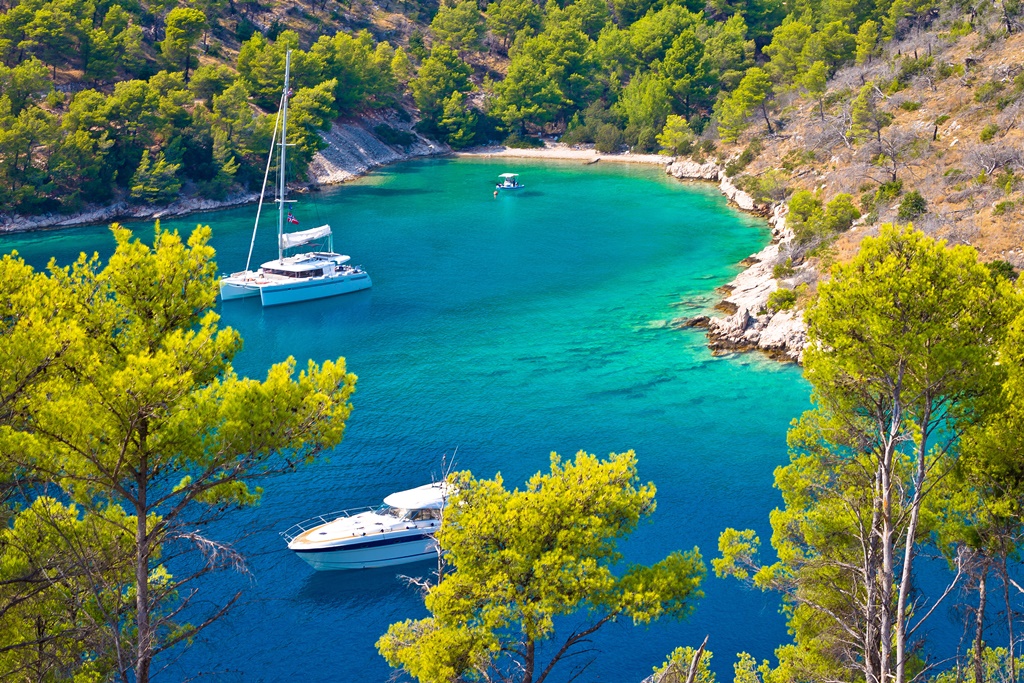 Camping on Brac
Many people enjoy spending their vacation in nature, lying in the shade of pine trees listening to the sound of waves and crickets. It really is a peaceful and unique experience, especially if you are spending your summer vacation on a Mediterranean island surrounded by beaches of crystal clear sea. You can get the best of it if you decide to spend your vacation camping instead of booking a hotel room.
Since there is no possibility of wild camping on island Brac, because it is illegal, there are some smaller and larger campsites along the coast. They offer facilities like showers and bathrooms, restaurants, water and electricity, kitchen etc. so you won't have to worry about a thing during your stay.
There are several campsites on the island, mostly near Bol town, along the coast. The largest campsite on Brac, and also the one with the best facilities, is Auto camp Aloa – Bol.
Other campsites include Camp Mario, Camp Kito and Camp Kanun, all located in or near Bol town. You can check the detailed information and price lists for all of them on the links provided.
Brac hiking trails
The most interesting hiking trail is the one leading to the top of Vidova Gora (Vidova Mountain), the highest peak of the Adriatic archipelago. There you will find the remains of an old church dedicated to Saint Vid, an ancient Slavic god. Also, you will be mesmerized by the most stunning view over the area. You will be able to see the Zlatni Rat beach, the nearby islands (Hvar, Vis, Korcula, Peljesac), and if the weather is clear enough you will even see the Monte Gargano in Italy, on the Apenini mountain range.
To reach the Vidova Mountain peak, you can follow two hiking trails:
One starts in Bol town, from the church of Gospa Karmelska and lasts for 2 hours.
The other, more popular one, is 18 km long and starts from Supetar and goes through the villages Nerezisca and Knezeravan before it reaches Vidova Gora. This hiking trail goes through the endemic vegetation of Brac island so you will definitely enjoy climbing all the way up the hill.
Besides these two main hiking trails, there are some smaller trails you can explore: Olive track near Mirca in Supetar area; Road to Hercules just above Splitska bay and Dolcevita trail that covers the hillside area around Donji Humac village.
Via Brattia hiking trail
Recently, Brac island got the latest tourist attraction, a new hiking trail Via Brattia spanning about 140 kilometres. The trail connects several island municipalities and the 12 most popular cultural and historical island locations.
The trail is passing through several Brac settlements: Supetar, Miracle, Sutivan, Bobovisce na Moru, Lozisce, Bobovisce, Milna, Murvica, Bol, Sumartin, Povalja, Pucisca, Postira, and Skripa. It also takes you to some of the most beautiful beaches on the island, such as The Golden Horn, Farska beach, Murvica Beach, Lovrecina, and Smrka beach.
Hikers receive the map of the trail and the seals used to mark all the checkpoints crossed on the trail. After going through the 12 settlements, they can receive a photo of St. Jurje, the patron saint of Brac, as a souvenir from their hiking adventure.
Brac cycling trails
Brac is a great cycling destination, with over 20 cycling trails covering a total of 1026 km. This makes Brac the island with the most extensive cycling surface on the Adriatic.
These trails are grouped around four parts of the island and therefore you can find West, East, North and South trails leading you through the charming towns of the island, along the beaches and bays and up to Vidova Gora.
You can start the route from the center of Bol town and ride west along the paved road past Zlatni Rat Beach, then through the small village of Murvica all the way up to the Farska Bay. There you will turn to the right and head straight up a steep ascent to the top until you reach a plateau. From there you should head to Blaca with the famous Blaca Desert Monastery, and then just follow the signs to Vidova Gora. It is a steep climb to the top, but it is definitely worth a try. You will be rewarded with the most wonderful view of the archipelago.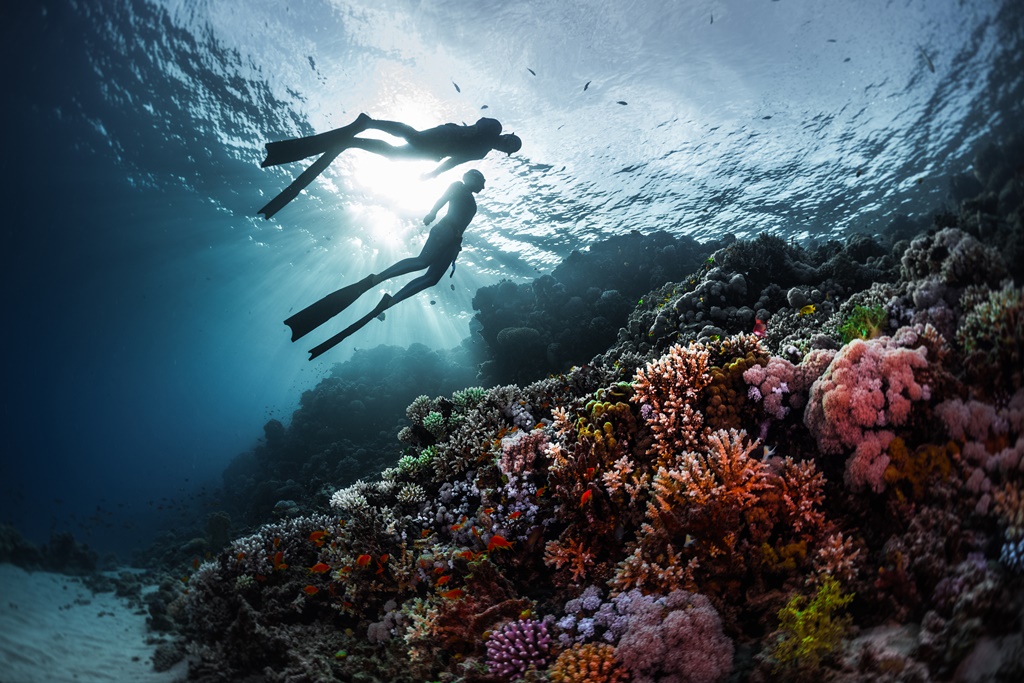 Snorkeling & diving on Brac
Island Brac has an interesting underwater life, with flora and fauna influenced by the winds and currents as well as the sunlight. It is important to mention that the north and south shores are different, both on the mainland and in the underwater world. Most dive sites include some underwater entrances to caves and grottos which are otherwise not easily reachable. The optimal time of the year for scuba diving on Brac is between May and October, when the sea is calmer and weather conditions good.
Some of the most interesting diving sites include Lucice Cave, on the southeast side of the island, which is popular because of its two underwater tunnels and a spacious chamber; Cape Drasine which is good for beginners in scuba diving where you will find the remains of a Roman mosai; Golubinja Spilja, with a sandy bottom and rich underwater life including sea bass, cuttlefish, eels and other creatures.
Zlatni Rat beach is the most popular beach on the island and therefore you will find a lot of divers around even though the underwater life there is not the most interesting one.
Other interesting diving locations can be found near Hvar island, which is just a bit further away so you can even check them out if diving center offers that option.
If you are interested in scuba diving and wish to find more info about booking, offers and dive centers – you can do that on the official websites of diving centers on Brac island: Big Blue Diving, Diving Dolphin and Fun Dive Club.
Snorkeling, on the other hand, doesn't require that much preparation and physical shape nor the theoretical and practical knowledge important for scuba diving. Snorkeling equipment can be rented at the beach or from many different rental agencies in towns/camps, or you can even buy it from the stores/stands in the main towns.
Water sports & equipment
Besides diving and snorkeling, there are other interesting water sports and activities you can partake in during your stay on Brac island. Zlatni Rat beach is a heaven for windsurfers, so all windsurfing enthusiasts from around the world will enjoy this special location.
If you want to do something more exciting, you can try parasailing, water-skiing or kitesurfing, while those who prefer the standard activities there are numerous options to choose from: stand up paddle surfing, kayaking or canoeing, jet skiing, etc.
All the necessary equipment can be rented at the beach. However, bear in mind that it's not offered on every beach, only on bigger ones in Supetar, Bol, Sutivan etc. If you are staying in camp, you can probably rent some of the equipment there.
You can even rent a small boat and drive around the island, visit all the hidden coves and explore their beautiful beaches, but make sure you have your valid boating license with you.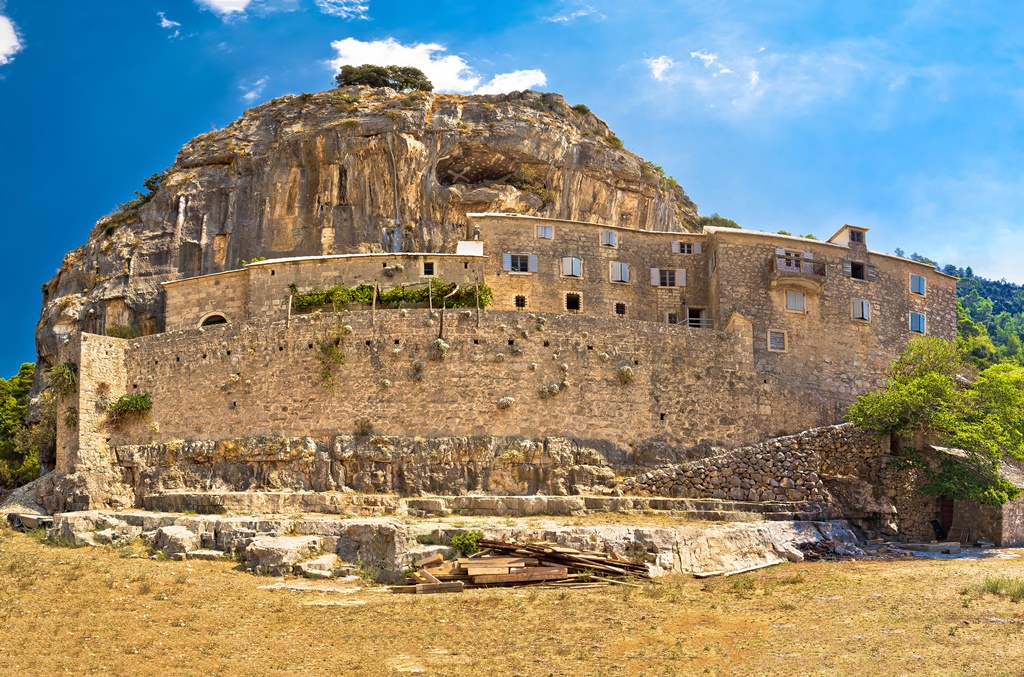 Festivals on Brac
Island Brac is not that popular for partying but there are still numerous events and festivals taking place during the summer.
Supetar Summer Festival is the largest cultural manifestation on the island. It takes place from June to October. It offers different exhibitions, concerts, folklore and traditional klapa evenings with dalmatian a capella songs.
Graffiti na gradele is a famous regional boutique graffiti and street art festival, taking place in July. It is a part of the traditional Bol Summer Festival, where all the artists, designers, skaters and hip-hop musicians from around the region gather to present their work.
Ribarska noć (Fishermen night) is the name for one of numerous village festivals taking place during the summer season. There you will have the chance to try some of the local fish on grill, listen to the local bands and party with the locals. These village feasts are organised all over the island, so try to ask your hosts if some of those nights will be held during your stay.
Brac Film Festival (part of Supetar Summer Festival) and Voi'sa Urban music festival are two main festivals on the island taking place in August. Here you can find something for everybody, from funk, soul, dub, disco and house music to reggae and latin rhythms.
International Brac Summer Carnival is there to round up the season, taking place in at the beginning of September. It is held in Supetar, so go crazy and enjoy a day in this unique masquerade event.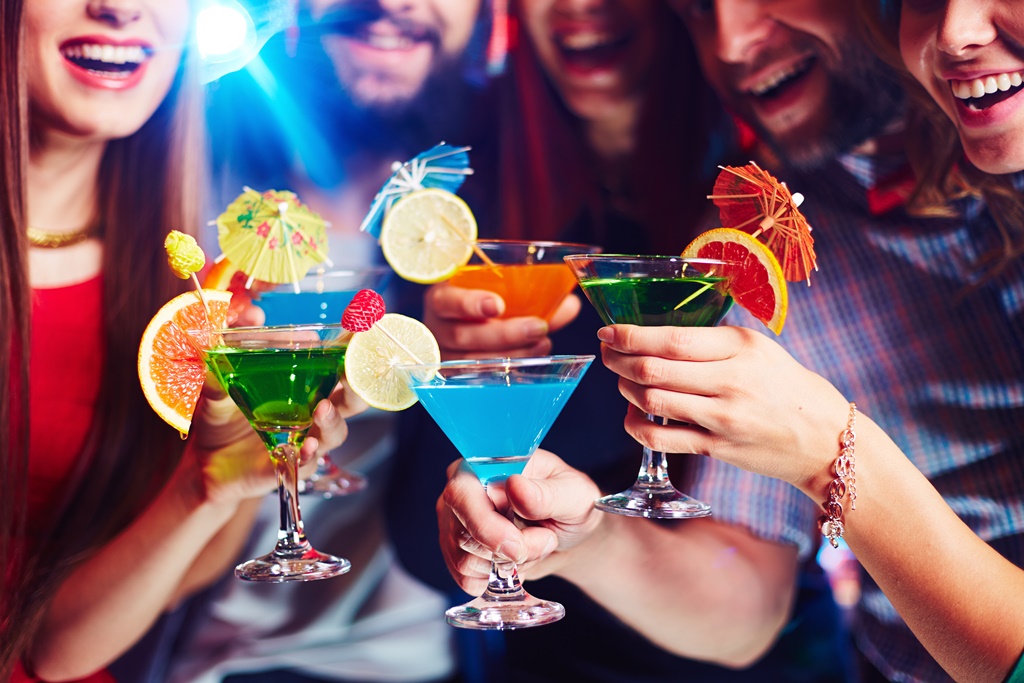 Brac nightlife
Brac is not that popular for partying as the nearby Hvar island, so you might find it hard to find the right locations to explore the nightlife on the island. However, that doesn't mean there isn't any. Supetar, as the main town, has a lot to offer to all generations – restaurants, bars, concerts, exhibitions, you will definitely be able to find something to fill your hot summer evenings. The most popular bars and pubs are all located alongside the main promenade so you will find them easily. The most popular are Roso lounge bar, Benny's bar (known for its beach parties) and Beer Garden pub. Bol, as the most popular town on the island, has a long tradition of nightlife and if you are more into partying, this is the right spot for you. During the day, there are several cocktail beach bars on Zlatni Rat beach, e.g. Auro Cocktail Bar, Fruit bar, Beach bar Potocine, while for an evening gathering there is the Cocktail bar Bolero and the Noa bar, alongside the main promenade and Varadero bar near the port, just at the end of the promenade. In case you are up for a late-night snack, there is a cocktail bar/restaurant Vendetta by Vagabundo close to Varadero bar. Also, there is a bar called Marinero Cafe and Bar, popular among both tourists and locals, with live music in the evening. You will find it in Rudina street just above the waterfront, near Stina Winery, also a place worth visiting if you wish to try the local wine in an elegant setting.
Food & supplies
Brac is a relatively big island, and also one of the most inhabited islands in Croatia. There are supermarkets, bakeries, pharmacies, souvenir shops, newspaper stands, butchers and fish markets. You can buy whatever you want and need right there on the spot so you don't have to bring anything with you. Of course, the biggest offer is in the main towns – Supetar, Bol and Milna. If you will be staying in some of the smaller bays or villages on the island, it would be best to stop in Supetar to do some shopping before you reach your destination.
There are also numerous restaurants around the island and you can always eat outside. As for the local food, you should definitely try some of the fish specialties, like grilled fish or scampi, "black" risotto with squids, octopus with potatoes baked under the lid on an open fire… Dalmatian cuisine is a Mediterranean style cuisine, similar to the Italian, so you will find a lot of olive oil and herbs like rosemary and sage, garlic and tomatoes in almost every sauce, a lot of vegetables and fruit, etc.
If you are not that keen on fish, you can always try some delicious meat dishes, and Brac island is known for its various lamb specialties: you can try roasted lamb with potatoes and rosemary, Vitalac – lamb intestines on skewers wrapped in lamb sheath, Butalac – stuffed lamb's leg rubbed down with scented grass and splashed with wine or prosecco, lamb stew, etc. There is of course the homemade prosciutto served with fresh local cottage cheese and olives, and you can always find some grilled steak with fresh vegetables, or some typical pasta dishes.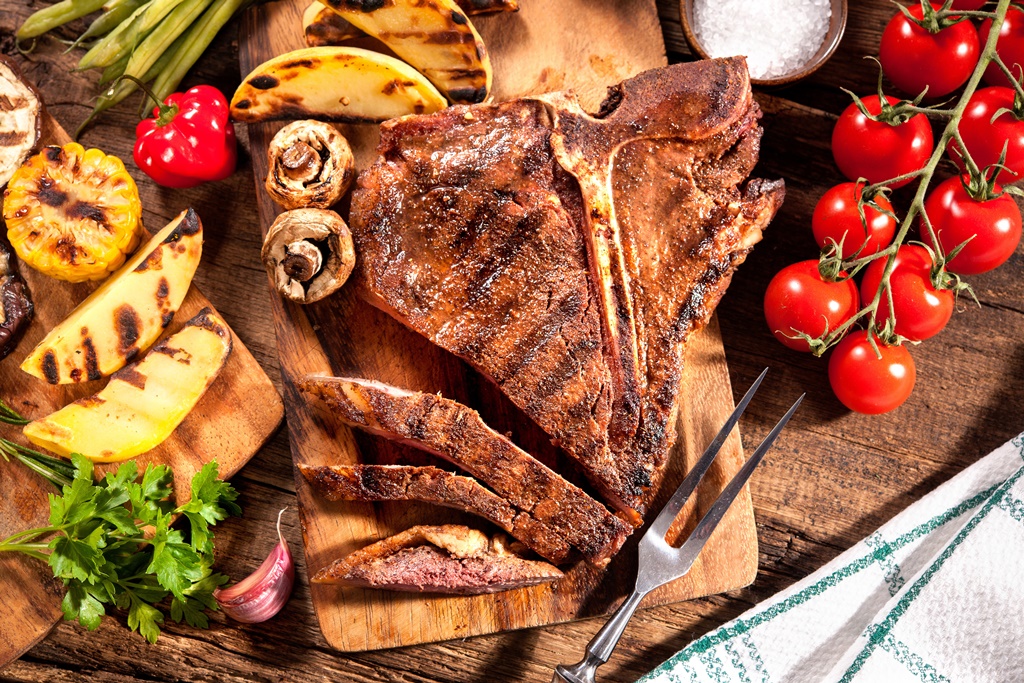 ATMs & Exchange offices
The official currency in Croatia is Kuna and it is generally required to have local currency on you when travelling around the country. However, in all the larger tourist places on the coast and on the islands it is sometimes acceptable to pay with euros or credit cards. To be on the safe side, we recommend having Kuna in cash on you, because not all restaurants and bars accept credit cards. Also, it's generally not possible to use credit cards in bakeries or family-owned mini markets, at newspaper stands etc.
In case you need a bank or an exchange office, or you wish to withdraw some money from an ATM, you can find them in the main towns on the island: in Supetar, Bol and Milna. Also, there are some ATMs in Sumartin (in the ferry port) plus one in Postira town and one in Povlja village. There are some post offices where you can exchange money, also located in the three main towns. In case you are not able to reach one of those banks, you could try to exchange some money at the hotel you are staying in.
The banks' working hours depend on the season, but you should go there in the morning, just to be on the safe side, and bear in mind that during the weekends and national holidays they might be closed. ATMs are available and usually located in the port, on the main promenade.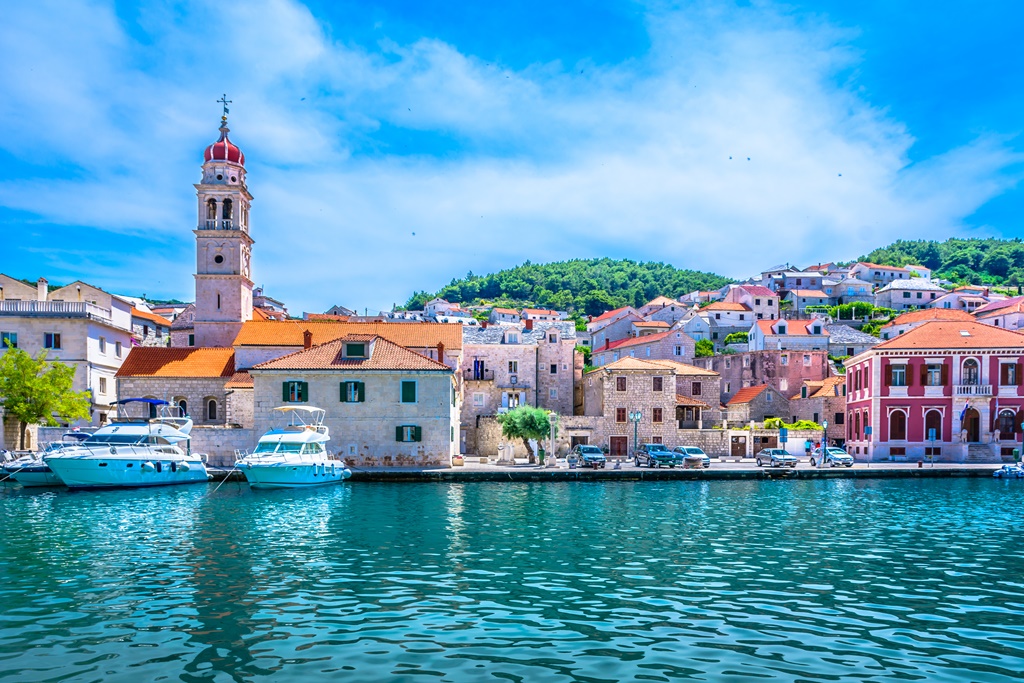 Emergency contact info
If you by any chance should need medical assistance during your vacation, you don't have to worry, there are several services available on the island. All the clinics are located in bigger towns – Supetar, Bol, Postira, Milna, Sutivan, Selca, Nerežišća and Pučišća where you will find a general practitioner to help you in case of a problem. If you will need a dentist, you can find them in Supetar in Bol.
Pharmacies are located in Supetar, Bol, Sutivan, Pučišća and Selca so you will be able to find some quick help there as well. If you need assistance for your pets, it is good to know that you can find a vet in Supetar.
In case of an emergency, or if you require immediate assistance of any kind – medical or police assistance, fire department, mountain rescue services, you can call the toll-free number 112 from any location in Croatia at any time of day or night.
If the situation requires further urgent assistance or hospitalization that cannot be provided on the island, a speedboat or helicopter will be sent for the patient and take them to the nearest hospitals in Split.
Foreign citizens/tourists coming from countries that are signatories of the Health Care Convention don't have to pay for medical assistance in Croatia, while patients coming from countries that are not signatories of this convention, must pay for medical assistance provided, according to the valid tariffs.
Brac Island FAQs
Can I bring my bicycle on the catamaran or ferry?
You can bring your bicycle on the car ferries to either Supetar or Sumartin without any problems, but you will have to buy a separate ticket for the bike. Bringing a bicycle on the catamarans is in most cases not possible, as there is simply no space available.
Can I buy / reserve ticket for a specific departure?
In case of catamaran departures, you can buy tickets for a specific departure, and in case of the car ferry you can buy a ticket for a specific travel date, but not for a specific departure.
Can I make a day trip to Bol from Split?
Yes, especially in the summer season, cause there are very early catamarans from Split to Bol and fairly late catamarans back to Split.
Can I bring my dog on the ferry / catamaran?
On catamarans, you can NOT bring your dog, but on the car ferries you can, but you are not allowed to take them into the closed areas where passengers are sitting.
How much luggage can I bring on ferries and catamarans?
On ferries up to 100 kg, on catamarans up to 20 kg,  but as no one is weighing the luggage, there are normally no issues if you bring a bit more.
How do I travel from Split to Brac with a car?
There is a car ferry from Split to Supetar, departing every two hours on average. You will need to buy a special ticket for the car in order to board the ferry; during the summer season it can get very crowded with lots of people traveling with cars, so you might want to reach the port at least one hour before the departure time, and you will have to queue in front of the dock. Don't worry, you will get assistance from the port authority staff.
Which airport should I fly to if I want to go to Brac?
You should fly to Split airport because you can then easily take the ferry or catamaran to Brac from Split ferry port, which is just 40 minutes drive from the airport. Island Brac has its own airport in Bol, offering some seasonal and charter flights so keep that in mind, in case there is a connection from your city.
How to get from Brac to nearby islands?
There are daily direct lines from Brac to Hvar, Korcula and Mljet with seasonal lineoperated by Krilo catamaran company. They depart in the morning and come back in the afternoon. There are also two catamaran lines to Hvar Island – from Bol to Jelsa and Milna to Hvar town.
Can I go on a day trip to Hvar from Brac?
It's possible, but you might have to spend a night on Hvar. Catamarans from Bol depart in the afternoon and from Jelsa (Hvar) in the morning. Catamarans from Milna to Hvar town only operate on Tuesdays. Also, Krilo catamaran company offers the daily seasonal line which departs from Brac in the morning, so it might even be possible to make a day trip. Of course, you can always rent a boat, or take a taxi boat / UberBoat to travel around the islands, but that option will be quite pricey.