Supetar ferry port
Supetar is a town located on the north side of the island of Brač and it's the main port of the island, the direct ferry connection with the city of Split.
Getting to and from the ferry terminal in Supetar:
Supetar is considered a capital of the island of Brač. If you're staying anywhere in Supetar, you'll can walk to the ferry terminal (max distance 1.5 km), if you carry luggage you can normally also arrange a pick up by your land lord, or you can take a taxi.  If you're staying somewhere else on the island of Brač, it's pretty easy to reach Supetar by bus, The main bus station of the town is located 2 minutes from the ferry terminal. For the exact location you can click on this link: https://getbybus.com/en/bus-from-supetar
Getting from Supetar to the airport of Split:
If you are travelling to the Split airport from Supetar, you will need about 1 hour and 45 minutes, this is if you take a taxi or transfer from the Split ferry terminal to the airport, if you go by airport bus trip might take longer, depending on departure time of the bus. If money is not an issue, you can also book a fast boot transfer directly from Supertar to Split airport, which is a sailing trip of about 30 minutes.
What you can find on Supetar ferry terminal:
As already mentioned above, Supetar ferry terminal is located close to the town centre and the main promenade by the sea. There's a ticket office right at the ferry terminal and many facilities nearby: restaurants, bars, kiosks, shops, souvenir stands, etc.
Address of ferry terminal Supetar:
D113 14

21400 Supetar (Brač)

GPS co-ordinates: 43.38582, 16.55373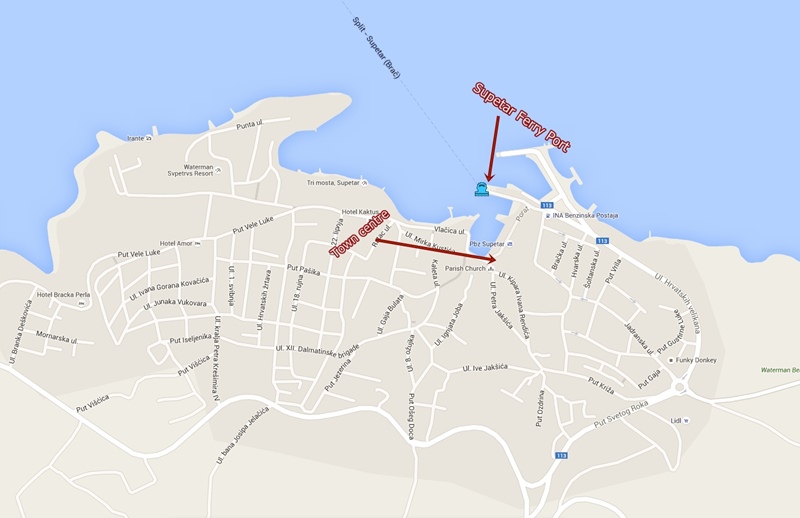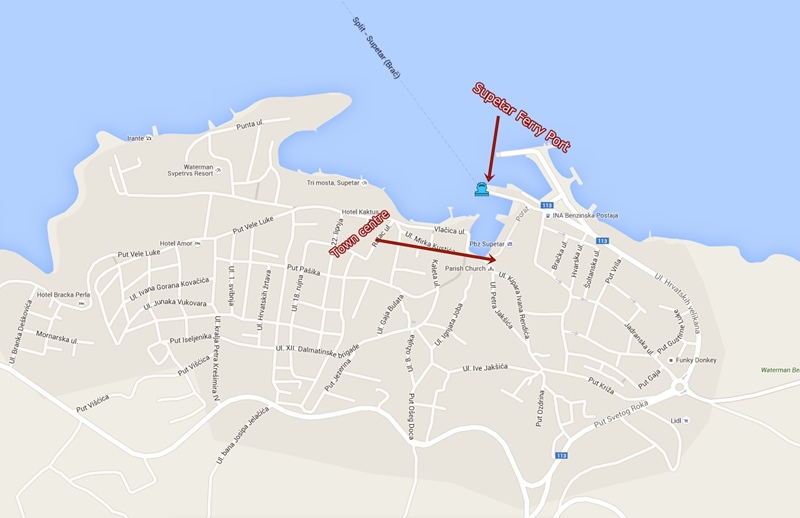 List of the routes:
→ Car ferry: Supetar (Brač) – Split