Milna ferry port
Milna is a little town located on the western side of the island of Brač in a narrow bay, well protected from the wind and waves. Milna port is mainly for private sailing boat, there is no option to get to Milan with car ferry, only option is catamaran (Passenger only fast boat) the port is at the centre of town and the main promenade by the sea. Milna ferry port is connected by regular catamaran lines with Split, Dubrovnik and the islands of Hvar, Korčula and Mljet. 
Getting to and from Milna port
The pier where the catamaran depart from is located right in the centre of Milna and since Milna is a really small island town, no matter where you accommodation is, it's easily reachable on foot. Milna is pretty easy reachable from other towns on the island by bus. The bus stop of Milna is located near the port and it's connected to most of the other towns on the island of Brač.
Getting from Milna to Split Airport
Milna is connected with both Split and Dubrovnik by regular catamaran lines. Once you get to either one of those cities,  you will find the bus station really close to the ferry terminal. That's where you take a shuttle bus to the airport. The alternative, especially if you're with luggage and you want to avoid all the hassle, is to take a taxi or a private transfer up to the airport.
Milna port facilities
As already mentioned above, Milna is not a big town, so of course that almost everything you need is near the port (bars, restaurants, shops).
Milna port location
D114 4

21 405 Milna (Brač)

GPS co-ordinates: 43.32677, 16.44747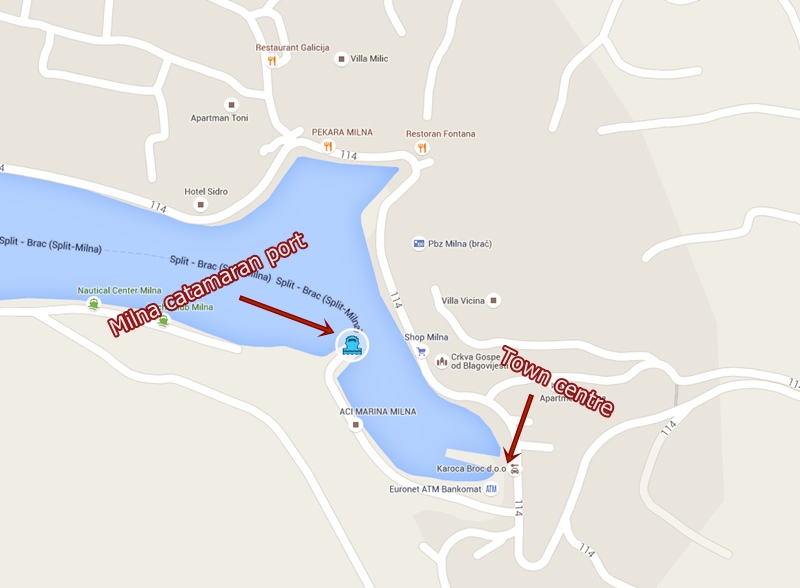 List of the routes
→ Catamaran: Split – Milna (Brac)-Hvar-Korcula-Mljet-Dubrovnik
→ Catamaran: Split – Milna (Brač) – Hvar – Vis