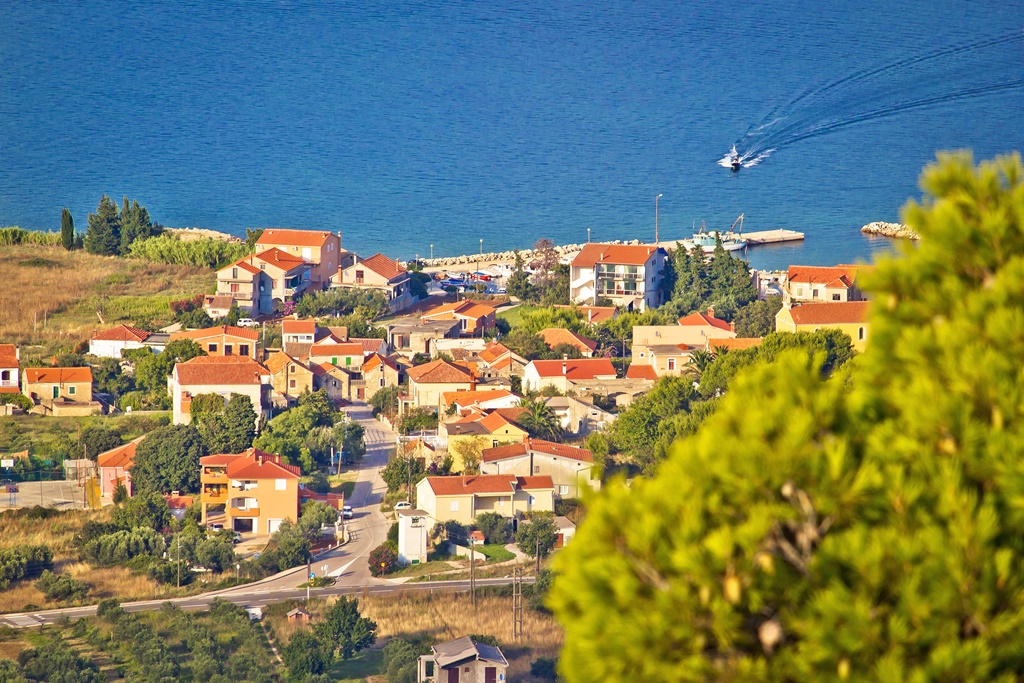 Island Pasman
Pasman is one of the Croatian islands located in Zadar archipelago, stretching for over 20 km parallelly with the coast. The island is connected to Ugljan island via Zdrelac bridge, and to the mainland with ferry routes to Zadar and Biograd na Moru.
Pasman island is known for the cleanest sea due to the ever-changing sea currents. It is also an island with the biggest green surface.
Pasman Weather
The climate on Pasman island is generally Mediterranean with dry summers and mild winters. The average temperature during the summer is 24°C and around 12°C during the winter. The average sea temperature is around 24°C during the summer months. As on most islands in the Adriatic, there are several winds blowing throughout the year. Bura usually blows in winter and jugo is common in spring and autumn. During the summer, the most frequent wind is maestral, a gentle breeze from the west.
If you plan to visit Pasman, this guide will give you all the necessary information regarding the island, its beaches and campsites, party places, travel information and of course the detailed list of things to do during your stay.
Getting to Pasman
Pasman island has ferry connections to two cities on the mainland, Biograd na Moru and Zadar. There are daily ferry departures from both cities. Depending on where you're travelling from, these are the options to get to Pasman.
From Biograd na Moru to Pasman
Tkon ferry port is the only port on Pasman island and it offers ferry connections to Biograd na Moru. The route is frequent throughout the year, with fewer departures on public holidays. There are up to 13 daily departures in July and August and 12 daily departures in June and September. In winter, there are up to 10 daily departures. Sailing time from Biograd to Tkon is only 20 minutes. You can check the details below:
From Zadar to Pasman
In order to get to Pasman island from Zadar, first, you have to travel to Ugljan island. Zadar to Preko on Ugljan island is the most frequent ferry connection in Croatia with up to 29 daily departures in July and August. There are about 25 daily departures in June and September and up to 20 daily departures in the rest of the year. The sailing time between Zadar and Preko is around 20 minutes.
NOTE: There are two departing points from Zadar to Preko. One is in ferry port Gazenica from where ferries mostly depart from and the other one is in the Old Town. You can check the details below:
In order to continue from Preko to Pasman, you will have to take a bus. The bus station is located right next to the port in Preko where the ferry arrives. The number of daily departures may vary depending on the time of the year. The bus stop on Pasman is located in Tkon. The journey lasts for about 20 minutes and the ticket costs around 18 HRK.
Getting from Zadar Airport to Pasman
The closest airport to Pasman island is Zadar Airport, located about 12 km from Zadar city. The most convenient option is to take a shuttle bus from the airport operated by Liburnija Zadar that takes you to the main bus station in Zadar. From there, you can change to a city bus that takes you to the Old Town (lines 2 and 4) or Gazenica port (line 9). The journey from the airport to the main bus station takes 15-20 minutes and additional 10-15 minutes to the Old Town or Gazenica port.
Another option is to travel from Zadar Airport to Biograd in order to catch a ferry from there. In that case, you will have to take a shuttle bus to the main bus station in Zadar and change to Biograd. The journey from Zadar to Biograd takes around 30 minutes.
Getting around Pasman
Bus from Preko on Ugljan island to Tkon on Pasman island is the only bus route covering Pasman. Other villages on Pasman such as Zdrelac, Dobropoljana, Nevidane and Mrljane are lying on that same route. There are about 10 departures daily with a more frequent schedule during the summer season.
If you prefer getting around without being dependent on public transport, you can choose between renting a car, bike or scooter.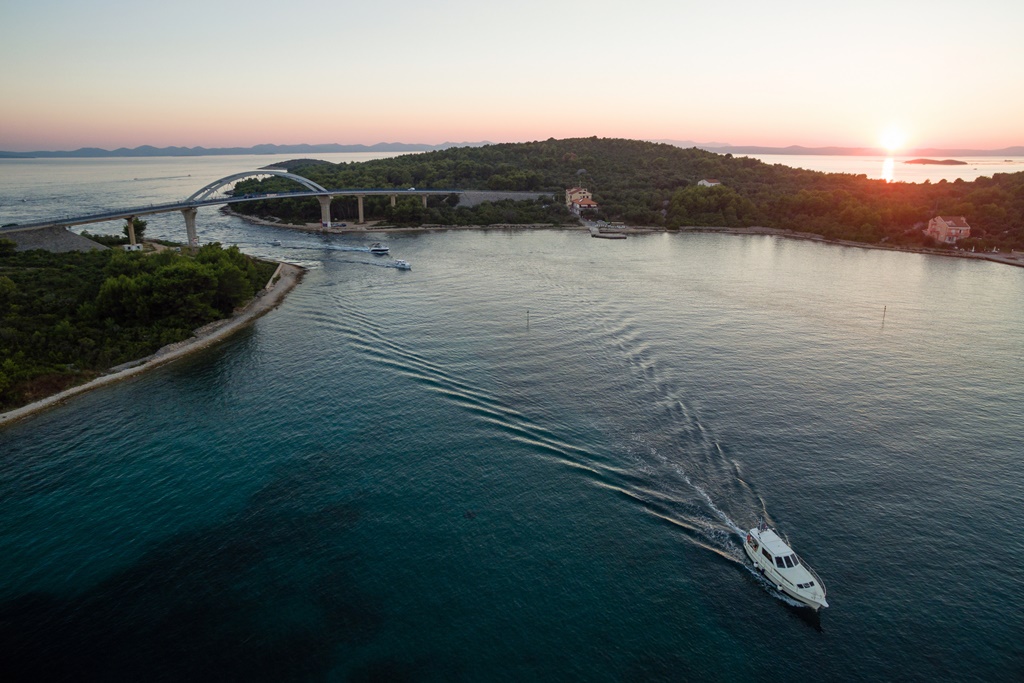 Historical sights
Pasman island has a long tradition and history which reflects in many architectural remains. Churches scattered on the island show the strong connection of locals and religion that is centuries old. While staying on Pasman, get to know its past through its sights.
Franciscan Monastery of St. Dujam – The most recognizable sight and the most important sacral work of Pasman island, located in village Kraj. This Franciscan monastery dates back to the 14th century. Today, visitors can see the beautiful cloisters and visit a museum with artefacts of the island's history.
The Church of St. Anthony the Abbot – The church is a bit further from the coast. It dates back to the 15th century and today, it cherishes the tradition of pilgrimage in celebration of Saint Anthony.
Benedictine Monastery of St. Kuzma and Damjan – This 12th-century monastery is located on Cokovac hill, near Tkon. The church is best known as one of the centres of Glagolitic literature.
The Church of the Birth of the Blessed Virgin Mary – This church is first mentioned in the early Middle Ages. The first church on Pasman island, considered to be in the place of today's presbytery. It was consecrated by St. Donat, the Bishop of Zadar, in 806.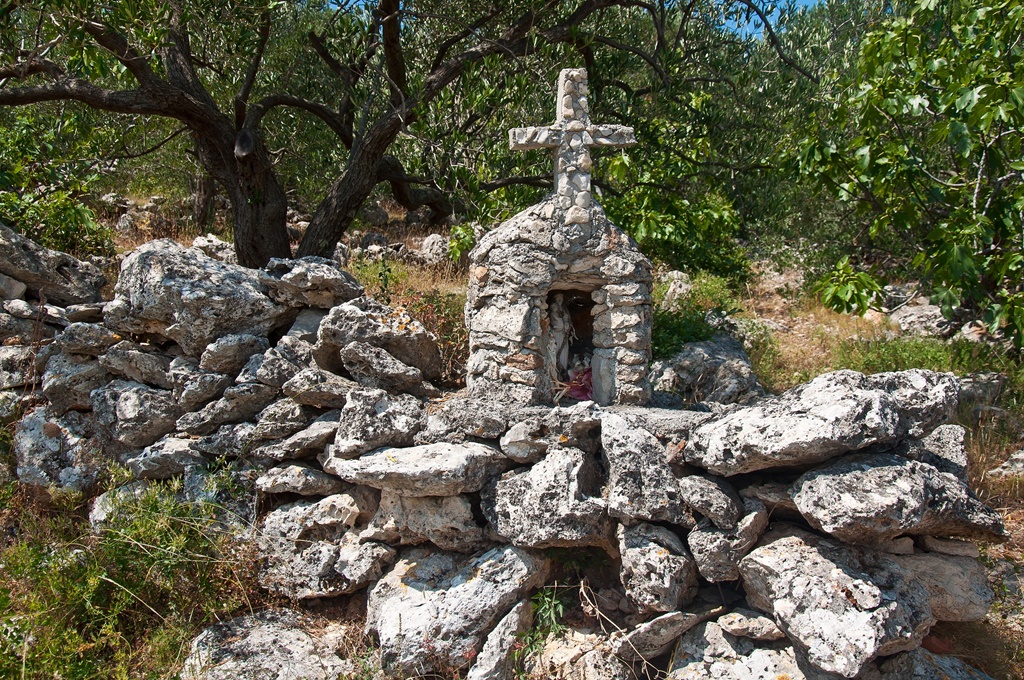 Top beaches on Pasman
Pasman island consists of numerous beaches, bays and coves ideal for swimming and sunbathing. The Pasman Channel which divides the island and the mainland has plenty of small islands scattered around, reachable by boat. Most of the settlements on the island have beaches, mostly sandy ones. Here are some suggestions on where to spend the sunny days on Pasman island.
Jasenice Beach – The beach is located near the entrance to Pasman town. It is paved and ideal for sunbathing while the area in the water is sandy. There is some shade thanks to the several trees. Regarding the facilities, the beach is equipped with showers and changing rooms. Those looking for activities can try tennis or volleyball. In the evenings, the beach can be used for long walks.
Barotul Beach – The beach is located in Mrljane, near Pasman town. It is mainly sandy with shallow waters and partly pebbled. Therefore, it is ideal for families with little children. There is natural shade from the surrounding pines, as well as changing rooms and showers. The beach offers a volleyball court and provides parking, as well as cafes and restaurants nearby.
Mrljane Beach – This beach is connected to Barotul beach, so together they make the longest promenade, therefore the longest beach on Pasman. The beach is sandy and very well equipped. It offers a volleyball court and many other facilities around. The beach is also great for evening strolls.
Soline Beach – The beach is located in the centre of Zdrelac town. It is a concrete beach with sand and pebbles in the sea. Therefore, access to the sea is more suitable for adults. It is far less crowded than some other beaches, so it is ideal for sunbathing in more peaceful surroundings. There are also several facilities around, so you can spend an entire day on the beach.
Matlovac Beach – This is one of the most famous beaches on Pasman island. It is located in Zdrelac town and it is known for its crystal clear sea. The beach consists of the concrete part ideal for sunbathing and sandy part suitable for families with children. The beach offers plenty of facilities such as a volleyball court, cafes, shops, parking lot and more.
Sovinje Beach – The beach is located in Tkon, near the campsite of the same name. The camp also offers its own nudist beach just outside of Tkon. Sovinje beach is mostly popular for the natural phenomenon of the constant sedimentation of the sand that creates beautiful scenery. Thanks to a campsite nearby, the beach is well equipped and has a lot of facilities.
Lucina Beach – The beach is located in a peaceful and beautiful bay near the Pasman town centre. It is mainly a sandy beach with concrete parts perfect for sunbathing. There are showers and changing rooms, as well as other nearby facilities. There is also a natural shade where you can hide from the sun. The beach is shallow, therefore perfect for small children.
Tratica Beach – there are two beaches named Tratica. One is located in a settlement Kraj. It is a sandy beach, well equipped with plenty of facilities. The other one is in Nevidane, also a sandy beach with various facilities, suitable for families with children.
Banj Beach – The beach is located in the centre of Banj town. The beach is sandy with certain concrete parts. It is very shallow, therefore suitable for small children. It provides some natural shade and plenty of facilities, including a parking space.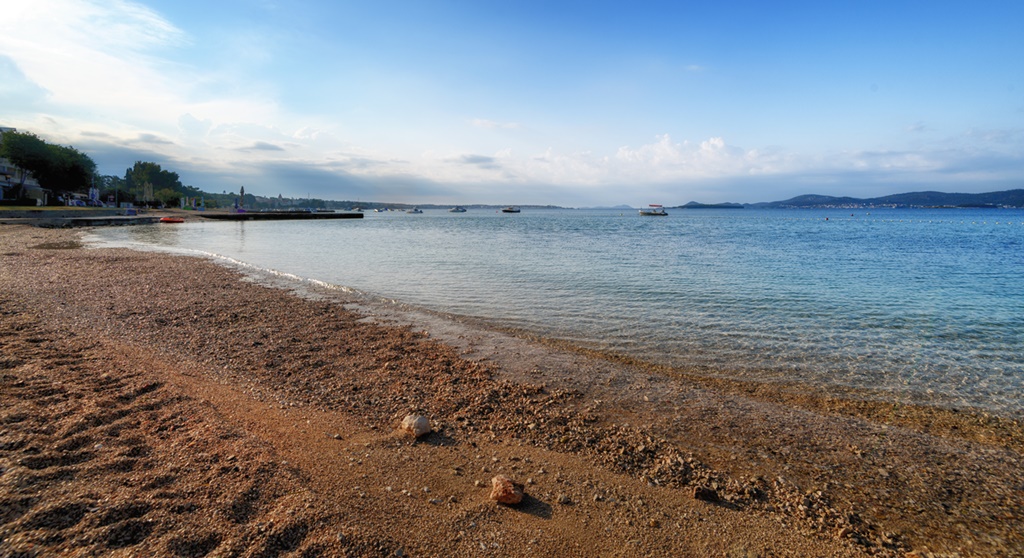 Robinson tourism
Those looking for a more isolated spot for swimming and sunbathing can go discover the southern part of Pasman island. The whole southern part of the island is rarely inhabited and hides plenty of isolated coves and bays. The ideal option is to get there by boat. The other option is to find one of many remote accommodations that offer this type of vacation providing peaceful and serene surroundings.
Islands in Pasman Channel
Pasman island is surrounded by plenty of small islands easily reachable by boat. If looking for a remote and isolated place for swimming, you can choose to anchor in bays of the islands such as Muntan, Mali and Veli Duzac, Turanj, Mala and Vela Bisaga or Ricul. The most famous of the islands in this area (but also entire Croatia) is Galesnjak, one out of three heart-shaped islands in the world that never changes its shape.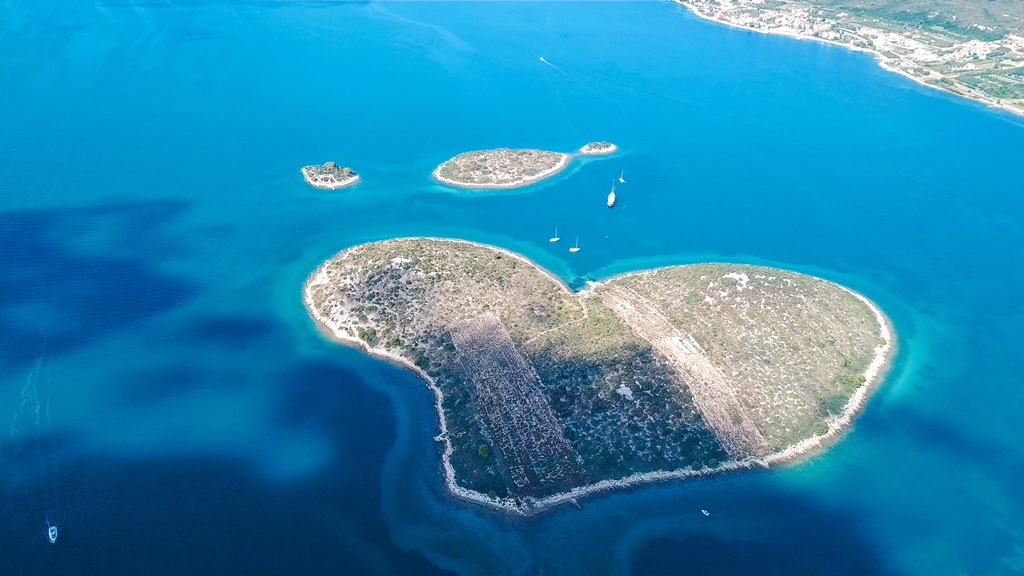 Camping on Pasman
Those who prefer staying in nature over the hotels and private accommodation can look for one of many campsites on Pasman island.
Camp Pasman – This is a small, family campsite located in Lucina bay, near Pasman town. The campsite is hidden in the natural shade of pines and equipped with electricity, playgrounds, showers, toilets, laundry service, washing machine and more. The camp has a capacity of 90 guests. Pets are allowed in the camp.
Camp Arboretum – This small campsite with a capacity of 30 guests is located near Mrljane, just about 150 meters from the sandy beach. The camp is surrounded by old drywall and Mediterranean trees which is why it got the name Arboretum. Therefore, its position provides perfect and constant natural shade. Water and electricity are provided via solar panels and visitors can find a restaurant and groceries shop nearby. The camp is pet friendly and offers activities such as volleyball, table-tennis, soccer, kayaking and more.
Camp Sovinje – This is a naturist campsite with its own nudist beach that has a capacity of around 400 guests. The camp is located 2 km from Tkon, in the pine forest providing natural shade. The camp organizes excursions and offers numerous activities such as volleyball, basketball and table tennis. The camp is well equipped with sanitary facilities and allows pets.
Besides these campsites, there are several more scattered all over the island: Skalinada, Adriana, Brist, Daleka Obala, Kod Jakova, Lucina, Ljubanovic, Pinija and Torkul.
Pasman hiking trails
Pasman island has numerous trails covering the entire island, so hiking and trekking is an ideal option for an active holiday.
There are numerous trails of various duration and difficulty levels. Among the most common ones is the route from Zdrelac, across Banj and Dobropoljana, to Nevidane. The route is 6 km long and doesn't require a certain physical shape. For a more extended walk, you can continue from Nevidane across Pasman town all the way to Tkon for another 5,5 km. This route offers great panoramic views, as well as interesting historical monuments.
Besides the northeastern side of the island, you can explore the other parts through slightly more challenging routes. One of the interesting routes starts in Dobropoljana, continues to Kulonje and Veliki Bokolj which is the highest peak of Pasman island (272 m), then ends in Uvala Černje. The whole route lasts about 2 hours.
Those looking for even bigger challenges can choose routes that last up to 8 hours. See more details on walking and trekking routes.
Pasman cycling trails
Pasman island is great to discover on a bike. Cycling lovers can choose between several routes of different duration and difficulty level:
Zdrelac – M. Bokolj – V. Bokolj – Komornjak – Moravnjak – Skalice – Prvanj – Poljica – Krusevi – Vrijanjak – U. Bratovica – Tkon
Banj –  M. Bokolj – V. Bokolj – Komornjak – Nevidane
Nevidane – Komornjak – U. Vrzisce
Nevidane – Komornjak – Skalice – Kraj
Kraj – Skalice – U. Landin
Kraj – Skalice – Krusevo – Tkon
For more details on cycling trails read here.
Snorkelling & diving on Pasman
Pasman island together with its islets in the Pasman Channel is a great destination for those who like diving and snorkelling. The area abounds in bays and coves with interesting underwater life and rich flora and fauna influenced by the winds and currents as well as the sunlight.
Most dive sites include some underwater entrances to caves and grottos which are otherwise not easily reachable. The optimal time of the year for scuba diving on Pasman is between May and October when the sea is calmer and weather conditions good.
Snorkelling, on the other hand, doesn't require that much preparation and physical shape nor the theoretical and practical knowledge important for scuba diving. Snorkelling equipment can be rented at the beach or from many different rental agencies in towns/camps, or you can even buy it from the stores/stands in the main towns.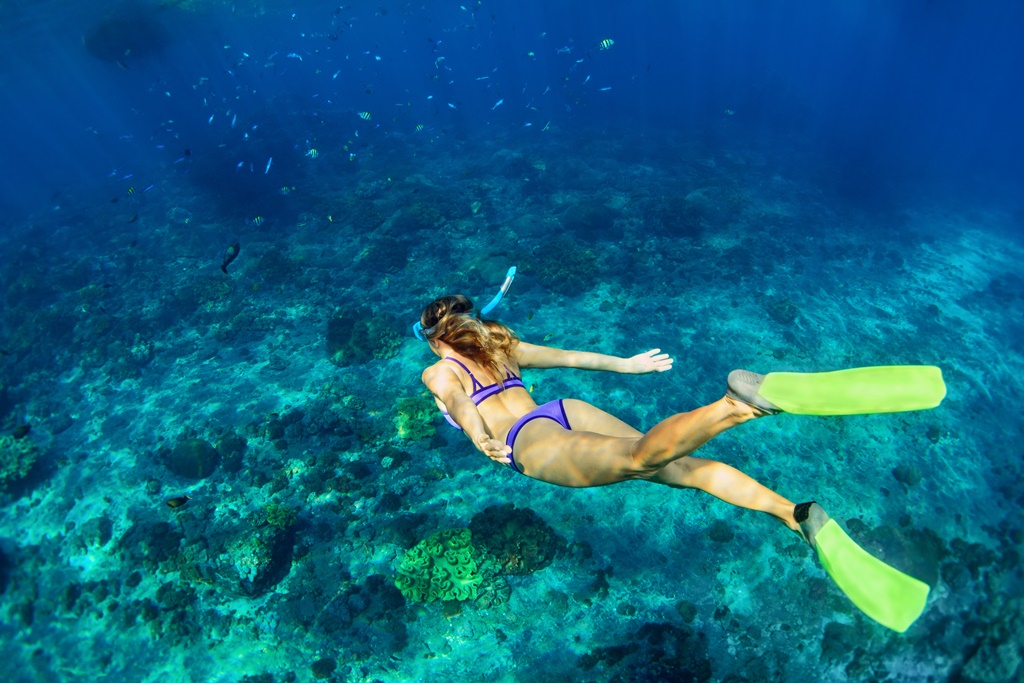 Water sports & equipment
Besides diving and snorkelling, there are other interesting water sports and activities you can partake in during your stay on Pasman island.
Many beaches on Pasman island have a great offer of water sports and activities such as kayaking, canoeing, windsurfing, paddleboat rent etc. All the necessary equipment can be rented at the beach. However, bear in mind that it's not offered on every beach, only on bigger ones. If you are staying in a camp, you can probably rent some of the equipment there.
You can even rent a small boat and drive around the island, visit all the hidden coves and explore their beautiful beaches, but make sure you have your valid boating license with you. The organized anchorage for boaters is located in Soline, St. Ante and Zdrelac bays.
Festivals on Pasman
Pasman island cherishes its tradition and culture by organizing various festivals and manifestations throughout the year, especially in summer. Here are some of the interesting events:
Zdreske Lazi – Literally translated "Zdrelac Pathways" is a traditional folklore evening where visitors can get to know the traditions and culture of Pasman island.
International Folklore Festival – The festival takes place in Dobropoljana and presents local and international Folklore Societies and their works. Besides seeing the traditional performances, visitors can try local specialities, as well as learn about local customs and tradition.
Klapa Festival – This lively night brings together Klapa groups from all over Croatia. An amazing opportunity for all visitors to get introduced to traditional Croatian Klapa and their authentic acapella singing.
Pasman Island Film Nights – Movie lovers can enjoy the open-air cinema that presents short films, but also workshops. Most of the content is appropriate for children, as well.
Slovenian Night – Every year in Pasman town Slovenian stars perform all night long attracting numerous Slovenian tourists, as well as all other visitors. The fun is guaranteed.
Škraping – A unique international running competition on rocks! Everyone can apply for a marathon and discover the beautiful nature of Pasman island in a very interesting and slightly dangerous activity.
Pasman nightlife
Pasman island is not a party hub like Hvar or Brac, so there are no nightclubs and specific party spots. Still, there are plenty of bars and beach bars where you can enjoy drinks and good music. Here are some suggestions where you should go if looking for evening relaxation.
Among the bars where you can sip your drink, have a conversation with your friends and even dance a little are Dispet in Zdrelac, Nautilus in Dobropoljana, Vitar and beach bar Kriva Smokva in Pasman and GA-GA in Tkon.
Besides that, nearly every settlement organizes regular fishermen's nights where you can enjoy live music, local delicacies and other entertainment. If still missing nightclubs and party spots, Zadar with a rich nightlife scene is just a short ferry ride away.
Food & supplies
On Pasman island you will easily find mini-markets where you can buy groceries. In each settlement, there is at least one local mini-market, especially in Tkon where you will find several ones. In that case, there is no need to bring much from the mainland, you can do the shopping on the island.
It is good to know that prices on the island can be slightly higher than the prices on the mainland. If you want to make sure you will find all the necessary products, you can always go to one of the big supermarkets in Zadar like Konzum, Tommy, Kaufland or Lidl, prior to the ferry departure.
There is also an option of eating outside and trying delicious local food. There are numerous restaurants around the island that serve local fresh food. Pasman food is also a part of the great Dalmatian cuisine, with its own uniqueness. Dalmatian cuisine is a Mediterranean style cuisine, similar to the Italian one, so you will find a lot of olive oil and herbs like rosemary and sage, garlic and tomatoes in almost every sauce, a lot of vegetables and fruit, etc.
Try some of the fish specialities, like grilled fish or scampi, "black" risotto with squids, octopus with potatoes baked under the lid on an open fire. If you are not that keen on fish, you can always try some delicious meat dishes such as roasted lamb with potatoes and rosemary or the homemade prosciutto served with fresh local cottage cheese and olives. You can always find some grilled steak with fresh vegetables, or some typical pasta dishes.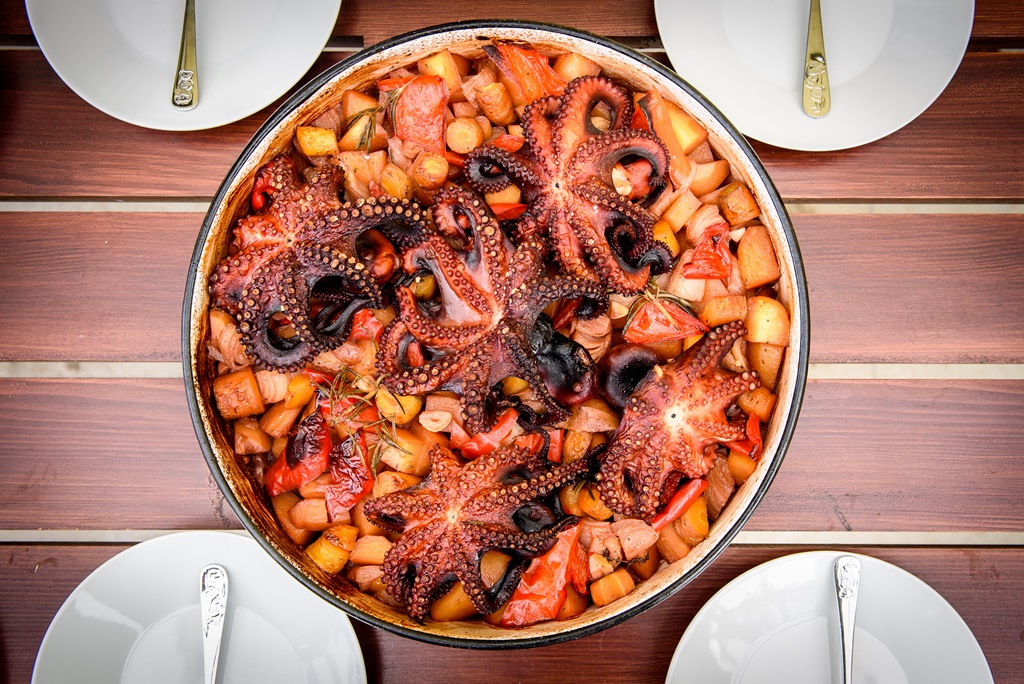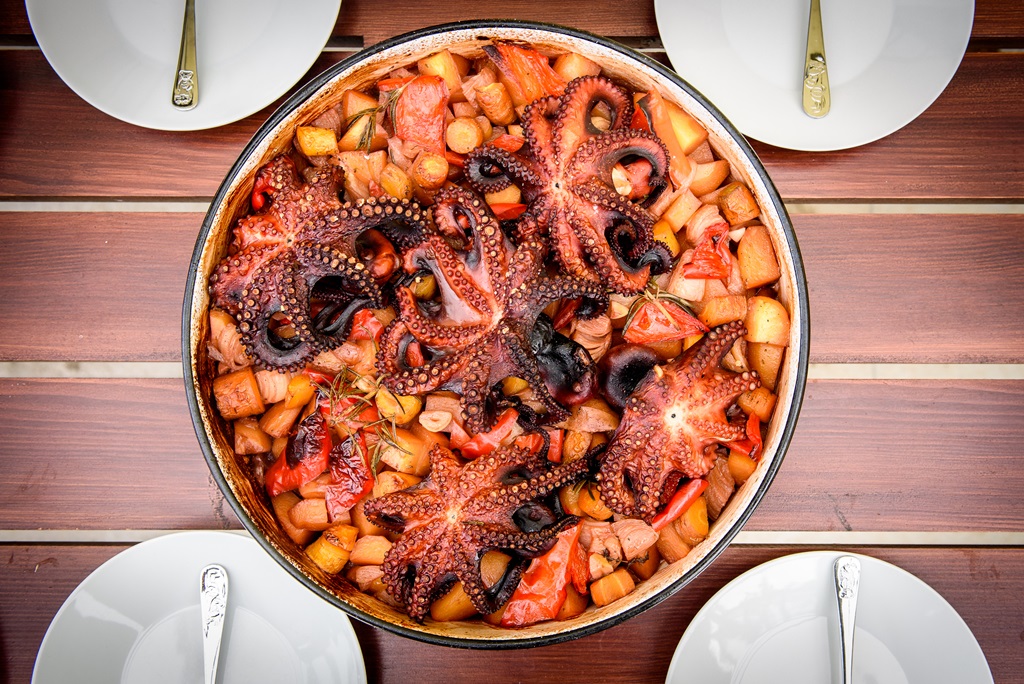 ATMs & Exchange offices
Remember that the official currency in Croatia is Kuna and most of the places accept Kuna only. In large tourist places, especially on the coast, it is acceptable to pay in euros or credit cards. However, make sure you always have local currency with you and some cash because not every restaurant, bar or market accepts credit cards. Still, larger supermarkets and pharmacies usually accept them but in case you need something from the bakery, mini markets or newspaper stand, always bring cash.
When you find yourself on the open-air market, if you try to bargain, you might save a few kunas, but that is not common in that area and the prices are fixed.
If you need an ATM, an exchange office or a bank, you can easily find them. There are several ATMs on Pasman, but also a few local banks. Look for ''Mjenjačnica'' but it will mostly be translated to 'Exchange' if you need to exchange money.
The banks' working hours depend on the season, but you should go there in the morning, just to be on the safe side, and have in mind that during the weekends and national holidays they might be closed. ATMs are available and usually located in the port, on the main promenade.
Emergency contact info
In case of an emergency, or if you require immediate assistance of any kind – medical or police assistance, fire department, mountain rescue services, you can call the toll-free number 112 from any location in Croatia (the calls can be made via landlines, cell phones or phone booths) at any time of day or night.
If by any chance, you need to seek medical assistance while you're on Pasman island, there is an ambulance in Nevidane, the number you can call is +385 (0)23 269-298.
The number of pharmacy in Tkon is +385 23 285 533.
For all tourist information, you can consult tourist boards on Pasman island on the following numbers: +385 (0)23 260 260 or +385 (0)23 260 155
If the situation requires further urgent assistance or hospitalization that cannot be provided on the island, a speedboat or helicopter will be sent for the patient and take them to the nearest hospital in Zadar.
Foreign citizens/tourists coming from countries that are signatories of the Health Care Convention don't have to pay for medical assistance in Croatia, while patients coming from countries that are not signatories of this convention, must pay for medical assistance provided, according to the valid tariffs.
Pasman Island Map
Pasman Island FAQ
Can I bring my bicycle on the catamaran or ferry?
It is possible to bring a bicycle on a car ferry, but you need to buy a separate ticket for it. On the other hand, bringing a bicycle on a catamaran is in most cases forbidden as there is simply no space. In case you are travelling off-season, the boat crew might let you bring it if there are not many passengers.
Can I buy/reserve a ticket for a specific departure?
In the case of the catamaran, you can buy a ticket for a specific departure, but for the car ferry you can buy a ticket for a specific travel date, but not for a specific departure.
Can I make a day trip to Pasman from Zadar or Biograd na Moru?
Yes, it is possible, especially during the summer season when the ferry and catamaran lines are more frequent. Travel time for both routes takes only 20 minutes.
Can I bring my dog on the ferry/catamaran?
On catamarans, you can NOT bring your dog, but on the car ferries you can, but you are not allowed to take them into the closed areas where passengers are sitting.
How much luggage can I bring?
On ferries up to 100 kg, on catamarans up to 20 kg but as the luggage is not weighed, it is normally not an issue if you bring a bit more.
Which airport should I fly to if I want to go to Pasman?
You should fly to Zadar Airport because you can then easily take the ferry or catamaran to Pasman that departs from either Zadar or Biograd ferry ports or, which is just 40 minutes drive from the airport.
How long should I stay on Pasman island?
A trip of 2-3 days would be enough to explore the main areas on Pasman island, but if you want to soak up all the authenticity and lifestyle of the island, take a few days more to properly relax and forget about your everyday life.
When is the best time to visit Pasman?
The best time is the summer because you can spend your days on the beach, plus all the events and festivals are at their peak. The downside is that the island is packed during the summertime since everyone is visiting then. September is one of the best months; the air temperature is milder and the sea is still quite warm. October is good for hiking and cycling enthusiasts since it is not that hot anymore. May and early June are good months regarding the air temperature but the sea might still not be that warm for some, with a temperature of about 18-20 degrees.