Krk Island is a Croatian island located in the northern Adriatic Sea, in the Bay of Kvarner and close to Rijeka town. It was considered to be the largest Adriatic island until 2011 when geographical surveys and new measurements determined that the island of Cres has an equal surface area. Last recorded number of Krk's population has shown that there are little over 19,000 inhabitants, which makes Krk the most populous island in the Adriatic Sea. The island has been administratively divided into the city of Krk and six municipalities: Baška, Dobrinj, Malinska, Omišalj, Punat, and Vrbnik.
The island of Krk or the Golden Island, as it was called in ancient times, is considered to be one of the most attractive tourist destinations. Golden Island name was earned due to its mild Mediterranean climate and diversity of natural and historical heritage. Another name you will come across when reading about Krk is the Cradle of Croatian culture because the cultural heritage on this island offers a voyage through the millennia of rich history. Today the island is a vibrant and modern place that perfectly balances between history and present. Thousand-year-old monuments, beautiful landscapes, romantic pathways along the shore and delightful cuisine, this island has it all.
If you plan to visit Krk, this guide will provide all the information you might need, such as what to visit, where to go out, which beach suits you best and other useful information which will make easier to plan your stay on Krk.
Getting to Krk Island
The island of Krk has a desirable geographical and transport position, making it easily reachable by bus or car.
Krk is not an island in the full sense of the word since it is connected to the mainland with a 1430-meter-long bridge. There is a toll for the Krk bridge, and it is around 5 € but the prices are different for various vehicle categories (check the price list). The toll is paid only when coming from the mainland heading towards Krk.
NOTE: Occasionally (most often during wintertime) bridge can be closed because of the bad weather conditions, such as the infamous wind bura.
Ferry to Krk
You can also reach Krk island with a ferry from the island of Cres (Merag – Valbiska) and from the island of Rab (Lopar – Valbiska).
Merag port
Merag is a small port town located on the east coast of Rab. The car ferry is operated by Jadrolinija company and the estimated travel time is 25 minutes. Check the timetable of departures and buy tickets below.
Lopar port
Lopar is a small port located on the island of Cres connecting the two islands. The car ferry is operated by Jadrolinija and travel time is around 1 hour and 20 minutes. Check the timetable of departures and buy tickets below:
Coastal towns have ports and marinas for the reception of all kinds of boats, numerous tourists come to the island by their own yachts or organized by larger ships.
Getting to Krk from Rijeka Airport
Rijeka airport is located on the island of Krk, near the town of Omišalj. It is an international airport and most of the traffic occurs in the summer season when it is used by several European low-cost airlines. There are organized bus transports to and from Omišalj, Kraljevica and Rijeka.
Getting around Krk Island
Villages and settlements on Krk are well connected between each other. Getting around the island is simple, especially during the summer months because the number of bus departures increases significantly. More information on how to get around Krk you can read here.
Historical sights
Krk is an island with a rich historical heritage. There are many interesting sites to discover and explore in one of Croatia's most unique islands.
The village of Jurandvor, just north of Baška, is where the Church of St Lucy is situated. St Lucy is more than a village church, it is the site of an important cultural discovery in Croatia, the 11th-century Baška Tablet. Baška Tablet is the oldest Croatian monument written in Glagolitic alphabet that contains the earliest mention of "Croatia" and "Croatian" in the Croatian language. The tablet is situated in the Academy of Science and Art in Zagreb, but there is a replica of it inside the church.
Glagolitic alphabet is an early Slavic script and in order to promote it, there is the Baška Glagolitic alphabet trail of 34 sculptures representing letters of the alphabet starting at the heights of Baška and going down to Stara Riva.
The Cathedral and the Church of St. Quirinus are typical landmarks of Krk town. Cathedral is a basilica of Romanesque design and the Church was a place of worship for early Christians later converted into a church.
Kamplin Square is bordered by the Cathedral on one side and Frankopan Castle on the other. The castle was built by the Croatian noble family Frankopan and the tower of it was used as a courthouse.
The Vitezić family library located in Vrbnik since 1898 contains important Glagolitic missals, books and breviaries. One of the most valuable books is Kohler's atlas whose second copy is kept in Cambridge.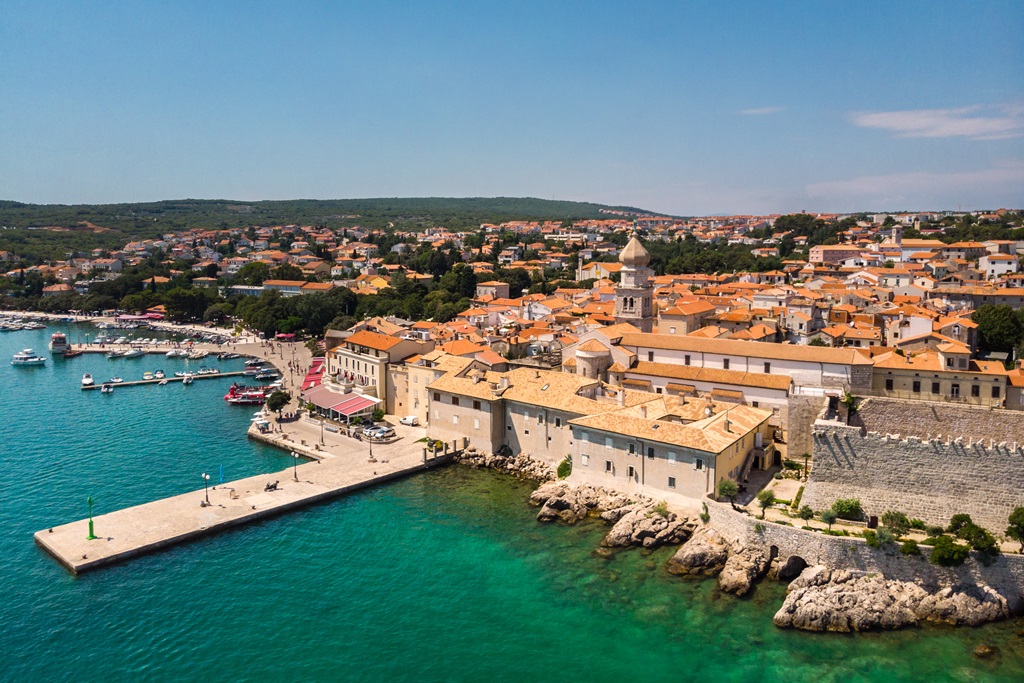 Beaches on Krk Island
The island of Krk is known for the crystal clear sea that surrounds it and gorgeous beaches, some well hidden but some of them at your fingertips. Krk is the Island of blue flags; blue flag, a synonym for a great level of sea cleanliness and services offered on the beach, stands for an eco-label trusted by millions all around the world.
Here are some of the most popular Krk beaches:
Porporela beach, Krk town – Beautiful pebble beach, one of the most visited on the island,located in the western part of the town, only a few minutes away from the city center by foot. The beach is well-equipped with deck chairs, parasols and showers.
Vela plaža / Great beach, Baška – As the name suggests, it is a spacious beach located in the center of Baška offering a range of activities, such as pedal boats, water slides, jet ski or water ski, etc. One of the most beautiful beaches in the Adriatic with turquoise blue sea and the sandy shore is great for families with children, so expect it to be crowded in peak-season.
Oprna Beach, Stara Baška – One of the most beautiful, but also most inaccessible beaches on the whole island is worth the effort. In order to get there, you have to climb narrow trails or take a boat excursion or a taxi boat to the beach.
Vela Luka, near Baška – Located in one of the most beautiful bays on the island, this wonderful sandy beach is 1.8 km long and it has a spring of potable water. You can reach it by climbing 6 km long hiking trails or with a boat.
Potovošće Beach, Vrbnik – Vrbnik hides many amazing beaches that are a perfect getaway from the crowds. Potovošće is a pebble beach with outstanding views on the hills and the coast, situated 2 km from Vrbnik.
St. Marek Beach, Risika – This remote sandy beach has a meadow with a few trees perfect to escape the sun.
Meline Beach, Soline – A very special and shallow beach, famous for healing black mud that has a beneficial effect on rheumatic diseases.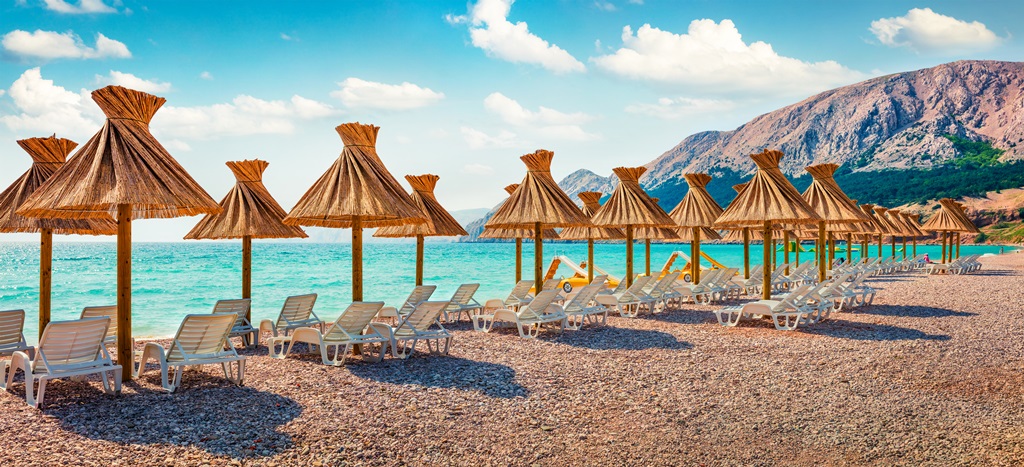 Camping on Krk
Many people enjoy spending their vacation in nature, listening to the sound of waves and crickets. On a Mediterranean island surrounded by crystal clear sea, you can get the best of it if you decide to spend your vacation camping instead of booking a hotel room. Below listed are some of the campsites you can use, either if you want to pitch tents or campers, rent mobile homes, bungalows or even go "glamping"!
Camp Ježevac – Situated only a few minutes of an easy stroll from Krk town center, with over 600 pitches by the sea or in the shade of pine trees, it is a fairly large camping site. For luxury accommodation, choose a premium camping home in the new Premium Village.
Camping Resort Krk – Previously camp Politin, this camp located about 1.5 kilometers from the town today serves as a luxury eco camp with over 360 pitches for hire, as well as 120 mobile homes. The camp is family oriented so it is a good choice to spend an unforgettable family holiday.
Camping Glavotok – Located on the western coast of the island, about halfway between Malinska and City of Krk, this campsite is eco-friendly so it is popular with guests who want to stay close to nature. There are 333 parcelled camping units of different sizes, from 70 to 140 square meters.
Camp Konobe – This camp situated in the sheltered bay 3 km from Punat town with over 400 camping units was exclusively designed for naturists. It has been active for almost half a century. There are two larger beaches and a number of secluded white beaches nearby.
Other popular campsites include Camping Njivice and Baška Beach camping resort. There are numerous mini-camps like Marta, Marušina Olive hills, Maslinik and Oliveto Residence.
Cycling and hiking on Krk
Lately, more and more attention is given to active holidays and Krk island could easily be a cycling paradise. Most of the walking trails on the island can be used for cycling. There are up to 300 kilometers of cycling paths with amazing views of the rocky terrains and green woods. Besides the areas along the coast, known as "lungomare", some paths intersect and others lead inland, such as the road from Malinska to Krk town. When cycling, you will find some natural treasures like Biserujka Cave.
Possible cycling routes:
Njivice fast trail (18 km)

Cycling route Krk – Stara Baška (21 km)

Cycling route Malinska – Vrbnik (30 km)
Different cycling events are held on the island, "Spring on wheels" promotes routes suitable for bike, scooter and quads while "I love the autumn – Bodul bike" encourages recreational cyclist and healthy lifestyle.
If you are more into hiking – no worries, Krk island is great for that too. If you were to go hiking every day for about 4 – 6 hours, it would take you around 12 days to get through most of Krk's walking trails. All the trails along the shore and in the internal part of the island are properly marked, ranging from easy trails to more challenging ones for experienced hikers. A map of the trails can be found inside any tourist office. If you enjoy mountain walking, you should climb the highest peaks of the island – Veli Vrh (541 m) and Obzova (561 m).
Alpine beltway "Putevima Dobrinjštine" is a trail about 20 kilometers long that passes through the area of picturesque villages. Walking trails are in direct contact with different historical and ethnographic attractions on the island.
There are several events promoting discovering hiking trails such as "A walking tour through Krk asparagus trails" which includes several hours of walking and boating ending with huge omelette prepared with asparagus.  
NOTE:
→ Make sure you wear proper footwear because the terrain is very rocky and rugged.
→ There's a possibility of bumping into sand viper (common snake found on the Balkans)
→ Bring plenty of water.
→ Sunscreen is also very important, otherwise, you might get sunstroke.
Snorkeling and diving on Krk Island
Krk Island with rich underwater life encourages people to explore the amazing Adriatic Sea. The optimal time of year for scuba diving and snorkeling on Krk is between May and October when the sea is calm and the weather conditions are perfect.
During your Krk holiday, you can learn the basics of diving or if you have some diving experience, visit some of the most attractive diving locations:
Mali Plavnik

– Often described as "Underwater mountains", this small island reef has a number of underwater caves.

Selzine

– cliff plunging down for 110 meters turns into plateau covered with corals.

Wreck "Peltastis"

– Sunk in the '60s due to strong Bura wind, it is one of the most popular wrecks in Croatia. Various types of crabs and crayfish hide inside the structure.

Blue Hole

– This combination of chimney cave and a cliff is covered with giant gorgonians.
There are several diving centers on the island which offer this unique experience.
Diving center Neptun offers different diving excursions and equipment rental. Their special offer is night diving for the most adventurous ones.
Dive center Krk besides diving also offers holiday homes while Diver Krk offers renting a boat.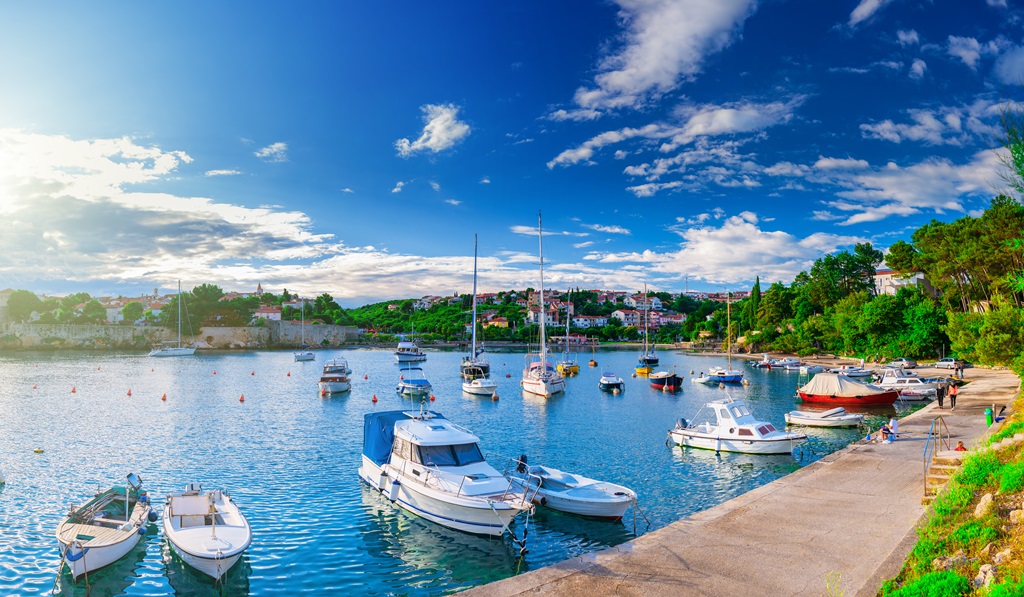 Festivals on Krk Island
Krk island abounds in different festivals and events throughout the year.
Krk Music Fest happening in the city of Krk in June is a celebration of traditional music, accompanied with some of the most famous Croatian singers. During the festival, the city turns into the center of gastronomy, cinema and entertainment.
Krk Food Festival – Tastes of Spring happens every spring in restaurants across the island. The Festival is a great opportunity to enjoy traditional Krk food. Similar festival occurs in October with a goal of presenting one of the healthiest and most tasty diets in the world, the Mediterranean diet.
Another food festival is Ice-cream festival in Njivice, happening every June. Yes, ice-cream is so important during the summer months that it has its own festival. Numerous ice-creams, all kinds of desserts, but also concerts, magician shows, street acrobats and many more awaits you.
The firework Rhapsody, a unique festival occurring at the beginning of June, is a combination of musical and firework performance. It is a true celebration of the upcoming summer offering all sorts of cocktails, music performances, and, of course, fireworks.
Ancient Days Festival is held every summer in July. This culinary and cultural event with gladiators, emperor and his entourage also has street performers and ancient food and music. Children are able to participate in different workshops and learn more about history and archeology.
Krk Fair Lovrečeva is the longest-lasting festival in the whole Northern Adriatic, dating back to the 16th century. Happening every August, this fair celebrates both culture and gastronomy with a number of entertainment programs.
While you are there, you can always check the calendar of Krk Tourist Board for all event schedules.
Krk Nightlife
Krk Island might not be a party destination but you can still have a good night out.
Volsonis is the most lively bar in the city situated in a 2000-year-old archeological site. The garden terrace is open until 2 am but two-floors club inside work until morning hours. Pub Tiffany, with a terrace overlooking the sea, is a popular place both during the day and night if you want to have a drink and enjoy some rock music.
If you really want to party hard, head to the only disco club in the island, Boa club in Malinska. Local and guest DJs play techno-based dance music.
Beach bar Lighthouse and Beach bar Casa del Padrone are the most popular beach bars on the island. Lighthouse located in Omišalj is famous for a great variety of exquisite cocktails and offers great views of the sea, especially in sunset time. Casa del Padrone situated at St. Dunat offers different services such as beach chairs and umbrellas, and water sports including windsurfing and diving.
Besides that, summer is a period of fischerfests, open-air concerts and different events such as food festivals and exhibitions so it is good to check the schedule of the events before the arrival.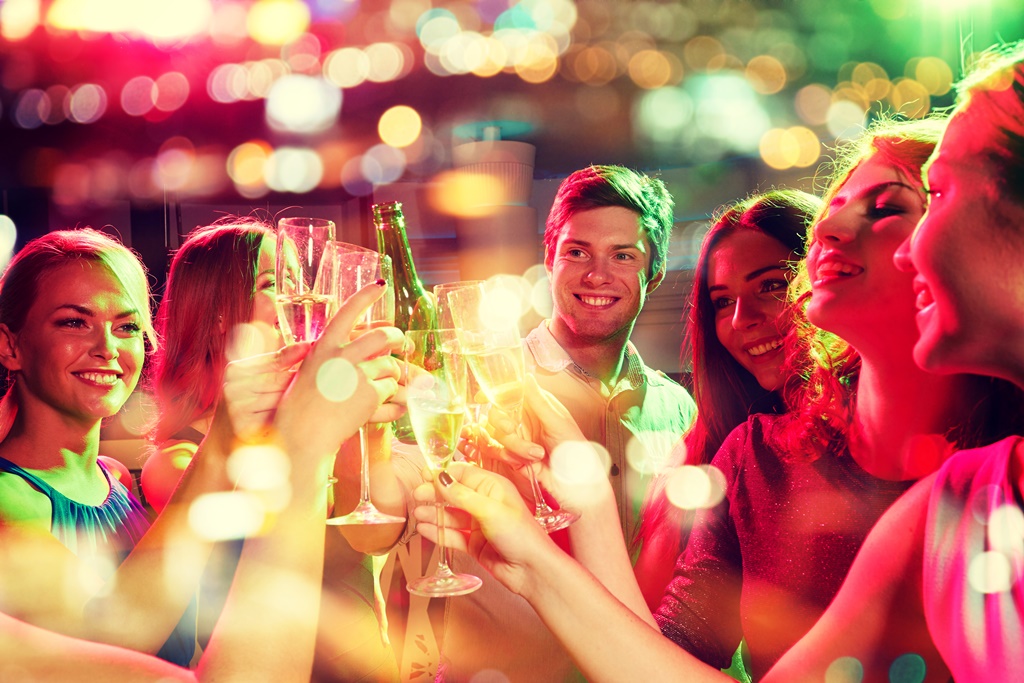 Food and supplies
On Krk island you can easily find grocery stores, bakeries, butcher shops, pastry shops, pharmacies and other kinds of small shops, so you can buy anything you want right there on the spot without bringing anything from the mainland. More shops can be found in larger towns and villages. Besides a number of small local stores, there are also Plodine, LidlandTrgovina Krk.
You cannot leave the island without trying local cuisine in one of the numerous restaurants around the island. Mediterranean cuisine is similar to the Italian one, so you will find a lot of fresh ingredients prepared with olive oil and herbs like rosemary and sage, garlic and tomatoes in almost every sauce. Probably the most typical local food is šurlice, type of pasta prepared in different ways, most often with shrimps or other types of seafood as well as lamb, with one special ingredient, Ribanac cheese. Krk lamb is of high quality and extraordinary taste, especially when prepared in a traditional way, under the baking lid or peka. Presnac is a typical dessert, fried pastry filled with raisins and sheep cheese. Don't miss out on local wine Vrbnička žlahtina, quality dry white wine grown and produced only in Krk, more precisely, in the vineyards of Vrbnik. You can also try Istrian Malvazija, Draganela, Opačevina and others.
ATMs and Exchange offices
Remember that the official currency in Croatia is Kuna and most places accept Kuna only. Also, credit card payment is mostly possible, but make sure you always have some cash because not every bakery, mini market or green market accept them.
The banks' working hours may vary during the summer season, but we advise to go there in the morning should you need to solve any issues. Bear in mind that during the weekends and national holidays banks might be closed. In case you need a bank or an exchange office, or you wish to withdraw some money from an ATM, you can find them in the main places on the island: Krk, Malinska, Baška, Njivice and Omišalj.
Emergency contact info
In case of an emergency, or immediate assistance of any kind – medical or police assistance, fire department, mountain rescue services, you can call the toll-free number 112 from any location in Croatia (the calls can be made via landlines, cell phones or phone booths) at any time of day or night.
The area code is +385, so keep in mind to dial it before any other service number.
Police:192

Ambulance: 193

Emergency telephone number 112

Road assistance: 987

Tourist Medical Se

rvice Krk, Vinogradska bb, +385 51 221 143

Tourist Medical Service Malinska, Lina Bolmarčića 2, +385 51 859 917

Tourist Medical Service Dobrinj, Nova cesta bb, +385 51 852 354  

Tourist Medical Service Njivice, Primorska bb, +385 51 846 048

Tourist Medical Service Baška, Zvonimirova 96, +385 51 856 825

Tourist Medical Service Punat, Pod topol 2, +385 51 854 011

Pharmacy Krk, Vela placa 3, +385 51 221 133

Pharmacy Baška, Kralja Zvonimira 114, 385 51 856 900

Tourist Board of Krk,

+385 51 221 359

,

tz-otoka-krka@ri.t-com.hr

Info Airport, +385 51 841 865,

infopunkt@krk.hr
FAQ:
Can I make a day trip to Krk from Rijeka?
Rijeka is the closest bigger city on the mainland, so it is possible to make a day trip. You could also spend a day on the neighboring islands Cres and Rab, as both are easily reachable by ferry.
How long should I stay on Krk island?
You can explore all the mentioned sights in 2-3 days, but if you want to properly relax and discover all the authentic places on the island, take a few more days.
When is the best time to visit Krk?
The best time is summer, because you can spend your days on the beach, relaxing, swimming and sunbathing. The downside is that the island is full of tourists during peak-season. Although, Krk is not the most popular destination like some other Croatian islands (Hvar). If you wish to avoid the crowds or you don't like the heat that much and would like to go to the beach without getting sunburnt, then you should consider the postseason or preseason.
Is there a gas station on the island?
There are several gas stations in Krk, Malinska and Valbiska.