Island Rab
Although not among the most popular islands in Croatia, Rab has its advantages which might change your mind and make you visit this green paradise of the Adriatic Sea. Rab covers a little over 90 square kilometers but it boasts a great number of beautiful pine forests and sandy beaches. Unlike other Kvarner islands, characterized by a relatively large number of settlements, the island of Rab has a relatively small number of settlements. On the island there are 8 of them: Banjol, Barbat on Rab, Kampor, Lopar, Mundanije, Palit, Rab Town and Supetarska Draga. All settlements except Mundanije are located near the sea. This is why they are treated as tourist resorts.
Rab weather
The climate on Rab Island can be described as the mild Mediterranean, which means that summers are warm and winters are mild, with no larger temperature oscillations. Rab gets around 2600 hours of sunshine per year which makes it the perfect choice for a vacation destination.
If you plan to visit Rab, this guide will provide all the necessary information about the island, its beaches and campsites, party places, travel information and other important things to do during your stay.
Ferry to Rab Island
There are three ports on Rab Island where ferries and catamarans run to and from Rab. Find the one which suits you the most:
Mišnjak Port (to mainland)
Mišnjak Port is the port that connects Rab with the mainland. The port on the mainland is located in Stinica. To get to Stinica you would need a car, there is buses going to Stinica from Zadar, Rijeka and Zagreb, but they stop at the main road, which is several km from the ferry port, exception are the buses which continues to island Rab.
In the table below you can find the schedule of ferry departures to and from Mišnjak Port. Ferries are operated by Rapska plovidba company. Travel time is approximately 18 minutes and the price of a one-way ticket costs around 16kn.
Lopar Port (to Krk)
The other, smaller port, is located on the northwestern part of Rab, near Lopar municipality. This port connects Rab with Krk island. The car ferry is operated by Jadrolinija and the travel time is around 1 hour and 20 minutes between these two islands. Check the timetable of departures and ticket price in the table below.
Rab Town Port (to Rijeka and Pag)
Rab Town Port is located at the end of the promenade in Rab Town and it's a small port that connects the island with Rijeka. There are also ferry lines connecting Rab withNovalja and Lun on Pag Island. The travel time between Rab and Rijeka is around 1 hour and 45 minutes, between Rab and Novalja 45 minutes and between Rab and Lun 20 minutes.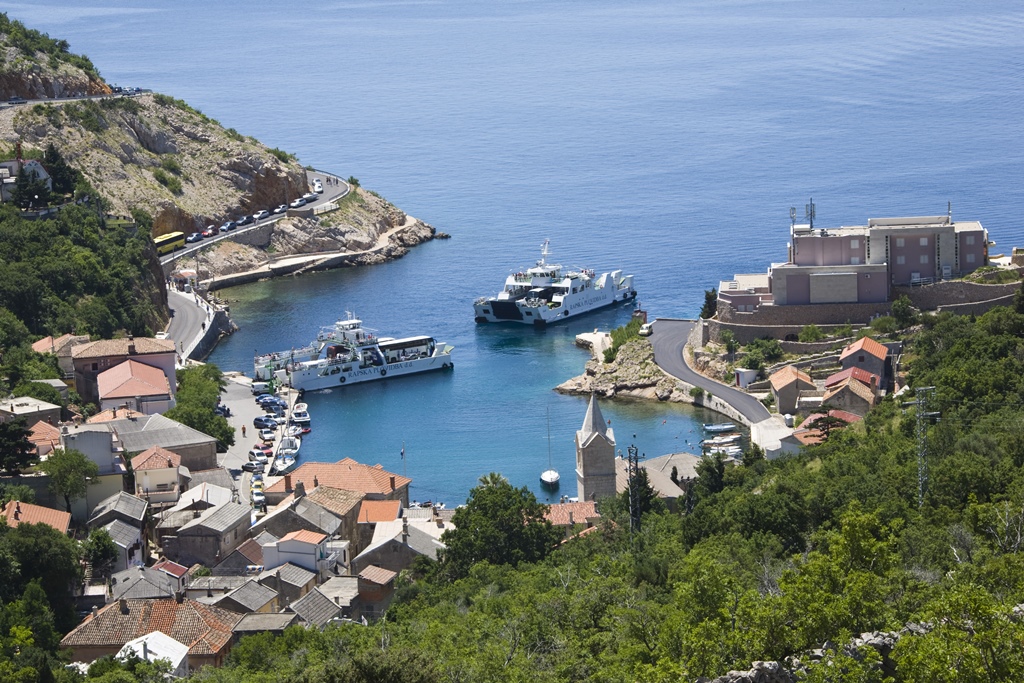 Getting around Rab Island
Public transport on Rab is operated by company Kristofor travel. The local lines are frequent and run approximately every hour during the summer (the first departure around 4 am; the last departure around 11 pm, depending on the line). The lines connect Rab Town with the rest of the island with places such as Barbat, Lopar, Kampor, Supetarska Draga and Suha Punta. To know more about buses on Rab Island click here.
Alternatively, you can always rent a bike because the island is not that big and it's perfect for cycling. Over 100 kilometers of bike trails all around the island will certainly complete your holidays on Rab.
Top beaches on Rab Island
The interesting fact about Rab is that this is an island in Croatia with the largest number of sandy beaches, 30 of them to be precise. This may be the reason why ancient Romans had named the island Felix Arba – or "the island of happiness". The majority of sandy beaches can be found around Lopar municipality. On the other hand, if you are not a fan of sand, no worries because there are also a lot of rock and pebble beaches as well on the rest of the island. Here are some of the most popular Rab beaches:
Paradise (Rajska) Beach, Lopar – The most famous beach on Rab is Paradise Beach, situated in Lopar, 12 km north of Rab Town. This sandy beach stretches two kilometers along the coast and it is characterized by its shallow and crystal clear sea. Visitors can rent sunbeds and parasols and they also have changing rooms and showers at their disposal. Pets are allowed at the southern part of the beach.
Suha Punta, Kampor – The most beautiful pebble and rocky beaches on the island of Rab are located in the village of Suha Punta on the forested peninsula of Kalifront, 5 km northwest of Rab Town. You can reach the beach by taxi boat, bicycle or car while sunbeds, cocktail bars, cafes, restaurants, tennis and volleyball court can be found on the beach.
Banova Vila, Rab – The most famous beach in Rab Town called Banova Vila is the favorite gathering spot during summer for all the locals. It is located on the coast of the historic city center of Rab. The beach consists of gravel, rocky and concrete parts, and offers sun loungers and parasols rental, a water polo court, pedal boats, kayaks and a beach bar.
Pudarica Beach, Barbat – In the southern part of the island, in Barbat, is located another beach that will appeal to young people, families with children and the elderly as well. Small, fine sand makes entering the sea simple. When the sun sets, the beach bar Santos becomes the center of nightlife on Rab. Parking near the beach is free of charge.
Rab nightlife
Rab may not be as lively as Pag but the nightlife during summer is pretty much alive nonetheless. The best party spot in Rab Town is Disco Club Oz, with themed parties such as Hawaiian and Salsa nights. The club has both indoor and outdoor parts. Santos Beach Bar is located on the aforementioned Pudarica Beach in Barbat and besides being an excellent choice for a night out, it is also great for a daytime chill with cocktails by the pool. Forum Bar in the heart of Rab Town serves some of the best cocktails and even though it's not a nightclub, the atmosphere is very much on fire. 1492 Cocktailbar in Rab Town serves some of the best mojitos you'll find on the island.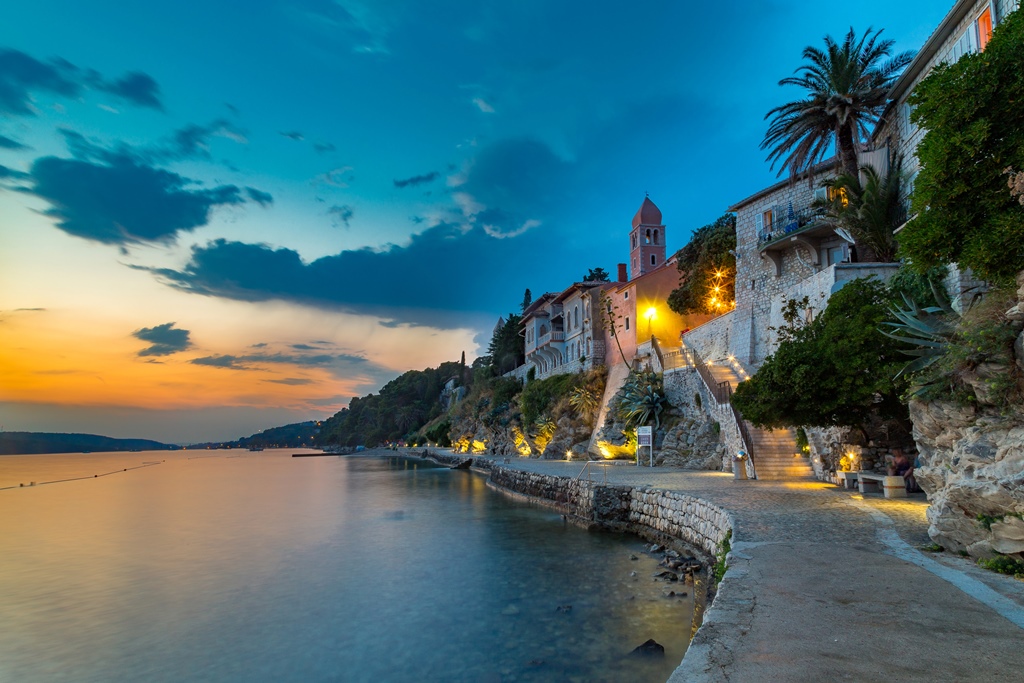 Camping on Rab
Autocamp Padova – This premium camping resort is located in a quiet and peaceful Banjol bay. The camp lies above sandy-pebble beach and it offers modern and comfortable camping houses for the guests or regular camping parcels for campers (with electricity and water connections). Padova camp is excellent for families with children because it has an outdoor pool and water park as well as animation for kids and a playground. Pets are allowed in the camp.
Autocamp San Marino – The vicinity of stunning Paradise Beach in Lopar makes San Marino Camp one of the top campsites on Rab Island. Apart from camping homes and marked parcels for campers, guests have the possibility of using non-parceled spots for those who don't want to book their spot in advance. The camp also offers a wide choice of sports facilities, recreational center, wellness & beauty center, restaurants, bars and nearby grocery stores.
Lando Resort – This mini-camp has a capacity of 101 people and it is located in Mel Bay in Kampor. Besides camping parcels, the resort also has 11 luxury villas with terraces overlooking the sea. Guests also have two pools at their disposal, a playground for children and a barbecue area. The guests can use sanitary blocks which are also equipped for disabled people and they can use the washing machine and dryer as well. Free Wi-Fi connection is also available. Pets are not allowed.
Camp Zidine – If you prefer wild camping in a tent, then camp Zidine would be the perfect choice for you. Camp Zidine is a small, Robinson camp, with a capacity of 100 people. It is located on the homonymous peninsula, in a pine forest, far from the crowds. It offers an unforgettable experience of adventure in beautiful nature.
Historical sights
The majority of the island's sights are located in Rab Town. This is no wonder because Rab Town used to be the centre of the island (as it is today) and its Medieval buildings are still quite well preserved. The Old Town walls surround the most part of Rab Town which is dominated by four bell towers – Tower of St Mary's Church, Tower of St John's Church, Tower of St Justina's Church and the oldest bell tower on the island, built in 1181 – Tower of St Andrew's Church. The Franciscan Monastery of St Euphemia is also worth visiting. It is located 6 kilometres from Rab Town. Built in the 15th century, this monastery boasts a large number of amazing paintings and its ceiling depicts some of the most notable life scenes of St Francis of Assisi.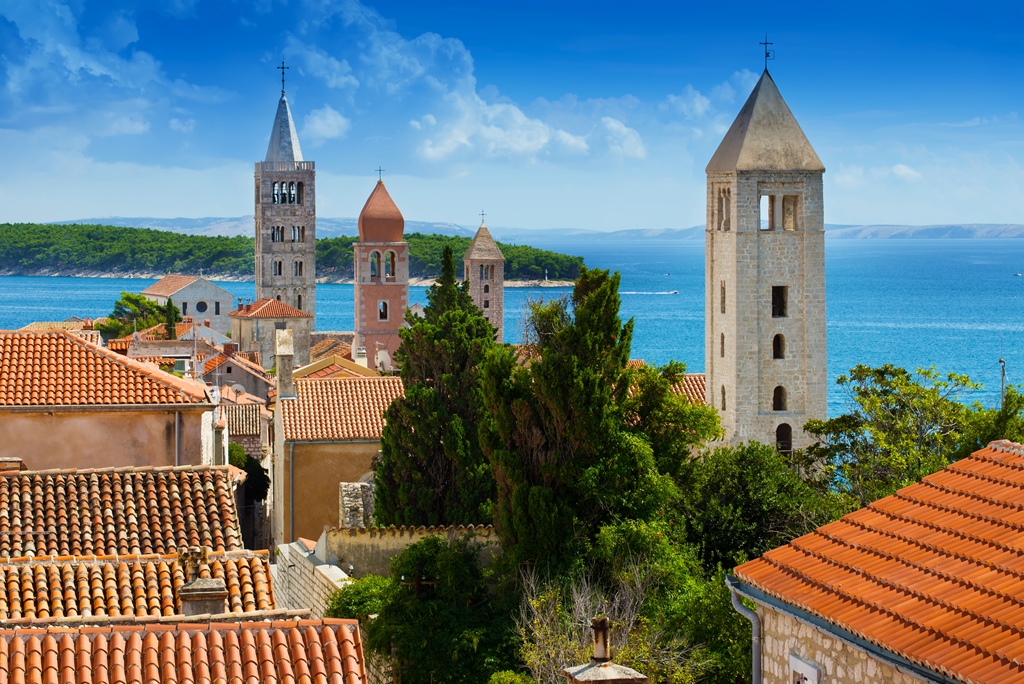 Festivals on Rab Island
Rab is a "more peaceful" island in terms of parties and music festivals compared to its neighbor Pag. The festivals you'll find on Rab are more food and culture-oriented. For example, you'll often find typical fish festivals in Rab settlements. These fish festivals are one of the favorite gatherings of the locals. You can try local fish specialties for cheap prices and there's often a live music band which additionally fires up the atmosphere. Also popular are the frequent live performances of local folklore groups, which often take place on main town squares or on promenades. One unusual festival is definitely worth the visit and we're talking about the Sculpture Festival which is held on Paradise beach in Lopar during June. The goal of this festival is to make different sand sculptures which then turn the beach into a unique exhibition. Admission to the Sculpture Festival is free and anyone can join.
Food and supplies
Buying groceries on Rab Island is not a problem and you can easily find local bakeries, pharmacies and other kind of small shops with souvenirs, so you can buy anything you want right there on the spot without having to bring anything from the mainland. Should you need to do a larger grocery shopping, you can do it in Konzum supermarket in Palit which is open every day from 7 am to 10 pm during peak season. There's also a large Plodine supermarket located on the road from Banjol to Mundanije, also open until late evening. For smaller grocery shopping, there are Konzum markets in Rab Town, Supetarska Draga and Lopar.
For authentic Croatian souvenirs visit Kuća Rabske Torte, a museum-souvenir shop dedicated to famous Rab cake. Over there you can see how the cake is made, learn about the history of the cake and taste it. You can even attend a workshop and try to make Rab cake yourself. The cake's main ingredients are almonds and Maraschino liqueur (cherry liqueur from Zadar) and it is baked in a spiral shape. This museum-shop in Rab Town sells only authentic Croatian products such as traditional liqueurs, delicacies, candies, cookies and other souvenir gifts. The shop is usually open until 11 pm during summer.
If you prefer to eat outside and try local specialties instead of cooking on your own, you should try one of the restaurants in Rab Town. The majority of them will serve Mediterranean dishes, as well as seafood, grilled meat and fish and typical Croatian food. For example, Konoba Rab serves one of the best octopus "under peka" you can find on the island. For a similar cuisine to this one, always search for the restaurants which have "konoba" in their name. Some of the other well-known restaurants worth visiting are Tavern Riva, Astoria Restaurant Velum, Agatini Vrtovi (with romantic olive garden setting) and Sanpjer (with a view on town promenade and bay).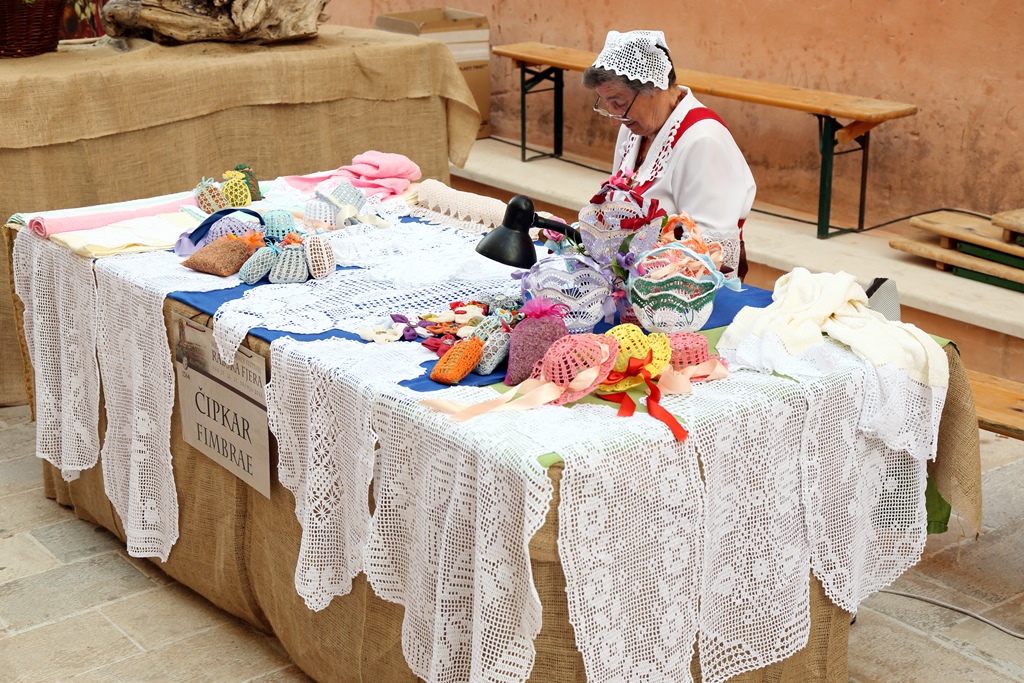 ATMs and exchange offices
The official currency in Croatia is the Croatian kuna and in general, you need to have local currency while traveling around the country. However, the majority of tourist places along the coast and on the islands might also accept euros as a payment option. When buying in souvenir shops, at local food markets or in bakeries, it is recommendable to have kuna in cash because they might not have a POS device for credit/debit cards. All the larger markets and supermarkets accept credit/debit cards and your currency will automatically be converted to kuna according to mid-rate.
Should you need a bank or an exchange office, you can find them in Rab Town and Palit. In case you are not able to reach any of the banks, try exchanging money at the hotel you are staying in. Working hours of banks are more or less the same all year round, but we recommend going there in the morning, just to be on the safe side. Bear in mind that during the weekends and national holidays banks might be closed.
FAQ – Rab Island
Can I bring my bicycle on the catamaran or ferry?
Since Rab only has catamaran connections with the mainland and other islands, bicycles are unfortunately not allowed on board.
Can I buy / reserve a ticket for a specific departure?
You can buy a ticket for a specific departure for catamaran lines (the only available for traveling to Rab).
Can I make a day trip to Rab from Zadar or Rijeka?
If you are arriving from Zadar, you can either drive to Stinica and catch a catamaran to Rab or you can drive via Pag and board a catamaran to Rab in Lun. The journey takes somewhere between 2.5 and 3 hours. If you are arriving from Rijeka, you can board a direct catamaran line to Rab in Rijeka Port.
Can I bring my dog on the ferry/catamaran?
On catamarans, you can NOT bring your dog, but on the car ferries you can, but you are not allowed to take them into the closed areas where passengers are sitting.
How much luggage can I bring?
Ferries allow up to 100 kg of luggage, but since only catamaran lines operate to and from Rab Island, passengers are allowed to bring up tu 20 kg of luggage.
When is the best time to visit Rab?
The best time to visit Rab is in the preseason or postseason when the prices of accommodation are not that high. For example, if you visit Rab in early May or late September, the accommodation prices will be twice as cheaper as those in July and August. And what's best, temperatures are moderate in May and September while in July and August temperature often goes over 35 °C.
Map
of
Rab