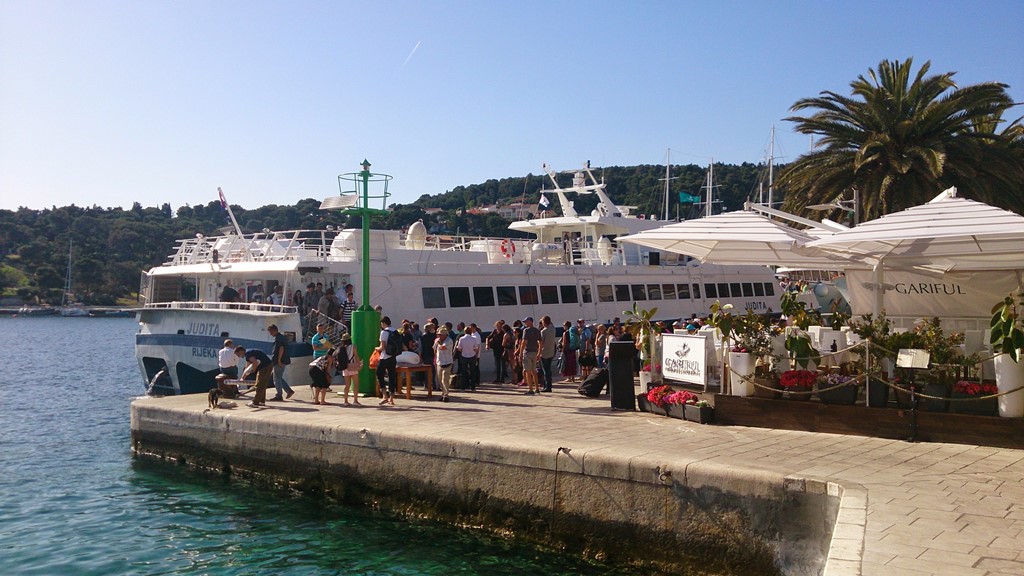 Hvar port
Hvar is a town on the western side of the island of Hvar, located in a large bay, protected by the archipelago of Pakleni islands. The town doesn't have a ferry port in a traditional sense, but only a catamaran port/mooring point, located in the southeastern part of the harbor, in the very centre of the town. If you are traveling by car to Island Hvar you can not go to Hvar town as there is no car ferry port, in that case, you will have to sail to Stari Grad.
Finding the ferry port in Hvar town
Reaching the ferry port in Hvar is easy, but as it is in a walking zone, you will have to walk a bit no matter where your accommodation is. The closest you can get by car/taxi is about 400-500 meters from where the catamaran sails.
If you arrive in Hvar and need to continue your travel, the main bus station is located only 500 m from the catamaran port. From there you can take a bus and visit some other places on the island like Stari Grad, Jelsa, Vrboska, etc.
Hvar to Split/Dubrovnik airport
Hvar is connected with both Split and Dubrovnik by regular catamaran lines. Once you get to either one of those cities,  you will find the bus station really close to the ferry terminal. That's where you take a shuttle bus to the airport.
Both airports are around 25 km away and the shuttle buses go approximately every 30 minutes and the ride lasts about 30-40 minutes.
Nowadays there is also a catamaran from Split to Split airport which is a great trip at the end of your visit.
The alternative, especially if you're with luggage and you want to avoid all the hassle, is to take a taxi or a private transfer to the airport.
Our Video for Split to Dubrovnik ferry ride
What you can find near the ferry port
As already mentioned above, the ferry port in Hvar is located on the main promenade, right in the town centre, so obviously, everything you might need is very close: bars, restaurants, shop, post office, ATM-s, etc.
The tickets can be bought in the ticket office on the main promenade.
Address of ferry port Hvar
Riva
21450 Hvar
GPS co-ordinates: 43.170115, 16.441091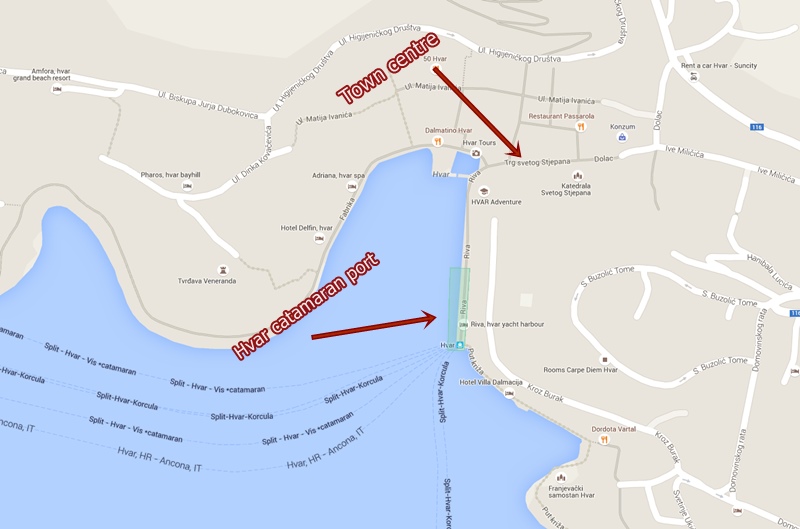 Fast ferry routes from Hvar port
From Hvar port there is a fast ferry connection to a lot of popular places in Dalmatia, bear in mind that some of the connections are only available during the summer season, click on the links to find more information and timetables for a specific travel.
Catamaran from Hvar to Island Korcula
Catamaran from Hvar to Island Brac
Catamaran Hvar to other Islands
Catamarans from Hvar to Split and Dubrovnik