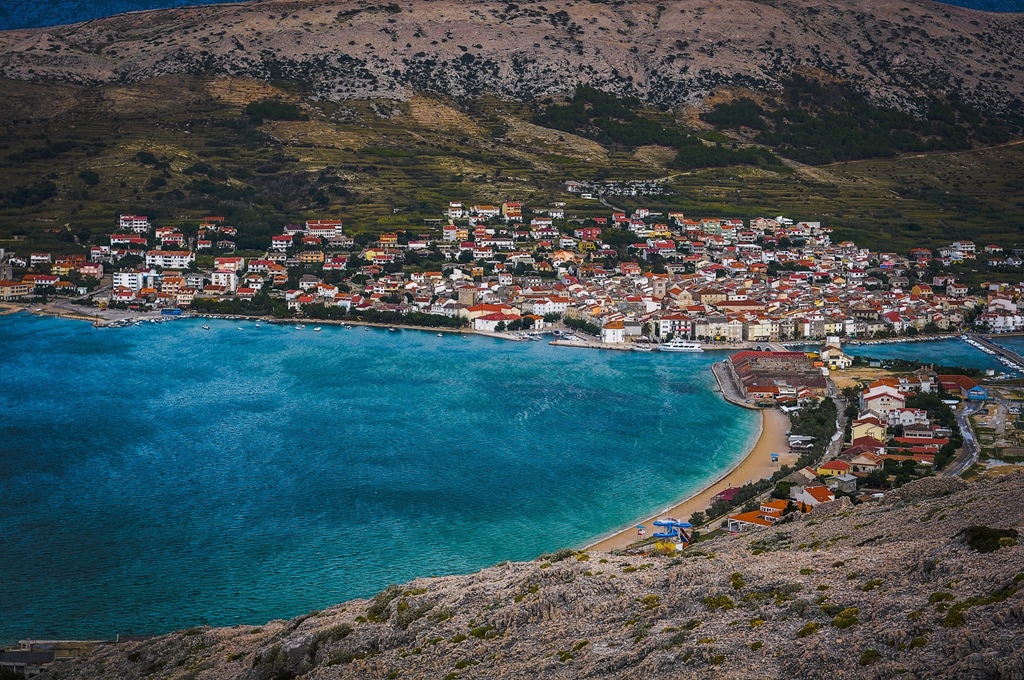 Island Pag
Pag Island is one of the top summer destinations when it comes to vacations in Croatia. Pag is located in the northern part of the Adriatic Sea and it is the fifth-largest Croatian island but it is the one which has the longest coastline, 269.2 km long to be precise. The last recorded number of Pag's population was in 2011 and there were a little over 9000 residents on the island. The two main towns on Pag are Pag Town and Novalja, but the island has a lot of small villages which turn into great tourist places during summer.
Pag Island is one of the top summer destinations when it comes to vacations in Croatia. Pag is located in the northern part of the Adriatic Sea and it is the fifth-largest Croatian island but it is the one which has the longest coastline, 269.2 km long to be precise. The last recorded number of Pag's population was in 2011 and there were a little over 9000 residents on the island. The two main towns on Pag are Pag Town and Novalja, but the island has a lot of small villages which turn into great tourist places during summer.
The two most popular products that Pag gave to Croatia (and the rest of the world) are Pag cheese and Pag lace. Pag cheese is a Croatian type of hard cheese made out of sheep milk and it is among the most famous artisan cheeses found in markets both inside and outside Croatia. Pag lace, on the other hand, is a type of unique lacework originating from Pag and in 2009 it was added to UNESCO's Intangible Cultural Heritage list.
If you plan to visit Pag, this guide will provide all the information you might need about this island such as what to visit, where to go out, which beach suits you best and other useful information which will make it easier to plan your stay on Pag.
Getting to Pag
In case you are coming to Pag in a car, no worries because the island is connected with the mainland by a bridge on the southeastern part of the island.
You can also get to Pag by bus from Zadar and Rijeka or even further destinations. 
Ferry to Pag
Pag has two ferry ports, one in Novalja and the other in Žigljen, on the other side of the island. Novalja port is suitable for those who will take the ferry from Rab or Rijeka while Žigljen port is the one from which ferries run to Prizna port, the Pag's closest point to the mainland.
Žigljen port
Žigljen is an uninhabited place on  Pag, located on the eastern part of the island and it serves as the main port on the island since it connects Pag with the mainland (Prizna port) by a car ferry. The route is operated by the Jadrolinija ferry company and the journey time is around 15 minutes. During the high season, there are 21 departures each day while in the low season there are only 12 departures daily.
List of ferry routes and tickets to and from Žigljen:
Car ferry: Žigljen (Pag) /Prizna (mainland)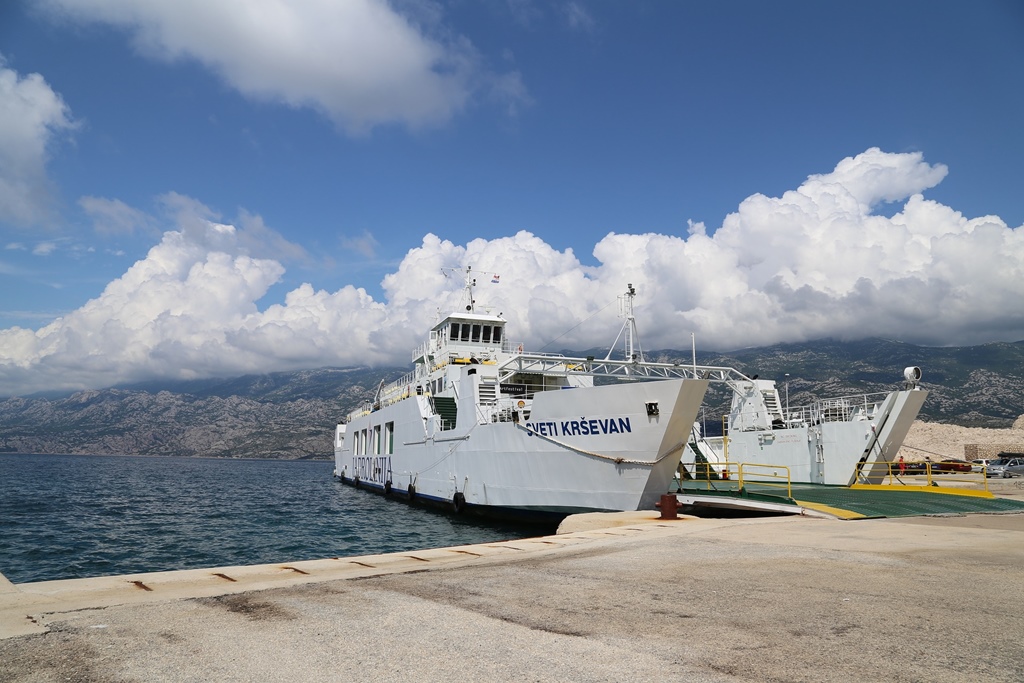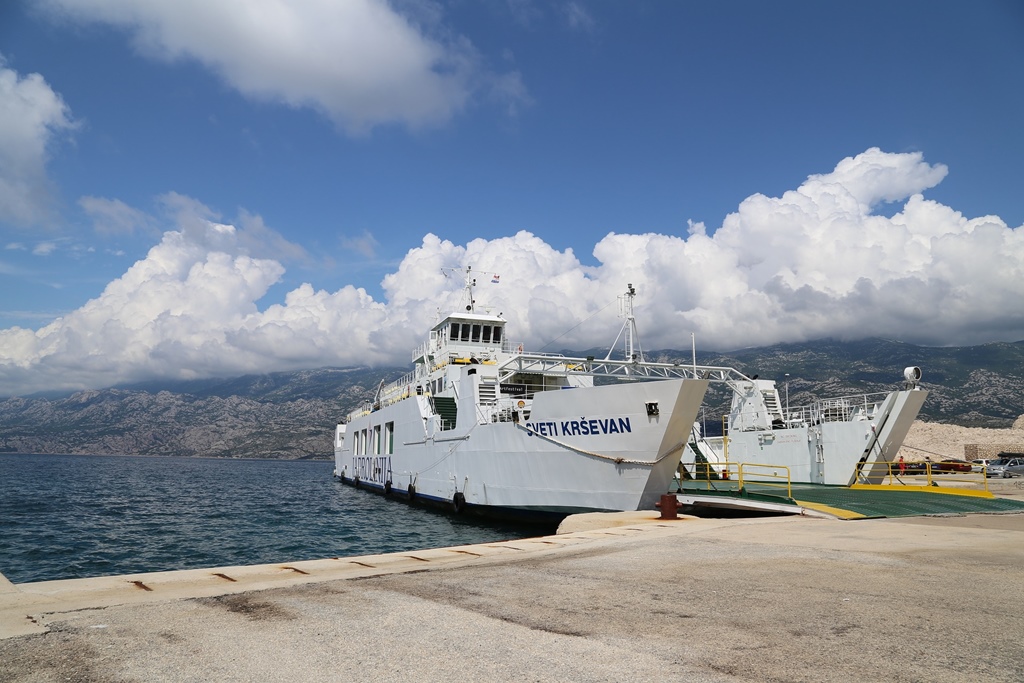 Novalja port
Port in Novalja is the other important port on Pag island and it currently has two regular catamaran routes to Rab and Rijeka, both operated by Jadrolinija. During summer there are 7 or 8 departures per day and 2 departures off-season. It takes 45 minutes to get to Rab and 2 hours and 40 minutes to Rijeka. It is not possible to board cars, but you can board your bicycle and your pets.
List of catamaran routes and tickets to and from Novalja:
Catamaran: Novalja (Pag) / Rab (Rab Town)
Catamaran: Novalja (Pag) / Rijeka
Getting to Pag from Rijeka and Zadar Airport
If you are coming to Pag from Rijeka Airport, first you need to go by shuttle bus to Rijeka which will take around 30 minutes. Once you get to Rijeka, you will need to walk additional 7 minutes to reach city port. To buy a ticket for the catamaran to Pag, you need to be in port at least 30 minutes before departure. Another possibility is to go by car (you can rent one here) directly from the airport and use Pag bridge to get on the island or you can board the car ferry at Prizna port.
If you are coming to Pag from Zadar Airport, the best option would be to first reach Zadar bus station and go by regular bus from Zadar to Pag. Travel time from Zadar to Pag Town is around 1 hour and to Novalja 1 hour and 30 minutes.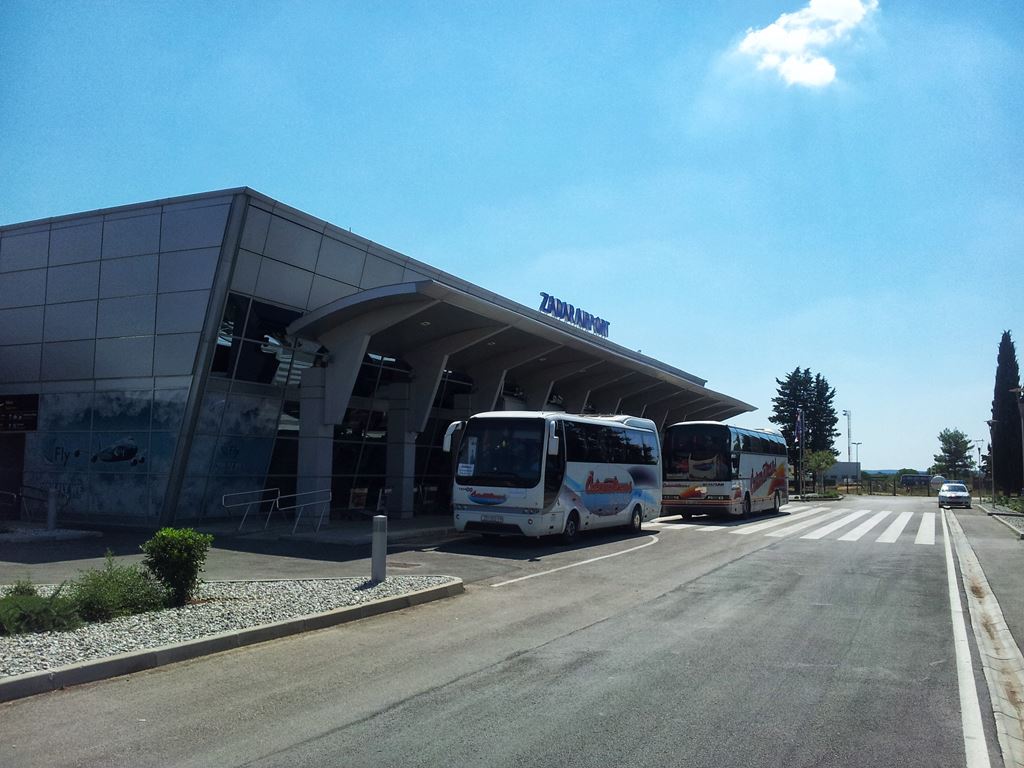 Getting around Pag Island
Villages and settlements on Pag are well connected between each other. Getting around the island is simple, especially during the summer months because the number of bus departures increases significantly. For more information on how to get around Pag click here.
Historical sights
Although there are not many historical sights and monuments on Pag Island, the ones that are there are definitely worth of visit. Visit the iconic 15th century Church of the Assumption in Pag Town which has a beautiful stone rose window which will remind you of Pag lace, the symbol of the island. Another church is the Church of St George, the town's patron saint. On the main square of Pag Town, you'll find the Rector's Palace which was once the residence of the Venetian Duke who governed the island.
Pag Lace Museum provides information about this unique traditional craft and you'll also be able to learn the basics of making the lace. The City Museum of Novalja offers exhibitions of local history on three floors. In the basement of the museum, you'll find a hydro-archaeological collection with amphora and ship's vessels from an antique merchant ship sunk in the bay of Vlaška mala. On the first floor is presented the art exhibition of various local artists and the second floor is dedicated to the ethnographic history of Pag (traditional costumes, etc.)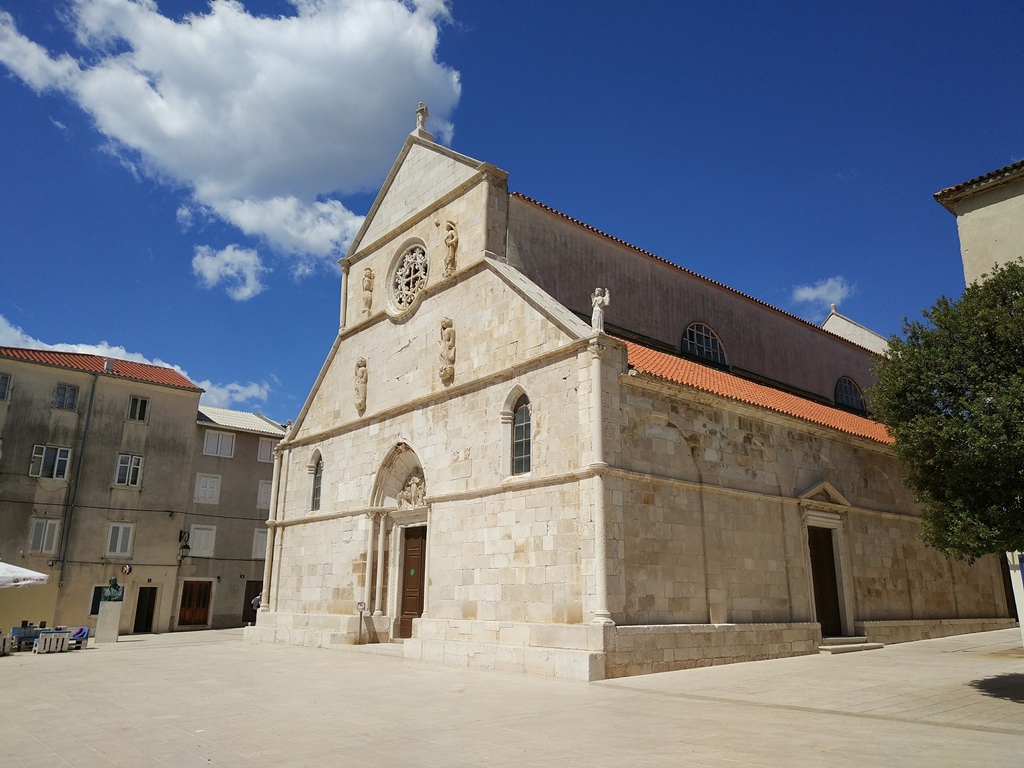 Top beaches on Pag Island
When it comes to beaches, Pag is the island with the sandiest beaches in Croatia, 27 kilometers of them to be precise (and that's only in the bay of Pag!). The outer parts of Pag Island have also many beautiful beaches, most of them pebbled. Here's the list of some of the most popular beaches on the island:
Zrće Beach, Novalja – Undoubtedly the most popular beach not only on Pag but in Croatia as well. Zrće Beach is mostly oriented towards partying so if you plan to go here with your family, we would not recommend it. Nonetheless, the beach is well equipped and clean. The beach has pebbles and you can rent sunbeds and parasols. Some of the best festivals held on Zrće Beach are Spring Break, Hideout and Fresh Island.
Prosika Beach – The main beach of the town of Pag and it's the nearest to the Old Town. The beach combines small pebbles and sand and it is suitable for families with children because it also has a lot of extra facilities such as slides for children, pedal boats and a playground. For adults, there's a possibility of renting a jet ski and in the vicinity of the beach, you'll find a beach volley court.
Čista beach, Kolan – This beach is located 5 kilometers from Novalja, near Kolan village. If you plan to go by car, you will find a parking lot by the beach, however, you will need to pay for it. By foot it's a bit more complicated since you need to climb uphill to reach it. The beach is pebbled and it's one of "the remote" beaches although in the season peak it can get crowded as town beaches as well. You'll find a nearby restaurant for a lunch or coffee break and you can also rent pedal boats.
Ručica Beach, Metajna – Ručica beach in Metajna is unlike any other beach on Pag. It's completely surrounded by untouched nature and there are no nearby facilities except a small bar and fast food. There is no vegetation on this beach which means that you need to bring a parasol and sunscreen to get protected from the sun. The beach is not too popular among tourists so you can enjoy the silence and peace on your vacation.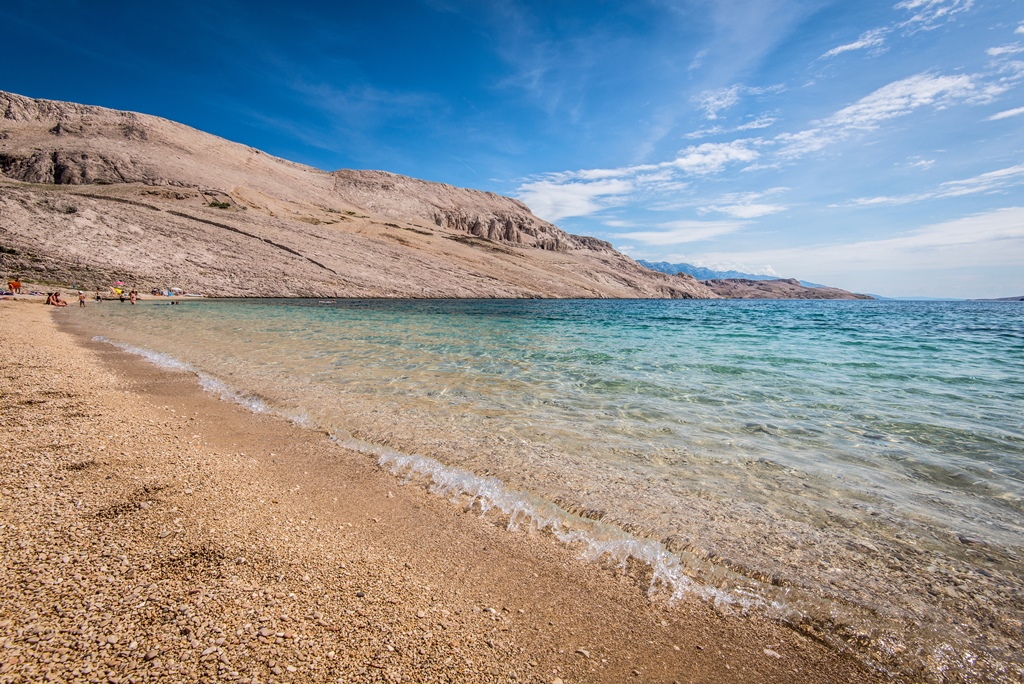 Vrtić Beach, Novalja – Located in the very heart of Novalja, this beach is ideal for those staying in Novalja because you can reach it by foot in no time. It's mostly visited by younger people who come here to hang out and chill at the beach bar. You have the possibility of renting a parasol and a beach volley court at your disposal.
Sveti Duh Beach, Mandre – 10 kilometers south of Novalja, along the main road on Pag, you'll find Sveti Duh beach. This beach is also a part of the homonymous camp. You can reach the beach by car and park it in the parking lot near the beach (needs to be paid for). Sveti Duh is ideal for families with small children because of the shallow sea. Make sure to bring a parasol and sun protection because there is no natural shade on the beach.
Trinčel Beach – This sand beach is located in Stara Novalja and it got awarded with a blue flag which symbolizes the high quality of service and sea cleanliness. The beach is very well equipped with facilities like public toilets, changerooms, beach bar, restaurant and fast food. You can rent sunbeds and parasols, play volleyball, or use sea slide.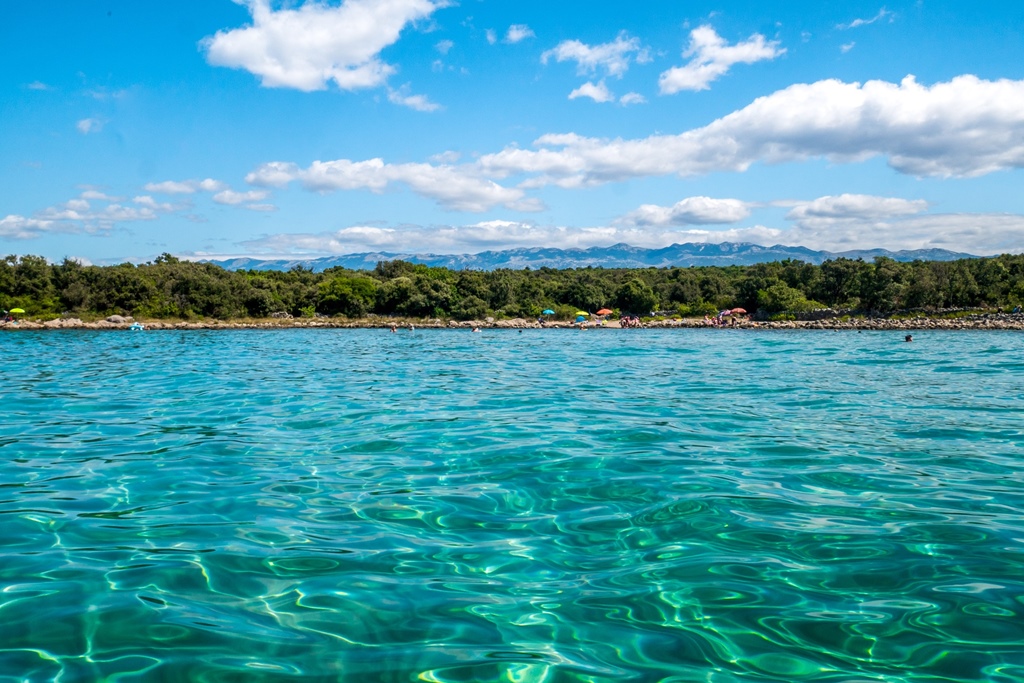 Camping on Pag
Camping on Pag Island is very common and it is getting more popular each year because the prices of private apartments are too high for the visitors. Below listed are just some of the campsites you can use. You can either just pitch tents, pitch campers, rent mobile homes, bungalows or even go "glamping"!
Camping Šimuni – One of the most popular campsites on Pag. It offers different options of accommodation. Besides the classic camping pitches for tents, caravans and campers, you also have the possibility of renting bungalows and mobile homes which can accommodate up to 6 people.
Camping Straško – Located 2 kilometers from the center of Novalja, this campsite offers the possibility of "glamping". Glamping is a luxurious form of camping which means that you have all the amenities and facilities found in the regular type of accommodation but combined under a huge tent. They offer glamping tents for 2,4 and 6 people and prices vary during the season so if you want to experience luxurious nights under the stars, then you should book a tent in pre or postseason when the prices are significantly lower.
Autocamp Dražica – Campsite Dražica is located on the north-western side of Pag Island and it is named after the homonymous bay. Although not as classy as the previous two campsites, this camp gives you the possibility to connect more with nature. Dražica offers to its guest's bathrooms with showers and sinks, toilettes, electrical outlets at the camper pitches, a boat ramp and a possibility to moor your boat in the sea. Within the camp Dražica, it is possible to rent a scooter, paddle boats and kayaks.
Family camp AS Mandre – Owned by a local family, this camp is significantly smaller than the other ones and perfect for a larger family with children. With only 4 parcels for tents and 1 mobile home, family camp AS Mandre will give you a more intimate atmosphere.
Other popular campsites on Pag Island are Camp Mali Dubrovnik, Camp Porat and Camp Sveti Duh, which also offer tent pitches, mobile homes and bathroom facilities.
Cycling & hiking on Pag
Pag is a perfect island for all who like active holidays. Bike routes on the island are well marked and there are more 120 kilometers of cycling paths that offer amazing views of the wild rocky terrains and green woods. One of the most popular cycling routes on Bikemap is the one that starts from Pag Town to Gorica and then goes back to Pag Town but along the salt pools, the island trademark. The entire path is in the sun so make sure to bring plenty of water and a good sunblock.
Other possible cycling routes on the island of Pag are:
Cycling route – Novalja – Lun – 52 km (easy/moderate)
Cycling route – Novalja – Pag – Košljun – 69 km (hard)
Cycling route – Novalja – Sveti Vid – Mandre – 51 km (hard)
Cycling route – Novalja – Stara Novalja – Metajna – 53 km (moderate)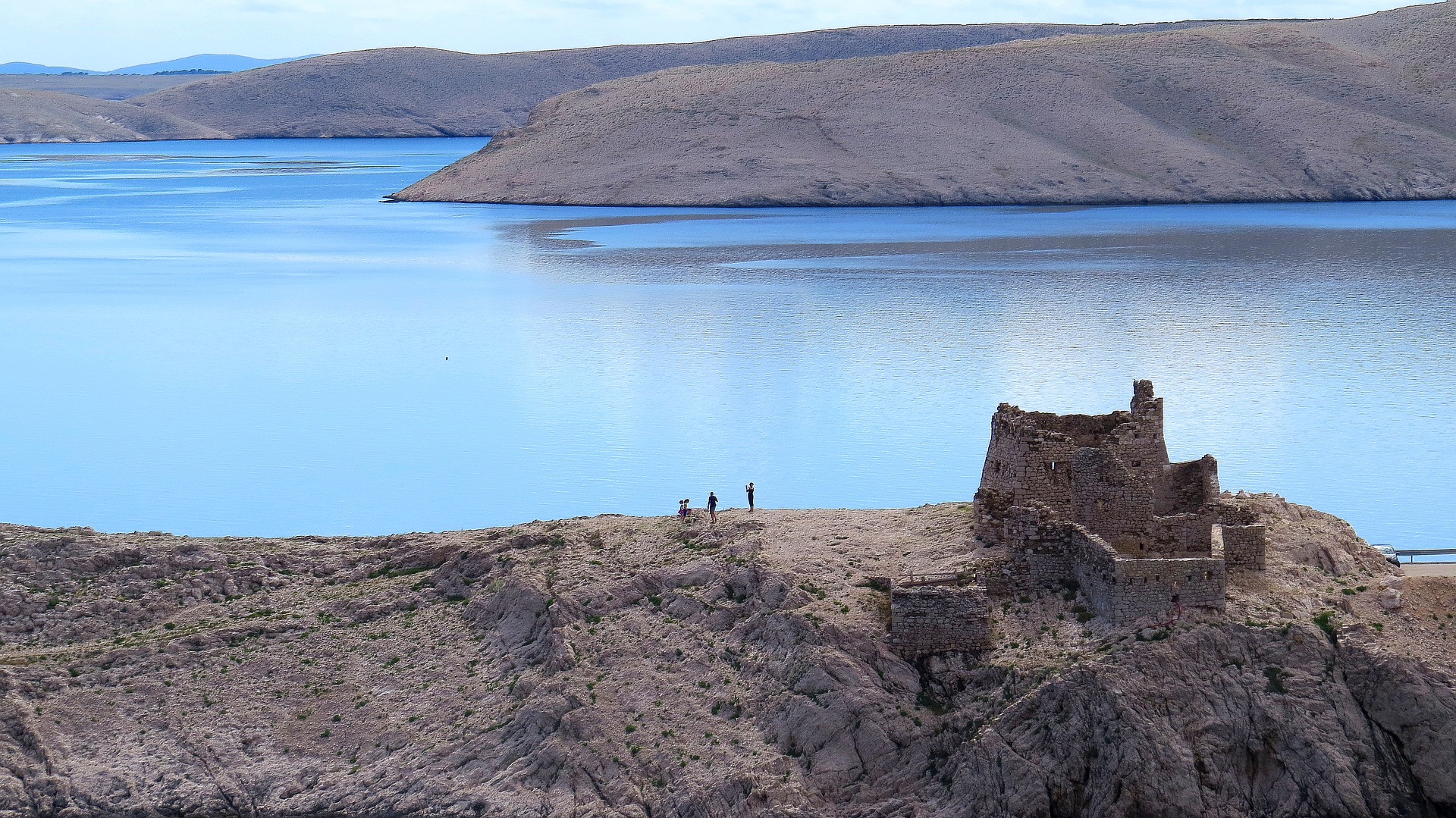 For more information about the cycling routes find here.
If you are more into hiking – no worries, Pag is great for that too. As soon as you pass Pag Bridge you will see a rocky, almost desert-like landscape. It might look unusual for an island in the Adriatic Sea but it's like that to the strong "bura" wind which blows from the mountains on the mainland. You can hike up to St. Vid peak situated at 348 meters above sea level. St. Vid is the highest peak of the island of Pag and is situated directly above Pag Bay. The views from St. Vid are amazing because you get to see the majority of the island's places (Pag, Kolan, Šimuni, Košljun,…), as well as neighboring islands (Rab, Mali Lošinj, Silba, Olib, Maun, …). Numerous Velebit peaks on the mainland are also visible from St. Vid.
The nearest starting point is from the asphalt road between Šimuni and Kolan, in the Draga area (**blue hikers icon in the map below). From there you need to follow macadam road with your car for another 750m. Have in mind that if you choose to drive on the macadam road, the road is very narrow and there's a place on the road just for one vehicle.
GOOD TO KNOW:
Make sure to wear proper footwear because the terrain is very rocky and rugged.
There's a possibility of bumping into sand viper (a common snake species found on the Balkans), especially on the eastern side of the peak, so be careful.
There are no facilities on the way to the peak, so you need to bring plenty of water and in case of sudden rain, the only shelter found are the ruins of an old church.
Sunscreen is also very important, otherwise, you might get sunstroke.
Snorkeling & diving on Pag
Pag Island has a rich underwater life which encourages more people every year to explore the amazing Adriatic Sea. That's why there are several diving centers on the island that offer this unique experience. Scuba Pag Center offers different diving excursions and equipment rental. They also offer the possibility of night diving, so if you are feeling particularly adventurous, then you should definitely give it a try! Aquamatic Diving Center besides diving also offers accommodation, boat trips and snorkeling for those who aren't really fond of diving. Either way, the fun is guaranteed! The optimal time of year for scuba diving and snorkeling on Pag is between May and October when the sea is calm and weather conditions perfect.
Festivals on Pag Island
No other island in Croatia has this many festivals in one place as Pag does. During summer, Zrće Beach in Novalja becomes the main venue of all happenings. Hosted by Aquarius, Noa, Kalypso and Papaya, the summer festivals on Pag gather some of the most notable DJs. The season usually opens with the classic Zrce Spring Break Europe. In 2019 it will celebrate its 10th anniversary so you definitely shouldn't miss this festival.
Five open-air venues host the weeklong party for Hideout Festival. The festival offers chill cocktail parties during the daytime, wild parties in the night rolling through to the early hours of the morning. All of this, plus their famous boat parties, pool parties and beach parties will surely win you over.
Besides electronic music, Zrce hosts excellent hip-hop & R'n'B parties which can be experienced at Fresh Island Festival. Some of the artists who have performed at Fresh Island are Wiz Khalifa, Migos, A$AP Rocky, Rae Sremmurd and Snoop Dogg. The festival is held every year since 2012 and it offers to the visitors 2 open-air super clubs, 5 boat parties, 2 stages + 2 pools and special beach activities. Sound exciting, right?
Area 4 Festival is yet another electronic festival but symbolically offers 4 open-air clubs for 4 days all day and night long. It's a relatively "young" festival since it debuted in 2017 so it is among the "cheaper" festivals on Pag.
If these four festivals are not enough for you, make sure to check out Black Sheep Festival, Barrakud Festival and Sonus Festival as well.
Pag nightlife
When it comes to wild parties and exciting nightlife, there's no doubt – Pag is the best island in Croatia if you are looking for 24/7 top-quality partying! After all, it got the envious title of "Croatian Ibiza" because it attracts so many young tourists every summer. In fact, Zrće Beach itself has five open-air clubs where you will find the center of all nightlife in Pag. Aquarius, Noa, Kalypso, Papaya and Euphoria are open only during the summer season but there are parties literally every day. During the day they are beach bars where you can have cocktail parties under the sun and in the evening the light show begins, followed by foam and electronic music until the morning. Kalypso Club, for example, has a massive open-air dance floor and a pool area where you can chill during the day and relax. Also, it is one of the oldest nightclubs in Croatia since it was opened in 1987, back then being the first beach bar in Croatia! Also, Pag can be proud of the fact that three of its clubs are listed on DJ Mag's Top 100 Clubs list for 2018 (some of them several years in a row!). Kalypso is at 33rd place, Aquarius is 25th and Papaya is positioned at high 6th place!
Besides clubs and bars on Zrće, you'll find the popular Kokopelli Beach Bar in Šimuni, a genuine beach bar that gives you a tropical, relaxed vibe. Don't miss to try their praised mojito! Big Yellow House Bar in Novalja is a favorite gathering point for all backpackers who come to Novalja. Since it is a part of the homonymous hostel, you can mostly expect their guests to be there. BYH is a perfect choice if you prefer to meet and chat with new people instead of wild parties on Zrće.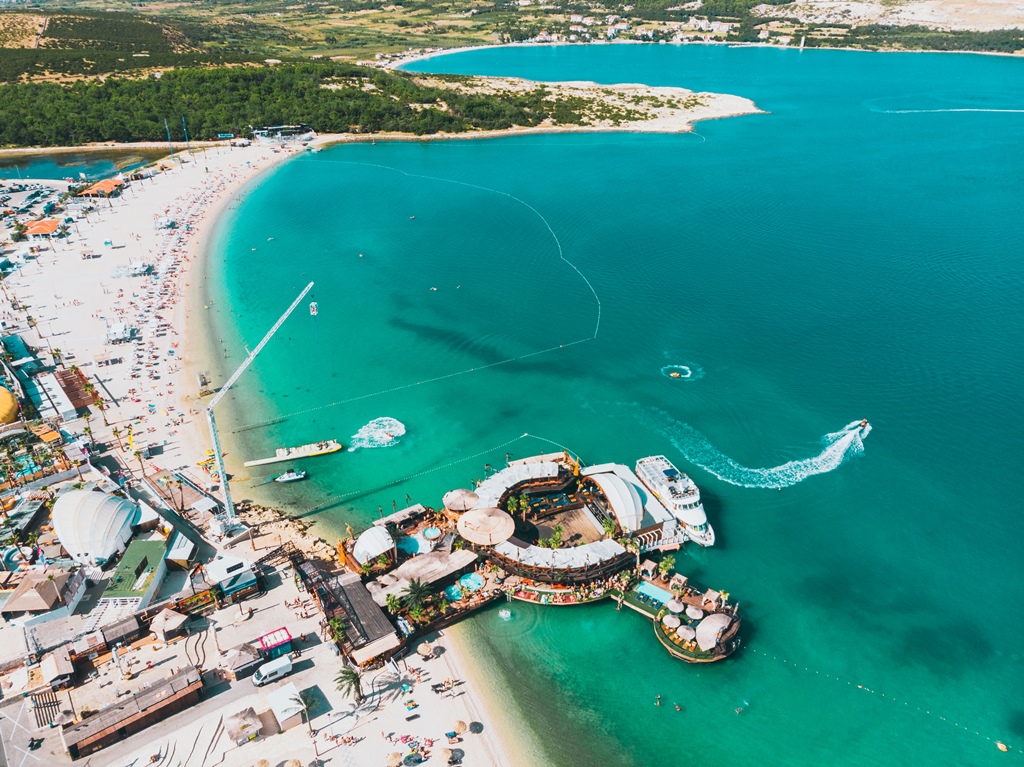 Food & supplies
The two things that you absolutely must try while staying on Pag are Pag cheese and lamb. The best Pag cheese can be bought in Gligora Cheese&Deli factory. It is the most notable cheese factory in Croatia, owned by the Gligora family which has been producing high-quality sheep cheese for several decades now. They even got an award for the best cheese in the world (three times in a row)! If you want to get yourself a "cheese souvenir" to take home to your family and friends, you can do it in their shop in Kolan or order from their webshop.
Restaurant Sidro offers Pag lamb and cheese and a wide variety of sea dishes such as octopus under "peka" and grilled squids while having the best view of the nearby beach. Na Tale Restaurant is located in the very center of Pag Town, next to the town walls. The restaurant offers a variety of international and traditional Croatian dishes. Locals will recommend prosciutto, Pag cheese, lamb, first-class grilled fish and local wines such as rozeta, gegić and žutica. To try the best combination of wine and cheese, definitely pay a visit to Trapula Wine&Cheese Bar located in the center of Pag Town.
To get supplies or do some grocery shopping, you can visit Konzum, Plodine and Shopping center Lorenco in Pag, another Konzum in Kolan (where Gligora cheese factory is located).

ATMs & exchange offices
The official currency in Croatia is Croatian Kuna so keep that in mind. Make sure to exchange money prior to your trip or if you plan to do it in Croatia, then look for those exchange offices which have a sign "no commission". Also, the optimal exchange rate would be €1 = 7.3. Anything lower than that is not a good rate. In smaller touristy places you can come across shops that do not accept credit cards so it is advisable to always have some cash on you.
Some restaurants and bars may accept credit cards and all major supermarkets will accept them as well. The banks' working hours may vary during the summer season, but we advise you to go there in the morning should you need to solve any issues. Keep in mind that during weekends and national holidays banks are usually closed. You'll find ATMs in Pag towns and villages like Pag Town, Novalja and Mandre.
NOTE: Always pick ATMs of local banks as they give the best exchange rates.  Foreign ATMs and those which offer withdrawal of other currencies will charge a higher commission than the local ATMs.
Emergency contact info
Should you need any kind of immediate assistance, whether it is urgent medical assistance, police, fire department, mountain rescue service or any other type of assistance at any time of day or night regardless of your location in Croatia, you can dial the free-toll number 112.
If you need medical assistance in particular you can go to an ambulance in Novalja, Pag and Povljana:
Novalja Health Center: Špital 1, +385 (0)53 661 367
Pag Health Center: Prosika 7 – +385 (0)23 611 006
Povljana Health Center: Ante Starčevića 35, +385(0)23 692 069
In case you need to buy medicine or a first aid kit, you can find all of that in the following pharmacies:
Pharmacy Novalja: Dalmatinska 1, +385 (0)53 661 370
Pharmacy Butković, Pag: Stjepana Radića 2, 23250 Pag, +385 (0)23 611 043
Pharmacy Povljana: Ante Starčevića 2, +385(0) 23 692 913
All information for visitors and information about the island can be found in tourist board offices in:
Veterinary assistance for your pets can be found in Veterinary Station in Pag Town (Splitska 20, 23250 Pag).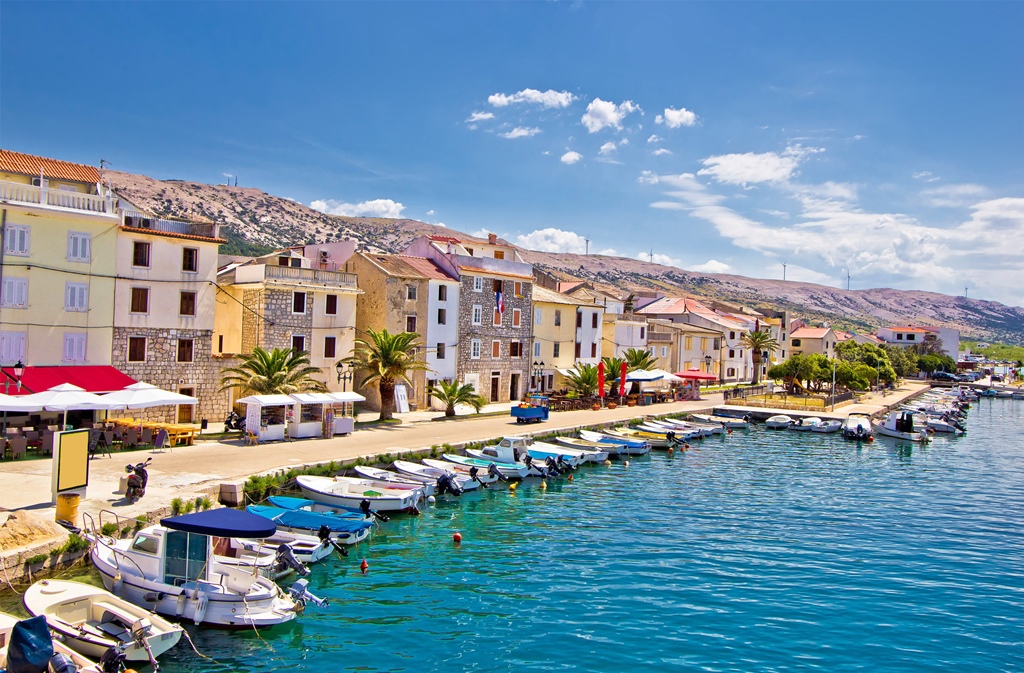 FAQ – Pag Island
Can I bring my bicycle on the catamaran or ferry?
Passengers are allowed to bring their bicycles only on ferry lines (from Prizna port) but they will have to pay around 50kn (~7€) of an additional fee. Bicycles on catamaran lines are generally not accepted as there is not enough space. If you are traveling off-season when there is not many passengers on catamaran lines, the boat crew might allow you to bring your bicycle.
Can I buy/reserve a ticket for a specific departure?
In the case of the catamaran, you can buy a ticket for a specific departure. If you are taking a car ferry you can buy a ticket for a specific travel date, but not for a specific departure time.
Can I bring my dog on the ferry/catamaran?
Passengers are not allowed to bring their pets on catamarans. On the car ferries, the passengers can bring their pets as long as they don't take them into the closed areas where passengers are sitting.
How much luggage can I bring?
You can bring up to 100 kg on car ferries and up to 20 kg on catamarans but no one really checks that since they don't weigh the luggage on board so it's no problem if you bring a bit more.
Which airport should I fly to if I want to go to Pag?
You can either fly to Zadar Airport or Rijeka Airport because both cities have ferry/catamaran connections to Pag and you can also go to Pag by car since it is connected to the mainland by a bridge.
How far is Pag from Zadar Airport/Rijeka Airport?
From Zadar Airport there are shuttle buses which will take you directly to the bus station in Zadar (~15-20 minutes) and the trip from Zadar to Pag usually takes around 1 hour. If you are flying to Rijeka, you can either take a catamaran to Novalja or go by bus, whichever option suits you the best. From Rijeka to Pag it takes around 3 hours and 30 minutes by bus and if you prefer to enjoy the views of islands and sea, then the journey will take around 2 hours and 40 minutes.
When is the best time to visit Pag?
The best time to visit Pag is undoubtedly the summer because there are so many activities to choose from – swimming, hiking, cycling, exploring the island, etc. There are events and concerts almost every day and the club and party is probably the best one you'll find in Croatia. If you do not prefer crowds, then we advise visiting the island either in the pre-season or post-season, in other words, either during April and May or September and October. The temperatures are still very high (around 25 degrees during the day) plus the prices are much lower.