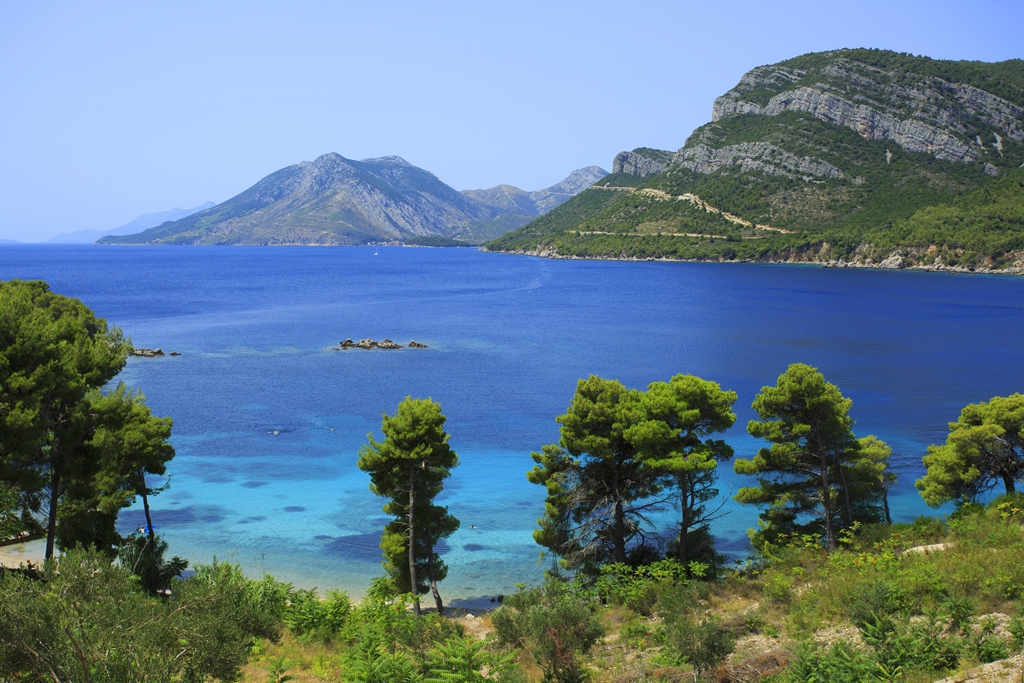 Peninsula Peljesac
Peljesac is Croatia's second biggest peninsula and it is situated in southern Dalmatia. The peninsula is part of Dubrovnik-Neretva County and it is 65 km (40 miles) long. Throughout history Peljesac had different names, such as Stonski Rat, Puncta Stagni, Ponta di Stagno or Sabbioncello.
Peljesac is separated from the Klek peninsula (Bosnia and Herzegovina) and from the Croatian mainland territory by the Bay of Mali Ston. The Strait of Peljesac is at the peninsula's far western end, thus dividing Pelješac from the island of Korčula.
Peljesac weather
The island is known for its mild Mediterranean climate with hot, warm summers full of clear and peaceful days, while winters are gentle and humid. The air temperature is relatively high throughout the year (26°C), only in January and February the temperature might fall under 10°C. The highest precipitation occurs in October and March, and lowest during July and August. Pelješac has approximately 2620 sunny hours per year. The northeastern parts of Peljesac are colder and more dry because they are under the influence of the wind, while the southwest is warmer and more humid.
If you are planning a trip to Peljesac, this guide will give you all the necessary information regarding the island, its beaches, party places, travel information and of other important things to do during your stay.
Getting to Pelješac
There are several ways of reaching the Peljesac peninsula: by car, bus and ferry. Please note, several of the connections listed below only operate in the summer season, click on the links below to check each timetable.
By plane
There are no direct flights to the peninsula, but the nearest airport is Dubrovnik airport. From there, you can book a private transfer to Peljesac.
By car
When arriving from the north, drive towards Ploce (Neretva valley), from where you can either take a car ferry to Trpanj or take the coastal path through Neum and Ston.
NOTE: Neum is in Bosnia and Herzegovina, therefore this path includes border crossing.
The best way to drive from Zagreb to Ploce is by the A1 motorway from Zagreb to Sestanovac (near Makarska), and then proceeding by coastal Jadran tourist road through Makarska, direction Ploce.
Alternatively, you can take the local roads, among which there are the following routes:
Zagreb – Karlovac – Plitvice – Gračac – Knin – Sinj – Split – Makarska – Ploce
or
Zagreb – Karlovac – Plitvice – Gracac – Knin – Sinj – Trilj – Cista Provo – Sestanovac – Dubci – Makarska – Ploce
By bus
There are bus departures from Zagreb to Orebic (Peljesac). The journey takes approximately 10h. You can reach the village from other Croatian cities like Split or Dubrovnik, and from Sarajevo (BiH) as well.
By ferry
Ferry routes to and from Orebic are served by KTD Bilan and Jadrolinija, going to the island of Korcula. In the high season there are over 30 journeys per day. In the low season there are approximately 20 journeys per day. Journey times are 15 – 20 minutes. There are 2 ferry routes passing through the port of Orebic; 1 accepts cars, both accept bicycles and both accept pets on board.
Getting around Pelješac
Peljesac is a peninsula with lots of small, historical places, and therefore transportation means are appropriately humble.
Public transport
Because the buses don't run as frequently, and are subject to change, the best option would be to get to Ston, Orebic or Trpanj and then check your further options there. Also, if you want to do a tour around the peninsula without a car, it is pretty much impossible, so it might be better to rent a car, or, for larger groups of passengers, rent a bus. That way you can explore the area on your own and you don't have to depend on public transport.
Taxi
You can find several taxi companies around Peljesac, and it is also possible to get an Uber or Bolt taxi. During the summer the fees are a bit higher but it all depends on where you're going. Keep in mind that the taximeter in the taxi should be on when you start your ride.
Car
Getting around Peljesac with a car shouldn't represent any problems, since the roads are mostly in good condition and the road signs are standardized.
On foot
Because all towns of the peninsula are quite small, it is quite easy to explore them on foot. Wandering around cobbled alleys of the historical centers is probably the most interesting way to get to know the history and see the beauty of these enchanting towns.
Historical sights
Ston & Mali Ston
Ston is famous for its salt production and therefore, one of the attractions in this town is a salt mine. This industry dates back around 4000 years and saltpans of Ston are still operating. To find out exactly what it is, you can even apply for the summer camp that runs between mid July and September.
When going to Ston, you definitely have to visit the fortification walls. They were built in the 14th century to protect the town's saltpans because, back then, salt was almost as valuable as gold. The walls extend to Mali Ston, they are around 5.5 kilometers long which makes them the longest fortification walls in Europe.
Mali Ston is primarily famous for oysters. This delicacy is so common here that oysters are sold on the market just like any other fish, fruit or veggies. The biggest sight in this small place is the Koruna Fortress. It was built in the 14th century and it has 5 towers overlooking the sea, so bring your camera because you will want to capture that amazing view.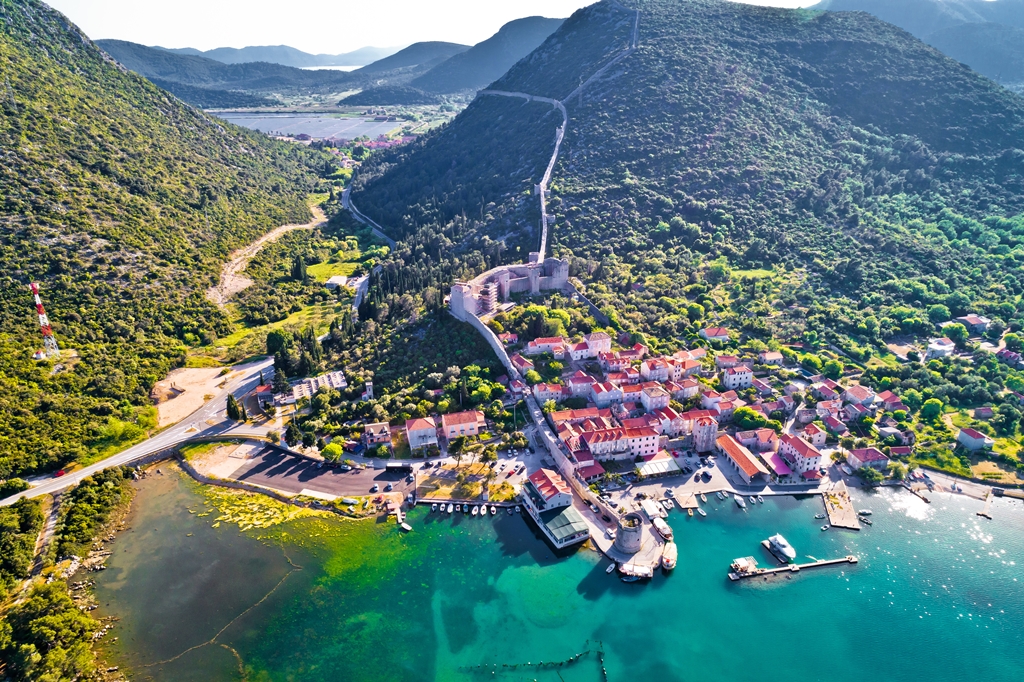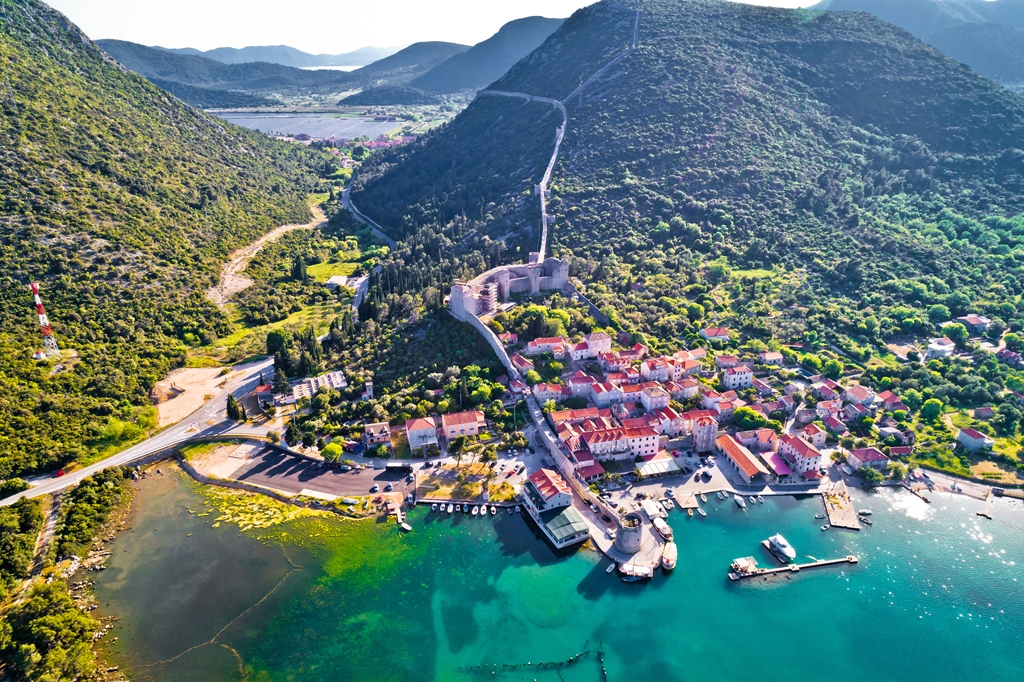 Orebic
Orebic is a small place with great historical heritage. The Franciscan Monastery dating back to the 15th century is situated only about 2 kilometers from the town and it contains a large collection of various works of art. Be sure to also check out the Our Lady of the Angels monastery and the maritime museum. There are also 7 neo-Renaissance fountains scattered throughout the town.
This peninsula is a real treat for all winelovers. It is famous for its many vineyards and the production of some of the best red wines in Croatia (Dingac, Postup, Plavac). Some of the most famous wineries are Matusko Winery in Potomje and Grgic Winery in Trstenik.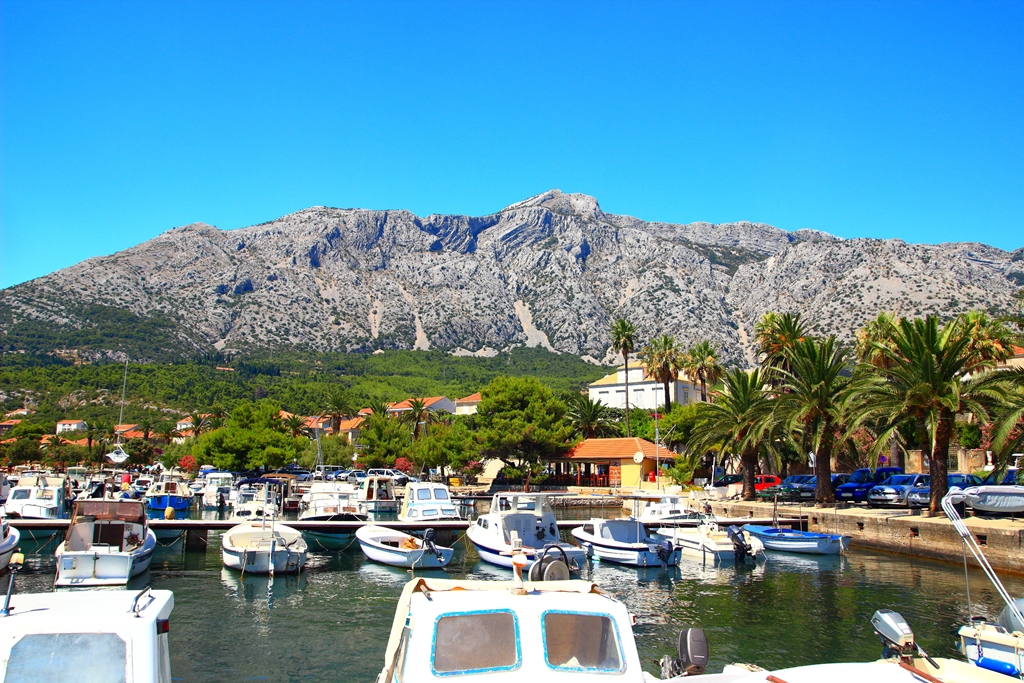 Top beaches on Peljesac
Peljesac is full of untouched beautiful nature and surrounded by a magnificent crystal-clear sea. It offers a great variety of beaches, from the 'wild' ones to the concrete and pebble ones, there is something for everyone.
Punta and Perna, both close to Viganj and only 2 kilometers apart, are family beaches. When it's windy, they are occupied with lots of wind and kite surfers. During the day they are perfect for relaxing and swimming, and during the night they are a great choice if you want to take a nice walk along the seashore.
Mokalo beach is a small beach located only about 3 kilometers from Orebic. The surrounding pine trees and tamarinds contribute to its tranquil and relaxing ambience. In addition to that, it is said that the prettiest sundowns are portrayed on this beach.
Trstenica is the most popular beach in Orebic. It is a sandy beach around 2 kilometers long and it is also a favourite beach of all families because of the shallow sea. If you want a bit of extra comfort, there are many sunbeds and parasols available for rent. After swimming and sunbathing, you can visit one of the beach bars for a refreshing beverage.
Divna beach meaning 'lovely beach' is indeed lovely. The shade is provided by green pine trees that complement the blue sea whose beauty extends all the way to the mountains across the beach. This amazing pebble beach is also adored by many campers not only because it is so pretty, but also because it is easily reached by car.
Prapratno beach is thought to be one of the most beautiful beaches on Adriatic. It is a sandy beach located around 6 kilometers from Ston. In case you wish to escape the heat for a bit, the surrounding pine and olive trees will make the perfect shelter from the sun and the beach bars and restaurants nearby will make sure that you can refresh yourself with a nice drink at any moment.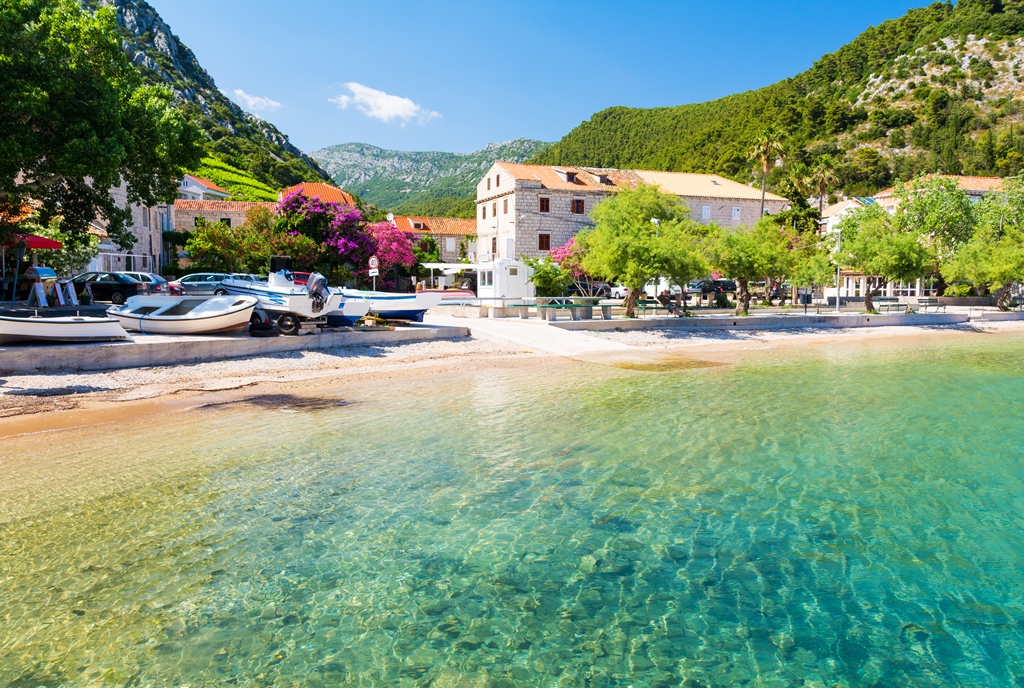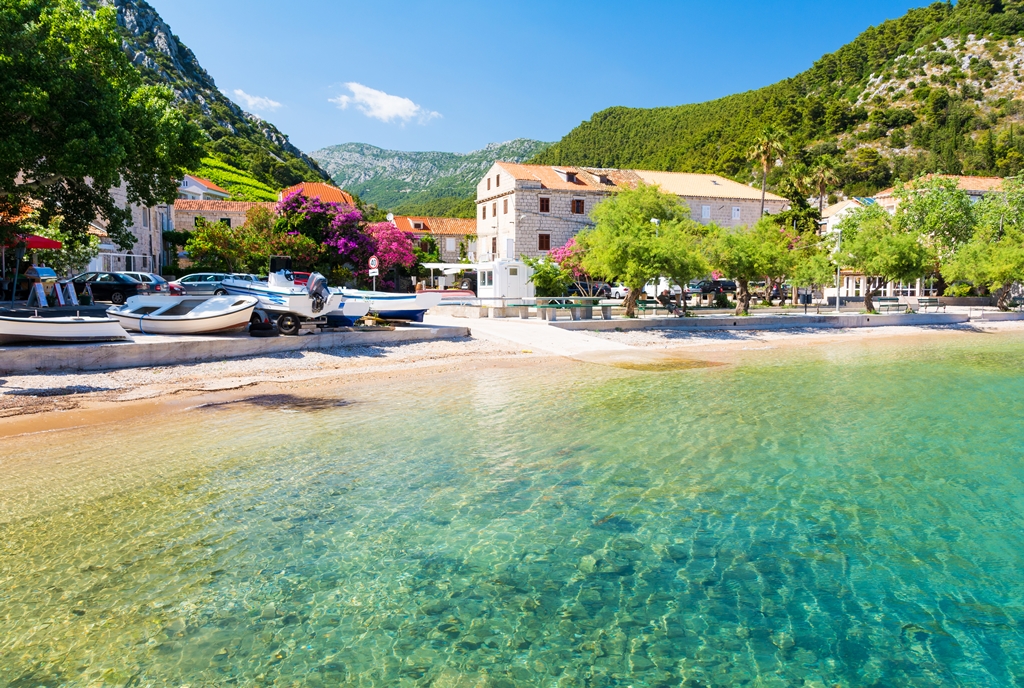 Camping on Peljesac
Picture this: you are sipping on a drink while reading a book and swinging in the hammock, the surrounding trees are providing a perfect shade with a glimpse of a few mischievous Sun rays, you can hear the waves bending over the rocks as the birds twitter a beautiful melody…
If you were thinking about camping on Peljesac, we hope that now you've made a decision.
However, wild camping is illegal so you should check out some of the popular campsites on the peninsula.
There are several campsites on the peninsula out of which the most popular are: Nevio Camping and Camping Lavanda in Orebic, Maestral Camping in Viganj and Camp Lupis in Loviste.
All of them are pet-friendly and they all offer various accommodation options and services to make sure you'll have a perfect holiday!
Activities on Peljesac
Peljesac has a lot to offer and it is all thanks to its magnificent unspoilt nature, beautiful azure sea, sunny weather and perfect climate, so exploring the peninsula through its nature is probably the best way.
Peljesac is a great choice for active holidays as it has many great hiking trails but it is also great for climbing and mountaineering.
The most famous hiking trail, offering some of the most amazing views, is on the Sveti Ilija Mountain (St Elias), the highest peak of the Peljesac peninsula which is also a perfect choice for climbing and mountaineering.
NOTE: Before climbing the mountain consult with someone experienced who can explain the road and possible difficulties. Make sure you bring enough water and that you're wearing proper clothing and shoes.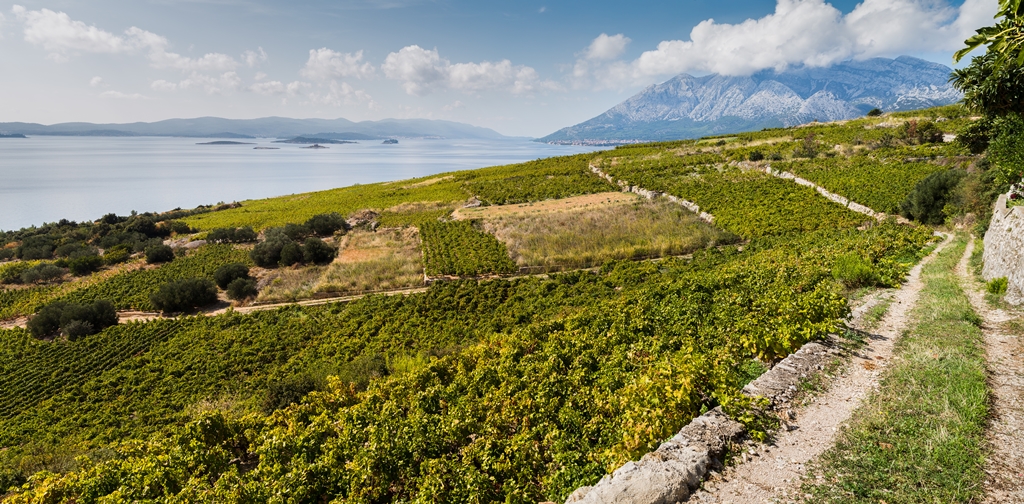 Water sports on Peljesac

All surflovers should definitely visit Viganj and Kuciste, small towns where surfing conditions are great throughout the whole year. Each year they are visited by more and more professional and recreational surfers so even if you decide to stay on the beach and simply observe how they master the waves, you will have a lot of fun because they create incredible scenes.
As mentioned before, wind-surfing and kite-surfing are two of the favourite water sports on the peninsula, especially on Punta and Perna beaches.
Another fun activity is snorkeling and the best thing about snorkeling is that it doesn't require a lot of preparation and physical effort so pretty much everyone can easily do it! Because it is overall less demanding than scuba diving, the equipment can be rented at the beach or you can buy it from the stores and stands in the main towns.
If, however, you want to go scuba diving we recommend booking a dive with a scuba diving centre, primarily because of safety, but also because they will know the most interesting places to explore. For now there is only one centre in Orebic called Adriatic.
Events on Peljesac

There are numerous events throughout the year all over Peljesac, especially in the summer, with August being the busiest month.
From various town festivals to different food and wine festivals, folk nights and even a windsurfing competition, whenever you decide to visit Peljesac there will be a number of events for you to choose from.
Maritime festival is traditionally held in Orebic every year from June to August and it includes lots of food and different traditional activities. It is a perfect chance to get to know old Dalmatian customs a bit more.
Fishermen's festival in a small place called Janjina is a great opportunity to see how locals have fun, but also to eat some of the freshly caught fish, drink some of the best local wine
and listen to Dalmatian music. The festival is usually held in July and August.
Folk evenings in Orebic are quite frequent, they are held every third Sunday in May, June, July and September. Here you can get to know the Dalmatian historical and cultural heritage as the locals dance kolo (the traditional dance) to Dalmatian a capella songs while wearing authentic Croatian folklore outfits.
Summer carnival in Ston is held every Saturday in August on the main square and it includes all-night festivities which means the party doesn't stop until the early morning. Get creative, put on a mask and join the party!
Peljesac nightlife
Peljesac is not known for crazy parties and a 'wild' nightlife so there's no surprise it only has two clubs. However, there are a lot of beach bars and local cafes that make a great alternative so you don't have to worry you'll be bored at any time of the day.
Araus is a nightclub located in the woods, very close to the beach in Trpanj. The club does not have parking spots for cars nearby, but it does provide parking for bikes and boats. It is easily reached on foot from the city beach. The club is open from 22:00 until 05:00 and the music genres are different each day of the week.
Hookah bar in Orebic is a perfect place for a night out with your friends. During the day it is a beach bar with a relaxing atmosphere and after 22:00 it turns into a club. The club offers a wide selection of cocktails and shots and different events are organised almost every night. It can easily be reached on foot, by car or by boat and there's even an official Hookah Speed boat for VIP guests (table reservation required) as well as regular guests.
Other than beach bars, all smaller places on the peninsula have bars and cafes where you can meet the locals and see how they like to have fun and party. Most bars and cafes work till late so the fun is guaranteed.
Food and supplies
There are no big cities on Peljesac, but you will find everything you need in bigger towns such as Ston and Orebic. You will have a few supermarkets, bakeries, pharmacies, souvenir shops and green markets at your disposal. If, however, you'll be staying in one of the smaller places, it would be good to go shopping before you get there. Although pretty much every place on Peljesac has a shop, their offer is usually poorer so it's better to get there prepared.
There are many restaurants all over the peninsula and they all offer fresh homemade Dalmatian delicacies.
Peljesac is best known for oysters which are often eaten raw with a squeeze of lemon. However, all restaurants offer various oyster dishes, as well as other kinds of white fish which is the base of Dalmatian cuisine.
If you get the chance, you should definitely try meat or fish made under peka. Peka is a round iron lid placed over a pan filled with food (traditionally veal or lamb and potatoes) and then covered in hot charcoal. This way the food is left to cook for several hours, resulting in a delicious blend of aromas and flavours.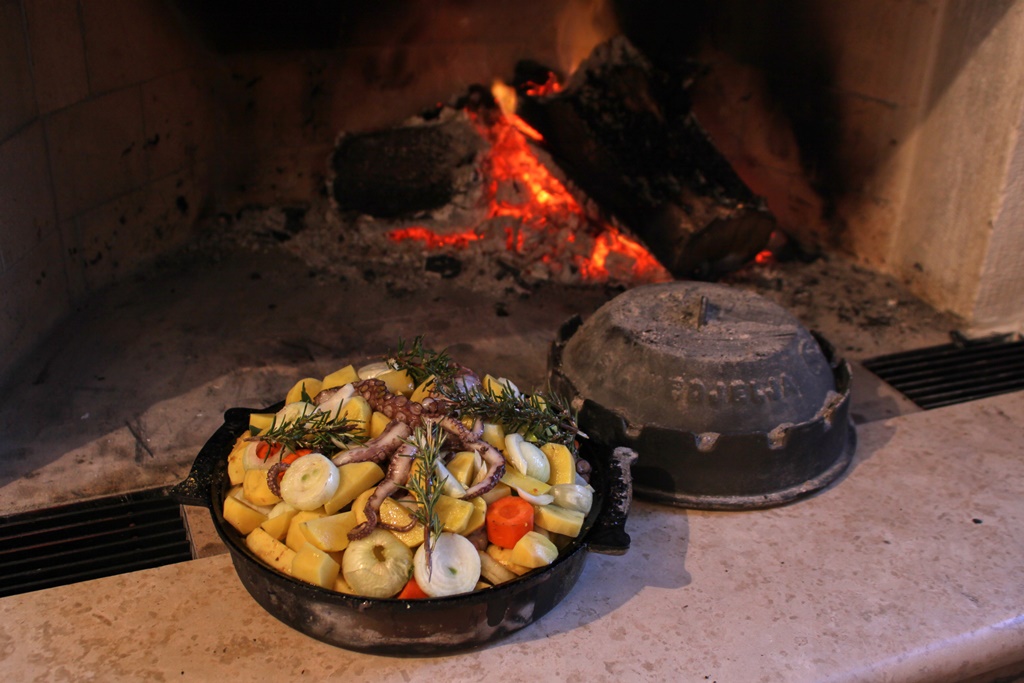 Stonska torta (Ston cake) is a signature pastry of Ston and nobody can make it as good as the locals. The base is made of a thin layer or dough and the inside is filled with cooked makaruli (a type of pasta) and a mixture of ground almonds or walnuts, grated chocolate, cinnamon and lemon zest.
ATMs and exchange offices
The official currency in Croatia is the Croatian kuna (HRK). Although sometimes it is acceptable to pay with Euros or credit cards, we recommend taking Croatian kuna with you. Places like bakeries, green markets and fish markets predominantly don't accept credit cards and Euros.
Almost all places on Peljesac have ATMs, and Orebic and Ston have banks as well.
In case you are staying in one of the towns with no bank, you can exchange money in the post offices in Trpanj, Kuciste, Janjina and Kuna Peljeska.
If you are not able to reach one of those banks or post offices, you can try to exchange money at the hotel you are staying in.
The banks' working hours depend on the season, but it is advised to go there in the morning, just to be safe. Keep in mind that on the weekends and national holidays they will probably be closed.
Emergency contact info
If you by any chance should need medical assistance during your vacation, there are a few available clinics on the peninsula, located in Orebic, Trpanj, Kuna Peljeska, Janjina and Ston. Pharmacies are located in Orebic, Janjina and Ston, and Orebic, Trpanj and Janjina have dentists as well.
In case of an emergency, or if you require immediate assistance of any kind – medical or police assistance, fire department, mountain rescue services, you can call the toll-free number 112 from any location in Croatia (the calls can be made via landlines, cell phones or phone booths) at any time of day or night.
If the situation requires further urgent assistance or hospitalization that cannot be provided on the peninsula, a speedboat or helicopter will be sent for the patient and take them to the nearest hospital in Dubrovnik.
Foreign citizens/tourists coming from countries that are signatories of the Health Care Convention don't have to pay for medical assistance in Croatia, while patients coming from countries that are not signatories of this convention, must pay for medical assistance provided, according to the valid tariffs.
Peljesac FAQ
Can I bring my bicycle on the catamaran or ferry?
Yes, it is possible to bring a bike on the ferry but you will need to pay a little bit extra for the bike. The catamarans, on the other hand, do not allow bicycles as there is simply no space available.
Can I buy/reserve a ticket for a specific departure?
You can buy tickets for a specific departure if you are travelling with a catamaran, However, if you are travelling with a ferry you can buy a ticket for a specific travel date, but not for a specific departure.
Can I bring my dog on the ferry/catamaran?
On catamarans you can not bring your dog, but on the car ferries you can, but you are not allowed to take them into closed areas.
How much luggage can I bring?
On ferries you can bring up to 100 kg, while on catamaran up to 20 kg. Since they don't weigh the luggage, there is no issue if you bring a bit more.
How expensive is Peljesac?
Because the peninsula is quite small and not really popular, Peljesac is not considered to be expensive at all. This only gives more reasons to visit this beautiful peninsula undiscovered by many.
How safe is Peljesac?
Peljesac is very safe, as is the rest of the country. Croatia is a small and safe country, so you don't have to worry about that, just relax and enjoy your vacation.
What timezone is Peljesac in?
Peljesac is in CET (Central European Time), with reference to the capital Zagreb, with UTC/GMT offset of +1:00 h during CET and +2:00 h during CEST (Central European Summer Time). The time in Peljesac is the same as in the entire country since Croatia is in one timezone.
When is the best time to visit Peljesac?
The best time to visit is during the summer. Because of its ideal Mediterranean climate, you can have a perfect island holiday sunbathing on the beach, relaxing, swimming and sipping your favourite cocktails under the warm sun. On the other hand, those who get sunburnt easily or simply don't like the heat might consider visiting in the postseason. In September the sea is still refreshening and the air is milder, making it more tolerable.