Olib ferry terminal
The island of Olib is located northwest of Zadar in northern Dalmatia. The only ferry terminal is located on the northwest side of the island, in an wide bay. The ferry terminal of Olib is connected to Zadar (Gaženica) and the island of Silba and Premuda. Cars are forbidden to be used as a transport on the island, so if you get on the island by car, you have to park it in a designated area adjacent to the ferry terminal.
Getting to and from Olib port
The sailing trip from Zadar takes two hours by catamaran and 3 hours with the car ferry. If you land a Zadar airport and have to get to Island Olib, it will take you about 4-5 hours in total, here is how you get from Zadar airport. NOTE: the catamaran departure from the old town pier in Zadar and the car ferry departure from the Zadar (Gaženica) terminal.
The only place to stay on Island Olib is in Olib town which is a few hundred meters walking distances from the ferry terminal, so no matter where your accommodation is, you easily reach it on foot. It is also the only way since cars are not allowed on the island.
Olib port facilities
As already mentioned above, Olib is a really small island town and there are not many things there: a few cafe bars, restaurants and shops and that is about it.
Olib port location
Longitude: 14.776787
Latitude: 44.380771
23296 Olib (Olib)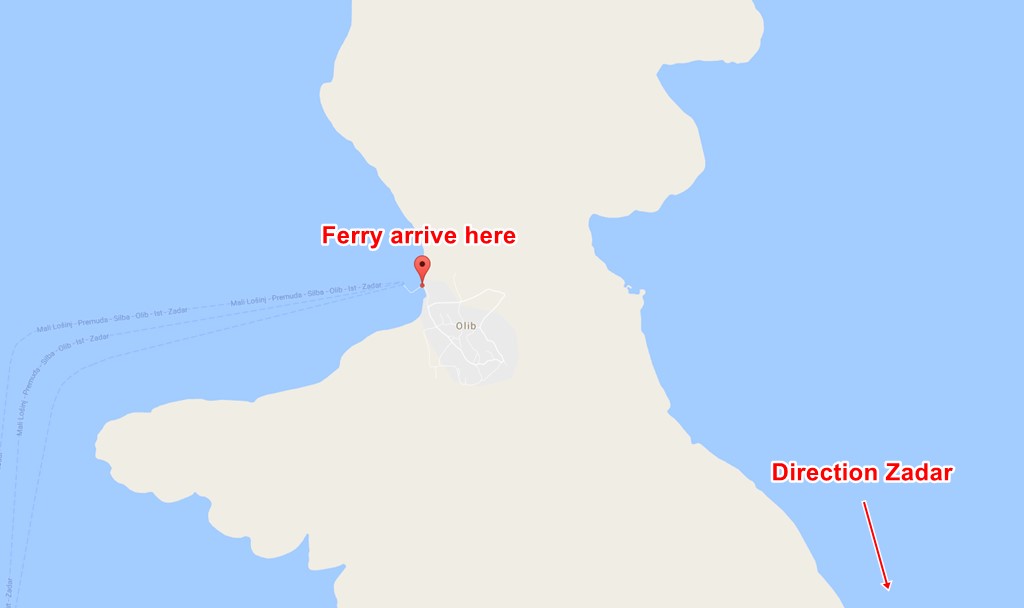 List of the ferry and catamaran routes to and from Island Olib
→ Car ferry: Zadar (Gaženica) – Ist – Olib – Silba – Premuda – Mali Lošinj
→ Catamaran: Zadar – Krijal (Premuda) – Silba – Olib