Sestrunj ferry terminal
Sestrunj is a small island located in Zadar archipelago between the island of Rivanj, Ugljan and Dugi Otok. There is only one settlement on the island located in the interior. Around a kilometre from it, by the sea, there is a ferry terminal that is connected with Zadar, Zadar (Gaženica) and the islands of Rivanj, Molat and Dugi Otok by regular ferry and catamaran lines.
Getting to and from the ferry terminal in Sestrunj:
The ferry travel time from Zadar to Sestrunj is about 1 hour and 30 minutes, the catamaran trips takes about 45 minutes.
The centre of the town Sestrunj is located in the interior of the island, one kilometre from the ferry terminal. It's theoretically possible to reach the ferry terminal on foot, but if you're with luggage, it is recommendable to arrange a pick up by your landlord.
What you can find on Sestrunj ferry terminal:
Since Sestrunj is a really small settlement and the ferry terminal is located a little bit outside of it, there aren't many facilities there.
Address of ferry terminal Sestrunj:
Longitude: 14.996724
Latitude: 44.160965
23291 Sestrunj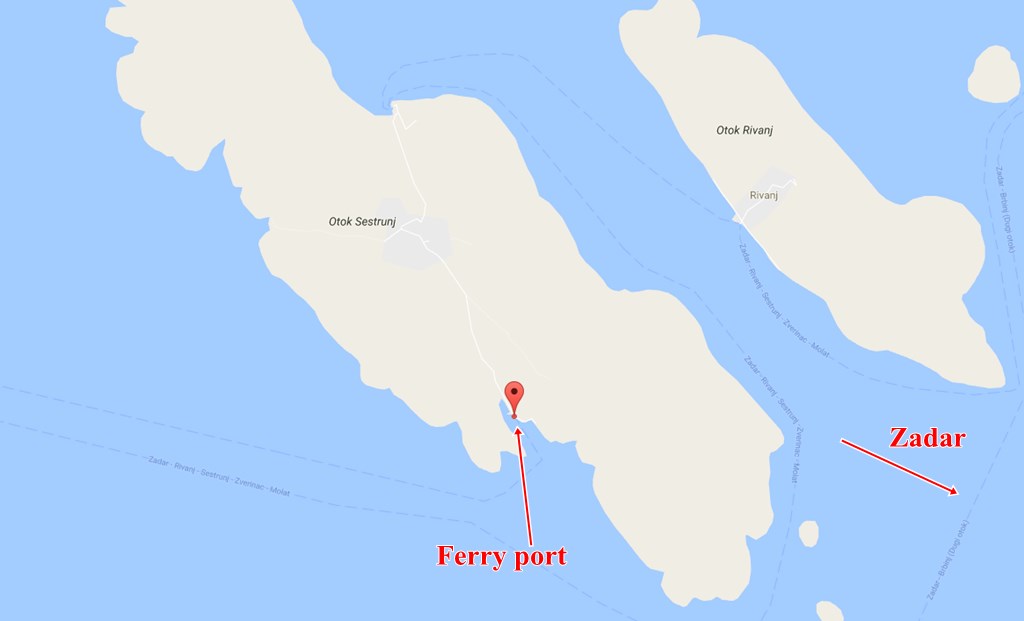 List of ferry and catamaran routes to and from Sestrunj:
→ Car ferry: Zadar (Gaženica) – Rivanj – Sestrunj – Zverinac – Molat
→ Catamaran: Brbinj (Dugi Otok) – Božava (Dugi Otok) – Zverinac – Sestrunj – Rivanj – Zadar