Suđurađ ferry port
Suđurađ is a town on the southwest side of the island of Šipan. The ferry terminal of Suđurađ is the only ferry terminal on the island, located in a wide bay, in a very centre of the town. You can always catch a bus in Suđurađ and visit the other town on the island, Šipanska Luka, the bus waits on the pier when the ferry arrives. (there you can take a catamaran to Mljet and visit the national park).
Getting to and from the ferry terminal in Suđurađ:
As already mentioned, Suđurađ is a really small town and everything is quite close. No matter where your accommodation is, the ferry terminal is easily reachable on foot. If you are staying in Šipanska luka you have a bus driving to Suđurađ adapted to the ferry departure time.
Getting to Dubrovnik airport from Suđurađ:
When you are travelling back to Dubrovnik airport you will need about 2 hours from when the ferry leaves Suđurađ till you are in the airport, the ferry takes about 1 hour and 15 minutes and taxi or transfer from the ferry port in Dubrovnik takes about 20-30 minutes depending on traffic, alternative you can also take the airport bus, but in that case you in to calculate in some time for the next departure.
What you can find on Suđurađ ferry terminal:
As already mentioned, Suđurađ is a really small town and the ferry terminal is located really close to the centre of the town – all the town facilities are nearby: shops, restaurants, bars, etc.
Address of ferry terminal Suđurađ:
20223 Suđurađ (Šipan)

GPS CO-ORDINATES: 42.71087, 17.91114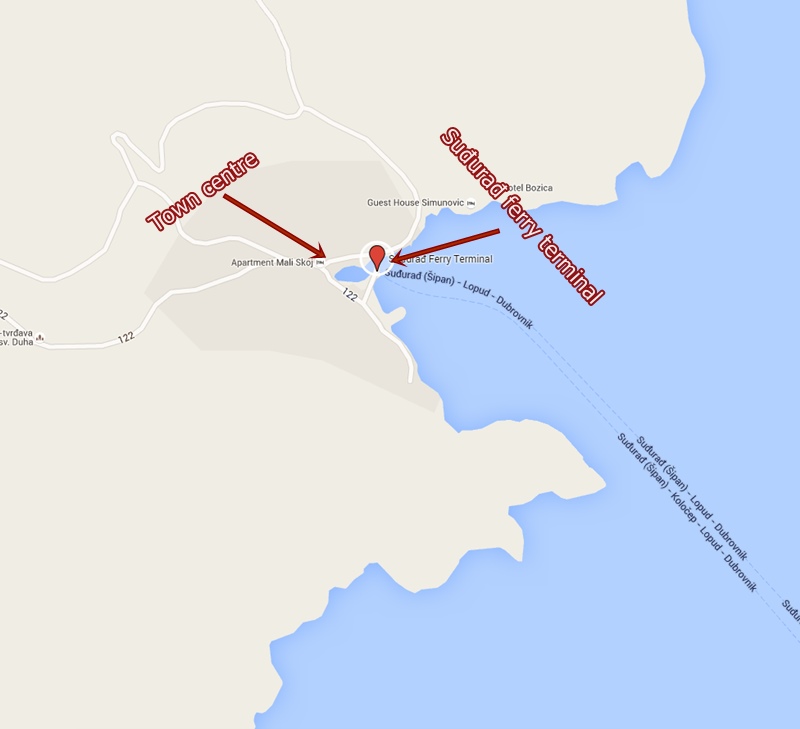 List of routes:
→ Car ferry: Dubrovnik-Lopud-Suđurađ (Šipan)
→ Ship: Dubrovnik-Koločep-Lopud-Suđurađ (Šipan)