Drvenik ferry port
Drvenik is a small town situated on Makarska Riviera. It has a little ferry terminal with only one connection – the one with the town of Sućuraj on the island of Hvar. The ferry terminal is located next to the main road that passes through Drvenik, close to the promenade by the sea and the beach, at the end of a wide bay.
Getting to and from Drvenik port

Drvenik is a really small coastal town so no matter where your accommodation is if you want to reach Sućuraj on the island of Hvar, the ferry terminal is easily reachable on foot. If you're carrying a lot of luggage, you can always call a taxi which won't cost you a lot, since it won't be a big distance.
From Split/Dubrovnik airport to Drvenik ferry port
If you are flying to Croatia and need to travel to Sucuraj via Drvenik, you could either fly to Dubrovnik or to Split Airport.
From Split airport to Drvenik, there is about a 140 km distance. Unfortunately, there are no direct buses from the airport to Drvenik, so you are left with the following options:
From Dubrovnik airport to Drvenik there is about 142 km, also here it applies that there are no direct bus lines from the airport, which leaves you with these options.
Obviously, the bus options is the cheapest way of travelling, but you will then have to hassle with your suitcase at the bus station.
Getting from other destinations in Croatia to Drvenik ferry port
There are some regular and seasonal bus lines that connect major Croatian destinations with Drvenik.  As already mentioned above, the main bus station in Drvenik is located at around 400 m from the ferry terminal. You can easily walk there or simply call a taxi especially if you're with luggage. For the exact location, click here.
If you choose to travel by car, you can come to Drvenik by taking the highway or the coastal road. If you're coming from the north or from the south, when you enter the town of Drvenik, keep following the sign for the town centre and the ferry terminal.
Drvenik port facilities

Since Drvenik is a really small coastal town, there are different facilities near the ferry terminal such as bars, restaurants, shops, the post office, bank, etc.
Drvenik port location

D8 412

21333 Drvenik

GPS co-ordinates: 43.15457, 17.24869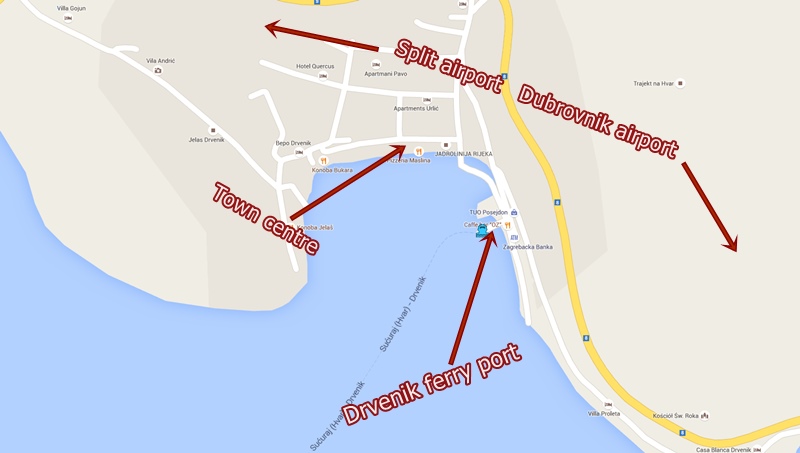 List of ferry routes from/to Drvenik: