The ferry from Split to Vis town, is the only option to get to Island Vis from the mainland, unless you rent or charter your own boat. Split and Vis are connected year round with a car ferry, In July and August there is up to 4 daily connections which also include a fast ferry / catamaran between Split and Vis, In May, June, September and October there is up to 3 daily departures. The driving time for the car ferry is about 2 hours and 30 minutes, the trip with the catamaran takes from 1 hour 20 min to 2 hours depending whether it sails direct or stops in Milna (Brac) or Hvar town on the way.
Split Vis , 2022-01-18
There are 6 people currently looking how to get from Split to Vis !
---

---

---

Please Note:
Operating ferry company reserves the right to alter sailing times. We do our utmost to ensure the accuracy of the information provided here on Ferrycroatia, but is recommended to check all schedules/timetables with the operating ferry company.
Map travel route

Split - Vis
Ferry / Catamaran routes between Split and Vis
Jadrolinija route 602 –  Car ferry: Split – Vis
Jadrolinija route 9602 – Catamaran:  Split- Milna (Brac) – Hvar town – Vis
FAQ – Split – Vis Ferry
Why is a foot passenger ticket for the ferry and catamaran so cheap?
Both ferry routes 602 and 9602 are state lines, meaning that the state partly finances them, reason for this is to ensure that the people living on Island Vis have an affordable option to get to the mainland year around.
I am with car, how do I make sure to catch a specific departure?
Basically neither Split port nor Vis port has a car queuing system, so normally cars, trucks, buses, would be loaded according to when they arrived at the port, but there is an exception, on Sat and Sunday during July and August cars are loaded first on the first two car ferry departures to and from Vis.
Can I bring my Bicycle with the ferry to / from Vis
Yes but only on the car ferry departures, for the bike you need to buy a ticket which costs the same as a foot passenger ticket.
Can I bring my dog on the ferry from Split to Vis?
You can bring your dog, if you follow the terms of Jadrolinija.
I am going to Komiza on Island Vis, how do I get there from the Vis town?
The Island buses between Vis and Komiza drive according to ferry and catamaran arrivals and departures.
Prices Split Vis Ferry route
Below you can see the summer price list for the car ferry from Split to Vis, the foot passenger price for the catamaran is 54 kn one way.
It often happens that people traveling with, car or bus get a bit confused how to calculated the price, so here are a few examples
Car with passengers
If you are e.g. 3 adults and a regular car going on the ferry, the price calculations for a one way ticket is the following, car (Less than 5 meters length, and two meters height) = 340 Kn + 3 adults (3 * 54 Kn) = 162 Kn, so in total your price will be 502 Kn (340 + 162). As there is no discount for a return tickets the round trip price will be 1004 kn or roughly 335 Kn per person.
Bus with passengers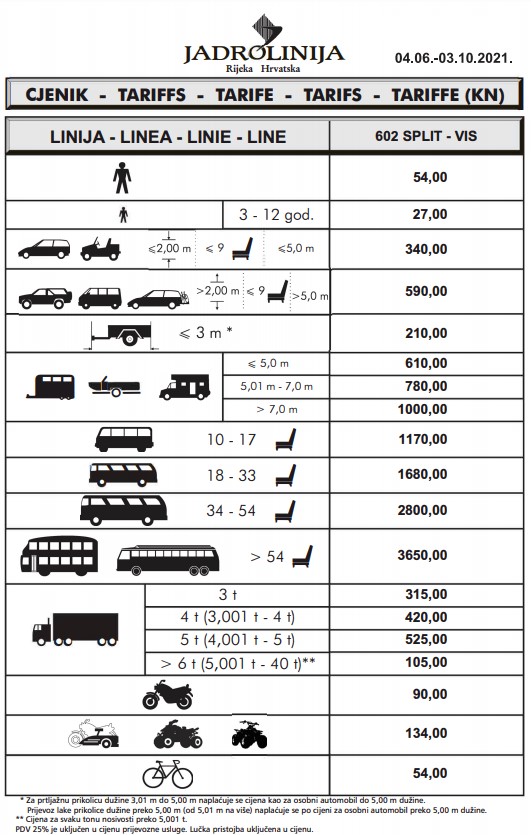 For a bus the way of calculating is different,  if you have a bus with space for 30 people and 22 passengers, the price is 1680 Kn, which include the bus and the passengers!