Tkon ferry terminal
Tkon is a little town located on the north side of the island of Pašman connected by regular ferry lines with the coastal town of Biograd na Moru. Since Tkon is a really small island town, the ferry terminal is located not far from the town centre and the promenade by the sea.
Getting to and from the ferry terminal in Tkon:
The car ferry trip from Biograd na Moru to Tkon takes 20 minutes.  from the ferry terminal you can easily walk to any accommodation within the town borders, if you are staying elsewhere on the island you can take taxi or bus.
The nearest airport is the airport of Zadar located at around 25 km from Biograd na Moru (around 10 km from Zadar). Once you land, you can take a pre-booked transfer or take a taxi directly to the port of Biograd na Moru where you have to take a ferry to Tkon.
What you can find on Tkon ferry terminal:
As already mentioned above, Tkon is a small island town where the ferry terminal is located near the town centre, so of course that most of the town's facilities are nearby: restaurants, bars, shops, etc.
Address of ferry terminal Tkon:
Longitude: 15.420635
Latitude: 43.921652
Trg Mulina 12
23212 Tkon (Pašman)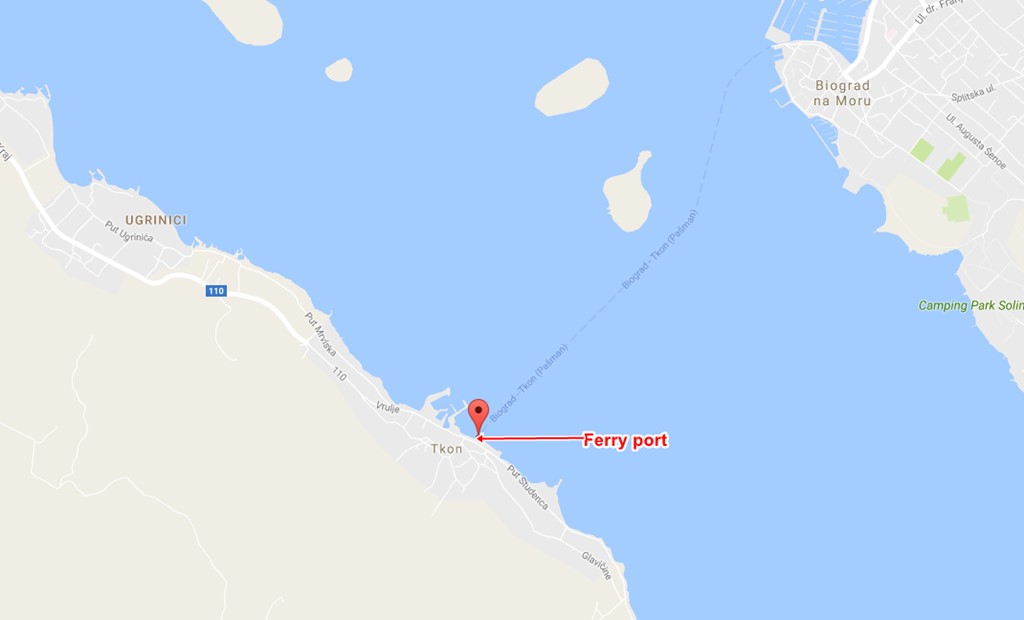 List of ferry routes to and from Tkon:
→ Car ferry: Biograd na moru – Tkon (Pašman)