The ferry from Zadar to Ancona used to be the northernmost of 3 car ferry routes connecting Croatia and Italy, the others being Split to Ancona and Dubrovnik to Bari. It has now been replaced with a passenger-only catamaran, which operated sails up to 5 times weekly during the summer season, the crossing time is around 4 hours.
Zadar Ancona , 2023-09-24
There are 1 people currently looking how to get from Zadar to Ancona !
Please Note:
Operating ferry company reserves the right to alter sailing times. We do our utmost to ensure the accuracy of the information provided here on Ferrycroatia, but is recommended to check all schedules/timetables with the operating ferry company.
Map travel route

Zadar - Ancona
Boarding in Zadar
The ferry port Gaženica in Zadar is normally where all the car ferries depart, but as travelling from Zadar to Ancona is travelling into Schengen, the passenger has to go through passport control and custom before boarding the ferry, and as this is located on the old town peninsula in Zadar, the ferry obviously departs from there! In the main season keep in mind there are lots of people and traffic around old town Zadar, so make sure to head for the port in due time.
On the ferry to Ancona
The fast ferry has a coffee bar and restrooms, for all passengers there is comfortable deckchair style seating.
2022 Zadar to Ancona Ferry Price
In the summertime, a regular adult ticket costs 599Kn (V), for children under 12 regular tickets cost 329 Kn (V), while children under 3 are free of charge.
There is a 20% return discount, while pets can be transported for a fee of 40 Kn.
Have in mind that special prices are applied on some dates.
AKCIJA – 23.06. – 29.07. & 01.09. – 09.09.2022. Adult AKCIJA price is 374 Kn, while AKCIJA price for children is 273 Kn.
NISKA (N) – 01.08. – 26.08.2022. Adult NISKA (N) price is 539 Kn, while NISKA (N) price for children is 314 Kn.
For an average-sized car (up to 5 m in length) the regular summertime ticket will cost 735 Kn. Special prices are applied on the same dates as for passenger tickets, and you can check them below.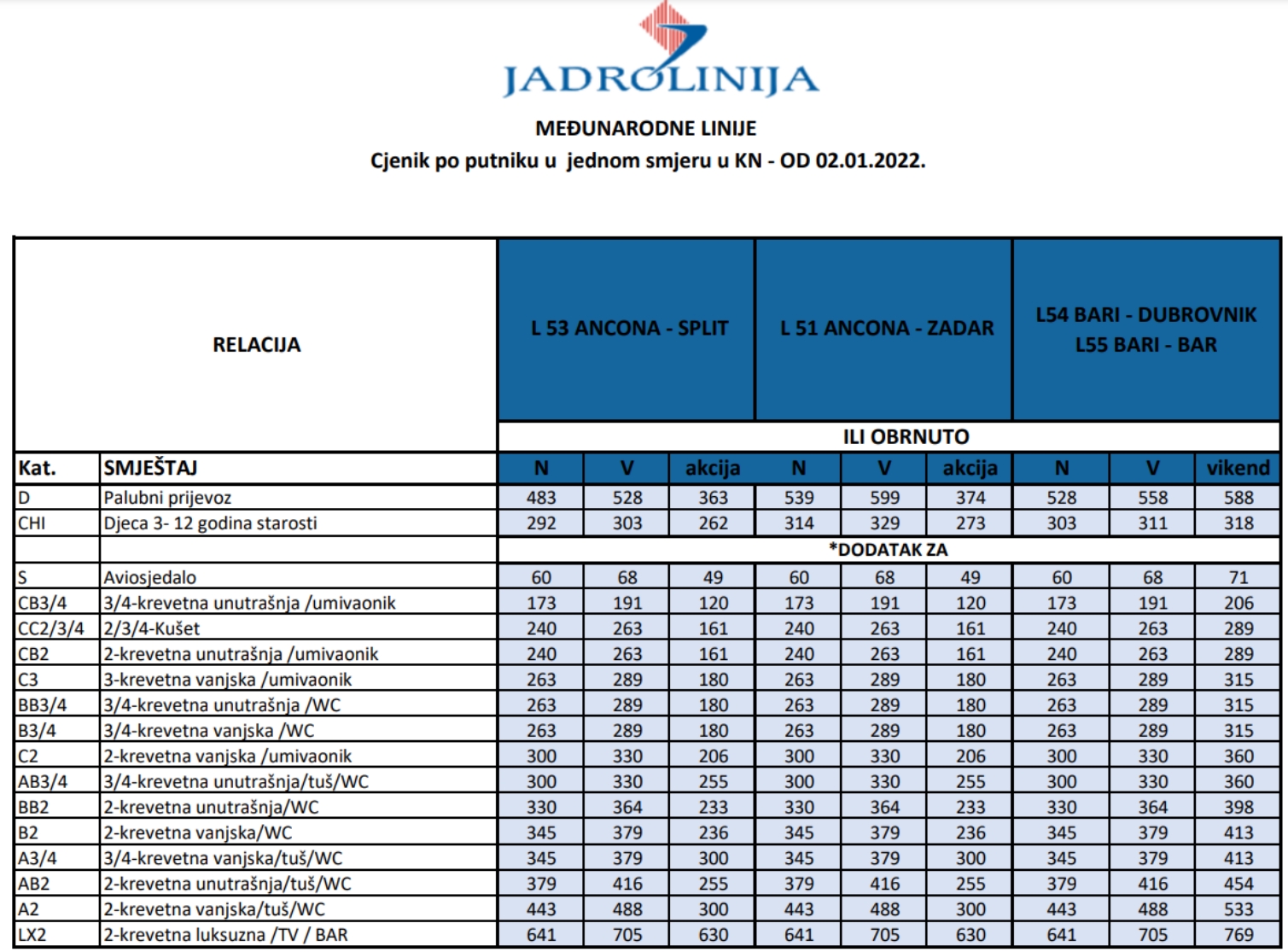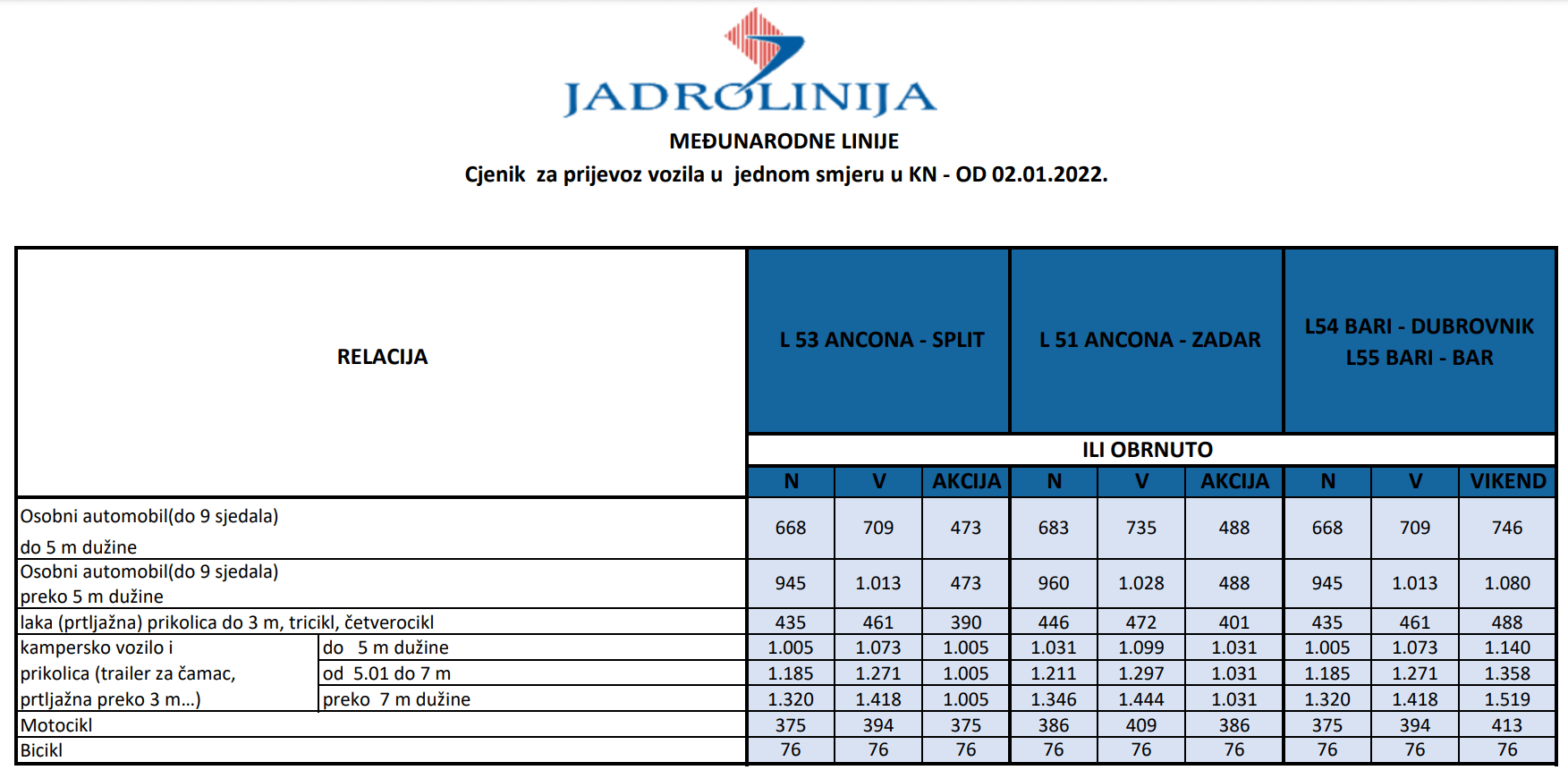 FAQ – Zadar to Ancona ferry
Isn't it better and cheaper to drive to Ancona?
The driving distance between Zadar and Ancona is about 850 km, which translates to at least a 10 hour trip during summertime. It is in most cases cheaper to drive, but the price difference is not that big when you consider the car cost per km and road toll which you have most of the way.
Is it better to take Zadar to Ancona or Split to Ancona ferry?
From a price perspective, the car ferry is cheaper but the travel time is quite a bit longer, the car ferry often travels overnight, whereas the catamaran only has departure during day time.
Can I bring my dog on the ferry to Italy?
Yes, you can. See above for the information about dog transport prices.