Zaglav catamaran Port
Zaglav is a little town on the northeast side of the island Dugi Otok, little bit west from the town of Sali. The pier where the catamaran departs from is located right in the centre of the town, near the main promenade by the sea, it's connected by regular catamaran lines with the town of Sali on the island of Dugi Otok, with Bršanj on the island of Iž and with Zadar – the port near the centre.
Getting to and from Zaglav port
The sailing time from Zadar is about 1 hour, the catamaran departure from the old town pier. If you are travelling from Zadar airport to Zaglav, it will in optimal case take you about 2.30 hours to get to the Island. Here is how you get from the airport to the old town
Since Zaglav is a really small island town, no matter where your accommodation is, the pier where the catamarans depart from is easily reachable on foot.
Zaglav port facilities
Zaglav is a really small town, so you can't find many facilities there, it's perfect if you want to enjoy a peaceful and calm holiday.
Zaglav port address

GPS Co-ordinates: 43.949580, 15.143986
23281 Zaglav (Dugi Otok)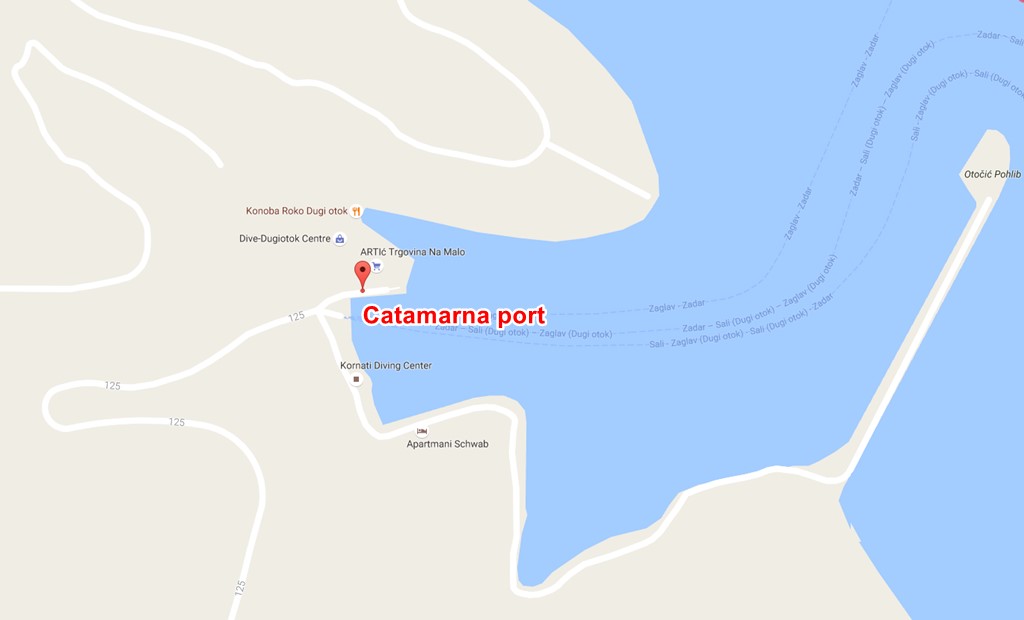 List of the catamaran routes to and from Zaglav
→ Catamaran: Zadar – Sali (Dugi Otok) – Zaglav (Dugi Otok) – Bršanj (Iž)
→ Catamaran: Zadar – Sali (Dugi Otok) – Zaglav (Dugi Otok)
Zaglav – Zadar
Zaglav – Sali
Zaglav – Brsanj