Zlarin ferry port
Zlarin is a little town on the north-west side of the island of Zlarin in the Šibenik archipelago. The ferry terminal is located in a narrow bay, right in the town centre, near the main promenade by the sea.
Getting to and from the ferry terminal in Zlarin:
Zlarin is a really small town and the ferry terminal is located right in the centre of it. No matter where your accommodation is, everything is easily reachable on foot. If you are carrying luggage you can probably also a lift from you landlord to and from the ferry.
Getting from Zlarin to Split/Zadar airport:
If you're staying in Zlarin, you first have to get to the the port in Šibenik or Vodice. If you're with car, you can drive directly to the airports of Zadar or Split. If not, you should go to the main bus station from where you have frequent buses to Zadar or Split from where you have to take a shuttle bus to either one of the airports. The trip to Zadar takes 15-20 minutes (the ticket is around 25 kn = 3 euros) and the trip to Split take 30-40 minutes (the ticket is around 30 kn = 4 euros). In both cases you will have to change bus at the main bus terminal to get to the airport, alternatively you can book transfer directly to Zadar or Split airport.
What you can find on Zlarin ferry terminal:
As already mentioned above, the town of Zlarin is really small and the ferry terminal is located right in the centre of it. Obviously, all the town facilities like restaurants, shops, bars, etc. are located near the ferry terminal.
Address of ferry terminal Zlarin:
22232 Zlarin
GPS CO-ORDINATES: 43.69971, 15.83344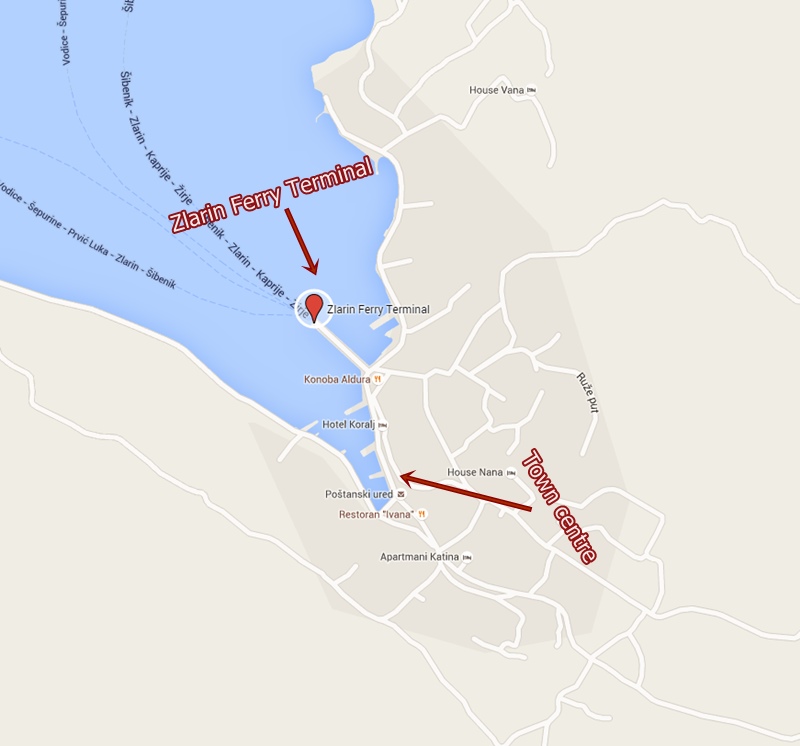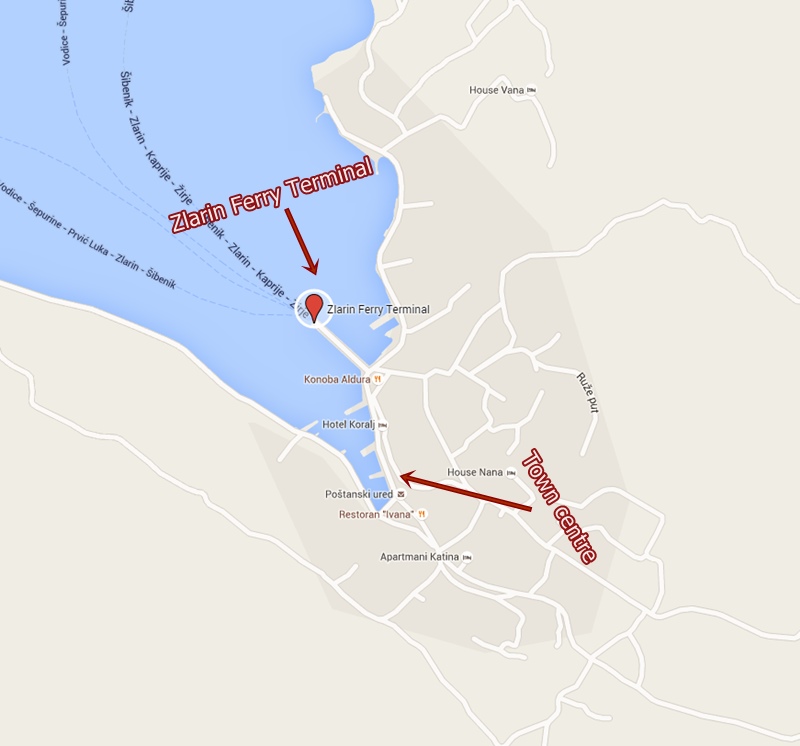 List of the ferry and ship routes from Zlarin:
→ Car ferry: Šibenik – Zlarin – Kaprije – Žirje
→ Ship: Šibenik – Zlarin – Prvić Luka – Šepurine – Vodice