Valbiska Merag Ferry is the fastest way of getting from Krk island to Cres island, as the voyage duration is only 25 minutes. During peak season, there are up to 17 departures, with ferries leaving approximately every hour. In the offseason and winter, departures are not that frequent, so make sure to check the ferry timetable.
Besides Merag, there are 3 other ports on Cres – Martinscica, Cres and Porozina. However, if your accommodation is located in the northeastern or eastern parts of the island, arriving in Merag might be the optimal and cheapest solution.
Valbiska Merag , 2023-10-06
There are 1 people currently looking how to get from Valbiska to Merag !
---

Car Ferry
---

Car Ferry
---

Car Ferry
---

Car Ferry
---

Car Ferry
---

Car Ferry
---

Car Ferry
---

Car Ferry
---

Car Ferry
---

Car Ferry
Please Note:
Operating ferry company reserves the right to alter sailing times. We do our utmost to ensure the accuracy of the information provided here on Ferrycroatia, but is recommended to check all schedules/timetables with the operating ferry company.
Map travel route

Valbiska - Merag
Boarding in Valbiska
Ferry port in Valbiska is really modest, as there is no port building per se. Therefore, you'll need to wait in the line before boarding the ferry. Good news is, there is a caffe bar and a bistro nearby, to help you pass the time. Ferry line is operated by Jadrolinija, and it can board all types of vehicles, from bicycles and cars to buses. Besides the ferry line Valbiska – Merag, the only other line from Valbiska is to Lopar on Rab Island. Keep in mind to get to Valbiska port on time, especially during the summer season, as there could be significant traffic jams before departure.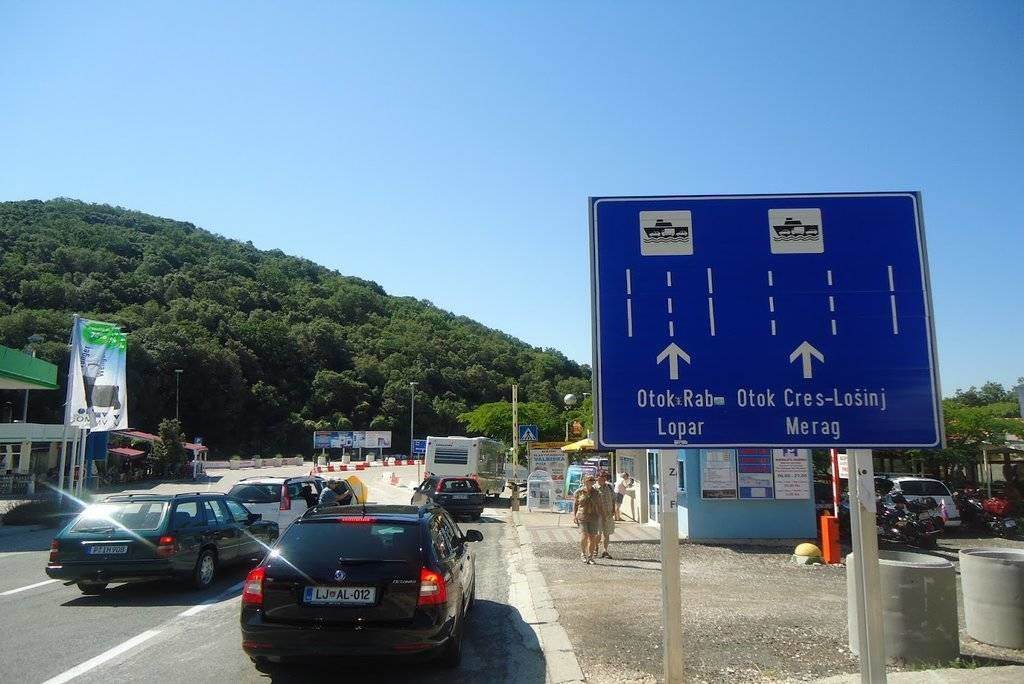 FAQ for Ferry Valbiska Merag
How to get to Valbiska port from the mainland?
If you're travelling by car, you'd want to take the D102 road, and then switch to the D104 once you pass Malinska on Krk Island. If you're travelling by bus, there are a few routes connecting nearby cities to Valbiska, such as Omisalj and Rijeka.
How to get around Cres Island, if I'm travelling on foot?
For everyone not traveling with a car, note there's no car rental service or taxis in Merag. Also, getting to other nearby towns on foot is not recommended, as it could take up to several hours to reach the closest town. Therefore, we recommend arranging a pickup from Merag to your final destination.
Can I bring my dog on a ferry?
Yes, pets are allowed on the ferry, but under certain regulations given by Jadrolinija. Also, dogs are not allowed into closed passenger areas.
Are there any other ferry connections to Cres Island?
Yes, as mentioned before, there are 3 other ferry lines from mainland to Cres Island. These lines are as follows: car ferry Brestova – Porozina, and passenger only catamarans Rijeka – Cres and Rijeka – Martinscica. Keep in mind that these ferry lines get you to different parts of the island.
How early before departure should I be at Valbiska port?
It is always better to arrive earlier, especially during summer season. 30-40 minutes before departure should be fine on week-days, but on the weekend, you should be at the port at least an hour before.
Can I buy a return ticket?
Yes, you can buy a return ticket if you are coming back from Merag to Valbiska. Tickets are valid for any departure in the day, but boarding at specific time is not guaranteed, so make sure to get to the port on time. Unfortunately, there's no discount for return tickets. Tickets can be bought either online or at the ferry port in Valbiska.
2023 Valbiska to Merag Ferry Prices
Below you can see the summer price list for the car ferry from Valbiska to Merag, the foot passenger price for the catamaran is 3,45 € one way.
It often happens that people travelling by, car or bus get a bit confused about how to calculate the price, so here are a few examples
Car with passengers
If you are e.g. 3 adults and a regular car going on the ferry, the price calculations for one-way tickets are the following, car (Less than 5 meters in length, and two meters in height) = 17,39 € + 3 adults (3 * 3,45 €) = 10,35 €, so in total, your price will be 27,74 €. As there is no discount for return tickets the round trip price will be 55,48 € or roughly 18,45 € per person.
Bus with passengers
For a bus the way of calculating is different,  if you have a bus with space for 30 people and 22 passengers, the price is 73,79 €, which includes the bus and the passengers!