The ferry route Split – Supetar is one of the most frequented car ferry routes in Croatia, the route operates year round, In July and August there are up to 14 daily departures, in May, June and September up to 12 daily departures and rest of year up to 9 daily departures. The route is operated with "Double ended" Ro-Ro car & Passenger ferry, which makes embarkation and disembarkation very fast, both foot passengers and vehicles enter the ferry via the same ramp. The ferries between Split and Supetar can accommodate up to about 140 cars and 1200 passengers. The sailing time from Split to Supetar is about 50 Minutes.
Split Supetar (Brač) , 2021-11-29
There are 5 people currently looking how to get from Split to Supetar (Brač) !
---

---

---

---

---

---

---

---

---

Please Note:
Operating ferry company reserves the right to alter sailing times. We do our utmost to ensure the accuracy of the information provided here on Ferrycroatia, but is recommended to check all schedules/timetables with the operating ferry company.
Map travel route

Split - Supetar (Brač)
FAQ Split to Supetar ferry
I am with a car, can I buy a ticket for a specific departure?
No unfortunately not, as the Split port has limited space there is no car cuing system, which means cars are loaded in the order they arrive at the port, so if you wish to catch a specific departure, you should be at the port early. NOTE:  If you buy a ticket online for the ferry – Split to Supetar it is valid for any departure of the day.
I'm a foot passenger traveling with a heavy suitcase, any advice?
Usually people leave their heavy suitcases on the car deck, just below the escalator / stair to the upper deck.
Can I bring my bicycle on the ferry to Supetar?
Sure, there is space at the car deck for bicycles. NOTE: Remember that you need to buy an adult ticket for the bicycle.
Can I sit outside during the ferry trip from Split to Supetar?
Yes the top of the ferry is an outside area with plenty of seating and a great view.
Can I stay in my vehicles during the trip?
No, passengers are not allowed to stay in their vehicle during the travel over.
I'm am going to Bol on Brac, is this the best travel option?
Yes, If you are with a car, if you are a foot passenger it is easier to take the fast ferry from Split to Bol, but you can also combine the Split – Supetar car ferry, with a bus trip from Supetar to Bol, buses depart very close to the ferry dock.
What other alternatives are there to the ferry from Split –  Supetar?
If you are with a car the only other option is the ferry from Makarska to Sumartin, for passengers only alternatives are Split – Sutivan, Split – Milna and as mentioned above Split – Bol.
Prices Split Supetar ferry route
Below you can see the summer price list for the car ferry from Split to Supetar, the foot passenger price for the car ferry is 33 kn. one way. (In the winter time it is 28 kn.)
Children between 3-12 year have a 50% reduction in the adult prices.
If you are traveling with a vehicle, the price for the ticket is calculated the following ways.
If you need to travel back from Supetar to Split you can buy the ticket online or at the sales office in Split, you need to know the date of your return, ticket would be valid for any departure of that day.
Car with passengers
The way to calculate the price for a car and passengers is by adding the prices. If you have a regular-sized car (Lower than 2 meter and shorter than 5 meters) the price for that car is 154 kn to that number you add the price for adult and child tickets, if you are two adults and two children between 3-12 years, passenger price is 2 * 33 kn adult tickets and 2 * 16.5 kn child tickets, so in total 99 kn, so, all in all, you have to pay 253 kn (154 + 99 kn) for a one way ticket.
Bus with or without passengers
If you are a group traveling with a bus, it it is quite easy to calculate the price as you only have to pay for the coach depending on a number of passengers it can transport, so for a minibus for up to 17 passengers the price is 700 Kn, for a mid-sized bus up to 33 passengers price is 1.000 kn, for regular coach up to 54 passenger capacity 1.660 kn and for bus above 54 passengers 2.170 kn, all price are one way. NOTE: If you have rented a bus in Croatia make sure to clarify if the cost of the ferry is included in the rental price.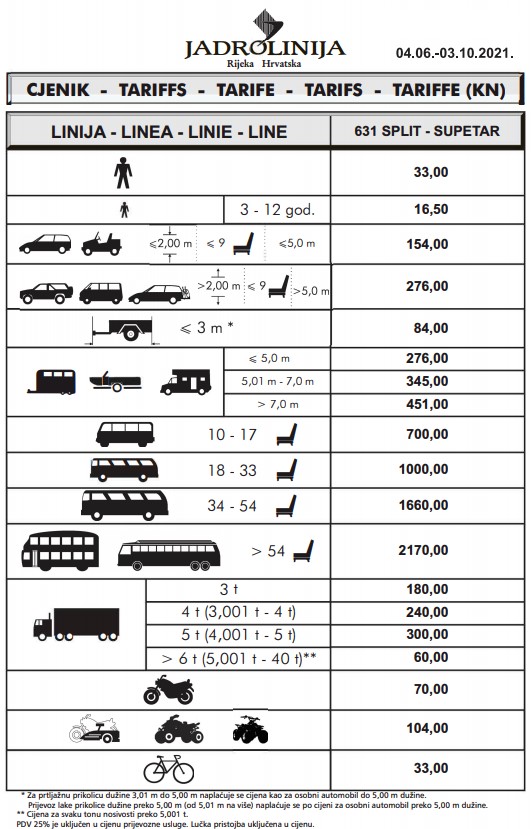 Other popular ferry routes from Split