Molat ferry terminal
Molat is a little island in the Zadar archipelago, situated near the island of Ist. The little town of Molat (the largest town on the island) is actually located a little bit further from the coast, but the ferry terminal is not that far, only around 500 m from it. The ferry terminal of Molat is located on the southeast part of the island and it's connected by regular ferry and catamaran lines to Zadar, Zadar (Gaženica), Brgulje and Zapuntel on the same island and the islands of Zverinac, Sestrunj, Rivanj and Ist.
Getting to and from Molat port
The travel time with the car ferry between Zadar (Gaženica) and Molat is about 2 hours and 30 minutes, with the catamaran from Zadar old town terminal the trip takes about 1 hour. As already mentioned above, the town centre is located around 500 m from the coast and the ferry terminal, but since it's still really close, the ferry terminal is easily reachable on foot. If need to get elsewhere in town, ask your landlord if he can arrange a pickup.
Molat port facilities
As already mentioned, the ferry terminal is around 500 m from the town centre and since it's a really small town, there are not many facilities there.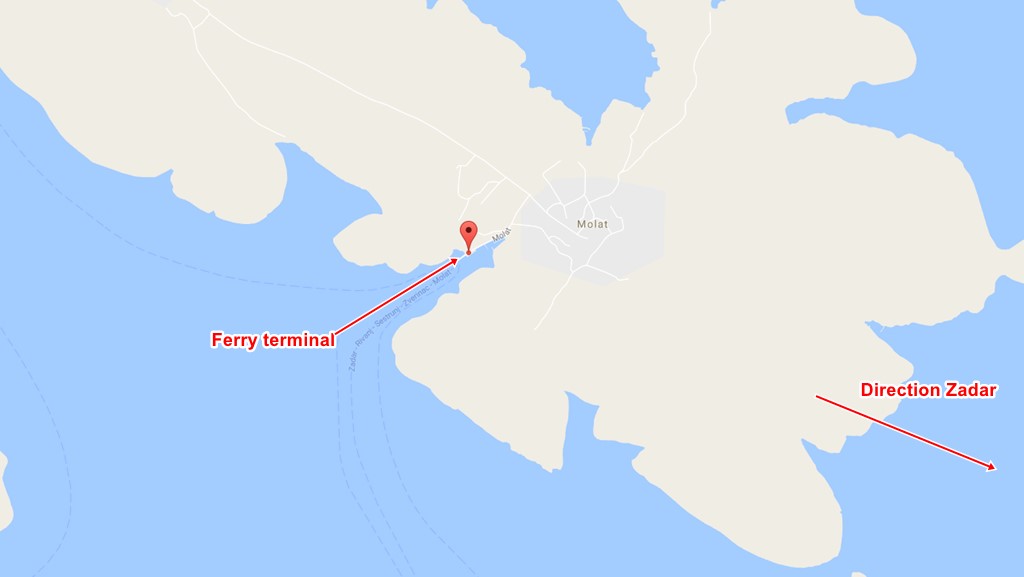 Molat port location

Longitude: 14.871914
Latitude: 44.212514
Molat bb
23292 Molat (Molat)
List of ferry and catamaran routes to and from Molat
→ Car ferry: Zadar (Gaženica) – Rivanj – Sestrunj – Zverinac – Molat
→ Catamaran: Zadar – Molat – Brgulje – Zapuntel – Ist