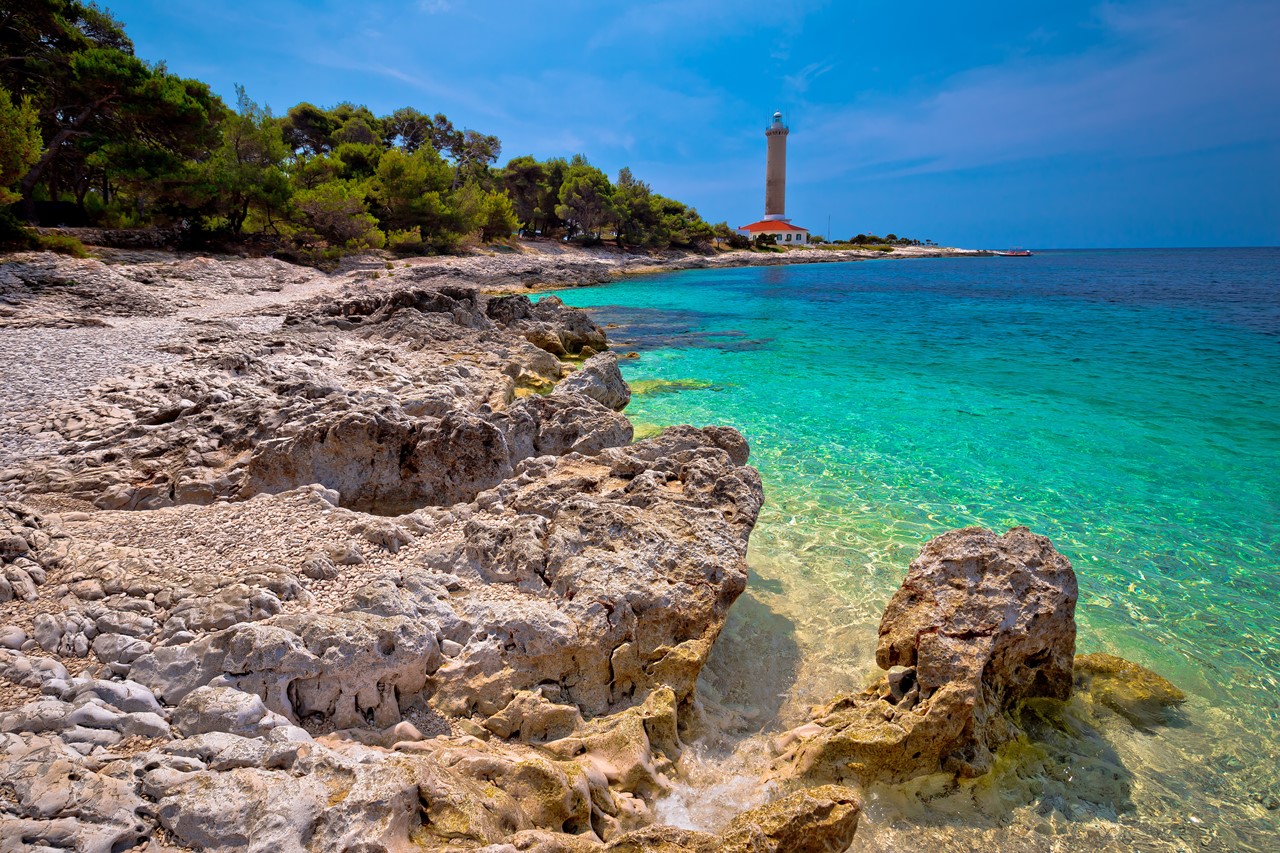 Island Hopping Croatia
As you have probably heard, Croatia is home to some fantastic Islands. In total there are about 1200 Islands along the Adriatic Coast, of those roughly 50 are inhabited and about 40 are connected to the mainland or other islands with scheduled ferries or catamarans. Years back there was a company called European Coastal Airlines which operated sea planes to some of the island, but unfortunately that option does not longer exist.
Easiest way of doing Island hopping in Croatia
The easiest way of doing Island hopping in Croatia is to buy a week trip with one of the Gulets, which is mini cruisers for about 30 persons. The Gulets have predefined routes starting mainly from the following ports: Opatija, Zadar, Split, Dubrovnik and Trogir. The Gulet cruise is normally a 7 day round trip, but there are also shorter and longer cruises and cruises with different start and end location. Also you have special trips, like single cruise, cruise and bicycle trips, cruises for gays, cruises for pensioners etc.
Why should you join a mini cruise?
No hassle with planning your trip
You sleep on the boat, no hassle with searching for accommodation
Breakfast included, other meals can be purchases as an add on package
Gulets stop for swimming in beautiful bays
Gulets mostly dock at the center of towns
You have option to meet up to 29 new friends during the cruise
Why should you NOT join a mini cruise?
Tour is pre-defined, limited flexibility
Cabins are nice, but often small, so limited privacy
Relatively expensive (especially if you are more travelling together)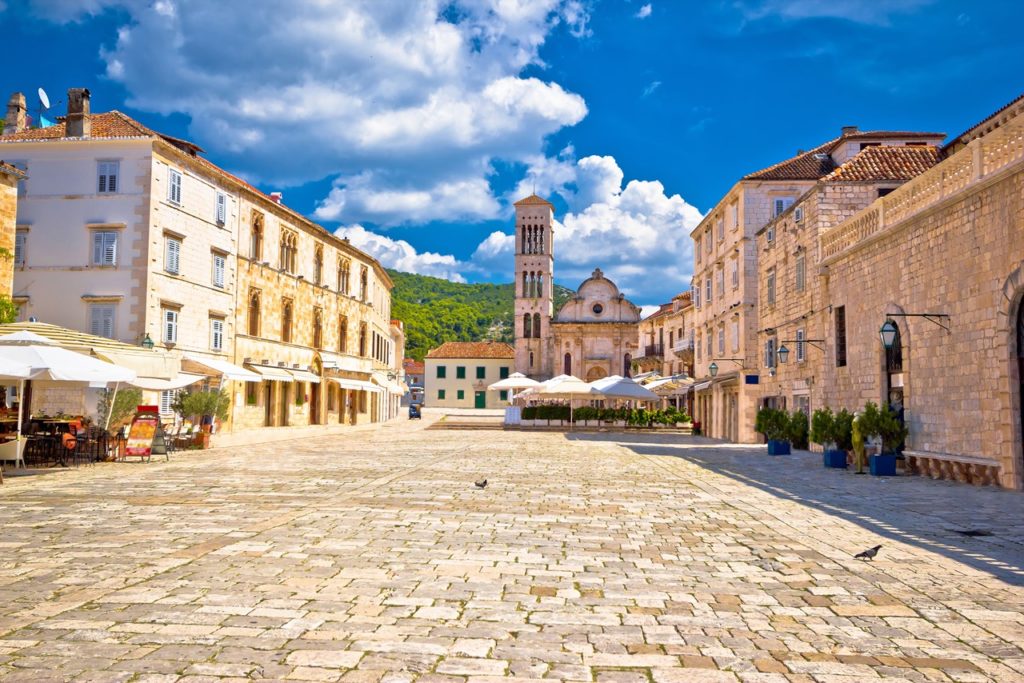 Island hopping Croatia for party people
If you are into partying, the ultimate Island hopping trip is to join a tour from the Yacht Week or the Sail week Croatia, both companies offer one week party trips from either Split or Dubrovnik. The trips include parties at some of the hot spots on the Croatian Islands – for the trips starting in Split, you e.g. get to party on Island Brac, Island Hvar and Island Vis. For the trips starting from Dubrovnik you get to party at Island Sipan, Island Mljet, Island Korcula and other places. The concept is that you basically book a berth on a sailing boat, if you are friends travelling together you can book berths at the same boat. Each day you sail to a new destination (usually 2-4 hours), and once you arrive at the new destination you have time to explore the island. In the evening you then party together with people on all the other boats.
Why should you join a party cruise week?
No hassle with planning your trip
You sleep on the boat, no hassle with searching for accommodation
Option to meet hundreds of new friends
Experience some amazing parties
Why should you NOT join a party cruise week?
Tour is pre-defined, limited flexibility
You get a berth, no single cabine, so limited privacy
Relatively expensive
Limited time in some of the great places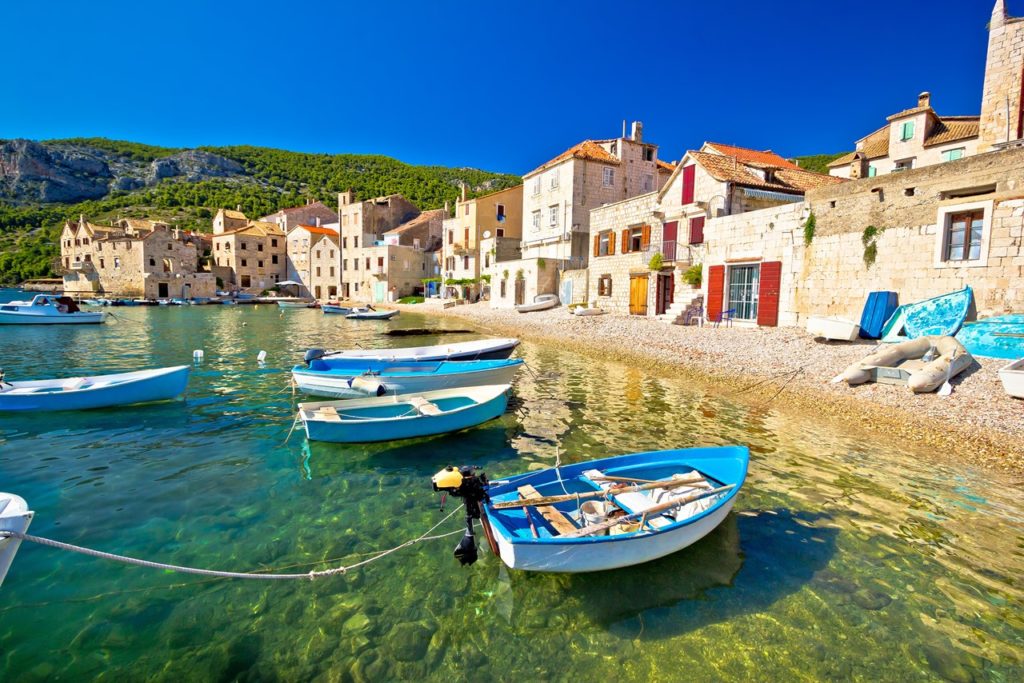 Sailing boat holiday
If you are family or even two families or a group of friends travelling together, you could charter a boat in Split, Dubrovnik, Zadar, Trogir or any of the many other marinas along the Adriatic coast. In most marinas you have several companies offering sailing boat, catamaran and motorboat charter. If you don't feel comfortable being a skipper on the boat, you can also hire a skipper with the boat. A sailing holiday is probably the ultimate way of doing Island hopping in Croatia. If you have a boat at your disposal, you can not only visit many of the Croatian islands, but the great thing about it is that you can visit hard to reach bays and beaches.
Why you should rent a sailing boat
You decide the itinerary 
You can change the itinerary as you go.
You have the vessel for your family or friends only
Why you should not charter a boat
It's quite expensive
Your holiday depend on the weather
Do it yourself Island hopping
Island hopping from Split
Split is the main gateway to some of the most popular Islands in Dalmatia, as the city also has a well connected airport, it's frequently used as the starting point for an Island hopping trip. If you ask a 100 different people about the ultimate Island hopping trip from Split, you will probably get close to a 100 different answers :-). So basically there is no ultimate trip, but having visited most of the Island in Dalmatia, this is the trip I would personally do.
Travel day 1:  Split to Milna (Brac)
Take the fast ferry / catamaran from Split to Milna on Brac, you have several daily departures. Milna is not a party destination but a really nice coastal town. The whole life of the city is centered around the inner bay, which is filled with coffee bars and restaurants offering seating next to the sea. In the Milna bay there are plenty of small beaches where you can take a swim and relax a bit in the sun.
Travel day 2:  Milna to Vis town
Take the afternoon catamaran from Milna to Vis, you will love the place, a really beautiful town situated in a quiet bay. Enjoy the evening in one of the many restaurants and bars along the sea. Spent the next day by exploring Island Vis, visit Komiza and maybe even the Blue Cave on Bisevo. In Vis you should also visit Fort George and the submarine tunnel.
Travel day 3: Vis to Hvar town
Take the early morning catamaran from Vis to Hvar town, which is only a 50 minutes sailing trip. Once you arrive in Hvar, see if you can leave your luggage at the accommodation or alternatively leave it at a luggage storage. In Hvar town you have a few beaches where you can relax and enjoy the sun, or you could take a walk to fortress Spanjola or just enjoy the town. Optional add an extra day on Hvar, and explore other places on the Island. You can e.g. rent a (electrical) bicycle or a scooter and explore the areas around Hvar town, you can take the bus to Jelsa or Stari Grad or you can take a "taxi" boat to the amazing Pakleni Island and spend some time on nice beaches.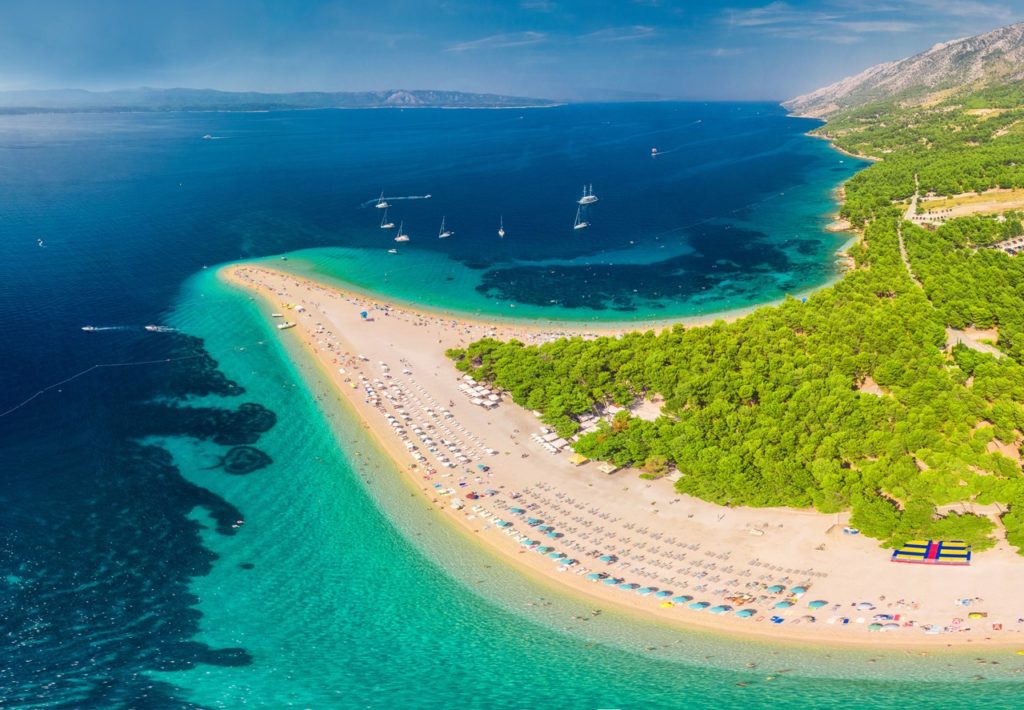 Travel day 4: Hvar town to Pomena (Mljet)
Take the early morning catamaran to Pomena on Island Mljet, sailing time about 2 hours. On Mljet rent bicycles and visit the national park, take the boat tour to the Sv Marija Islet & Monastery.
Option 1:  Continue to the next island Korcula in the afternoon, or Option 2: stay overnight in Pomena and take morning catamaran to Korcula.
Travel day 5: Pomena (Mljet) to Korcula
If you take the early morning catamaran from Pomena to Korcula, you will arrive there before noon, check in to your accommodation and start exploring the old town which is really amazing. Have lunch at one of the many restaurants with beautiful sea view, visit Marco Polo's house and the town gate and enjoy a cocktail in one of the city towers. 
Travel day 6: Korcula to Bol (Brac)
Take the morning catamaran from Korcula to Bol on Island Brac, and prepare yourself for an amazing day on the beach. Once you arrive, get rid of your luggage and head to the Zlatni rat (Golden Horn beach) where you can spend the day. In the evening enjoy the center of Bol with its many restaurant and cocktail places.
NOTE: Alternative to going to Bol, you can also take the catamaran from Korcula to Dubrovnik and then end your trip there.
Travel day 7:  Bol (Brac) to Split
On the last day of your Island hopping trip, you will be travelling from Bol to Split, as there are several catamaran departures. You can choose either to leave the island earlier, or to spend another day on Zlatni rat or e.g. visit the Blaca Monastery and then head back to Split in the evening.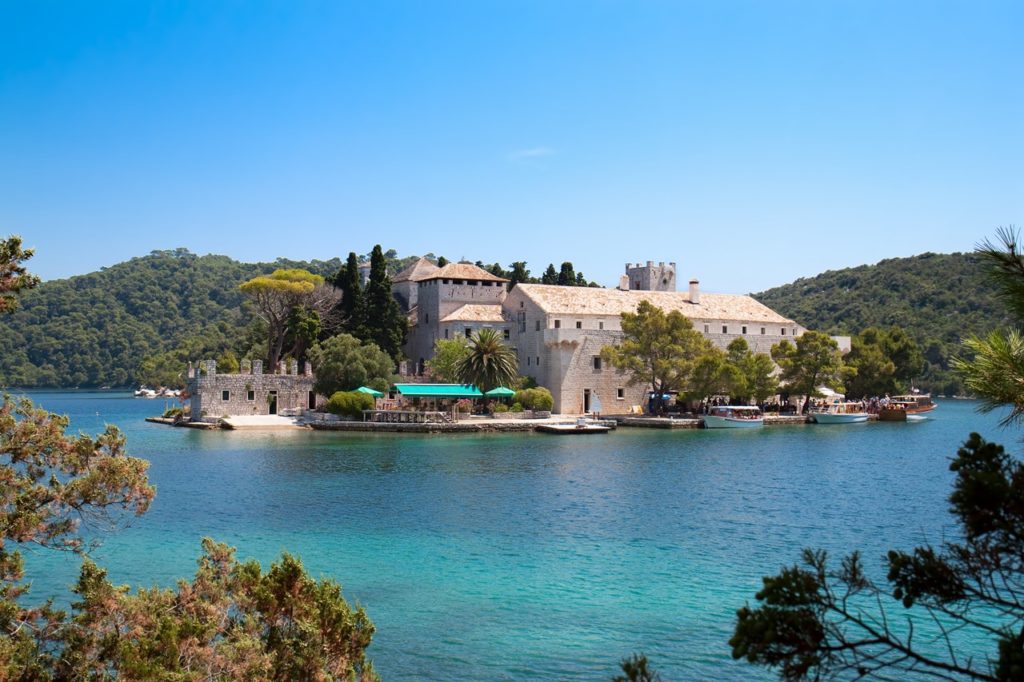 Island hopping from Dubrovnik
Dubrovnik is undoubtedly one of the most amazing places to visit, but you don't need that many days to see the city. Therefore, the better thing to do is combine a visit to Dubrovnik with Island hopping to some really nice islands.
Travel day 1: Dubrovnik to Lopud
Take the passenger ship from Dubrovnik to Lopud. Even though visiting this island means you will have to hop back to Dubrovnik to move on, I still think this should be the first place to visit after the Dubrovnik. Lopud Island has one of the best sandy beaches in the region, the Sunj beach is just the right place to spend a day after being in Dubrovnik. Lopud is a small Island where you can reach everything by foot.
Travel day 2: Dubrovnik to Mljet
Take the passenger ship back to Dubrovnik. From Dubrovnik you will then take the next catamaran to Island Mljet. The best option is to catch the early morning catamaran to Pomena, as this is located next to the National park, which is what you have to visit on Mljet. If you do not manage to catch a catamaran to Pomena, you can take one to Sobra and then rent bikes or take a taxi to the national park. You should stay overnight in Pomena.
Travel day 3: Mljet to Korcula
Take the mid morning catamaran from Pomena to Korcula. You will arrive in Korcula before noon, so leave your luggage at your accommodation and explore the town. I can guarantee you will love it, make sure to visit the Marco polo house and one of the towers. Have dinner in one of the many restaurants with a fantastic view of the sea. 
Travel day 4: Korcula to Lastovo
If it is Tuesday or Wednesday, take the catamaran from Korcula to Ubli, and if it's any other week day, take the bus from Korcula to Vela Luka and then catch a ferry from there to Ubli on Lastovo, explore the island, see the many interesting Fumars (Chimneys) in Lastovo town. In the evening eat some of the amazing fresh caught fish which is available in most restaurants. Stay an extra day, if you didn't manage to see the entire island!
Travel day 5:  Lastovo to Hvar
Get up early, very early, cause you catamaran from Ubli to Hvar leaves at 4:25 monday to Saturday (Sunday at 07:00). Have a nap during the 2 hour crossing, and once you arrive in Hvar town, find a place to leave your luggage as early as possible, explore the wonderful town, visit fortress Spanjola and have a afternoon sleep at the beach. Bring your luggage to your accommodation and spend the evening in Hvar town, you will love it!
Travel day 6: Hvar to Bol
Take the mid morning catamaran to Bol on Island Brac, you will arrive in Bol before noon, leave your luggage and spend the day on the Golden Horn beach or take a trip to the Blaca Monastery, enjoy some good cocktails in the harbour area of Bol, where you will find many restaurants and bars.
Travel day 7:
Option 1: Continue to Split if you have extra days, consider exploring Island Brac.
Option 2: Continue to Dubrovnik, on the way you could stop in Korcula, if you want to spend more time there. Also you could get out in Makarska and then take the bus from there to Dubrovnik.
As you will notice I refer to the days as travel days, leaving it up to you whether you would do the Island hopping as a pacy trip or in slow mode with longer stays at each island. The itinerary would work in either case, the trip I suggest can be done from June to end September, at other times of the year several of the crossing are not available and Island hopping becomes more complicated 🙂
Island hopping from Zadar
Traditionally most Island hoppings are done with start in Dubrovnik or Split, but Zadar actually is kind of a secret tip. Zadar archipelago actually has more islands you can visit as part of island hopping, but most of the islands are very small and less touristic when compared to islands in south Dalmatia. The downside is that travelling from island to island is more complicated as there is limited connections between the islands.
Travel day 1: Zadar to Ugljan
The first island you should visit is Island Ugljan, located just 3.5km of the coast from Zadar. Take the passenger ship from Old town to Preko or the car ferry from Gazenica. The island has several nice places where you could stay, such as Preko, Kali and Ugljan. Island Ugljan is a great place to do some hiking and bicycling, there are lots of places on the island to explore. As the island is connected via a small bridge to the similarly sized Island Pasman to the south, you actually can explore two islands. If you like Ugljan and Pasman, stay a few days before you continue your island hopping trip!
Travel day 2: Zadar to Sali
Go back to Zadar and take a catamaran from Zadar to Sali on Dugi Otok (the Long Island). Sali is the main city on the island and a good place to pick as your base. On the island you could see the Telascica Nature Park and visit the great sandbeach Sakarun. The island is more than 40 km long, so getting around is best with a bicycle or a scooter, buses are not really an option. When you are ready to move on, find a way to get to Božava or Brbinj from where you will continue your Island hopping trip.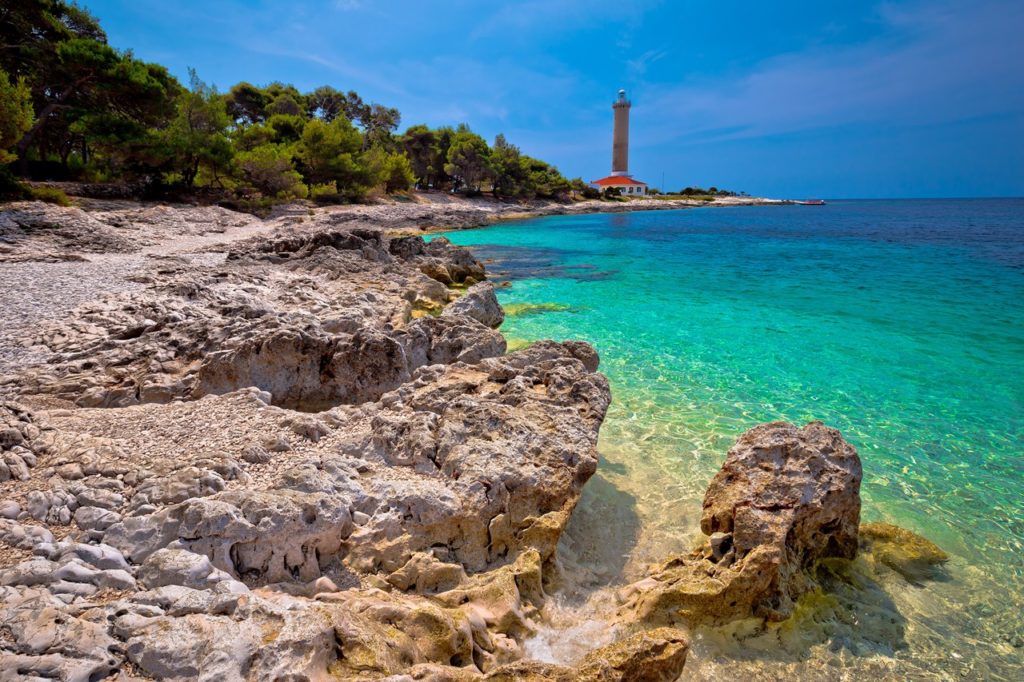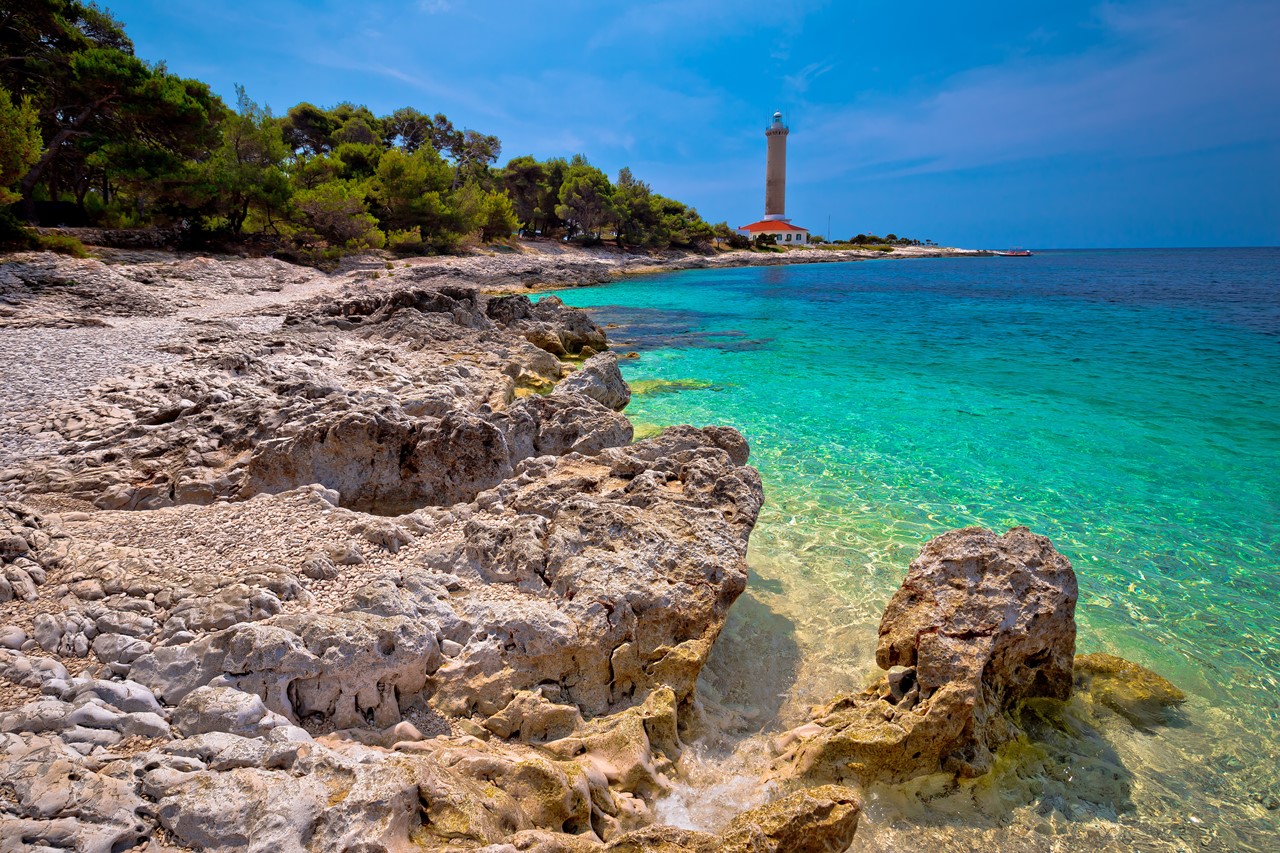 Travel day 3: Brbinj – Zverinac to Molat
Take the early morning catamaran from Brbinj to Zverinac (or from Bozava). Island Zverinac is very very small, you could choose to stay on the island, but accommodation is limited, so maybe better option is to take the early afternoon ferry from Zverinac to Molat. If you find it more convenient you could also travel back from Sali to Zadar and then catch the catamaran or car ferry from Zadar to Molat, but this means more saling. Once on Island Molat, just relax and enjoy the peaceful island life.
Travel day 4. Molat to Ist
In the afternoon you should continue from Molat to Ist, another small island located just a few hundred meters north of Island Molat. On Island Ist (The butterfly Island – check out its shape on a map) you will again spent a quiet day e.g in the small village or one one of the beaches. 
Travel day 5: Ist to Mali Losinj
Next day you should take the ferry from Ist to Mali Losinj on the Losinj Island. On this island you should plan to stay for some days, I would recommend to stay in Veli Losinj, a wonderful place, but also Mali Losinj is amazing. Enjoy the island and take one of the dolphin spotting boat trips, in this area there is a big chance that you will actually see dolphins.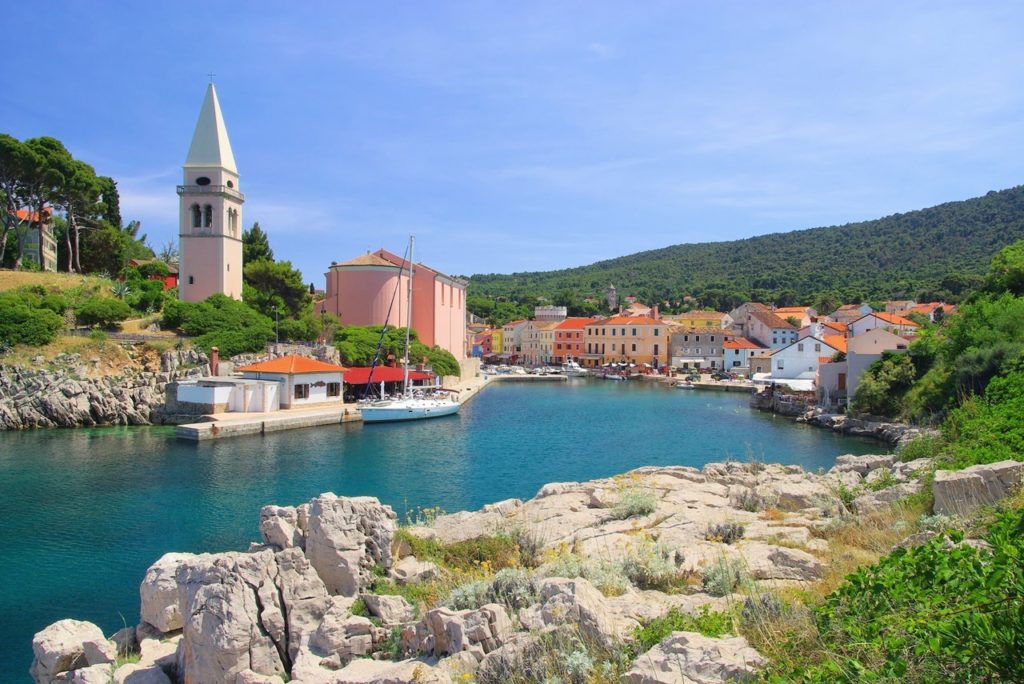 Travel days 6, 7, 8 …
The rest of the trip I will leave open as there are several options:
Option 1: Continue the trip with bus from Mali Losinj to Cres Island where you should go to Cres town, another wonderful place. From there you could continue to Island Krk, by bus (which includes a ferry from Merag to Valbiska). On Island Krk there are several great places e.g. Krk town or the beach city Baska, from Krk you can then continue back to Zadar or to Rijeka.
Option 2:  Continue to Pula and end the trip there or continue with the bus to some of the numerous nice cities on the Istrian Peninsula. NOTE: from Pula you can also get back to Zadar either by bus or with a catamaran.
The following Islands, Sestrunj, Iz, Olib, Premuda, Silba, Rava, Rivanj, Rab and Pag are other islands you could also visit on your way. Most of them are very small and a bit hard to reach, in some case you will have to bounce back to Zadar to get to them.